Was

$247.00

Now:

$237.00
Call for volume discounts!
(800) 671-9662
---
Wholesale Pricing

Give Us A Call!

Expedited Shipping

Available Upon Request

Zero Sales Tax

Order Online

Secure Shopping

High Security Checkout
---
---
StartMat™ - Ground Protection Mat
Are you looking for an affordable and versatile ground protection mat? We decided to offer our own with the benefits of the competition without the additional cost! Our ground mats are flexible, durable (virtually indestructible), and come with a Lifetime Warranty! Available in 3x8' or 4x8' sizes, black or white color, and with best-in-class industry standard Diamond Cleat tread!
Why use a ground protection mat?
Heavy equipment can cause extensive damage to your property, resulting in costly repairs and extended downtime. Over the years, HDPE composite mats have taken over the market from plywood, fiberglass, and even steel to provide the most versatile ground protection mat but it comes at a higher cost. Our mat delivers on both price and performance.
StartMat is designed to protect and stabilize your surfaces from damage or degradation due to overuse. They're also environmentally friendly and made from highly recyclable HDPE material.
---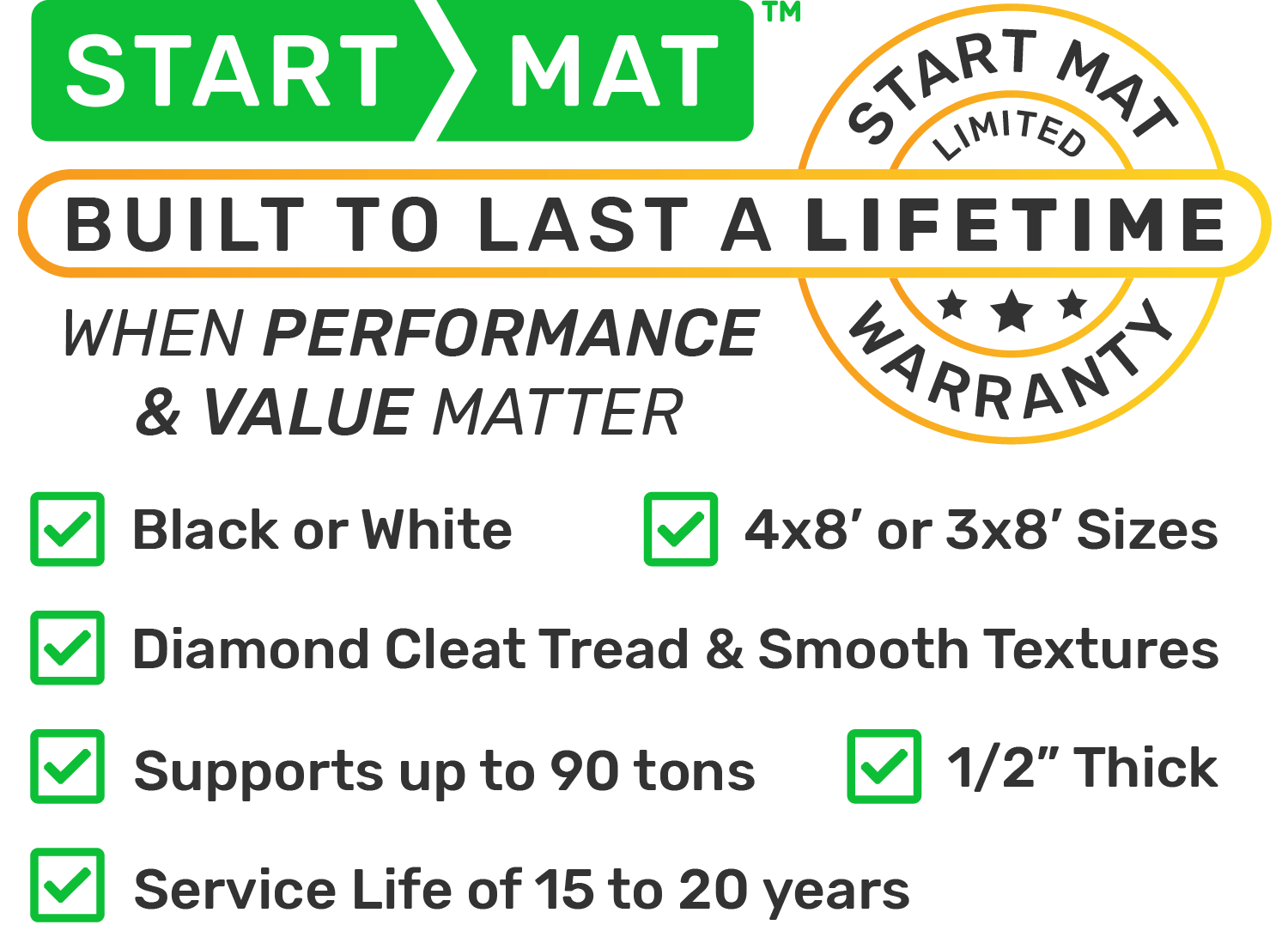 ---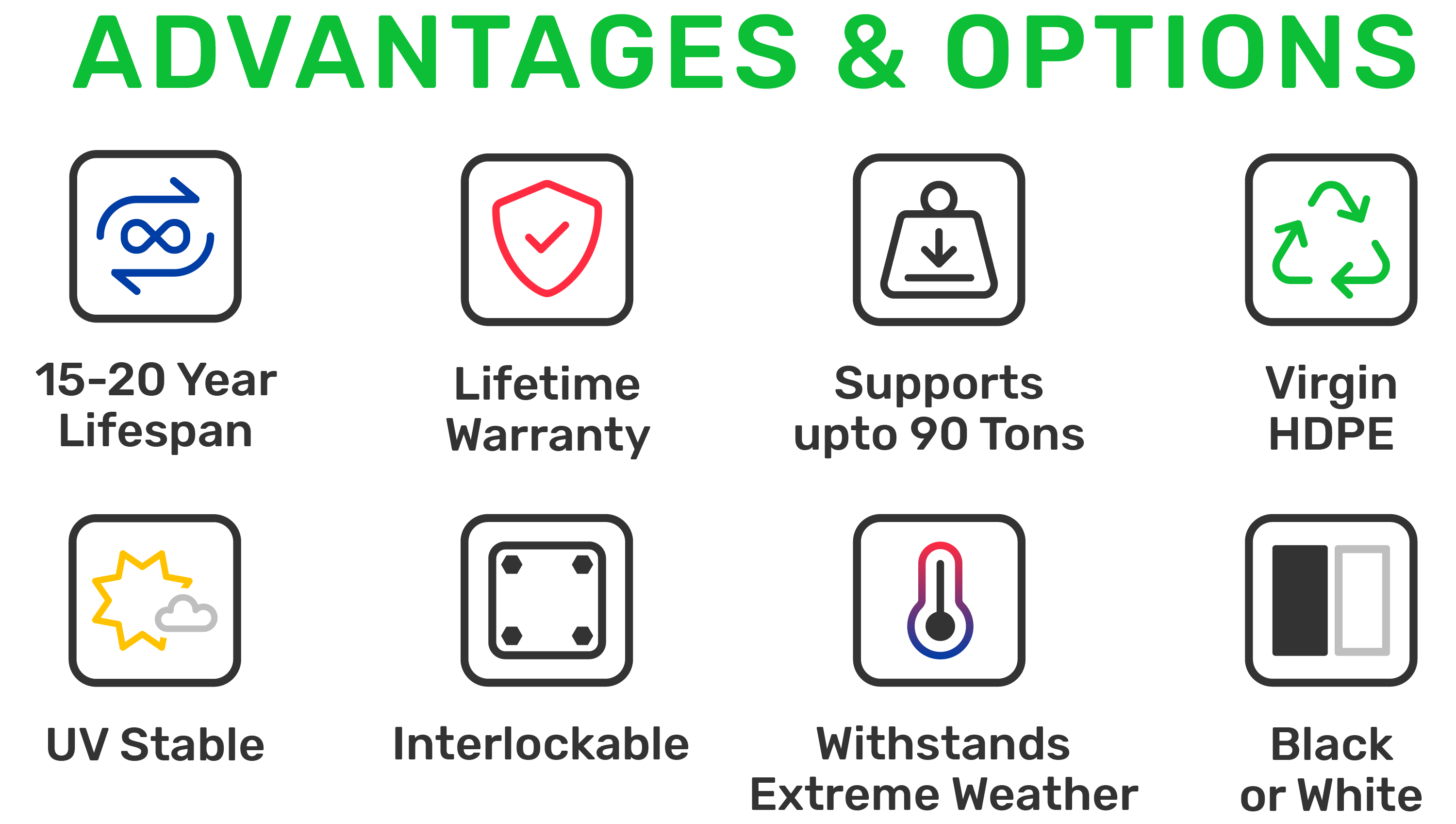 All StartMats come with handholds as standard!
Need advice or have questions?
If you're stuck in a rut for decisions, or perhaps you have a unique project need, call one of our specialists on (800) 671-9662 Let's talk!
---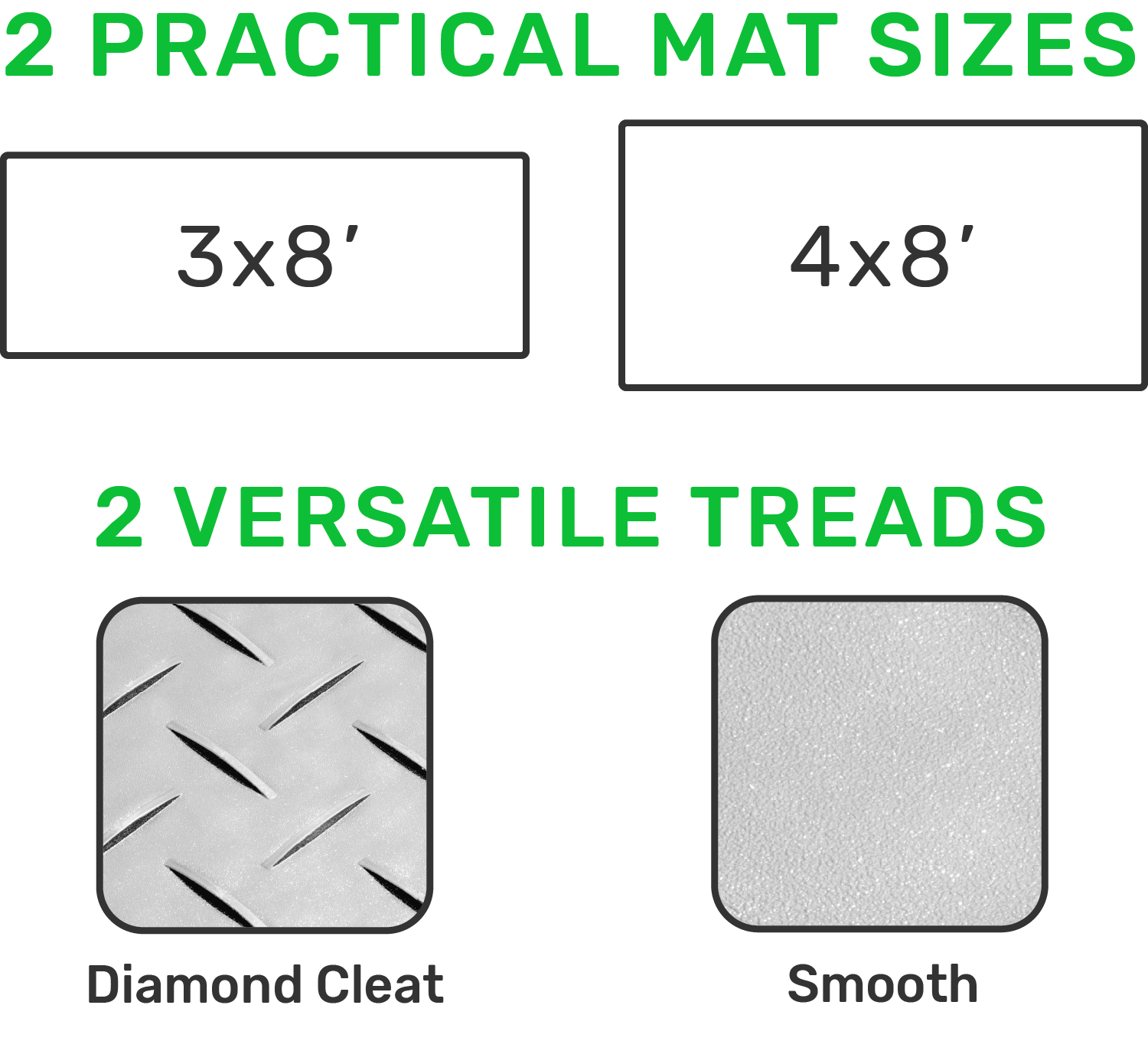 ---
3x8' or 4x8' Mats - Which size mat do I need?
Your mat size depends on the general type of traffic used on the mat. Both mat sizes have been tested to the same weight and load capacities. The following will assist you in choosing the right size matting for your application, although this should only be used as a guide;
4x8' Mats have the broadest use range and are used for everything from large construction equipment to wheelbarrows.
3x8' Mats are desirable when price, weight, and space are a consideration. This size mat can be more restrictive with maneuvering, it is rated for the same performance as a 4x8'.
---
Diamond Cleat tread & Smooth textured sides - Which should I use and where?
Use the smooth side of our mats when it's necessary to protect impressionable surfaces such as grass, concrete, asphalt, and pavers. Using a Diamond Cleat tread on hot asphalt could leave marks. When making tight turns with wheeled or track equipment, it's more desirable to use a mat with one smooth side facing up. When piling soil or aggregate on top of mats it's also easier to use a smooth-sided mat for removal. A Diamond Cleat tread will always give you the best traction in any situation!
---
Black or Natural (White) colored mats?
Black - If you're using mats in the dirt or on unclean substrates, a black mat will hide the mess of a busy work or construction site.
White - Ideal for use on manicured surfaces such as grass or turf. White ground mats reflect more sunlight and prevent "browning" of the grass by heat if used over extended periods of time.
How does the StartMat compare with the competition?
Value Alternative
Performance & Value
Premium With Extra Options
80 Tons*

90 Tons*

120 Tons*

1 Year
Limited Lifetime Warranty**

Limited Lifetime Warranty**
10-20 Years
15-20 Years

15-25 Years

Diamond Cleat or Cross (Pedestrian)
Diamond Cleat or Smooth
Diamond Cleat,Flat Oval (Pedestrian) or Smooth

3/8" Diamond Tread - 1/8" Cross Tread
1/4" Diamond Tread
3/8" Diamond Tread - 1/8" Flat Oval (Pedestrian)
4x8'
3x8' or 4x8'
2x4', 2x6', 2x8', 3x6', 3x8', 4x8'
1/2"
1/2"
1/2"
4. Two handholds on each of the longest sides
2. One handhold centered on the edge of each side
4. Two handholds spaced arms width apart on each side (Additional Cost)
Tan Only
Black or Natural (Semi-translucent white)
Black or Natural (Semi-translucent white)
US Made
US Made
US Made
Virgin HDPE
Virgin HDPE
Virgin HDPE
Common Use Cases for Ground Protection Mats
Turf/Grass Protection
Temporary Access Roads
Utilities & Pipeline Construction
Ground Rutting Prevention
Heavy-Haul Applications
Construction Sites
Work Platforms
Staging Areas
Tree Cutting
Environmental Containment
---
Wood

Aluminum

Alu

Steel
StartMat™
Light-weight
Easy To Transport
Low Maintenance
Use On Uneven Ground
Inert
Long-Lasting
Non-Conductive
Recyclable
Will not Rust or Rot
Best Buy
Optional Connectors
2-Way Overmount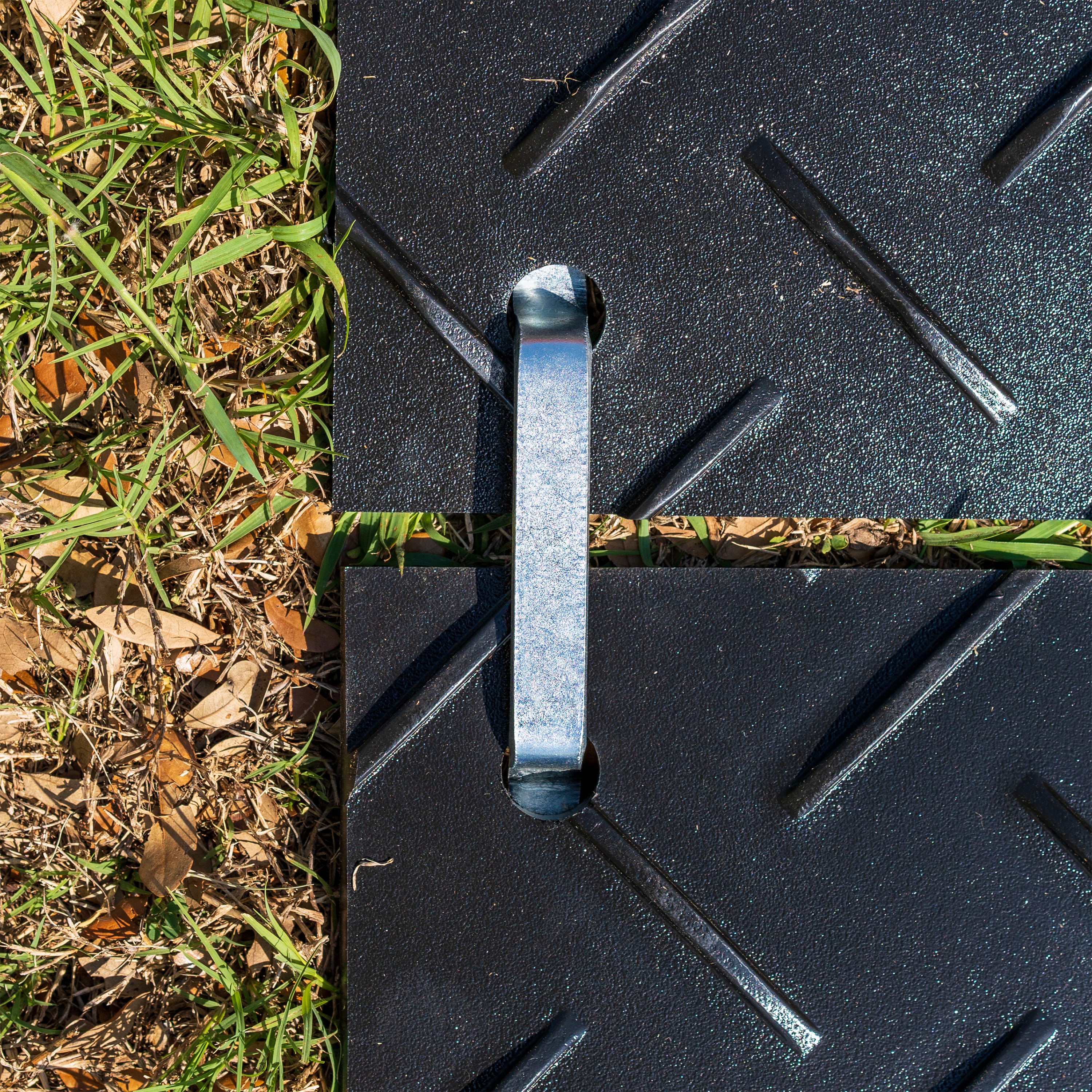 ---
4-Way Overmount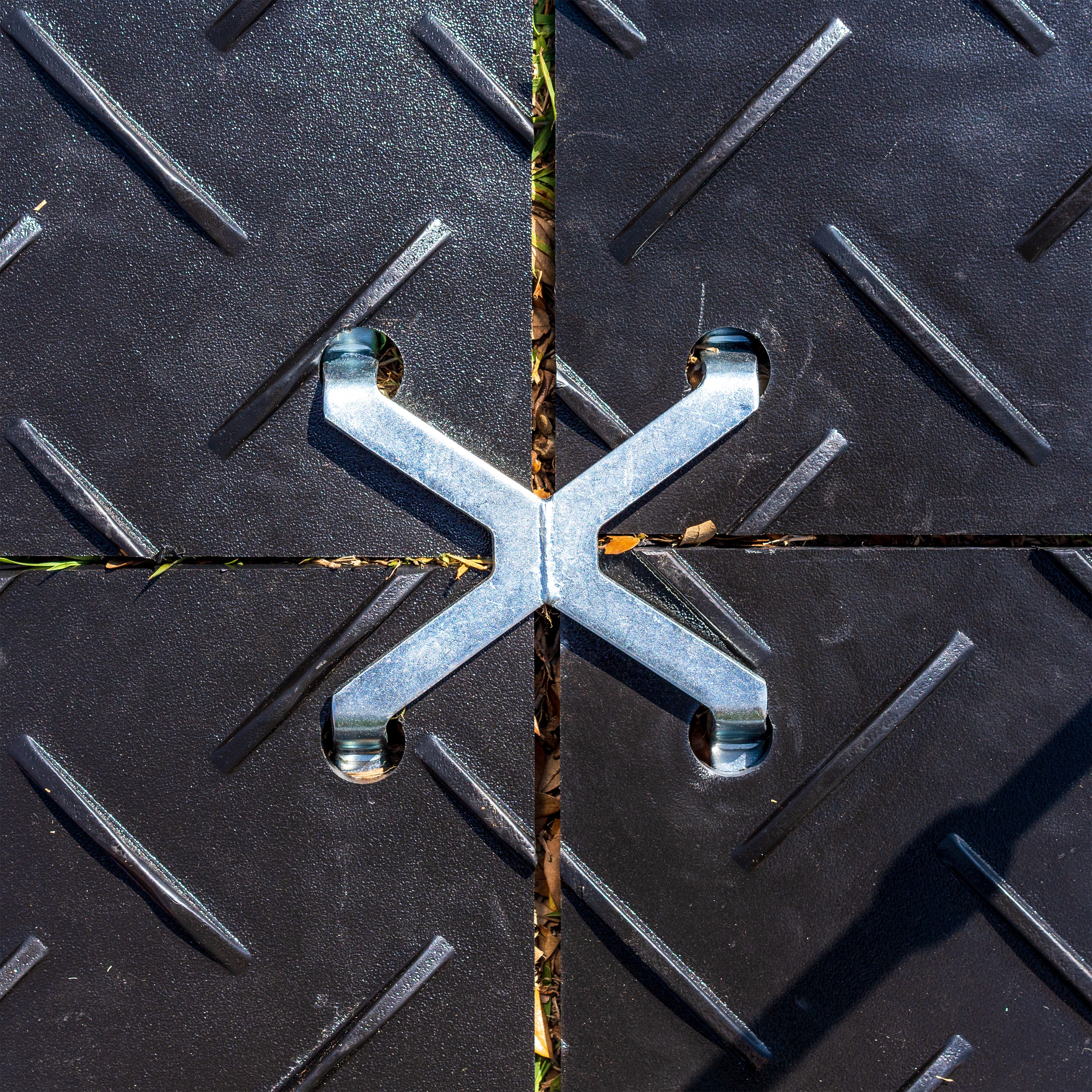 ---
2-Way Undermount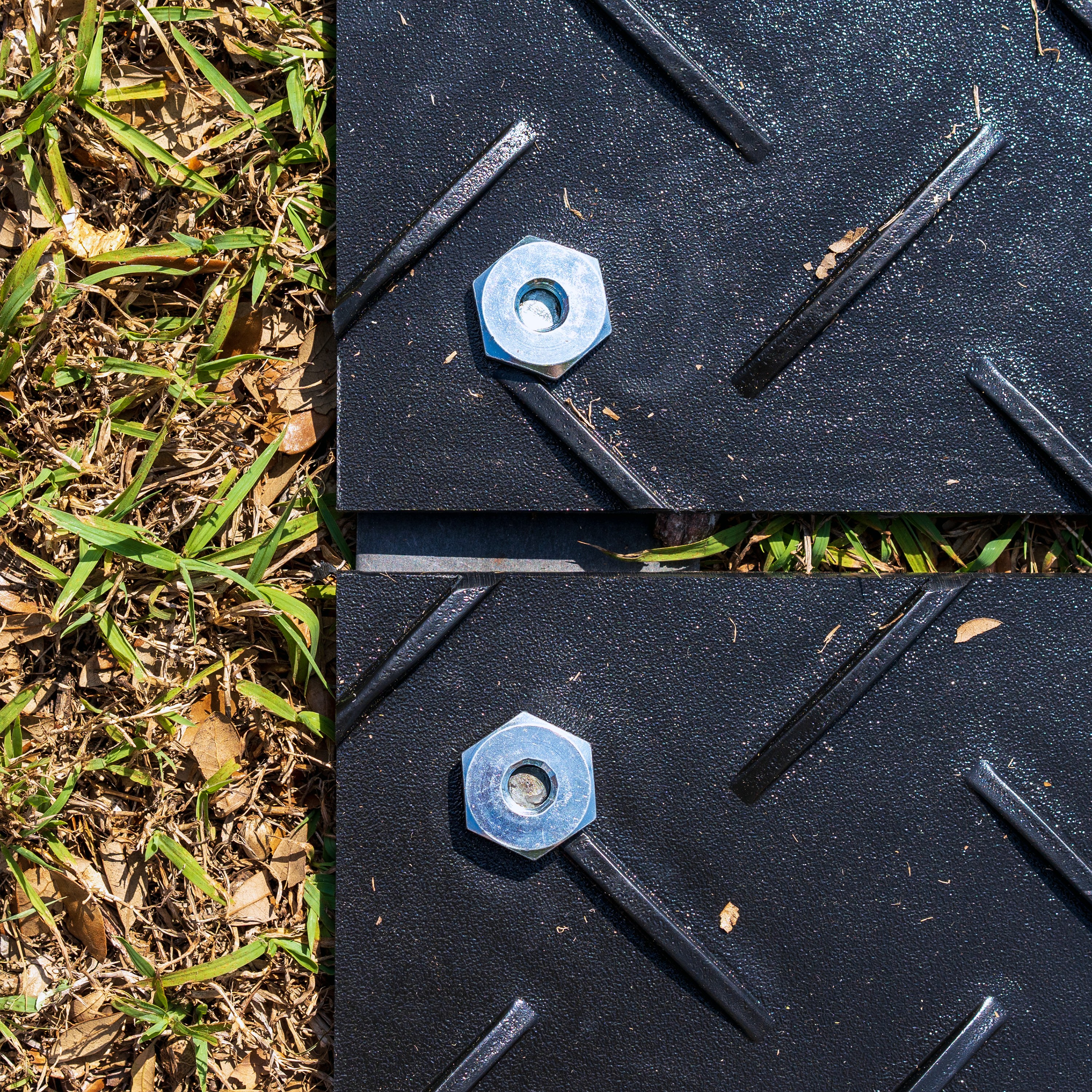 ---
4-Way Undermount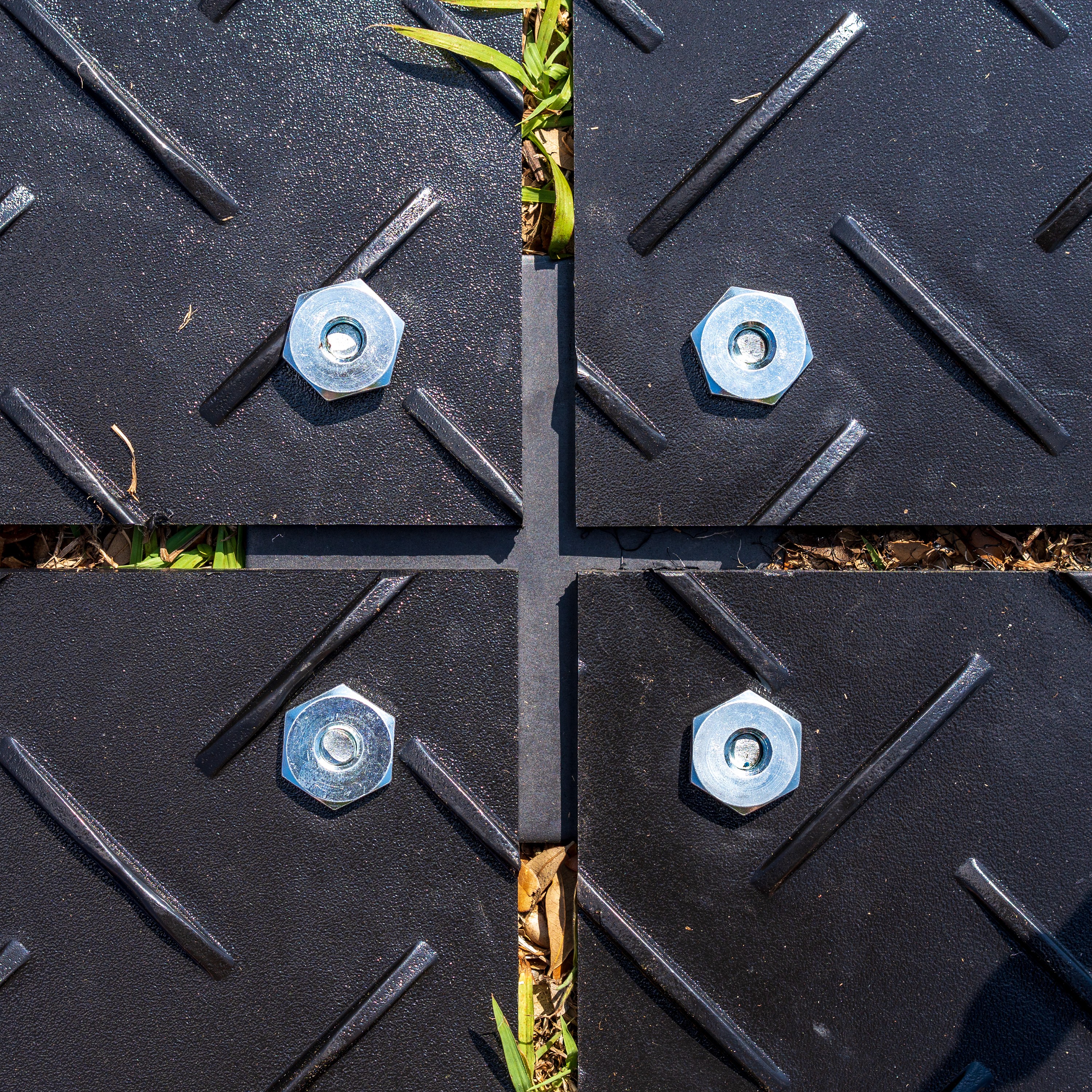 ---
Do I need connectors?
They're not required but recommended if you have installed your mats on uneven ground or plan on having your mats deployed for extended periods of time.
Overmount or Undermount Connectors?
Overmount connectors are less expensive and can be used where protrusion by the connector is not critical. e.g. you only have construction equipment running over the mats with no pedestrian use.
Undermount connectors are installed from underneath the mats. They are considered to be faster and easier to install that has a flush fitting with only the nut exposed on top.
4-Way or 2-Way Connectors?
Generally used in combination depending on your mat layout configuration. 2-way type connectors are used to connect mats end to end on either side of the mat for a continuous run, e.g. two sets of tracks for construction vehicle equipment.
4-way connectors can be used to link 4 mats together by each corner to create a platform or larger working surface area.
Commonly Asked Questions
Q: What is the weight capacity of StartMats?
StartMats are rated at 200 psi and can safely support loads up to 90 tons over grassy fields, sand, and aggregate surfaces in a variety of applications.
Q: Can I drive and turn on StartMats?
Yes, you can drive the most common vehicles and loads on StartMats, including tractor-trailers, forklifts, backhoes, pickups, and other heavy equipment.
Do you have more questions about our ground mats?
If you've come this far, you've still got time to call our team at (800) 671-9662, and one of our lucky advisors will be able to help you out!
GUIDANCE USE & WARNINGS
Caution is to be used when crossing mats with metal tracked equipment.
Do not drag metal equipment across mats.
Do not use mats for bridging.
WARNING:
This product can expose you to chemicals that are known to the State of California to cause cancer and birth defects or other reproductive harm.
For more information go to
www.P65Warnings.ca.gov
---
Customers Who Viewed This Page Also Viewed
---
Specifications
Certifications
Maximum Load
up to 90 tons
Conforms
Static Dissipative & UV Protected
Features
Warranty
Limited Lifetime Warranty
Dimensions
Length
36 x 96 inches or 48 x 96 inches
Thickness
0.5 inches
Weight
Weight
3x8: 60lbs | 4x8: 80lbs
Miscellaneous
SKUs
13340, 13341, 13342, 13343, 13347, 13348, 13352, 13353
Shipping
Pallet Type
Double-sized
Per Pallet
30
---
Downloads
---
Q & A
Be the first to ask a question.