Call for volume discounts!
(800) 671-9662
---
Distributor Pricing Available

Call Us!

Volume Discounts

Buy More, Pay Less

Zero Sales Tax

Order Online

Secure Shopping

High Security Checkout
---
---
Get The Best Deal Possible
To get a quote on this item, please contact our sales team at (800) 671-9662. They will ensure you get the best product for the job at the best price possible.
---
Low Profile Barricade - The Road Rock
The road rock is a small portable low-level delineator barrier. It is simple in construction and made from one piece of recycled PVC. This low profile barrier is ideal for improving safety in high wind areas such as docks, harbors and airfields and airports.
We have supplied many of these units to sites that require a "warning barrier" for vehicles before they get to the "main barrier" giving further margin for driver error.
Compatible With:
Flexi-Cylinder Post - Delineator System
Bumper Bollard - Plastic Bollard System
Tough Barrier - Construction Barrier System
Gate Barrier - Linking Barricade System
There is an ergonomic handhold on each road rock unit making them easy to lift. At 33lb each they are not too heavy for a single worker to lift comfortably. The rounded top makes the road rock comfortable to handle and install.
---
Not Just A Delineator
The road rock may look like a simple linking delineator but in reality it serves many purposes. It can be used as a portable base for our flexi-cylinder delineator, removing the need for drilling. It can also be used as a ballast and support for the gate barrier and tough barrier systems.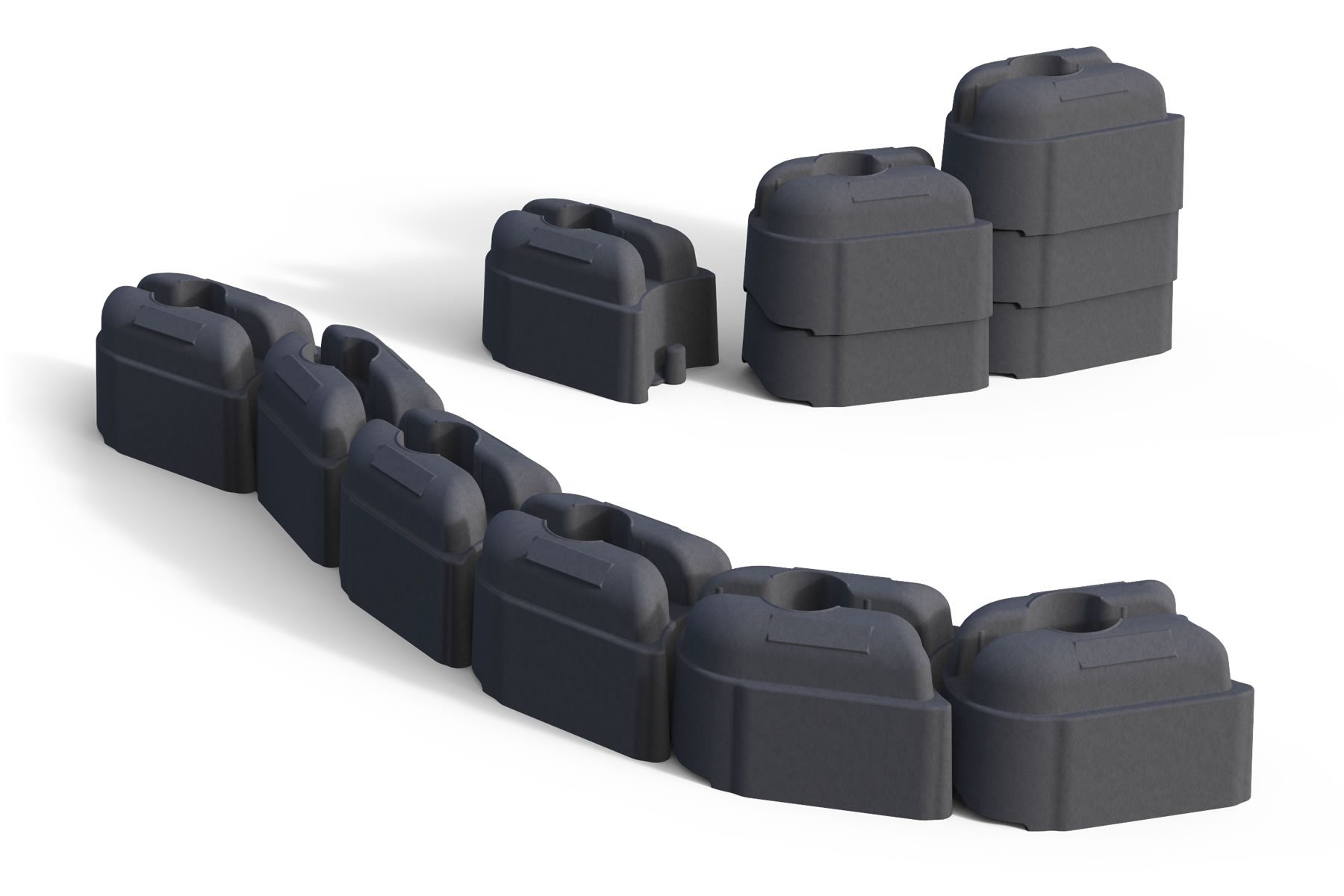 A Low Profile Barrier
The road rock interlocks to form a continuous channel, this is ideal for segregating two directions of traffic at sites like airports, warehouses, and ports. It is especially suited to smaller vehicles such as luggage carts, forklifts, and smaller trucks. The Road Rock is non-FAA compliant, so is restricted in where it can be used as a low profile airport barricade.
Great for airport construction projects, where it can be used for keeping construction vehicles from driving into areas where they are not permitted.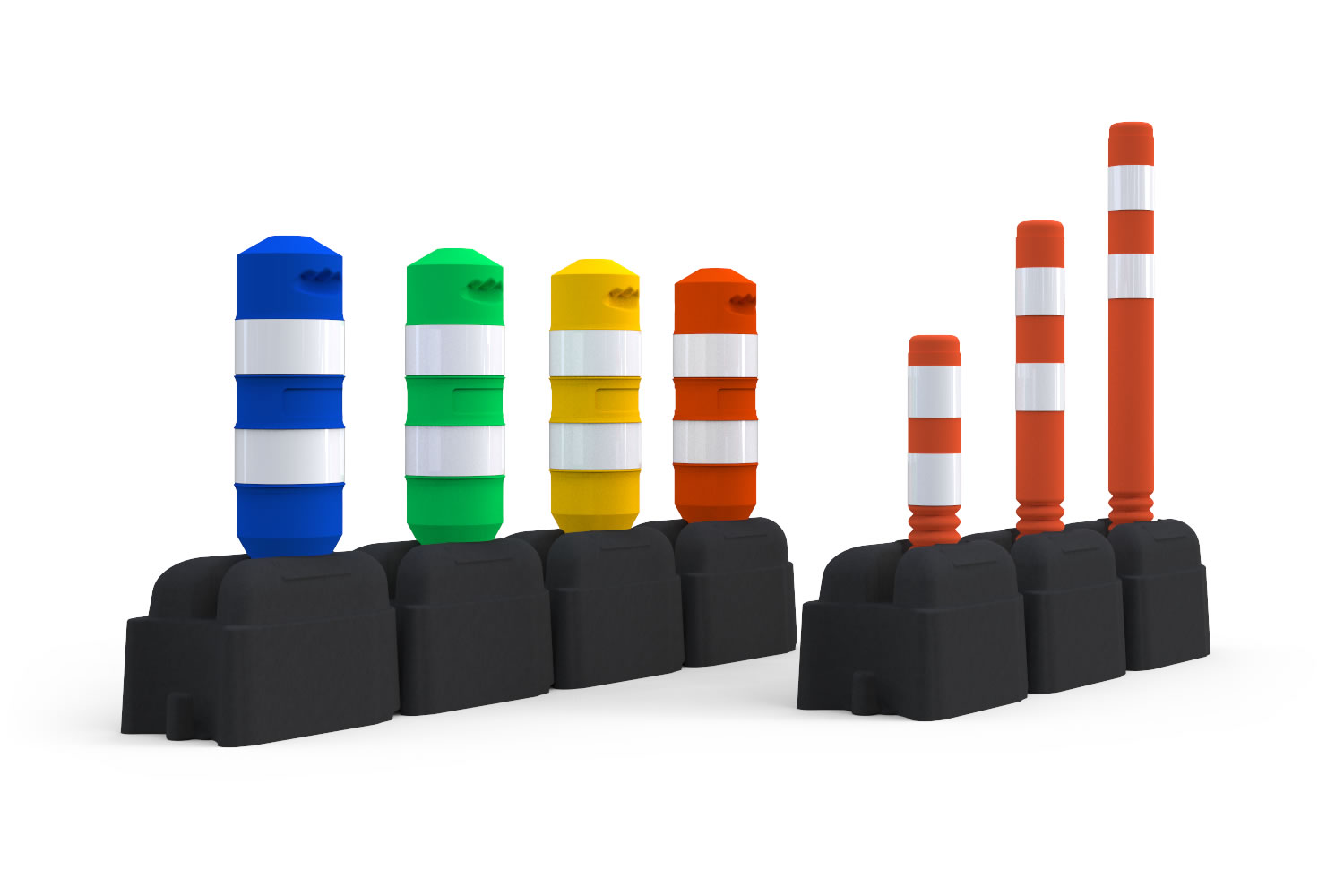 A Stable Yet Portable Delineator Base
Flexi-Cylinder and Bumper Bollards can be slotted into the road rock to make up delineated channels for incoming and outgoing traffic with a stable base and higher visibility level. The install can be permanent or temporary and easily altered if needed.
This setup is ideal for use in public car parking lots when the layout needs to be altered due to works or a special event. It can be used to channel all traffic around a parking lot in a certain direction and then altered at the end of the event to improve outward flow.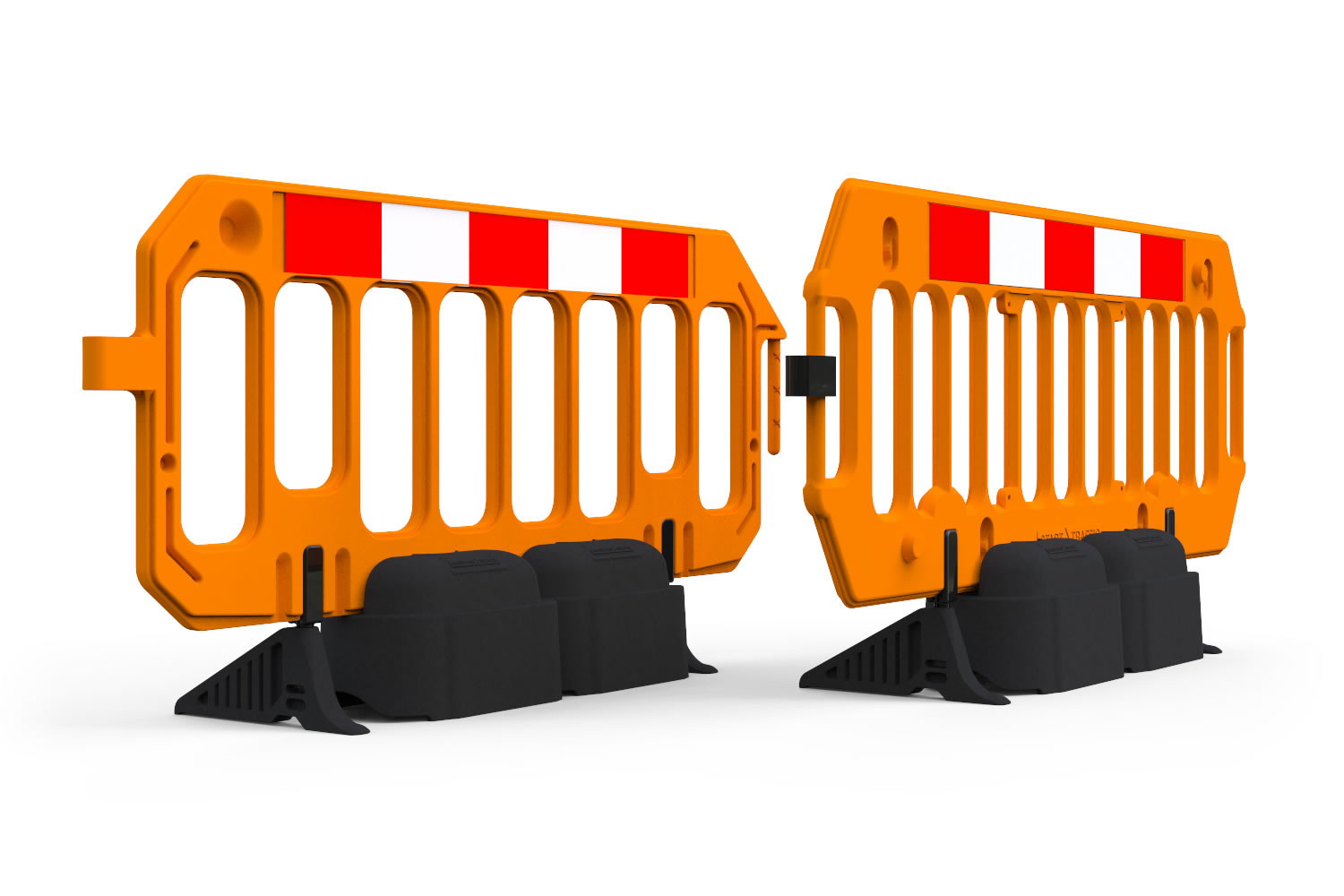 A Cost Effective Durable Ballast System
The Road rock can be combined with two of our barrier systems, the Gate Barrier, and the Tough Barrier. Two ballast units can be situated between the feet of the barricade to improve its wind resistance and keep it in position. This is especially good at events like air shows and fairs that take place on open fields. It can also be very useful if using the barrier system around a construction site to control pedestrians.
---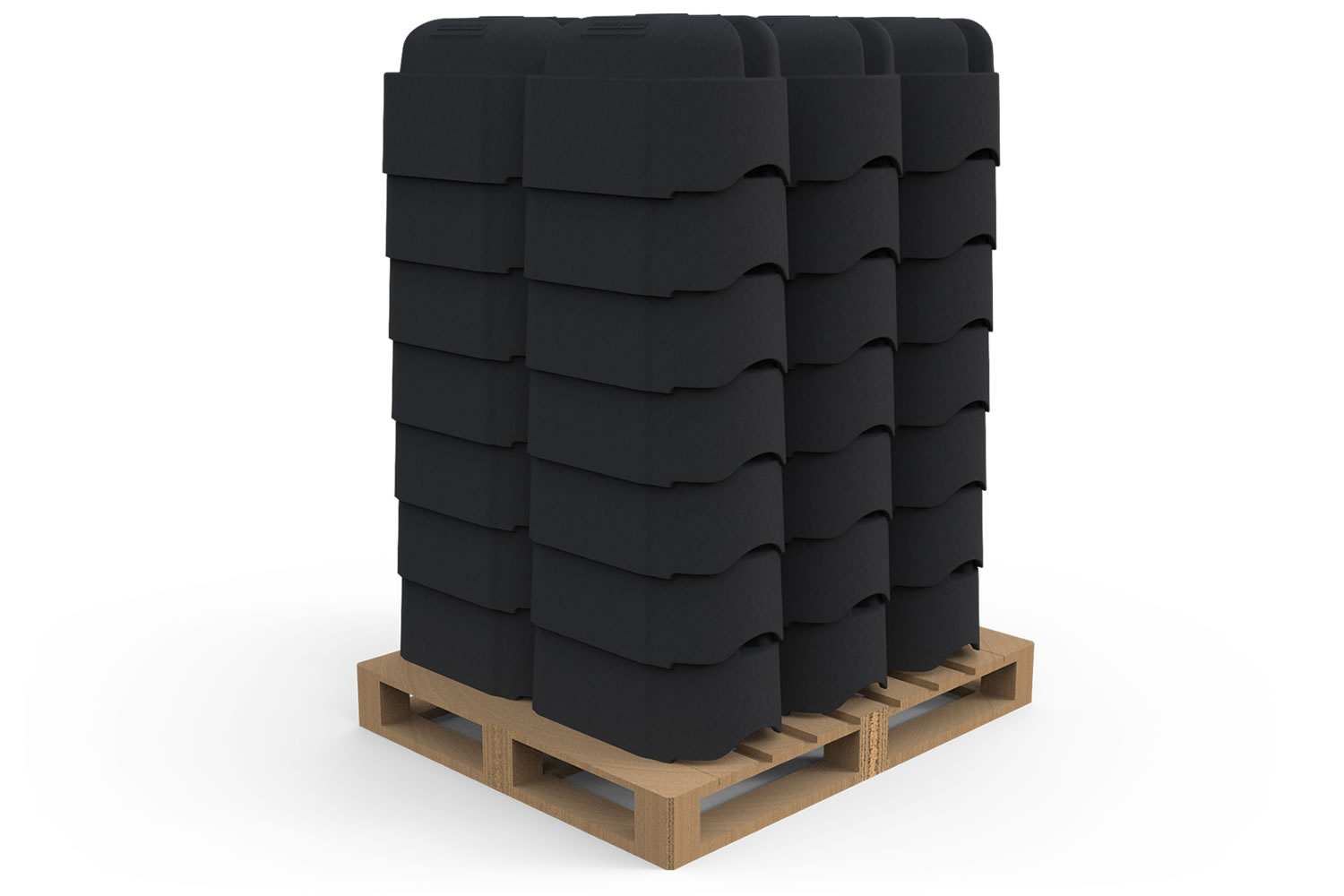 Interlocks When Stacked
The road rock can be stacked when in storage or when deployed. This saves space and makes them very easy to transport and allows slightly heavier installations to be achieved with ease. Each pallet shipped out can contain as many as 42 without exceeding standard pallet dimensions.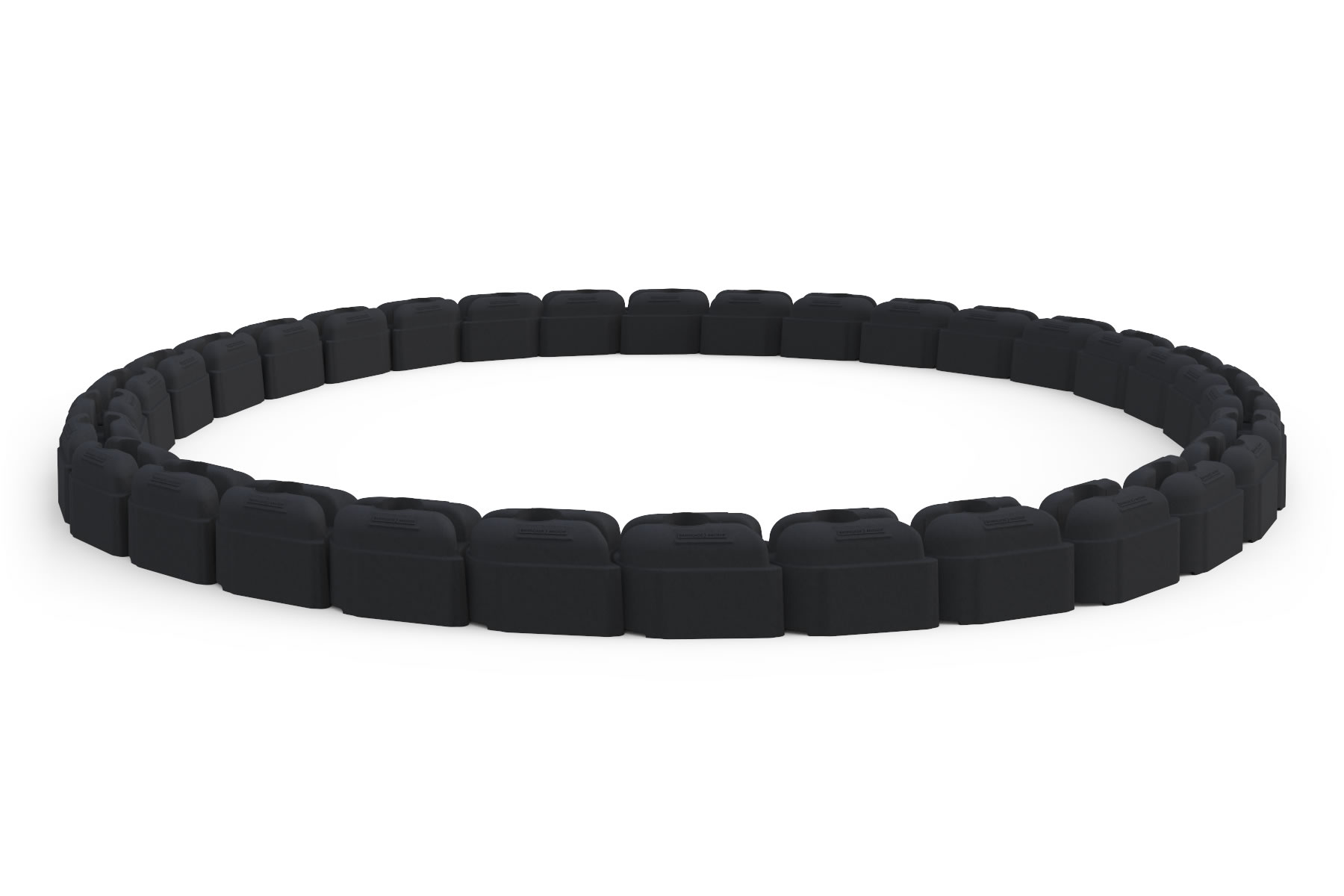 Make any shape of barrier
The road rock can be linked to form almost any shape, this makes it ideal for creating smooth curves that are easy for drivers to follow.
---
Need Bulk Quantities Or have Questions?
Give us a call toll-free at (800) 671-9662 to speak to our sales team. They will be able to discuss any needs and bulk quantity requirements that you may have.
---
Customers Who Viewed This Page Also Viewed
---
Specifications
Certifications
ExactPhoto
✔ (The photos are of the actual product type that you are ordering)
ExactSpec
✔ (The specification has been independently checked for accuracy)
Dimensions
Height
12.13"
Length
19.68"
Width
12.4"
Weight
Per Unit
33 lbs.
Material
Color
Black
Type
Recycled PVC (Polyvinyl Chloride)
Miscellaneous
Customization
Road Rocks can be sprayed colors, Embossed nameplate (Minimum order applies)
Eco-Friendly
100% Recyclable
Shipping
Per Pallet
42 Road Rocks
---
Downloads
---
Q & A
Be the first to ask a question.