Call for volume discounts!
(800) 671-9662
---
Distributor Pricing Available

Call Us!

Volume Discounts

Buy More, Pay Less

Zero Sales Tax

Order Online

Secure Shopping

High Security Checkout
---
---
FODS Mats are sold in pallets of 8
Please call us for large orders (800) 671-9662
Trackout Control Mats - Dirt & Mud Removal Mats
Do you have issues with vehicle tracking and sediment leaving your construction site? The FODS (Foreign Object Debris System) mat is a composite tracking control mat designed to be used on a construction entrance or exit that minimizes crossover contamination. This new solution replaces traditional rock vehicle tracking control methods! Each mat can withstand over 1,000,000 passes and 250,000 lbs and is backed by a 3-year guarantee!
FODS mats work uniquely by deforming the tire, spreading the tire lugs apart, and depositing the mat's dirt, rock, mud, or other sediments. Tire lugs and/or treads will contact the pyramids' various surfaces differently. As the tires roll across the mat, the pyramids will scrape, clean, deform, and wipe debris from the tires. Once the tires reach the street, they will be virtually clean from any material.
The top surface of a FODS mat is a geometric pattern formed in the shape of pyramids. The mats are unidirectional and are meant to have staggered pyramids in the direction of travel. Each pyramid has a crush rating of 20,000 lbs! Individual mats are connected with hardware to form various configurations to fit your project!
---
Hardware box included with every pallet!
Mat Size: 12'(w) x 7' (l) x 3 3/4" (h) (2 7/8" pyramid height)
Mat Weight: 430lbs
Pallet Size: 8 Mats
Truck-Load: 96 Mats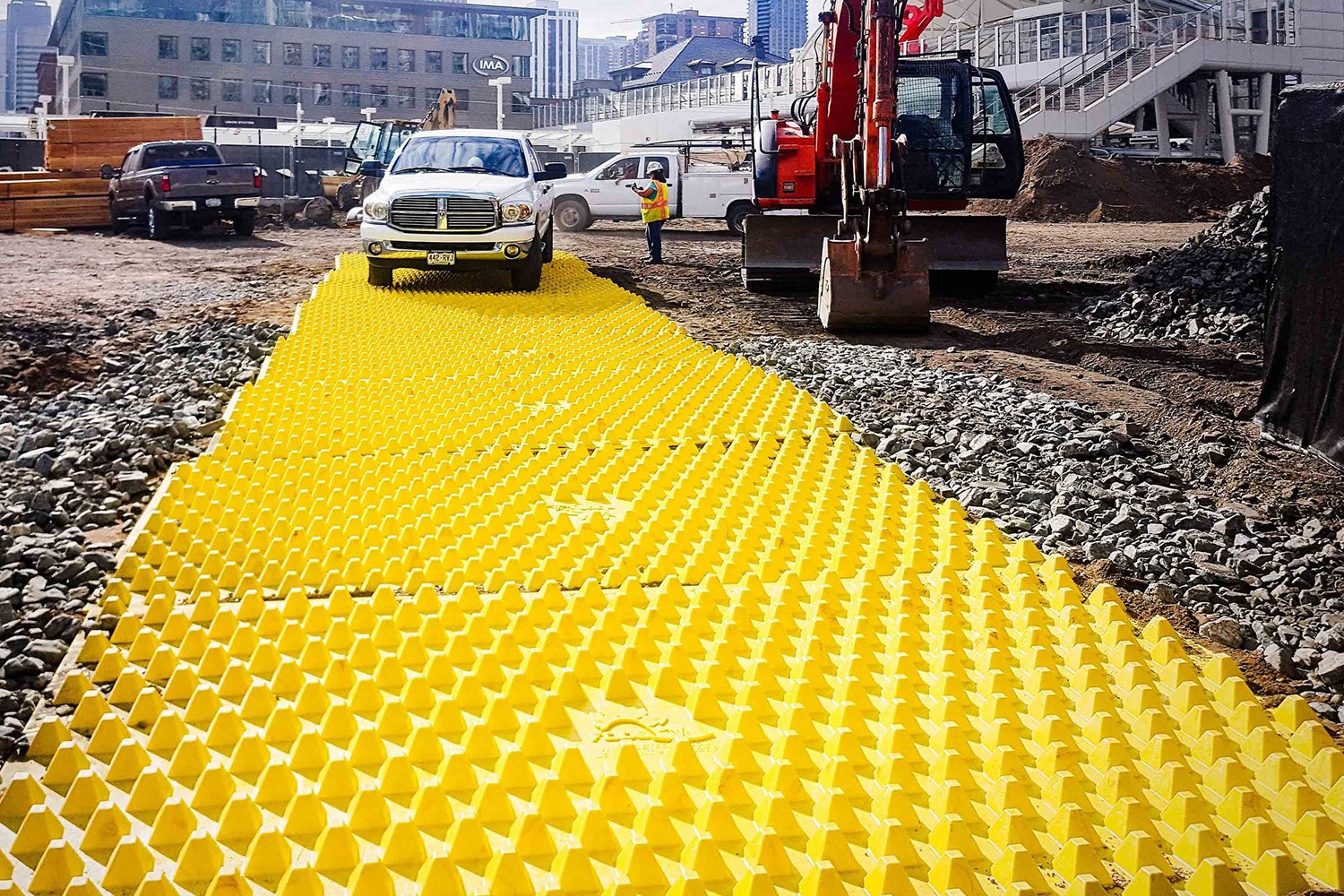 ---
Superior Benefits
Create an instant construction entrance over virtually any type of surface, including asphalt, concrete, turf, marshy area, sand, mud, even ground, uneven ground, or similar!
It will not get clogged, be an eyesore, or become embedded in soft ground.
Protects ground when placed on top of the surface, unlike conventional SCEs (Stabilized Construction Entrance)
Easily transported from site to site in minutes.
Create an easily recognizable entrance for vehicles to see day or night.
Ideal for construction, airports, government, military, mining, agriculture, forestry, renewable energy, oil and gas, telecommunications, national parks, stormwater, roads, and bridges.
| | FODS | Rocks |
| --- | --- | --- |
| 100% Solid & Uniform Construction | | |
| Easily Cleaned | | |
| Reusable and Transportable | | |
| Protects Ground Underneath | | |
| Easily Seen | | |
| Recyclable | | |
| Doesn't Become Clogged | | |
| Doesn't Absorb Chemicals and Oils | | |
| Amount of Uses | 100's | Once |
---
Proprietary Design
FODS Trackout Control Mats deform tires without causing damage, making mud and debris removal more effective.
Rapid Installation
It can be set up in about 30 minutes and require minimum maintenance.
Cost-Effective & Reusable
It can be reused numerous times to allow for more accurate job costing and estimation. FODS Trackout Mats will save you time and labor costs, can be used on any substrate, and FODS Trackout Mats help prevent worksite debris fines.
Great Durability
FODS Mats are constructed from a super-strong polymer that is durable, but also flexible.
Easily Transportable
When taking into consideration the limitations of deploying rocks, the ability to move your mats from site to site throughout the year is a game-changer.
Environmentally Friendly
These Mats do not damage the ground and can eliminate the need for remediation. At the end of its lifespan, the FODS Trackout Mat can be recycled.
---
Installation Guide
The site where the FODS Trackout Control System is to be placed should correspond to recommended Best Management Practices (BMP) as much as possible. The site should also meet or exceed the local jurisdiction or stormwater pollution prevention plan (SWPPP) requirements.
Call for utility location 3 business days in advance of the FODS Trackout Control System installation for the marking of underground member utilities. Call the utility notification center at 811.

Once the site is established where FODS Trackout Control System is to be placed, any excessive uneven terrain should be leveled out or removed, such as large rocks, landscaping materials, sudden abrupt changes in elevation, and similar. FODS will span and support most obstacles, but the flatter and smoother the terrain under the mats, the more efficient and safer the FODS Trackout Control System will be.
---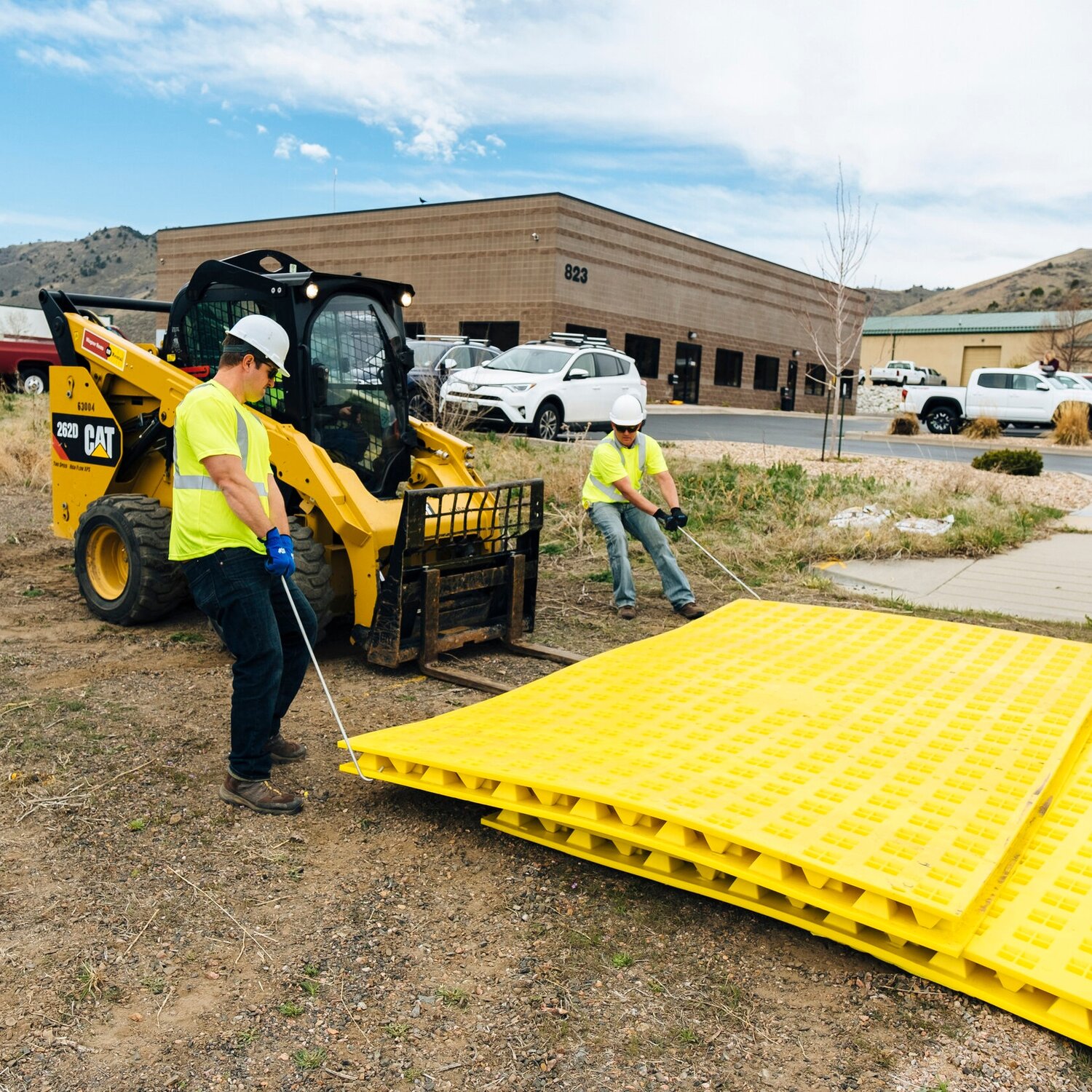 Step 1
Place the mats in the position needed.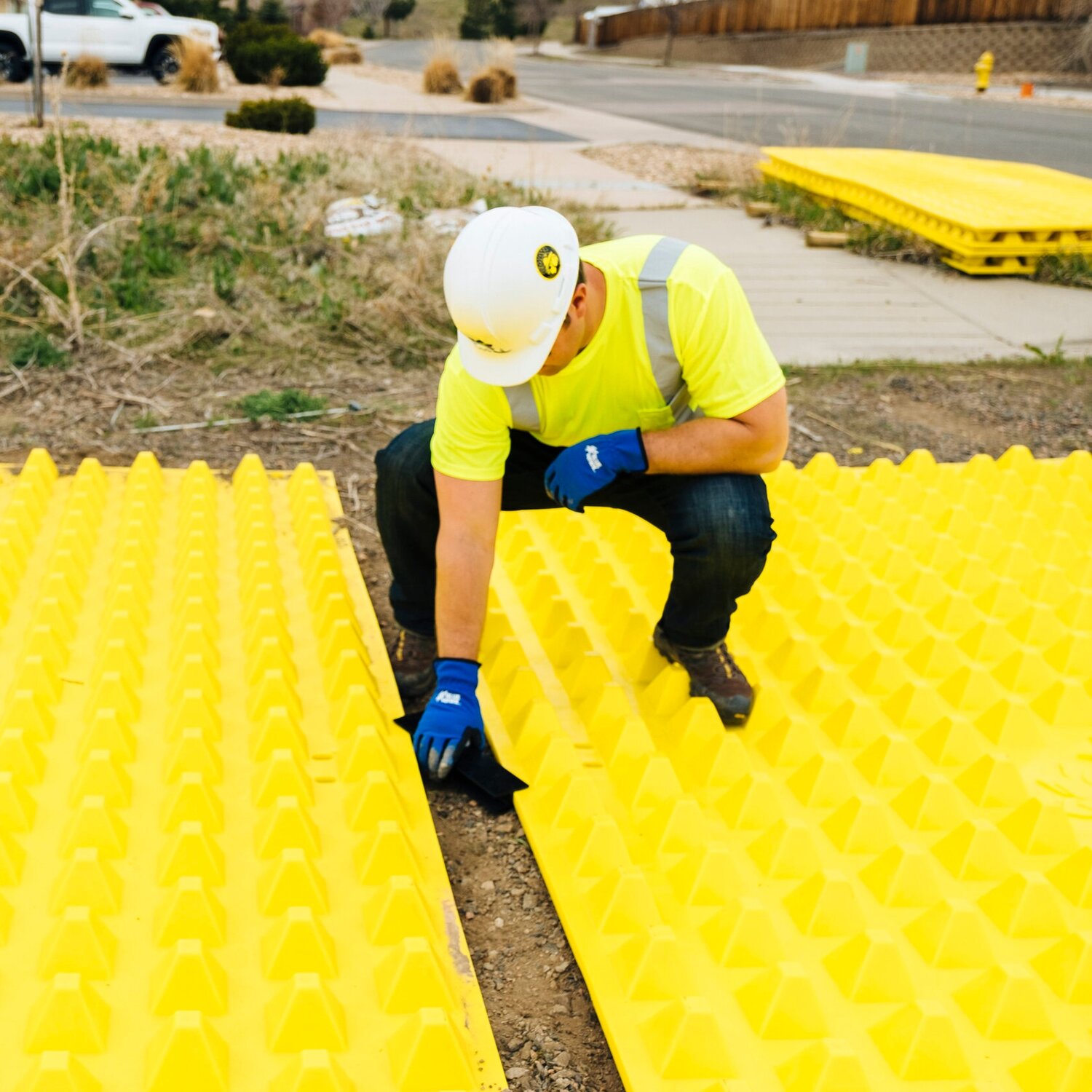 Step 2
Add H Bracket between mats.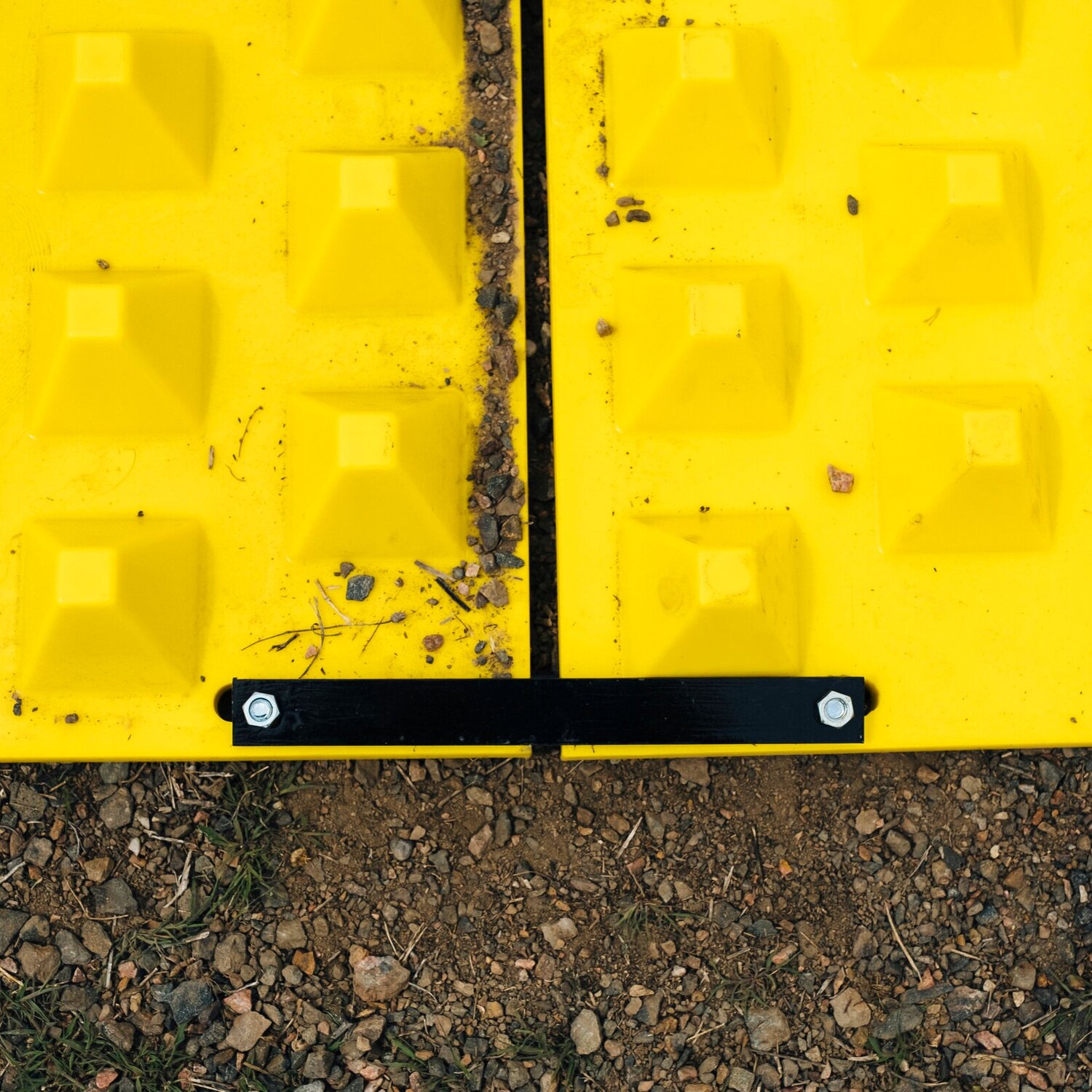 Step 3
Connect mats with metal straps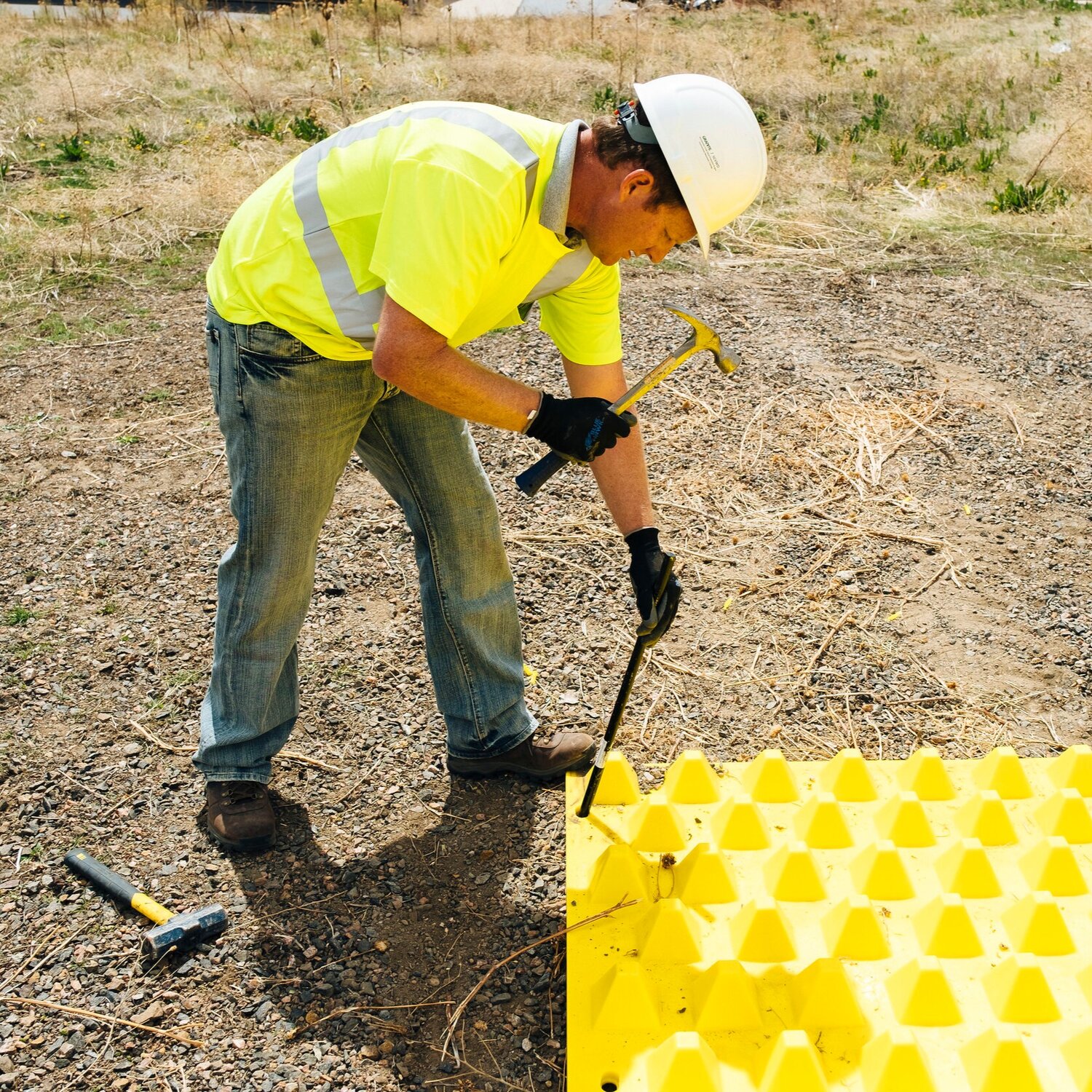 Step 4
Anchor mats in place
---
Example Trackout Mat Configurations

---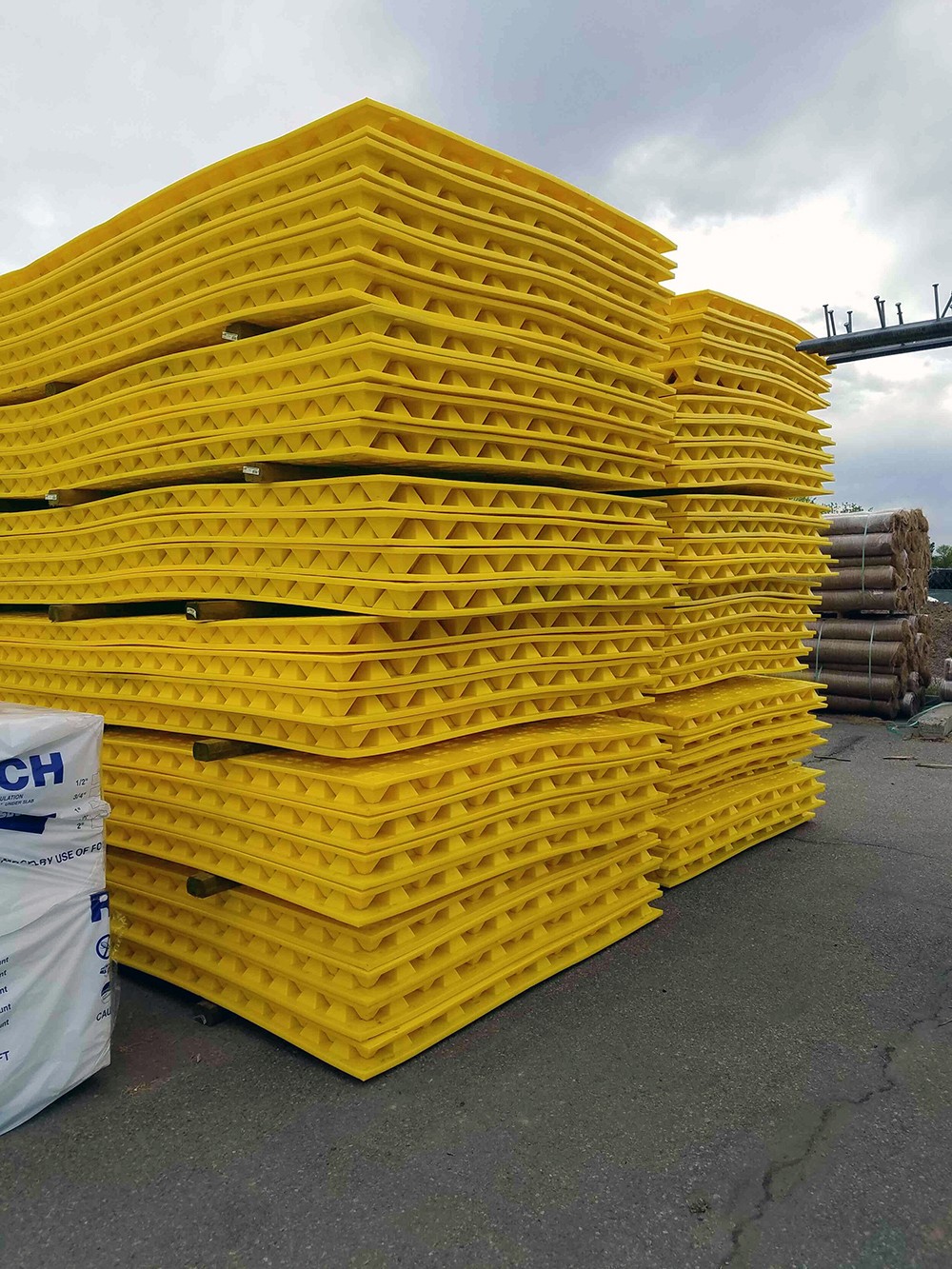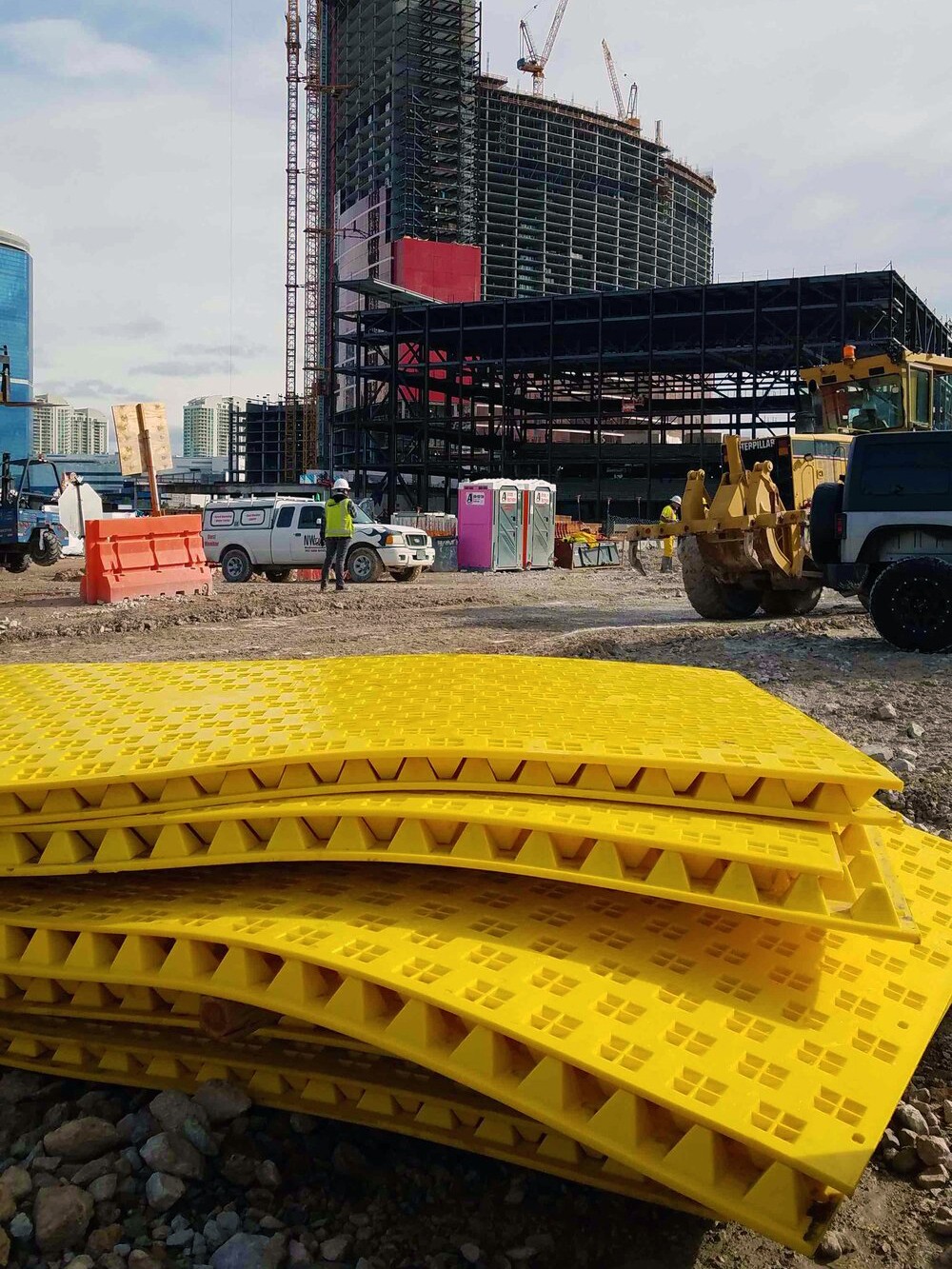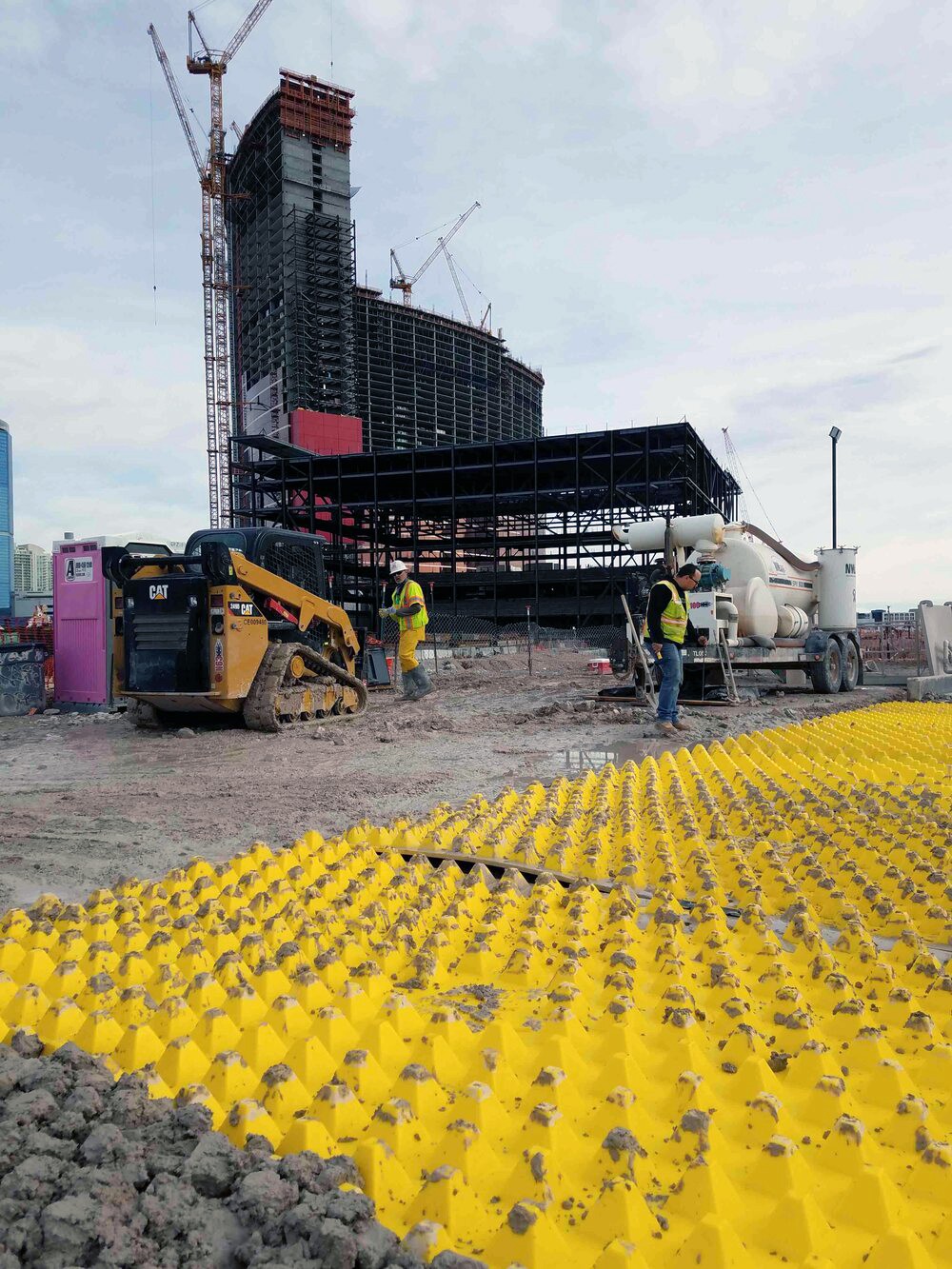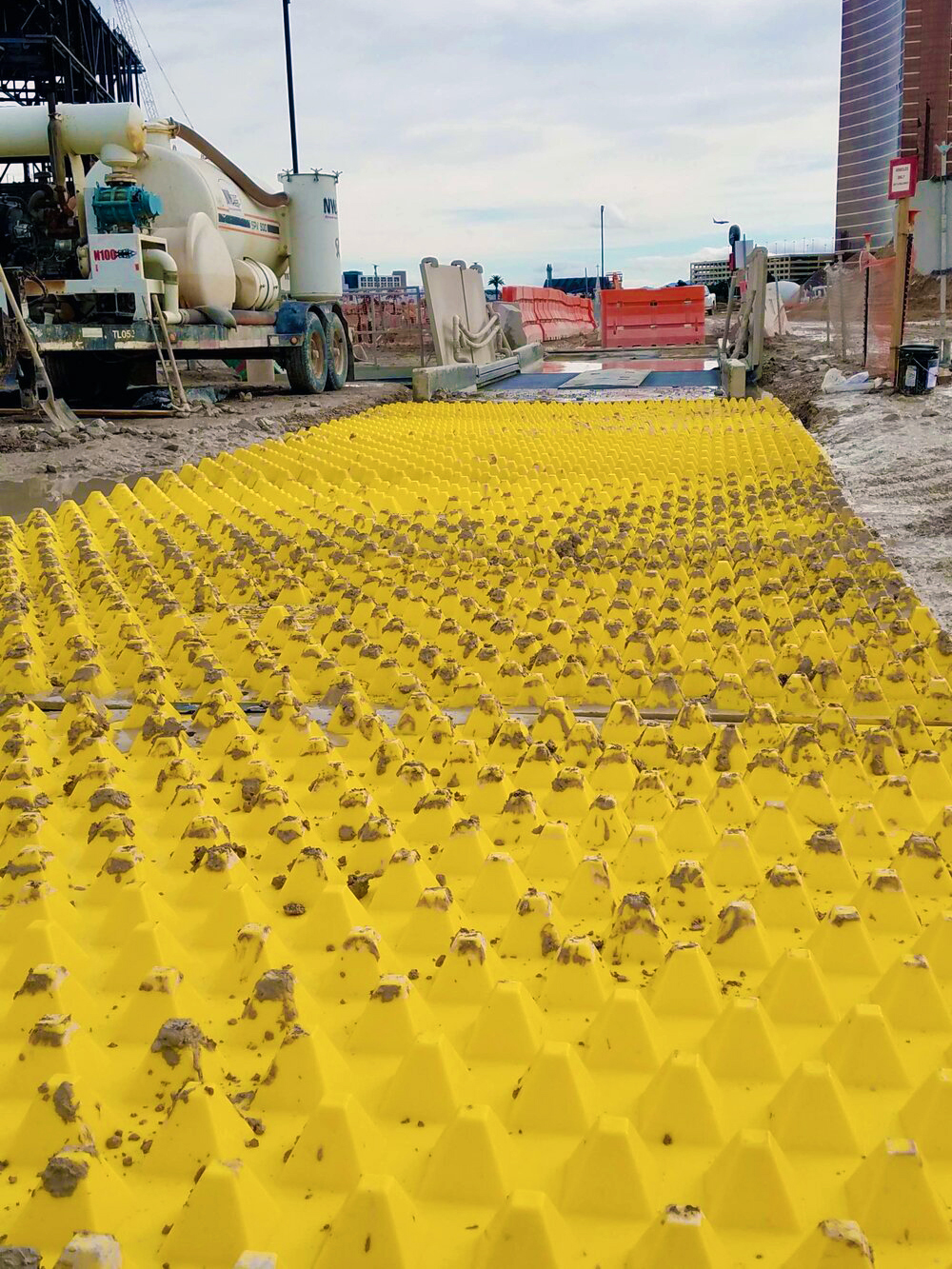 Stabilized Construction Entrance (SCE)
12' wide by 70' long of appropriate aggregate. The location where SCE is to be located needs to be excavated 6" down in-depth, a geotextile erosion control fabric placed down, with aggregate placed on top. Individual jurisdictions require specifications that can increase or decrease depth, width, length, size of aggregate, and similar. After SCE removal, topsoil must be added back to the disturbed area, graded, and re-seeded.
WARNINGS
Caution is to be used when crossing mats with metal tracked equipment.
Equipment with aggressive metal tracks should not cross mats.
Do not drag metal equipment across mats.
Do not use mats for bridging.
Used with guidance for:
Stabilized Construction Access (SCA)
HCFCD Specification 02365
Stormwater TC-1 Stabilized Construction
WARNING: This product can expose you to chemicals that are known to the State of California to cause cancer and birth defects or other reproductive harm.
For more information go to
www.P65Warnings.ca.gov
---
Customers Who Viewed This Page Also Viewed
---
Specifications
Features
Guarantee Length
3 Years
Dimensions
Height
3 3/4" (2 7/8" pyramid height)
Length
7'
Width
12'
Weight
Per Pallet
3,440 lbs.
Per Unit
430 lbs.
Load Capacity
Per Unit
250,000lbs
Material
Type
HMWPE (High Molecular Weigh Polyethylene)
---
Downloads
---
Q & A
Be the first to ask a question.
Tags: Stabilized Construction Entrance and Exit Mats, TC-1 Mat, Tracking Control, Trackout, Rocks, Mud, Debris, Dirt