Call for volume discounts!
(800) 671-9662
---
Distributor Pricing Available

Call Us!

Volume Discounts

Buy More, Pay Less

Zero Sales Tax

Order Online

Secure Shopping

High Security Checkout
---
---
Availability:

In Stock

Brand: PSS


SafetyWall® - ADA Compliant Work-Zone Pedestrian Barricade
The SafetyWall is the perfect option for construction zones and pedestrian diversions thanks to its continuous interlocking horizontal plane and solid wall-like structure, this barrier has a low profile which prevents small children and animals from potentially passing through. Tried and tested over decades of use, this is a great choice if you're in need of a road and ADA pedestrian complaint barricade.
This is a quality built-for-purpose safety barricade made from thick high strength, high-density HDPE coupled with fold-out steel tube feet. The SafetyWall barricade is stable when deployed, and compact when folded. Visual and sound aids can be fitted on the top and reflective warning sheeting applied to the side walls for excellent visibility. Each barricade uses 2 built-in interlocking cylindrical connectors for a secure fit and allows pivoting to configure your layout and setup.
Available in safety orange or white with many different options, talk to one of our team members today to see how we can help you with your project needs, or scroll down to read more about the SafetyWall.
---
Key Features
Continuous Interlocking Barricade - Smoother continual hand guidance. SafetyWall meets ADA guidelines and MUTCD standards as a sidewalk closure or a longitudinal channelizer.
Cane-ready - Ground-hugging lower rail reduces the potential for trapped canes.
Common Vertical Plane - Eliminates obstacles to safe passage.
Safety Compliance - SafetyWall meets ADA guidelines and MUTCD requirements. Holds FHWA-issued acceptance letter (WZ-315), and has met Test Level 3 standards of AASHTO's "Manual for Assessing Safety Hardware" (MASH).
Configurable Options - SafetyWall comes in either White or Orange with a choice of reflective sheeting grades, and reflector orientations.
Lightweight & Space Saving - Stacks flat for transport and storage.
Heavy Duty Long-Term Use - Constructed from a blow-molded HDPE frame and using the best 3M reflective sheeting, you'll be sure to receive years of use without complaint.
What comes with the SafetyWall®?
One-piece design SafetyWall® Barricade with your reflective sheeting of choice
Two fold-out steel galvanized supporting legs, pre-assembled.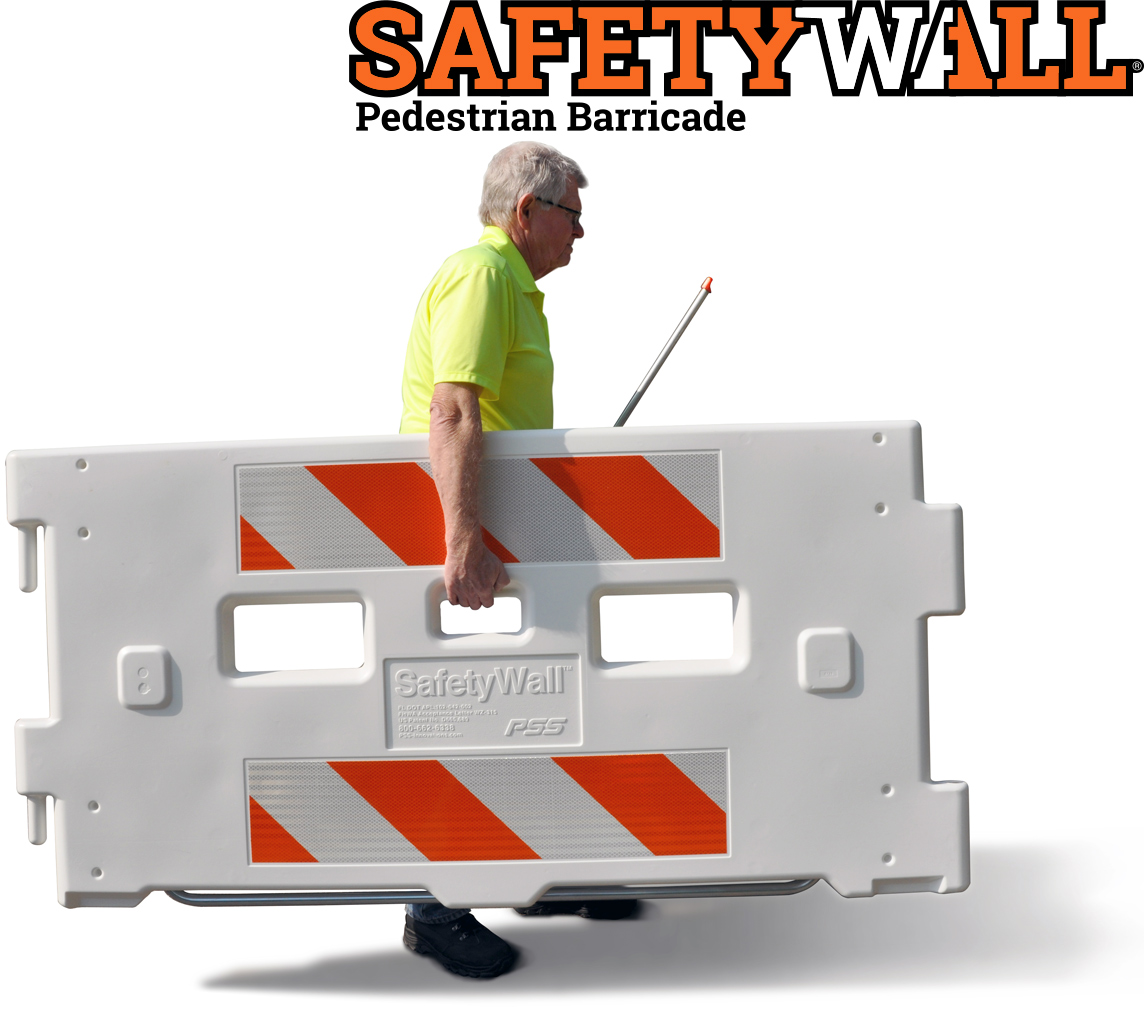 SafetyWall Features
Tested to Manual for Assessing Safety Hardware (MASH) Test Level: 3 - Click to view the download area for FHWA Eligibility Letter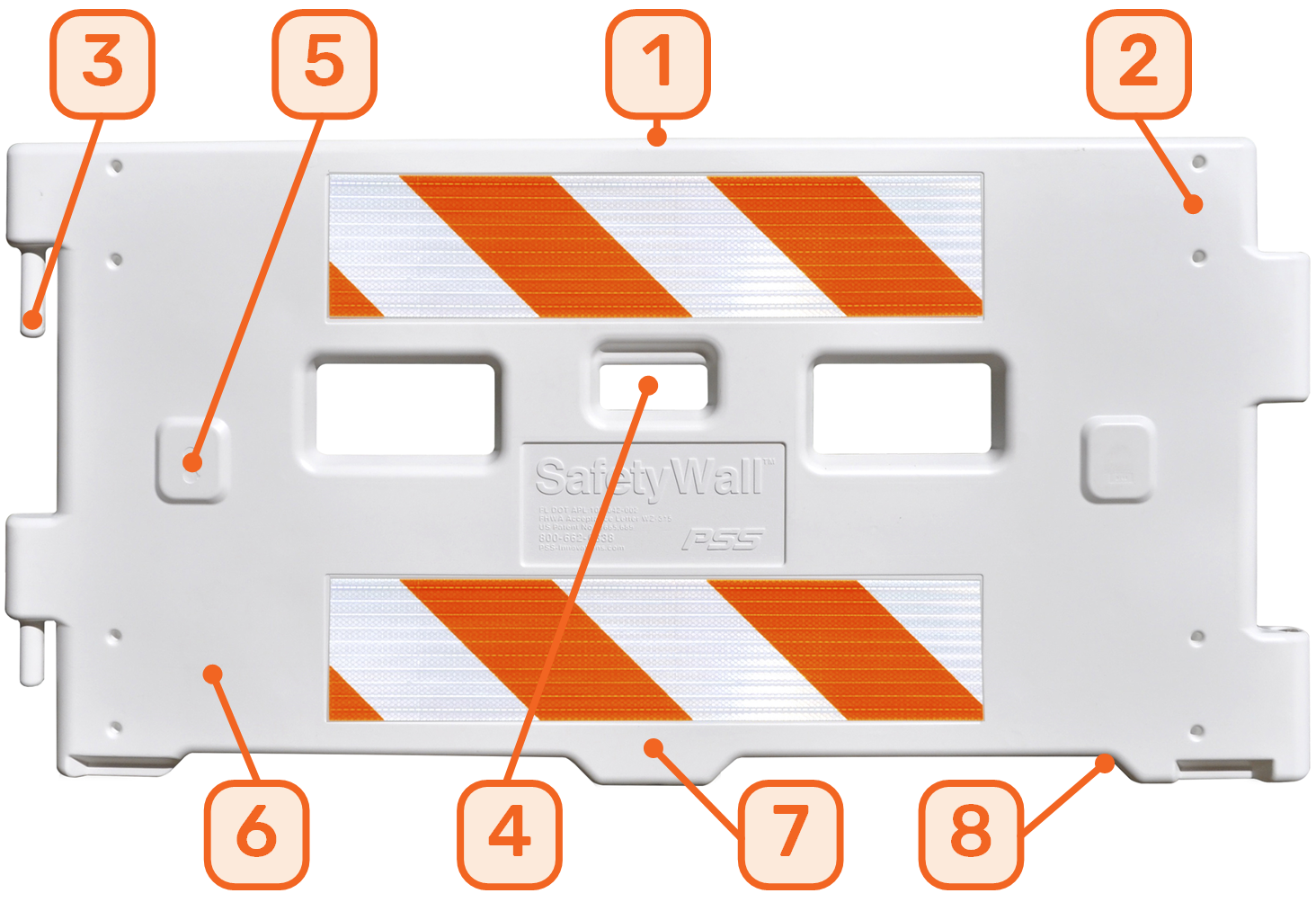 SafetyWall provides continuous guidance. The hand-trailing top is smooth, and safer for hand guidance.
Accepts Audible Information Devices and Warning Lights.
SafetyWall is an interlocking device. Assembles quickly. No tools are required. A one to two-person crew can easily create an accessible work zone in minutes.
Centrally located carry handle allows for easy carry of one or two SafetyWall units.
SafetyWall stacks for easy transportation and storage.
Continuous bottom for guidance with a cane. The gap between the bottom of the unit and the ground is less than 2", reducing the potential for trapping cane tips.
A common vertical plane eliminates obstacles in the walkway for safer, continuous guidance.
Legs fold in for easy storage. The recessed bottom edge allows for easy deployment of both legs.
---
SafetyWall Configuration Options
| | | |
| --- | --- | --- |
| Barricade Color | Reflective Sheet Options | Sides & Stripe Directions |
| White | High-Intensity Prismatic (HIP) | Front Side (Facing Pedestrian) with Left & Right Stripes or Block Directive |
| Orange | Diamond (DIA) | Back Side with Left & Right Stripes or Block Directive |
| | | Both Sides with Left & Right Stripes or Block Directive |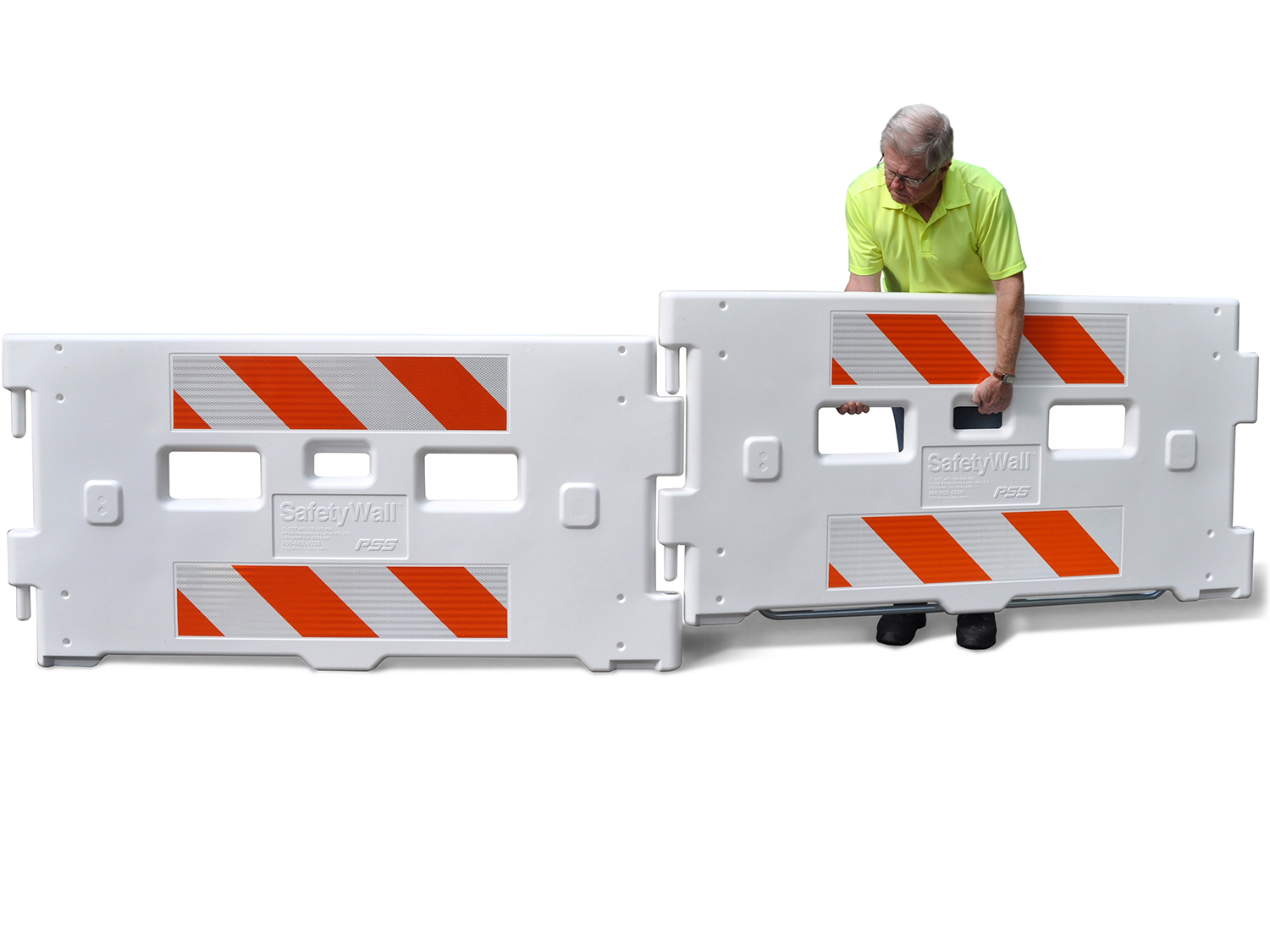 Pivoting & Interlocking
The SafetyWall provides secure pivoting top and bottom hinges to connect each barricade together.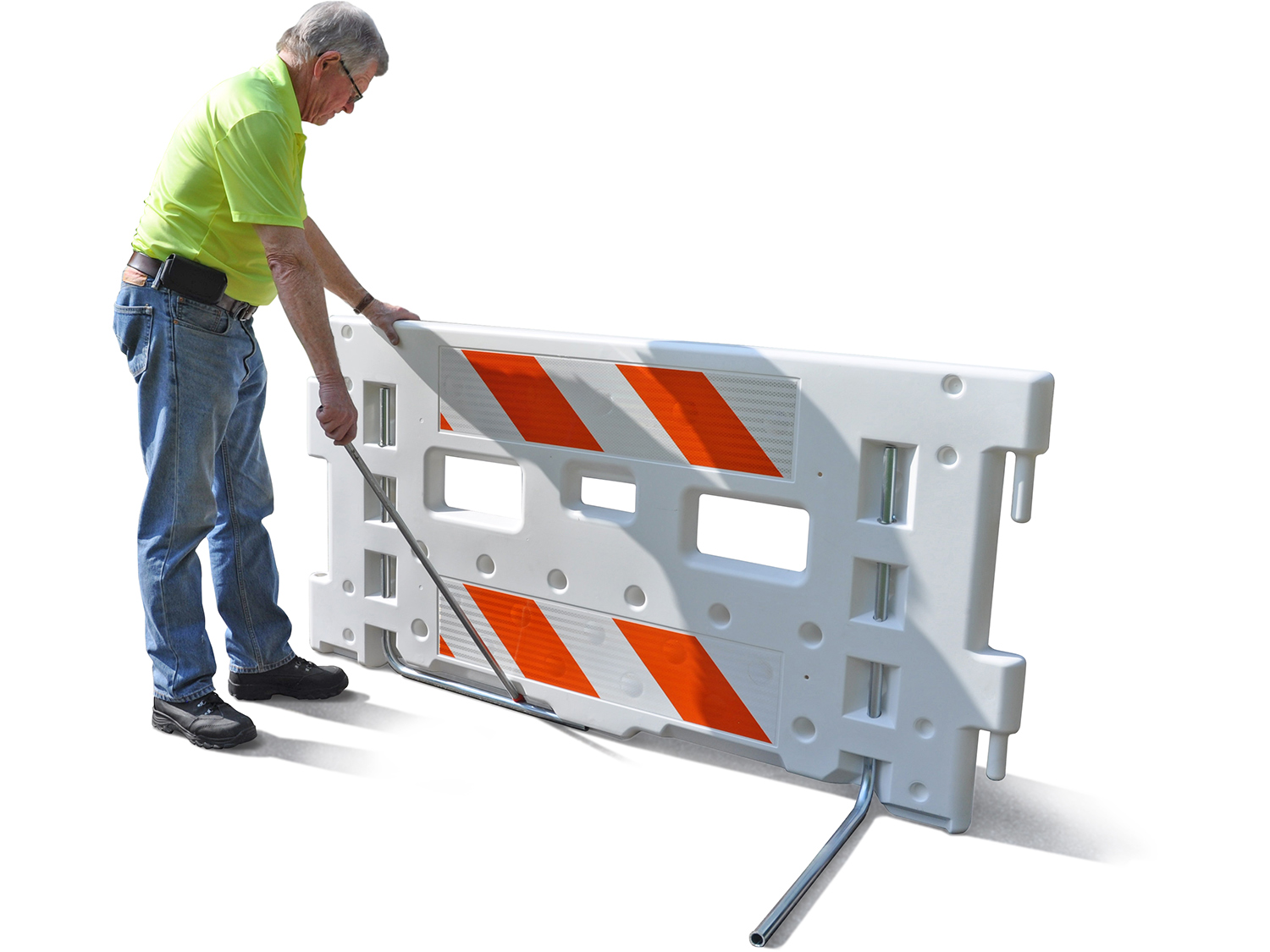 Low-Profile Barricade Support
Each barrier is equipped with fold-away steel tube supports which fold out when deployed.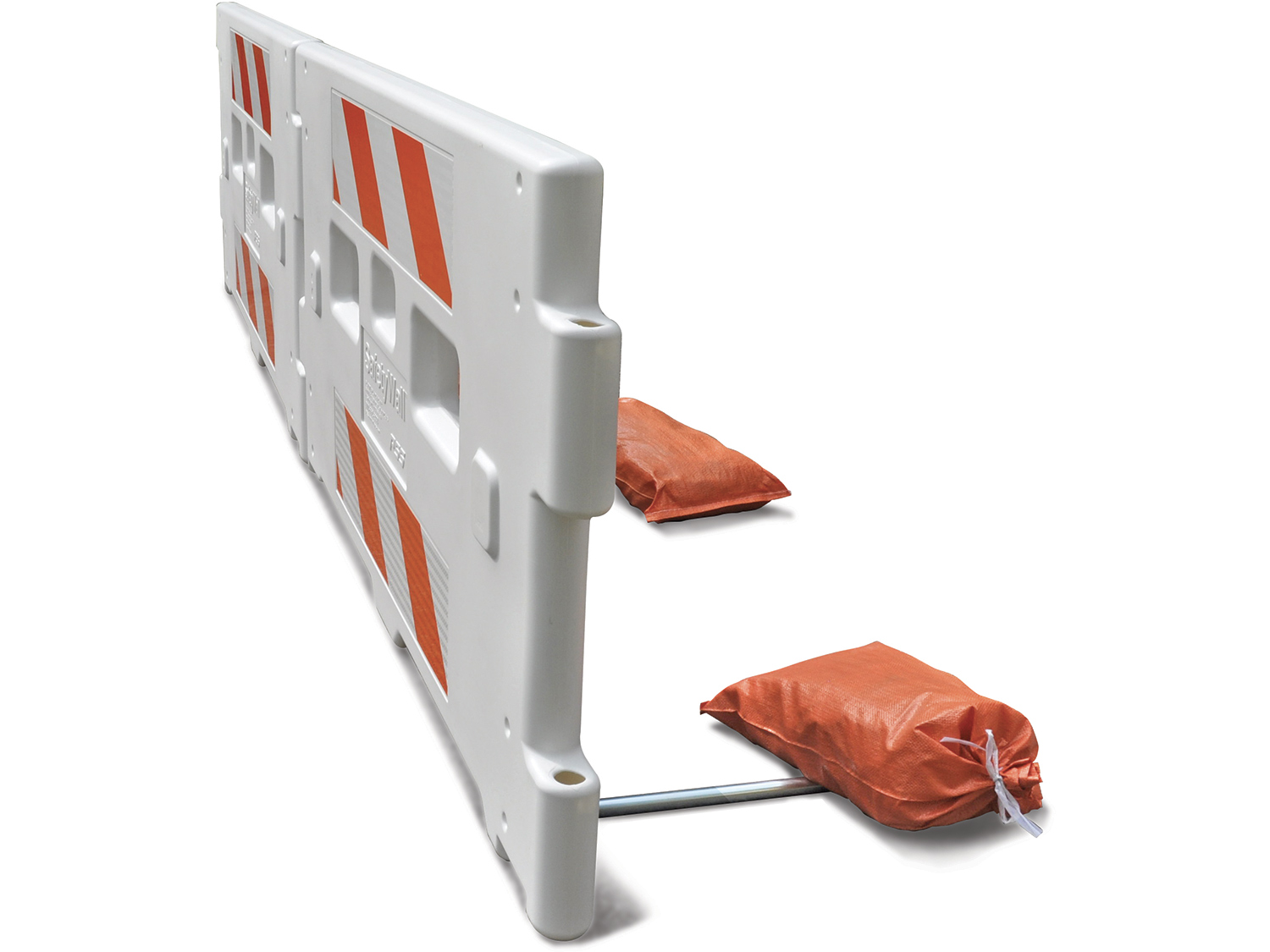 Additional Ballast Stability
Use your existing inventory of sandbags to add ballast for short runs of barricade length.
---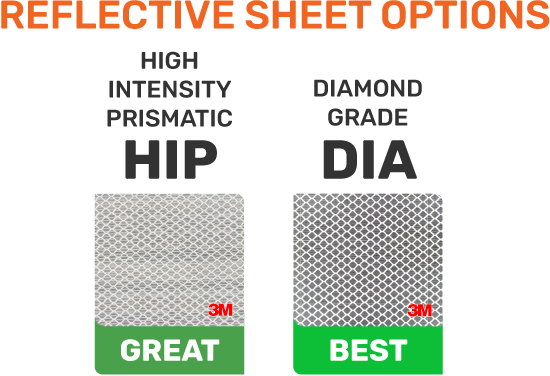 HIP - High-Intensity Prismatic Sheeting - GREAT
Meets ASTM requirement standards for D4956-09 Type III and Type IV, as well as ASTM 4956-07 Type X. It is a non-metalized micro prismatic lens reflective sheeting. HIP sheeting is highly reflective, and its durable topcoat protects signs and other traffic control devices against scratches and abrasion. Not only is it highly reflective at night, but it also commands attention during the day as well.
DIA - Diamond Grade Reflective Sheeting - BEST
Meets ASTM Type XI standard. A full cube prismatic reflective sheeting that returns almost 60% of the available light to vehicle drivers which is about double what HIP reflective sheeting reflects. With pending legislation in the US, this material will likely be required to replace many existing signs. Currently, all new "critical" traffic control signs (such as Stop signs, speed limit signs, etc.) are required to utilize this sheeting.
---
Striping Direction & Sides
3M Retro-reflective sheeting can be applied on one side or both sides of the centerboards.
Example option configurations:
Both Sides (RIGHT/RIGHT) = Right leaning stripes on both sides of the Wave board.
Both Sides (RIGHT/LEFT) = Right leaning stripes on one side of Wave board with left leaning on the other.

Left or Right Direction Boards (One-Way Turn)
Where barricades extend across a path or roadway, the stripes should slope downward in the direction toward which pedestrians or vehicles must turn.
Block Reflective - (Do not pass)
A new type of specification that's used in Michigan and other states. This design can be used to demonstrate a 'do not pass' warning or to show work in progress for construction, utilities, and excavation sites.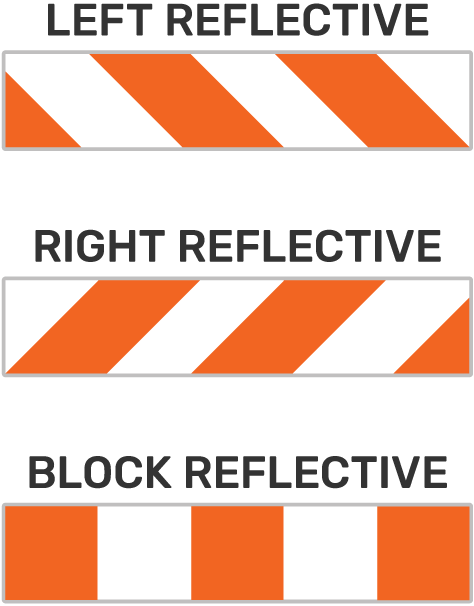 ---
PSS Brand ADA Pedestrian Barricade Comparison
| | SafetyWall® | SafetyRail™ - Click to view |
| --- | --- | --- |
| | | |
| Ballast/Stabilization Type | Sandbags placed on steel legs | Fillable with sand & use of sandbags |
| Barricade Color Options | White or Orange | White |
| Weight | 35 lbs plus additional sandbags | 7 lbs empty and up to 25lbs with sand fill |
| Dimensions | 3" W x 36.25" H x 74" L | 3.25" W x 38" H x 24" L at base |
| Length of barricade when deployed | 72" (Overall length is 74") | 48" or 72" Wave Guide Rail/Centerboard |
| Gap between bottom and ground | Less than 2" | 1.5" (From lower Wave board) |
| Reflective Stripe Options | Engineering, High-Intensity Prismatic, Diamond | Engineering, High-Intensity Prismatic, Diamond |
| Reflectives available on both sides | | |
| Mount for Audible Information Devices or Warning Lights | | |
| Carry handles | | |
| Transport Stackable | | |
| Toolless assembly | | |
| ADA Compliant | | |
| FHWA MASH Approved | | |
| MUTCD 2009 Compliant | | |
| Made in the USA | | |
| Material Composition | HDPE with UV inhibitors, Galvanized Zinc Steel Tube Supports | HDPE with UV inhibitors |
| Compatible with | PSS BoardWalk Ramp | PSS Wave Centerboards |
Key Applications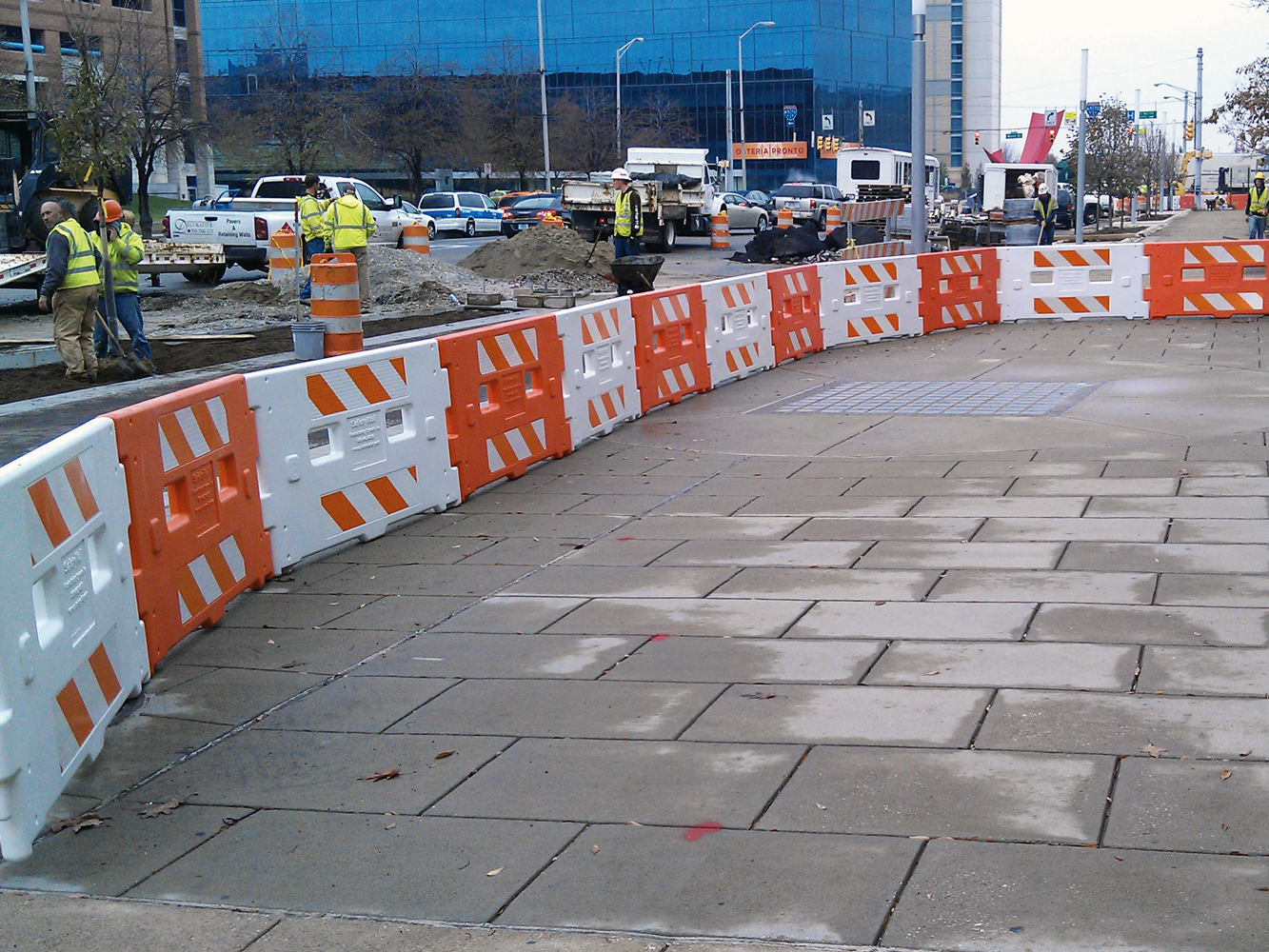 Sidewalks & Pedestrian Crossings
SafetyWall barricades work well as a temporary wall-like barrier. Channelize walkways and crossings for pedestrians without gaps.
Pedestrian Access for Construction Areas
A fan favorite for construction project managers as it provides ADA-compliant heavy-duty, maintenance-free deployment. Essential when diverting public walkways around your worksite or construction perimeter.
---
Why Buy from Start Safety?
We provide free, impartial product advice and knowledge by phone or email. It would be our pleasure to talk with you about your needs and any questions you may have. (800) 671-9662
---
Customers Who Viewed This Page Also Viewed
---
Downloads
---
Q & A
Be the first to ask a question.