Call for volume discounts!
(800) 671-9662
---
Distributor Pricing Available

Call Us!

Volume Discounts

Buy More, Pay Less

Zero Sales Tax

Order Online

Secure Shopping

High Security Checkout
---
---
WallMaster 400 Wall Mount Belt Barrier
The WallMaster 400 is ideal for use in areas where there is not enough space to have a regular post and belt barrier system. The housing for the WallMaster mounts on one flat surface with a receiving clip being mounted opposite.
A great example of an application for the WallMaster would be for use restricting access through a hallway within a factory while a machine is working.
The WallMaster 400 Is ideal for use in corridors or openings spanning up to 15', for smaller openings up to 10' we recommend the WallMaster 300.
Suitable Environments for WallMasters;
Schools - Great for closing off classrooms, corridors or other areas while cleaning is being carried out.
Factories - Cordon off a machine while it is in operation.
Shopfronts - Prevent customers from walking behind till areas or into storerooms.
Warehouses - Block off an aisle while machines are operating.
Airports - Restrict access to specific gates and corridors ensuring the public or even staff do not end up in the wrong place.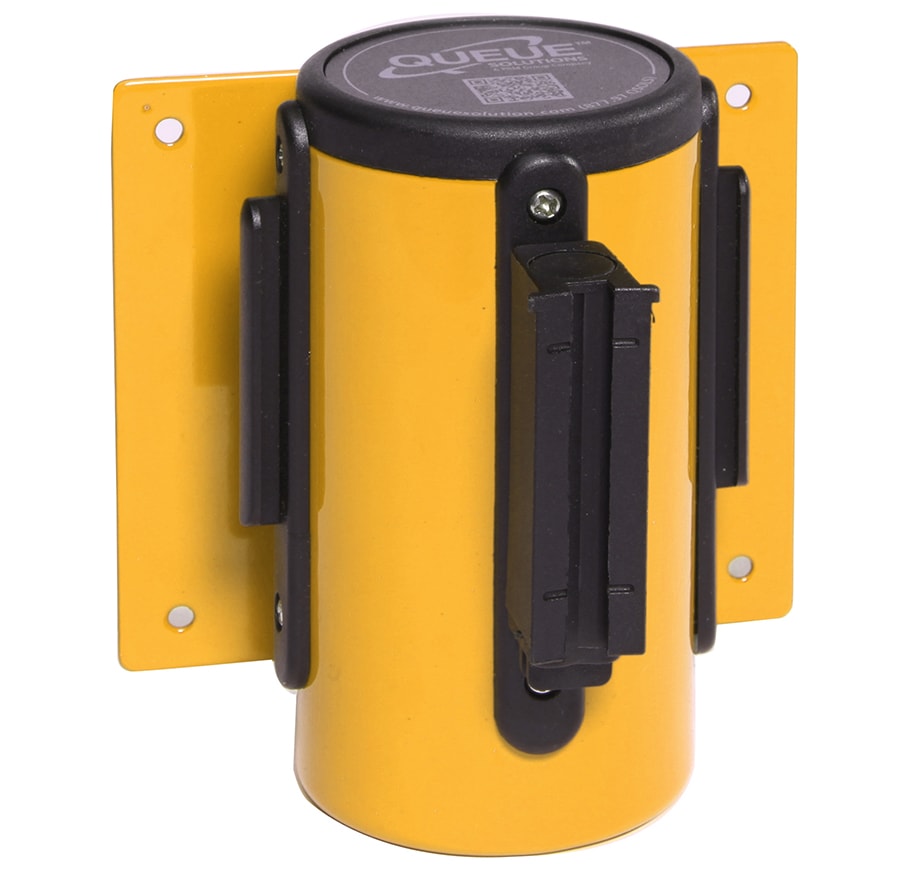 ---
Key Features Of The WallMaster Belt Barriers
Different Colored Belt Options - Like the rest of our belt barriers, there are different colors of belts available for the WallMaster range.
Different Mounting Options - This listing is for a screw fit mounting on both the body and receiving clip. Magnetic and other mounts are available upon request, if you have any questions, please do not hesitate to call.
Custom Printed Belts - These can include branding, messages or just patterns. Custom items may have a minimum order quantity applied to the order.
No Floor Space Taken Up - This makes them great for cutting off till systems, or doorways within commercial applications.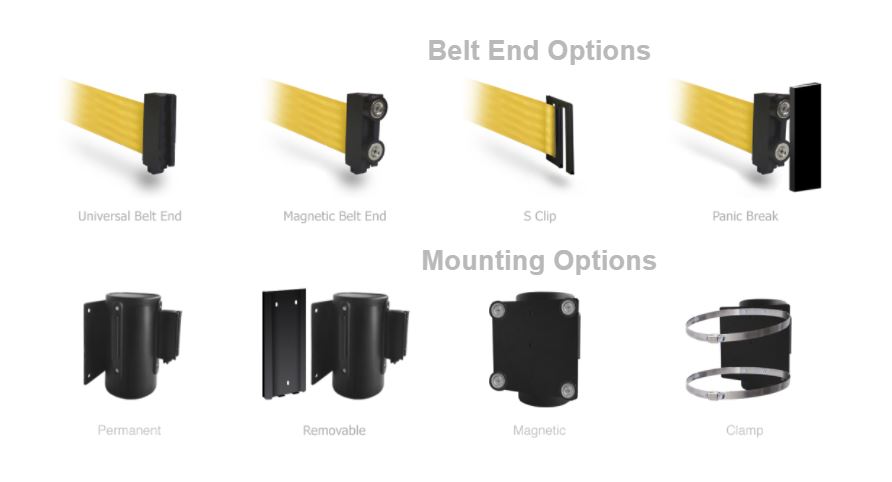 ---
What Are The Differences Between The WallMaster 300 And WallMaster 400?
The differences are very simple; the WallMaster 300 has a belt that is 10'. The Wallmaster 400 has a belt that will span up to 13 or 15 feet.
---
Looking for something that would look better in a hotel lobby?
Then you may need the WallPro range; these are fitted with a more aesthetically pleasing housing that hides the mechanics of the belt retractor.
Looking For A Post Mounted Version Of This?
Check out the full range of belt barriers that we have available. There are many types of various styles of foot designs, post shapes, sizes, colors, and belt lengths.
---
Need Assistance Finding The Right WallMaster Or Wall Mounted Belt Barrier?
No problem, just give our sales team a call on (800) 671-9662, they will be happy to discuss any questions that you may have regarding the installation or WallMaster options.
Notes When Ordering
Wall Fixings & Reciever Clip are included with all wall mount products
Items with custom powder coat or speciality finishes cannot be returned
---
Specifications
Dimensions
Base Width
4.75"
Belt Length
13' (15' available on request)
Height
4.5"
Belt Height
2"
Post Diameter
4"
Weight
Per Unit
3 lbs
Miscellaneous
Customization
Custom Printed Belt ArtWork
---
Downloads
---
Q & A
Be the first to ask a question.