Retractable Line Barriers
Showing 1 to 29 of 29 (1 Pages)
Showing 1 to 29 of 29 (1 Pages)
---
Retractable Line Barriers
We stock an extensive range of retractable belt barriers and rope barriers for all types of applications. From warehouse safety to shopping center queues, we have a retractable belt barrier for your needs.
Our retractable barriers are available in multiple finishes, including vibrant colors, stainless steel and more. The belts can be supplied in a wide range of colors. We are also able to offer custom printing on the belt to make them fit in with your company brand.
With so many options to choose from, finding the right barrier system can be a little daunting, but we are here to help! Our sales team is available during office hours on (800 671-9662) or by our chat portal. We can help you find the best retractable safety barrier system for your needs.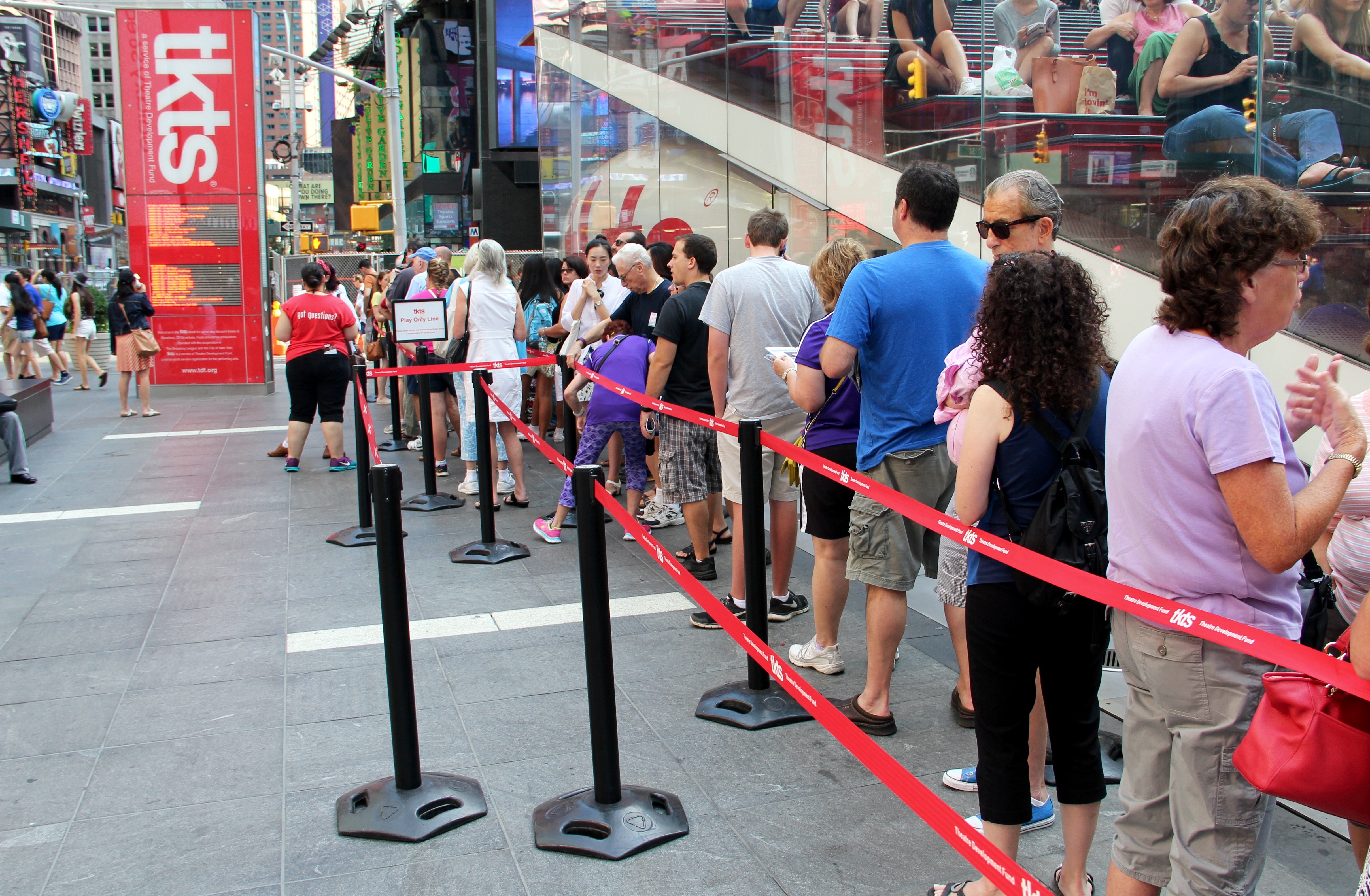 ---
Key Types Of Retractable Barriers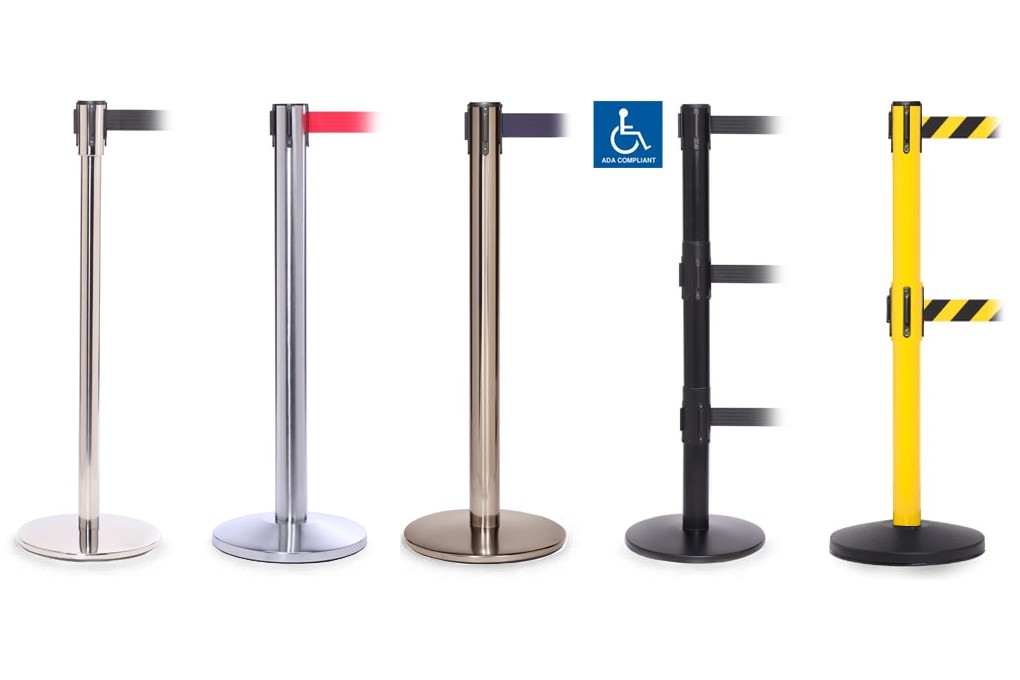 Post Belt Barrier
By far the most popular type out there is the post mounted system, and are seen in airports, shopping centers, warehouses, factories and banks all over the world. They are so popular because they can be configured in hundreds of ways and quickly reorganized.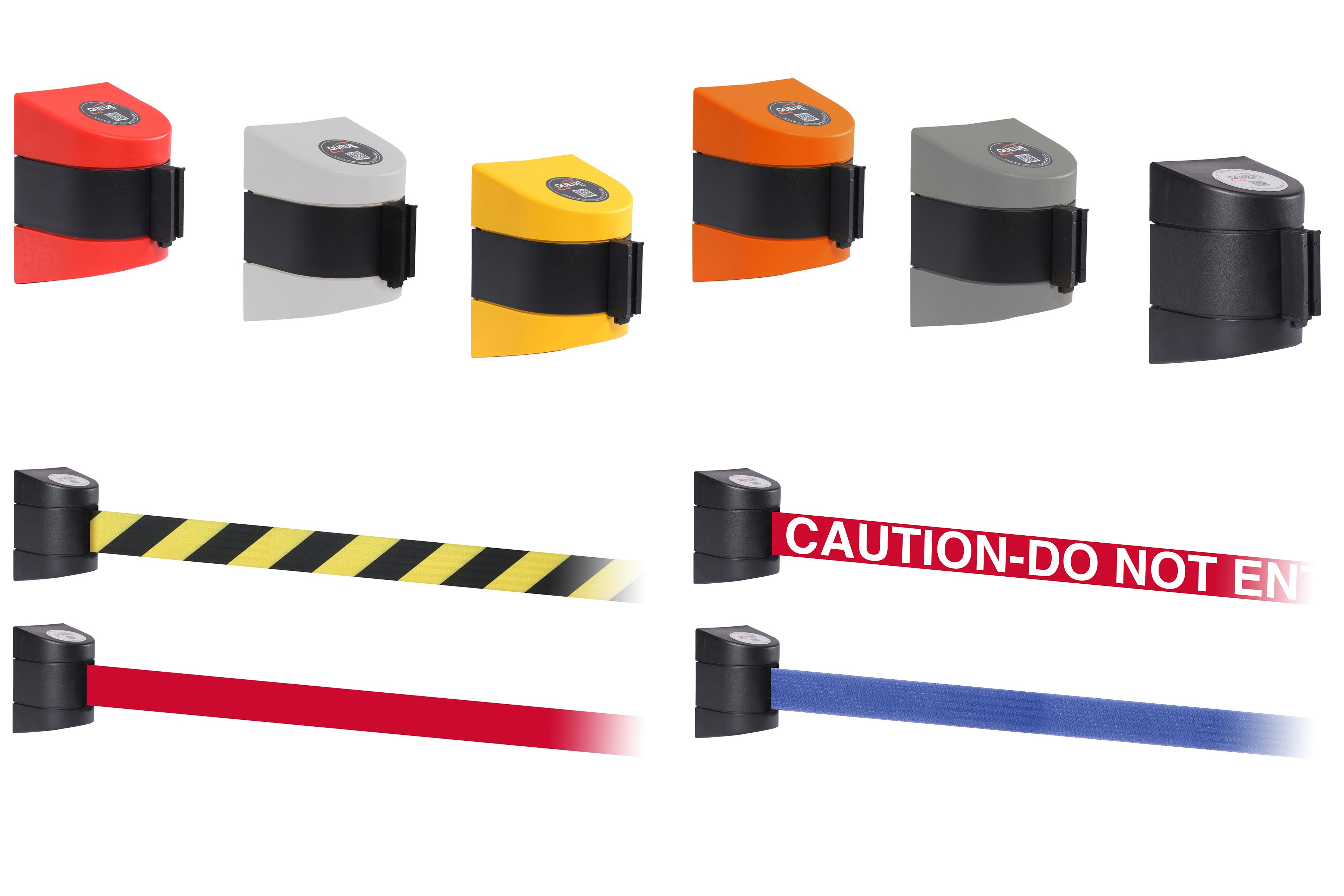 Wall Mount Belt Barrier
Great for use in warehouses hotels and more, these wall-mounted units can be pulled across corridors or bays in a warehouse, to prevent access while cleaning, loading or other activities are being carried out. The bonus of these is that they take up no floor space.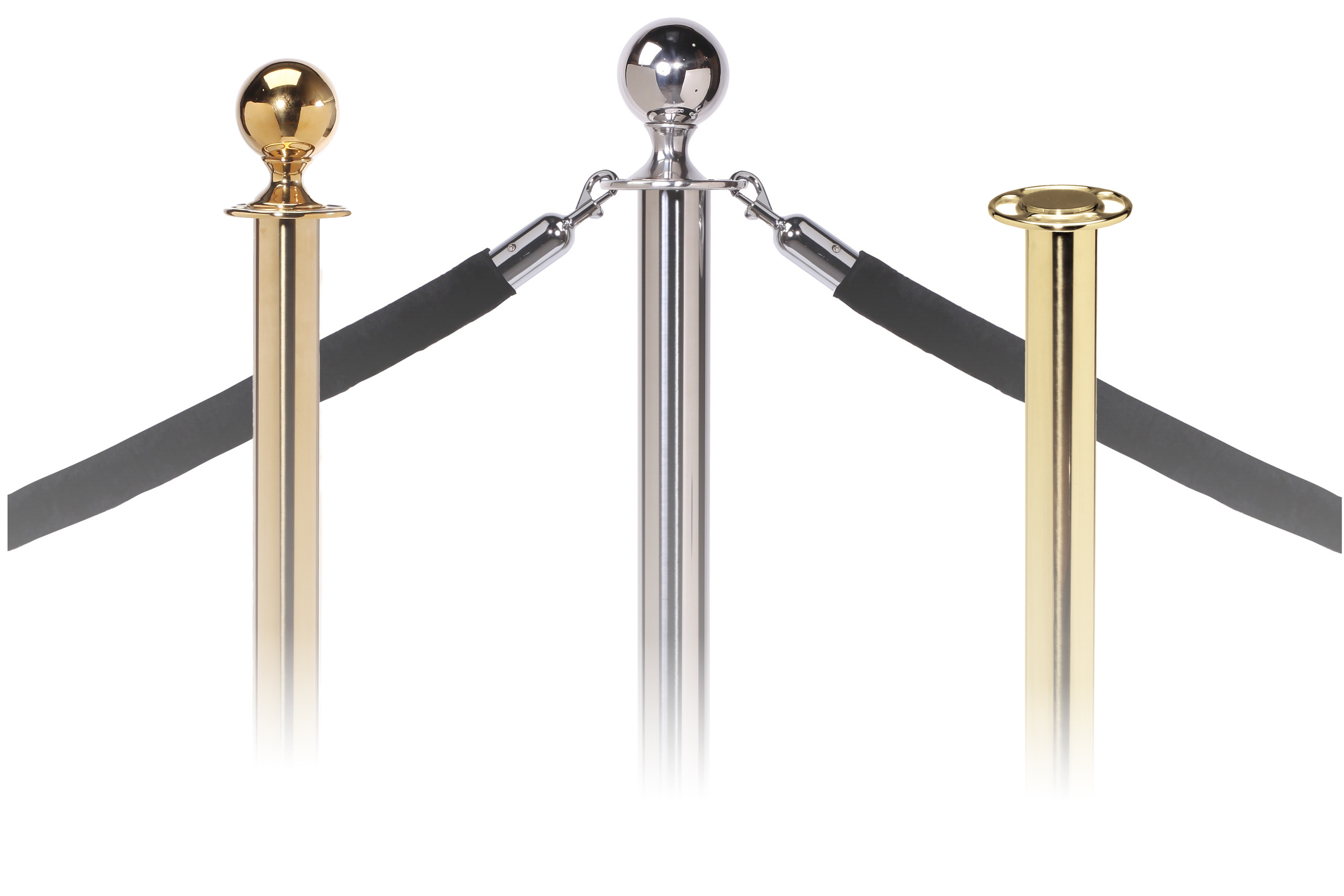 Rope Retractable Barrier
These are the V.I.P end of the range of retractable barriers; they are great for nightclubs, country clubs, and other high-end venues. They have a premium feel and finish.
---
Common Applications For Retractable Safety Barriers
Line Control - For most applications, a post mounted belt barrier will be ideal for this. They can be reconfigured depending on how many people are in a line. They are great for receptions, airports, shops, cinemas, libraries, lobby security areas, and schools.
Closing off an area - Looking to close off an area of a section of space semi-permanently or prevent someone from touching an exhibit, then you may want to consider a rope barrier for a "classy" appearance or maybe post and chain setup.
Closing off a room or walkway - If there is a fixed entry point, then a wall-mounted belt barrier may be better suited to your needs. This can be installed either side of a door, till point, or even corridor.
Creating a walkway - If you want to create a walkway through a room, then rope barriers or belt barriers are worth considering depending on the desired appearance.
Creating An Exclusion Zone - For creating an exclusion zone on a construction site the skipper barrier is ideal. Alternatively, post style belt barriers or post and chain will work very well.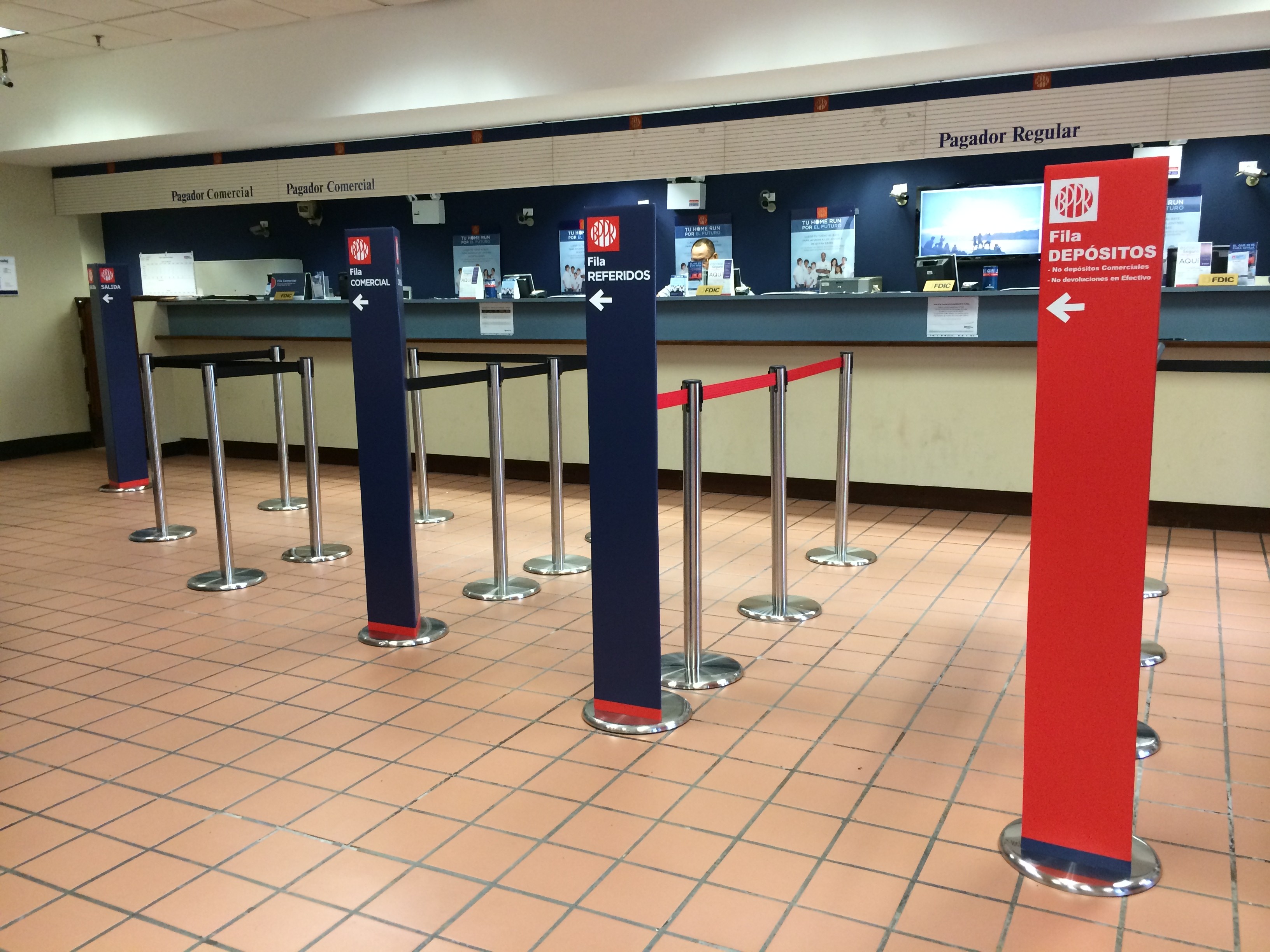 ---
Retractable Barrier Jargon Buster
We have put together some key terms that will help you understand the range more and understand the applications a little better.
QueuePro, QueueMaster & RollerPro - These are ideal for retail environments, they are available mainly black and stainless steel. They are discreet, yet can have custom branding applied to the belts.
SafetyPro & Safety Master, RollerSafety - Designed for industrial and commercial environments, these come with heavy-duty bases and are in bright, vibrant colors for maximum visibility. Great for keeping people away from forklifts or other heavy equipment.
WeatherMaster - Perfect for outdoor use whatever the weather.
RollerPro & RollerSafety - Both have incorporated wheels to allow them to be moved around quickly and safely.
Belt Brake - Almost all of our belt barriers have brake systems in them to stop the belt from "snapping back" inside the unit.
Belt Lock - This is a feature that locks the belt onto the receiving unit to prevent accidental unlatching.
Twin - These belt barriers have twin belts with the lower belt being at the knee level for the average adult. This lower belt is excellent for preventing children from walking under the top belt.
Belt Length or Span - This is how far the belt comes out of the post, the longer this measurement is, the fewer posts you may need.
---
Benefits of Retractable barriers
One of the universal benefits of these retractable barrier systems is that they can be packed away and removed just as quickly as they are deployed. When stored they take up very little space, yet can be set up to cover a large area with short notice to create an effective pedestrian traffic control system.
Accessories
There are hundreds of accessories available for this range of products. If there is something you need that you cannot see here, we advise that you contact our sales support team who will be happy to assist you with any questions.
---
Why Buy Your Retractable Barriers From Start Safety?
We have great customer service, proven by our array of third-party reviews. We offer next day shipping on a huge part of our range and are always available to assist customers with questions on (800) 671-9662.
---