Call for volume discounts!
(800) 671-9662
---
Distributor Pricing Available

Call Us!

Volume Discounts

Buy More, Pay Less

Zero Sales Tax

Order Online

Secure Shopping

High Security Checkout
---
---
SafetyPro 250 Twin Belt Barrier System
The SafetyPro 250 Twin is a heavy-duty belt barrier designed for use in factories, workshops, and commercial environments. The "safety" range which includes the RollerSafety, SafetyMaster and the SafetyPro lines all have brightly colored posts that enhance their visibility.
The SafetyPro 250T features a twin belt and is heavier duty than the rest of the range. It has been specially developed for use around machines, production lines, and cleaning operations.
Heavy-gauge aluminum coupled with a solid cast iron base makes the SafetyPro very hard-wearing, ideal for harsh working environments. Durable weather-resistant finish ensures that even if used outside on occasion, the barrier will cope with the use.
---
Key SafetyPro 250 Twin Features
Superior Floor Protection - Fitted with a heavy-duty rubber ring the SafetyPro range will not scuff flooring when posts are being re-arranged. The ring is strong enough to last the lifetime of the barrier.
Safety Retraction Brake - The belt retraction speed is regulated by an internal brake to prevent excessive and dangerous retraction speeds.
Universal Belt Clip - This allows the SafetyPro to be used in conjunction with many major brands of belt barriers. The clip is also equipped with a locking facility to prevent accidental disconnection.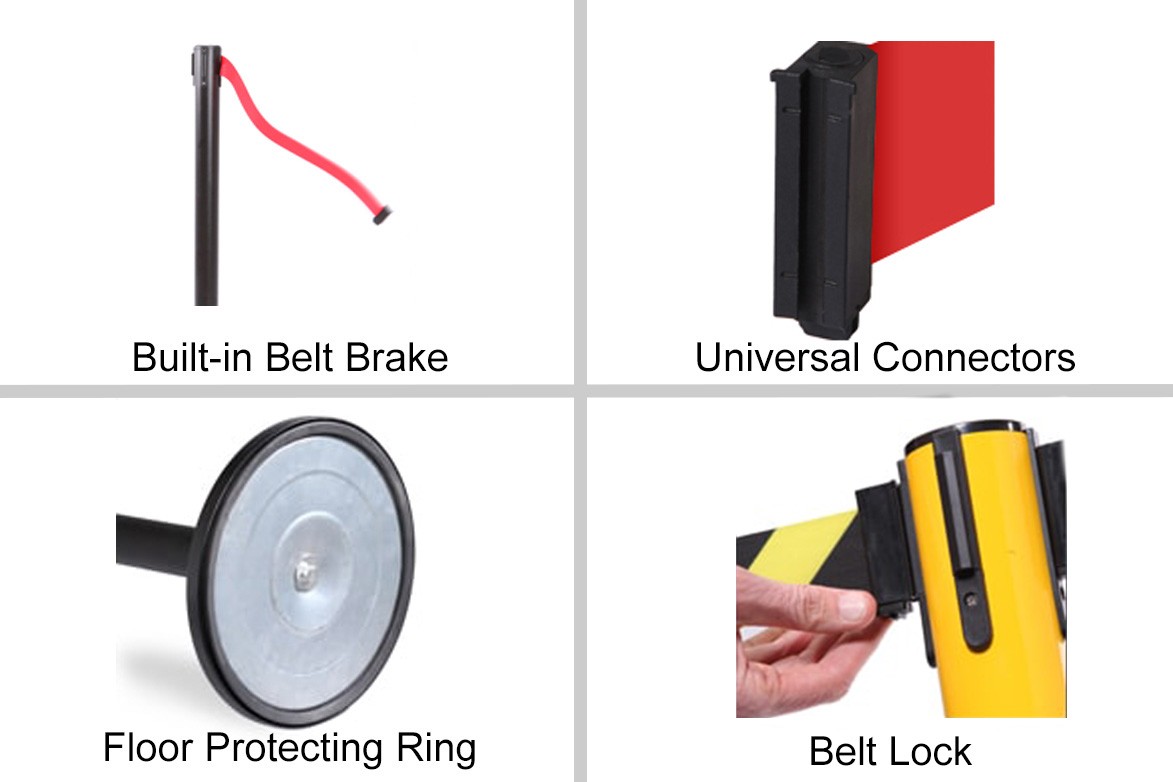 ---
Other Models In the SafetyPro Range
Thre are a few models in the safety pro range which are slight variations to the base 250 model. We have highlighted the key differences below;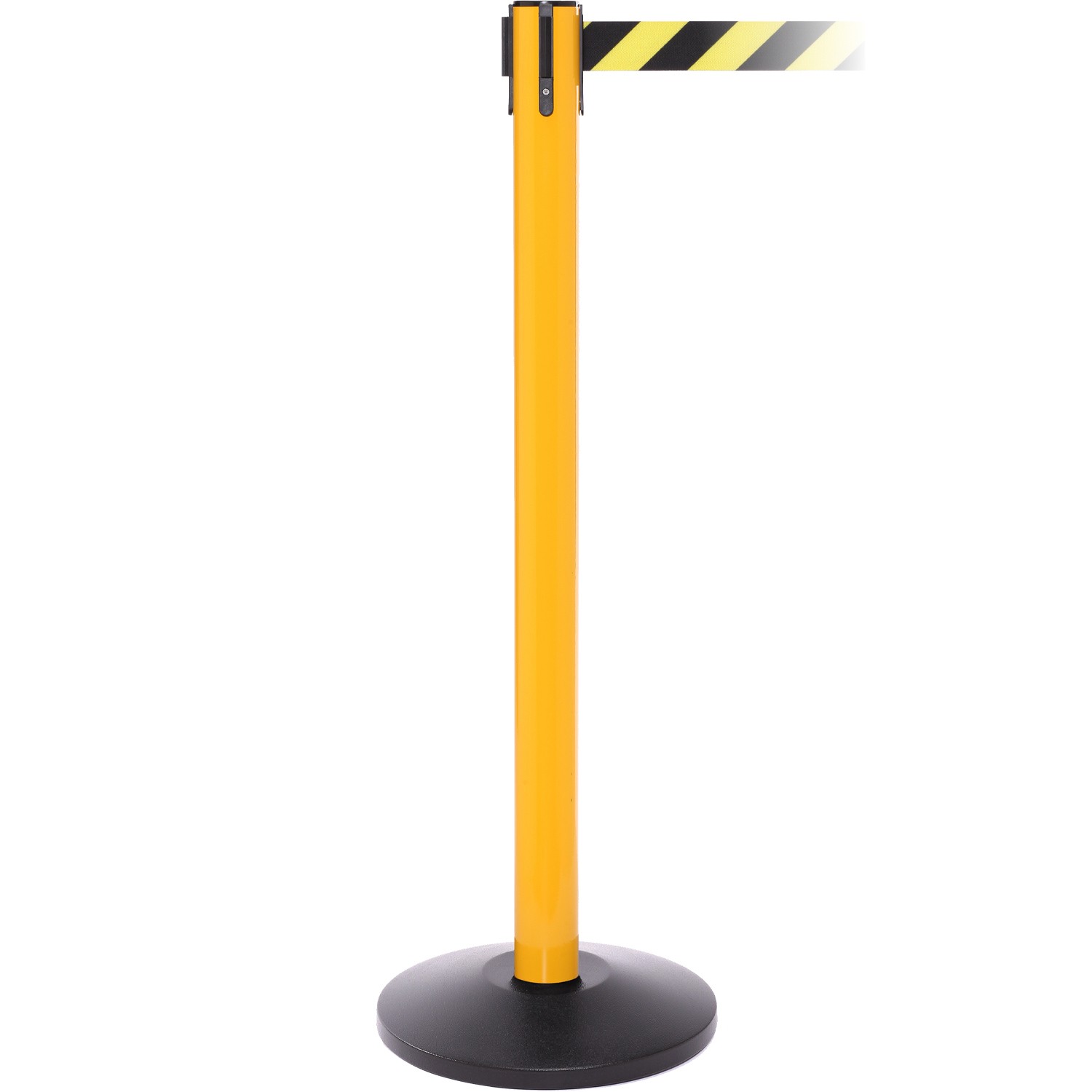 Ideal for creating short to medium length safety perimeters. A heavier base makes this post more stable and very secure once deployed.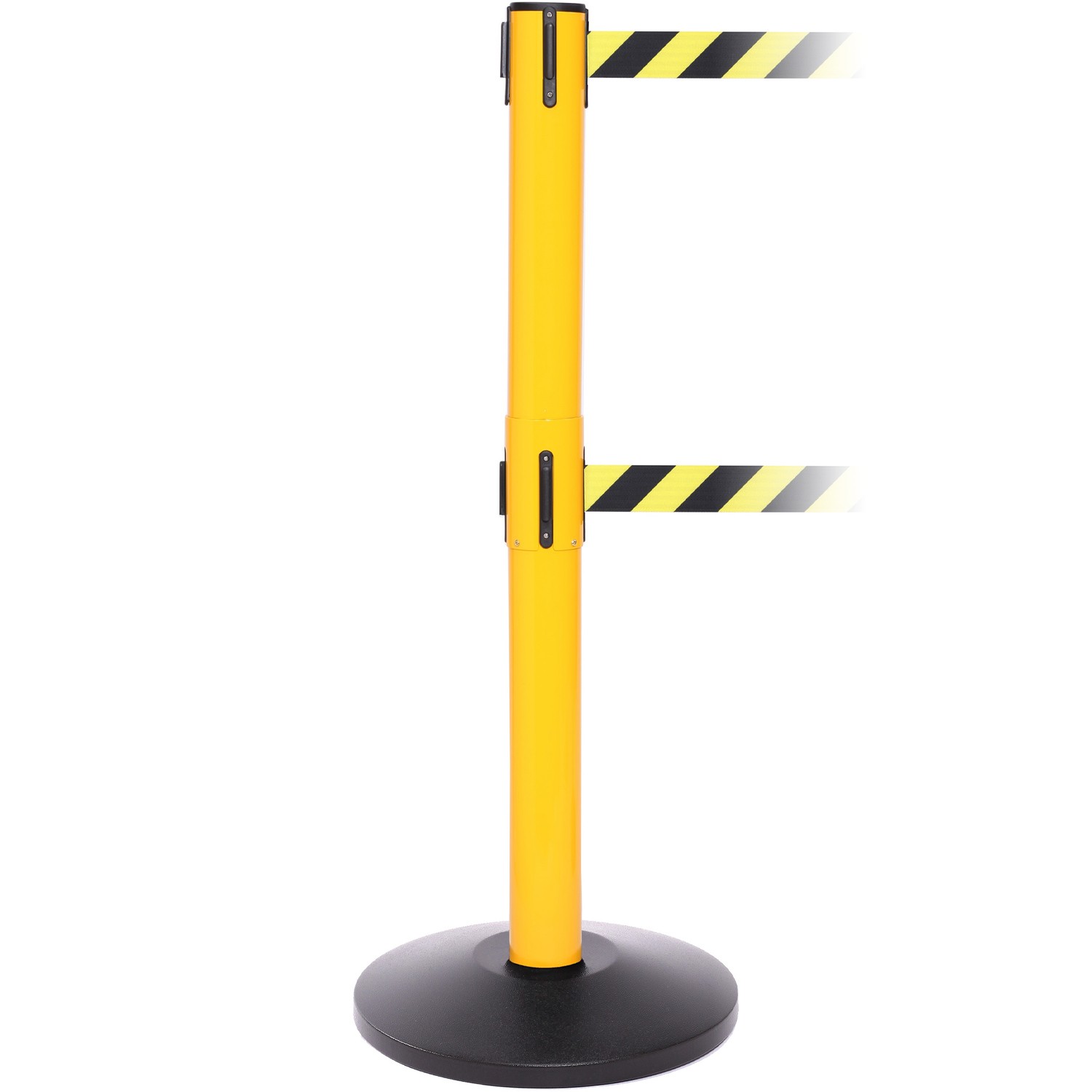 SafetyPro 250 Twin
The 250 Twin Is fitted with twin belts for better visibility and improved safety for passers-by.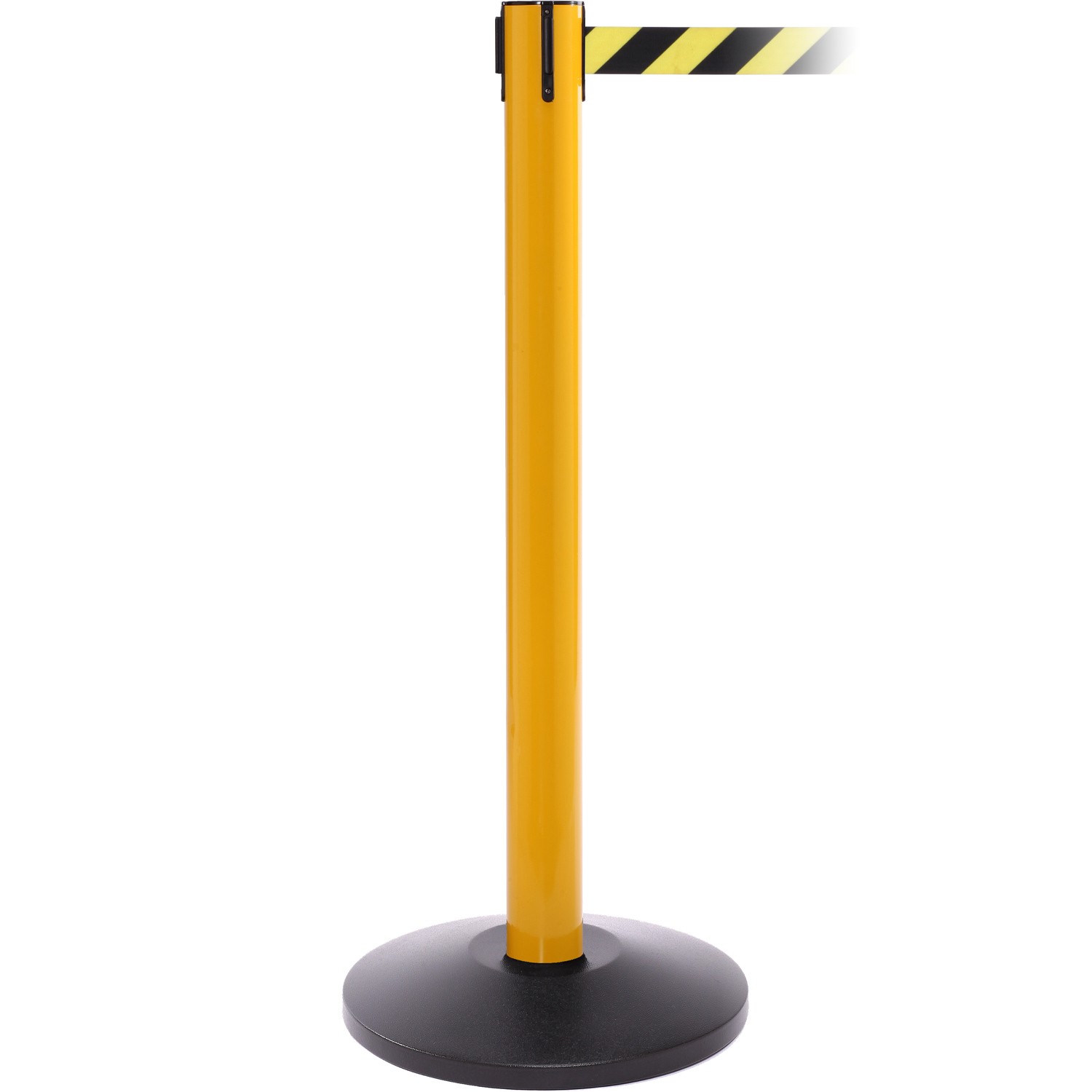 The 300 model is fitted with an extended belt at 16 foot, it also weighs 2lbs more, and has a thicker 3" post to accommodate the belt.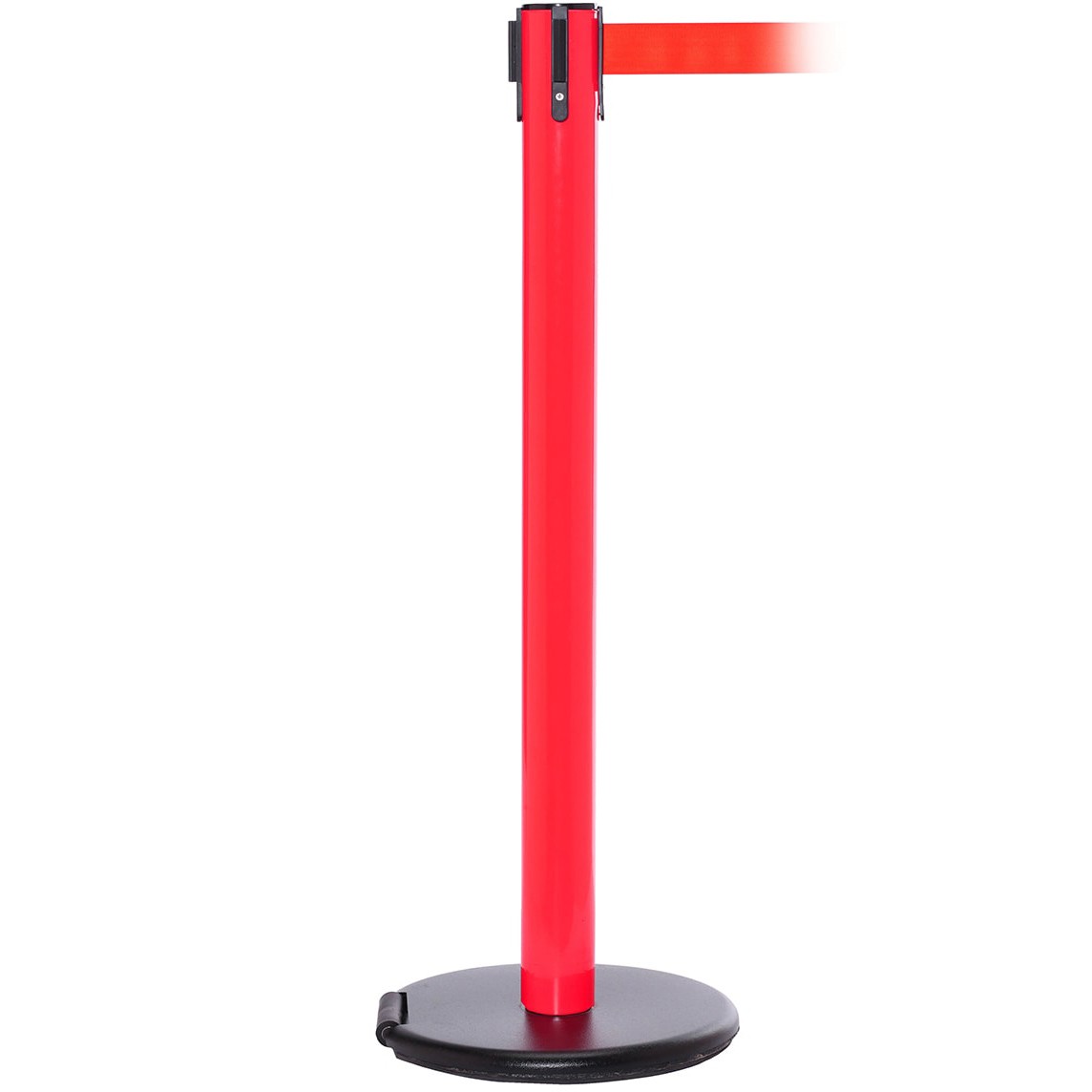 Need it on Wheels?
Check out the RollerSafety Range; these barriers are fitted with rollers so they can be moved around easier.
---
Need Help Finding The Right SafetyPro Barrier?
Give our sales team a call on (800) 671-9662 they will be happy to help you find the right barrier for your needs. We have an extensive range to choose from, most with next day shipping available!
Notes When Ordering
The SafetyPro range are fully weatherised and intended for outfoor use
We recommend using the weighted base, having 30lbs extra ballast for outdoor application
---
Specifications
Dimensions
Base Width
14"
Belt Length
11'' or 13'
Height
40"
Belt Height
2" or 3" (3" belt height not available with 13' length)
Post Diameter
2.5"
Weight
Per Unit
23 lbs
Miscellaneous
Customization
Custom Printed Belt ArtWork
---
Downloads
---
Q & A
Be the first to ask a question.