Call for volume discounts!
(800) 671-9662
---
Distributor Pricing Available

Call Us!

Volume Discounts

Buy More, Pay Less

Zero Sales Tax

Order Online

Secure Shopping

High Security Checkout
---
---
SafetyMaster 450 Belt Barrier System
The SafetyMaster is the value arm of the SafetyPro range of belt barriers. Offered in vibrant colors with contrasting belts that make them ideal for use in commercial environments.
When placed around a work area the Safetymaster makes an ideal solution for keeping people away from working machinery. When placed across an aisle in a warehouse the SafetyMaster can be used to keep workers away from moving forklifts.
Areas of wet flooring can be cordoned off during cleaning to prevent access, reducing slipping or trip risks. All of the SafetyMaster Range is weatherproofed.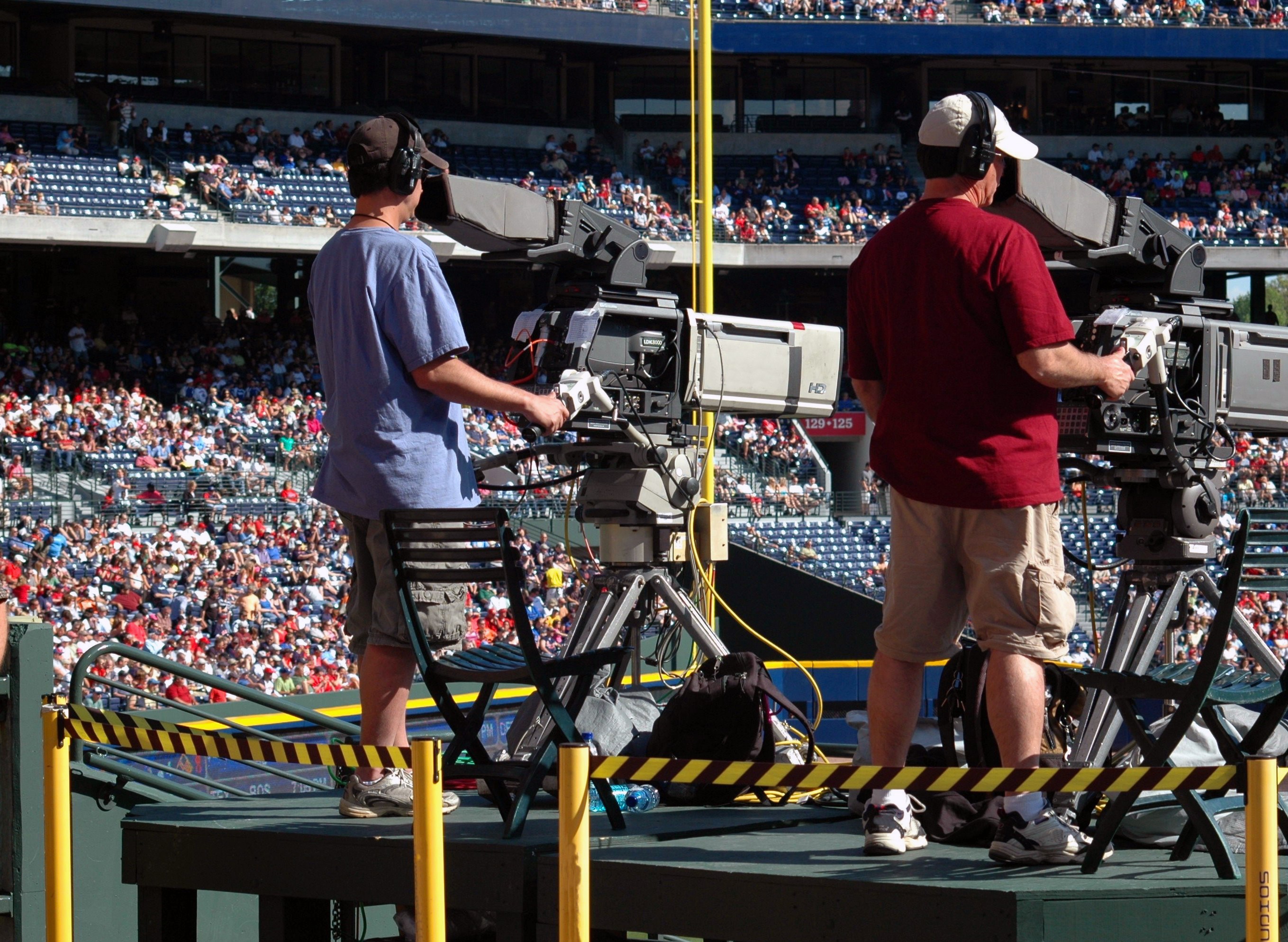 ---
Key Features Of the SafetyMaster Range
Brightly Colored Post Options - Ensure that the posts and belts are seen easily by both workers on foot or those driving forklifts.
Floor Protection Ring - Prevents scuffing of flooring when being moved. A full rubber ring surrounds the entire circumference of the foot.
Locking Universal Belt Clip - The clip that attaches to the next post in a chain features a locking toggle, this prevents accidental unlocks. The clip is also of "universal" design, allowing it to connect to all popular brands of posts.
Belt Braking System - A slow retraction system prevents the belt from drawing back into the post quickly in a "whipping" action.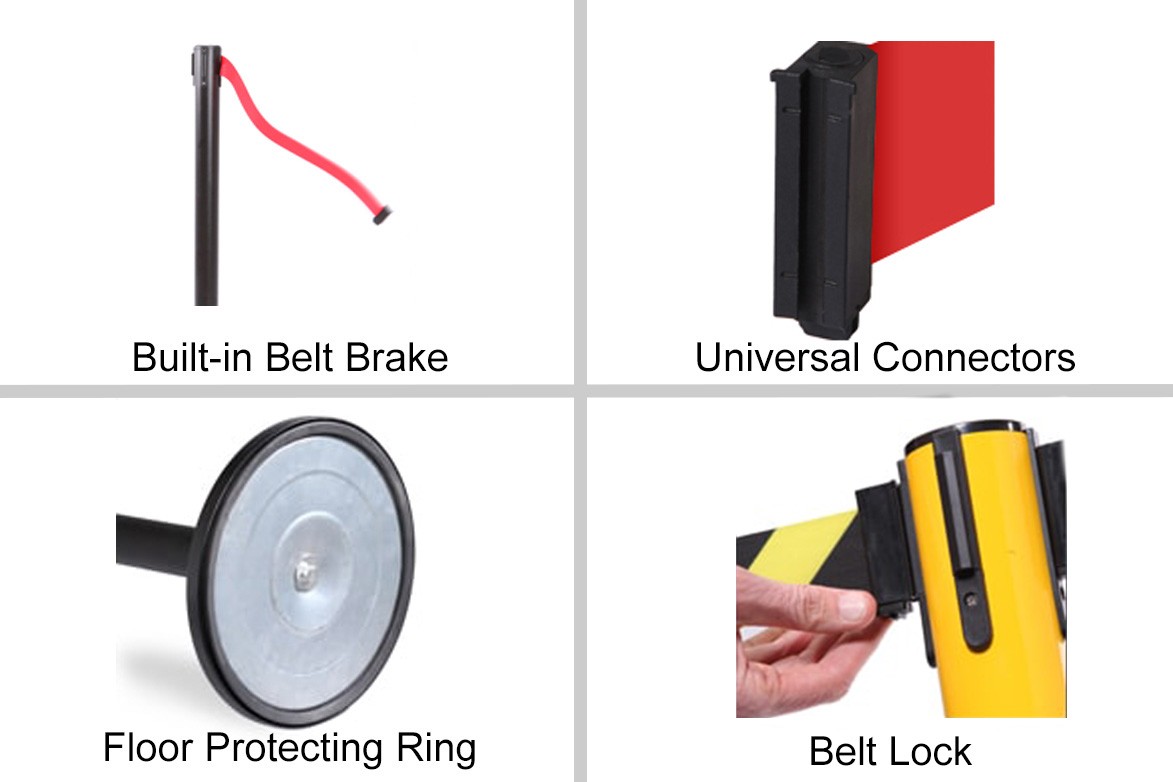 ---
The SafetyMaster Range
There are two main barriers in the SafetyMaster range, the 450 and the Twin 450. The differences between these are highlighted below;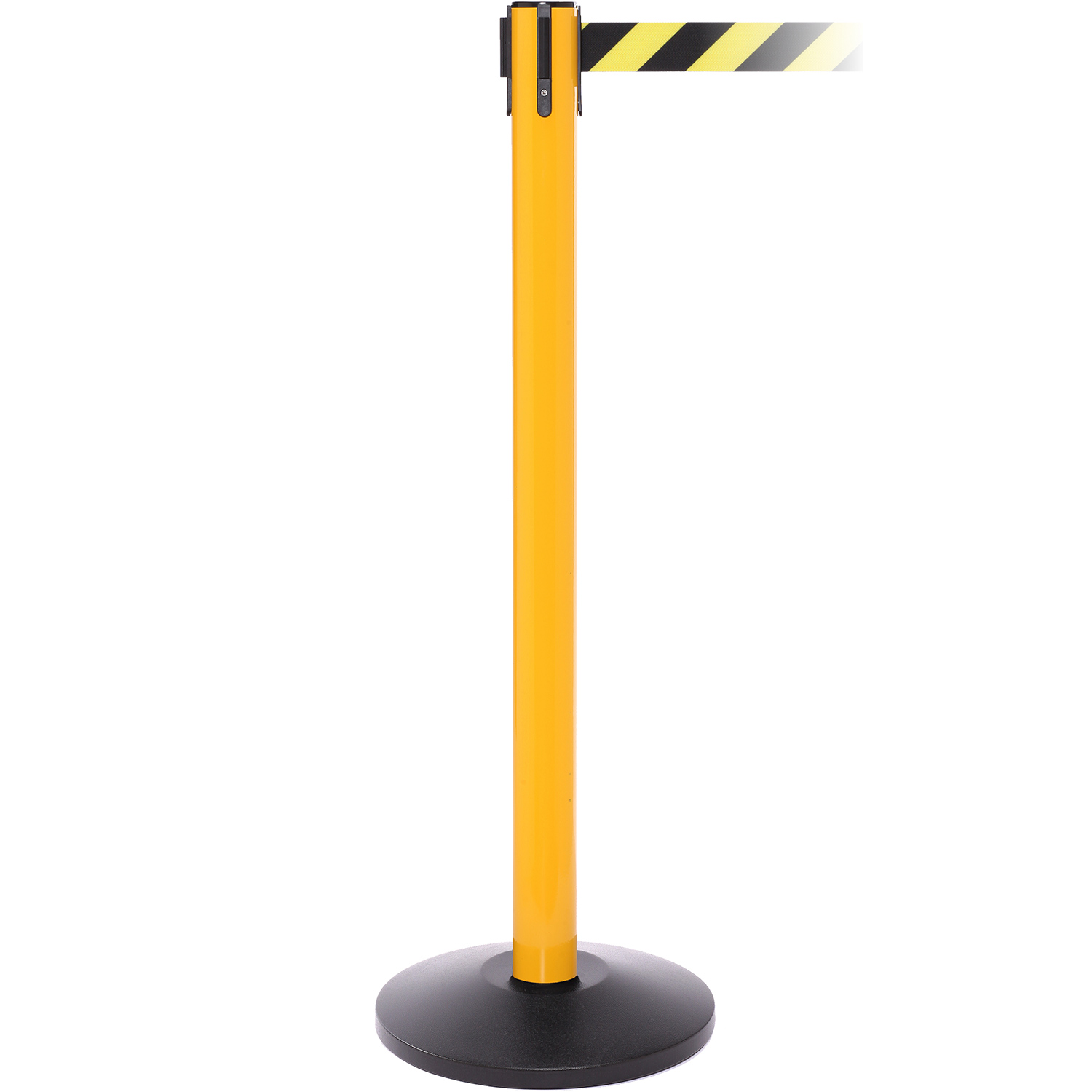 SafetyMaster 450
This is a single belt ideal for use in factories and warehouses. The belt is just above waist height.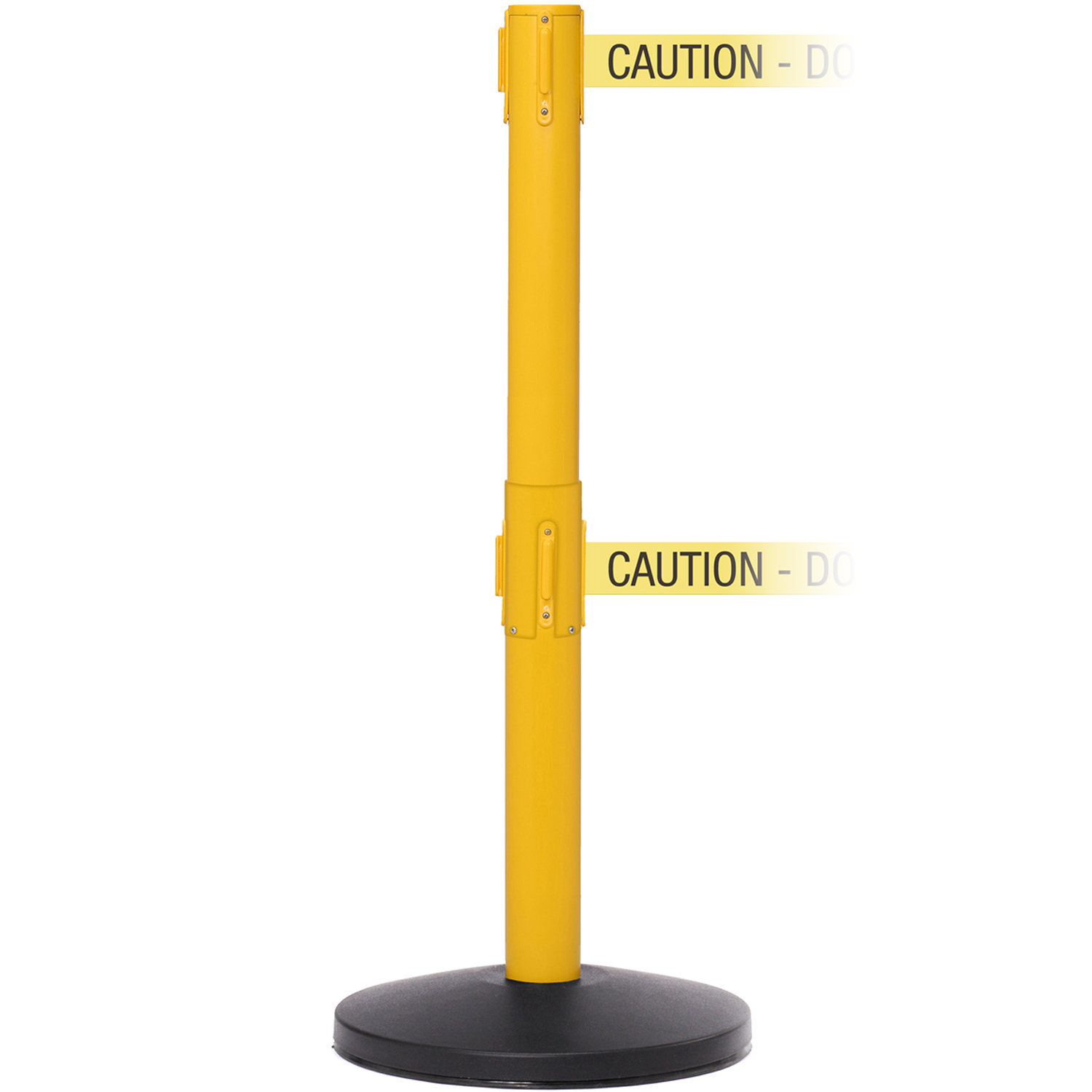 The twin model features two belts, one at knee level and one just above waist level. The extra belt offers increased visibility and security for passers-by.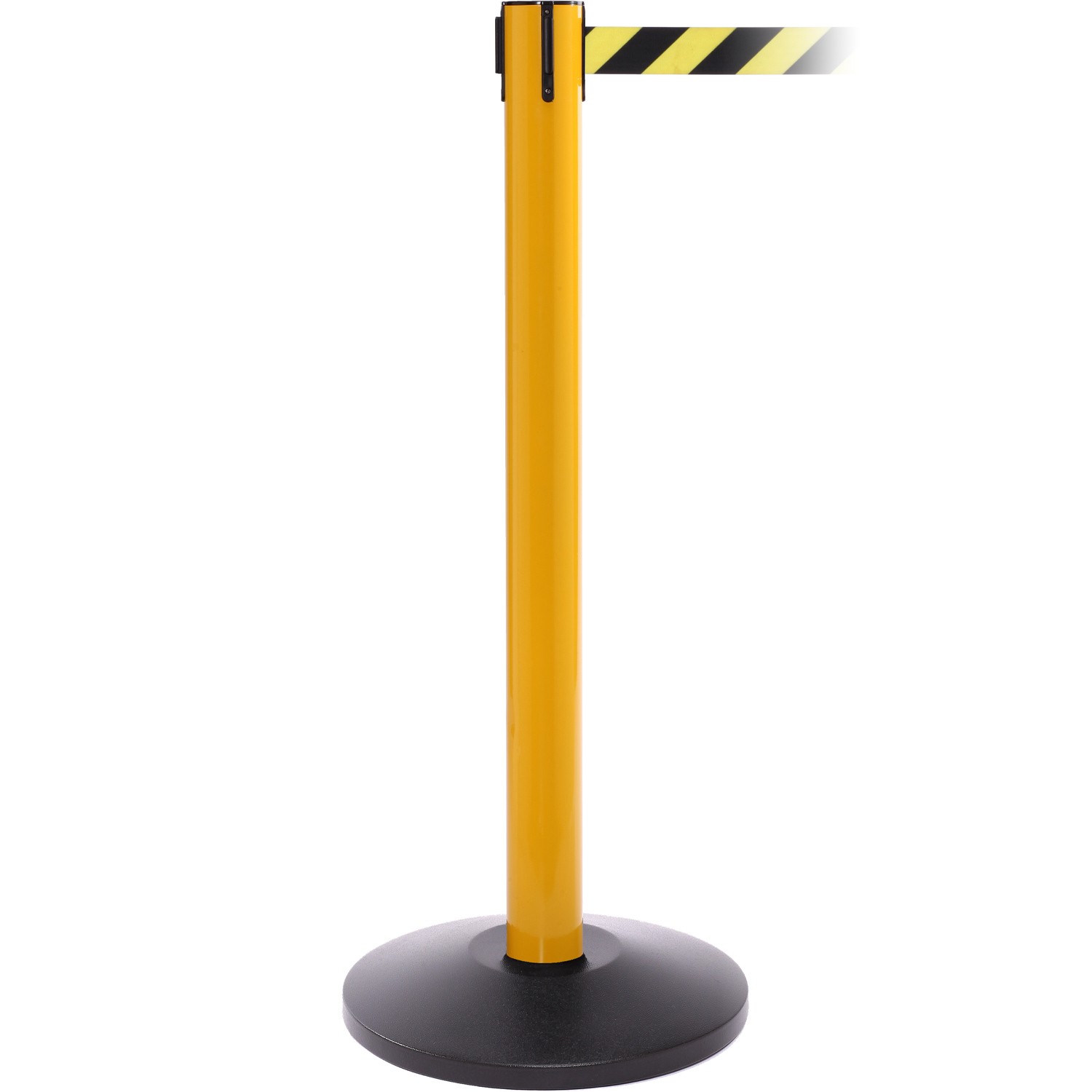 Are you looking for something heavier duty? The SafetyPro line may be just what you need!
---
Do You Want to Customise Your SafetyMaster?
The options shown above are not the only options available, if you need custom colors, printing or any other items give us a call! Our sales team will be happy to help you find the right belt barrier to suit your application. They can be contacted during office hours on (800) 671-9662.
Notes When Ordering
Not recommended for outdoor use, option for weatherization at $20 extra
Items with custom powder coat or speciality finishes cannot be returned
Items with custom powder coat or speciality finishes have a two week lead time
Reciever posts will not have a belt and are used to end the chain of posts
---
Specifications
Dimensions
Base Width
14"
Belt Length
8.5' or 11'
Height
40"
Belt Height
2" or 3" (13' belt is not available at 3")
Post Diameter
2.5"
Weight
Per Unit
20 lbs
---
Downloads
---
Q & A
Be the first to ask a question.