Call for volume discounts!
(800) 671-9662
---
Distributor Pricing Available

Call Us!

Volume Discounts

Buy More, Pay Less

Zero Sales Tax

Order Online

Secure Shopping

High Security Checkout
---
---
QueuePro Twin Belt Barrier System
The QueuePro belt barrier system is the premium end of the retractable belt barrier spectrum. The barriers are stylish and durable, which has made them the "go-to" choice for airports, hotels, retail outlets, cinemas, and shopping centers.
The Twin model offers a slim post design and is fitted with two 11-foot long belts. The belt is longer than the market average and provides the ability to use 45% fewer posts per run.
Offering a step up in quality from the QueueMaster range while still not breaking the bank. These stanchions will suit almost any application where a premium look is desired.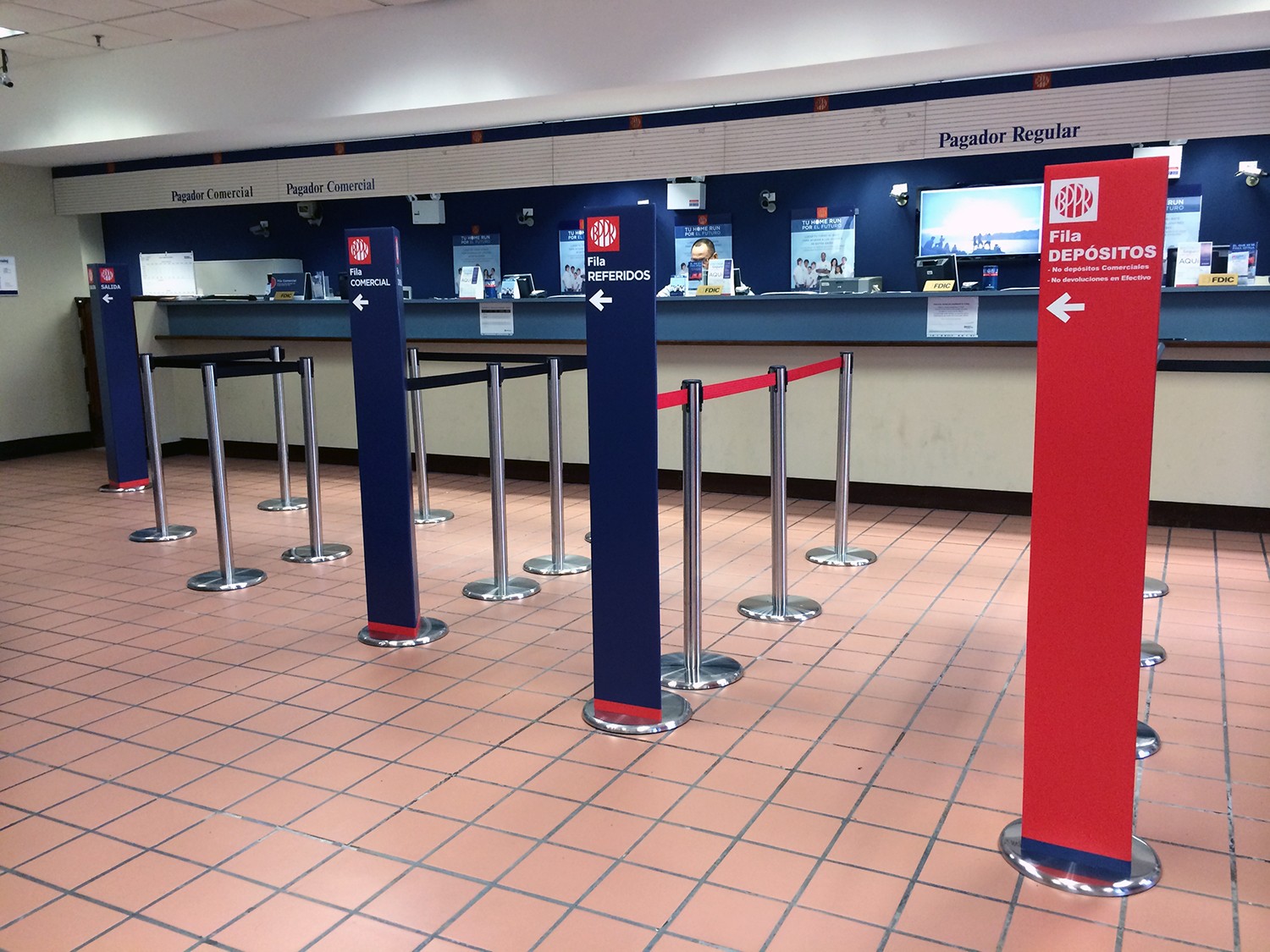 ---
Key QueuePro Range Features
Superior Floor Protection - The QueuePro line of barriers features the best floor protection in its class of barriers. A heavy-duty rubber ring provides a buffer against the cast iron base, preventing scuffing or drag marks. The base is heavy duty and will last the full life of the barrier.
Locking Belt - A simple tab on the end of the belt prevents it from being accidentally unlocked, and the belt retracted.
Belt Braking System - Cheaper items on the market do not have a brake feature. The QuePro range features a brake that restricts the speed that the belt retracts at, preventing "whipping".
Universal Connectors - This post will work with all the favorite brands on the market. If you are unsure if this will work with your specific setup, give us a call.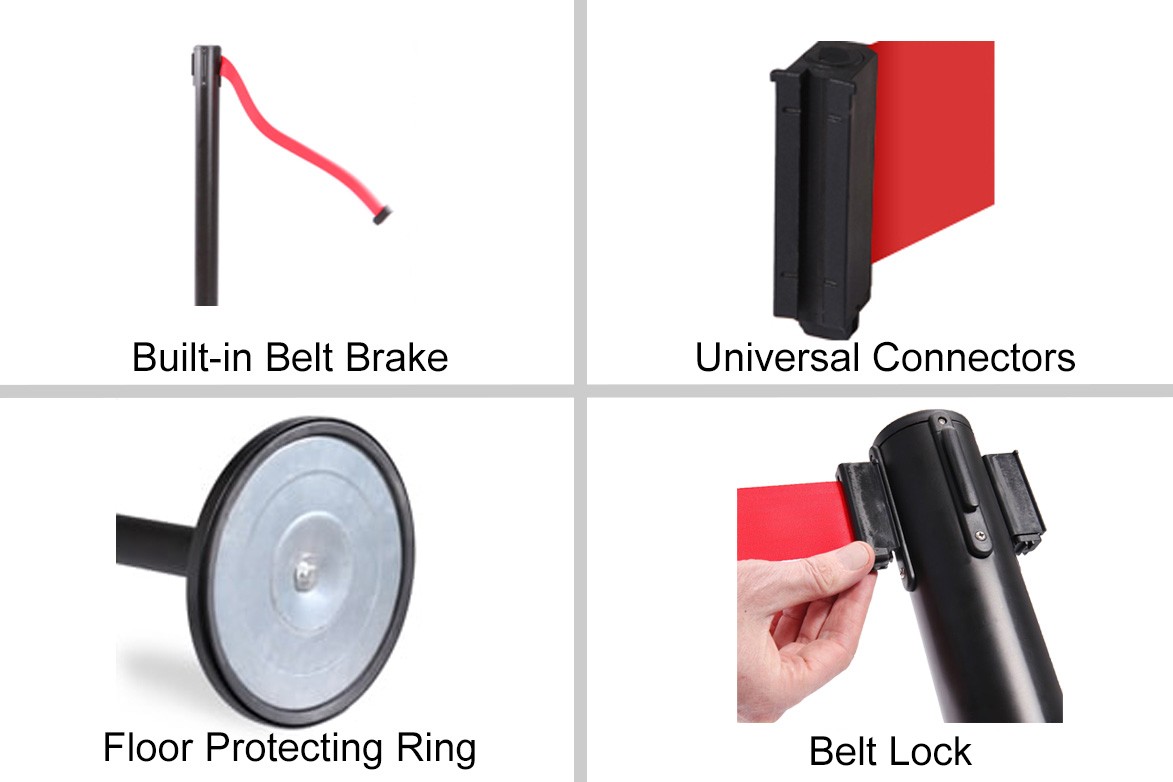 ---
QueuePro Variations
There are several variations of the QueuePro system, we have highlighted what the differences are below;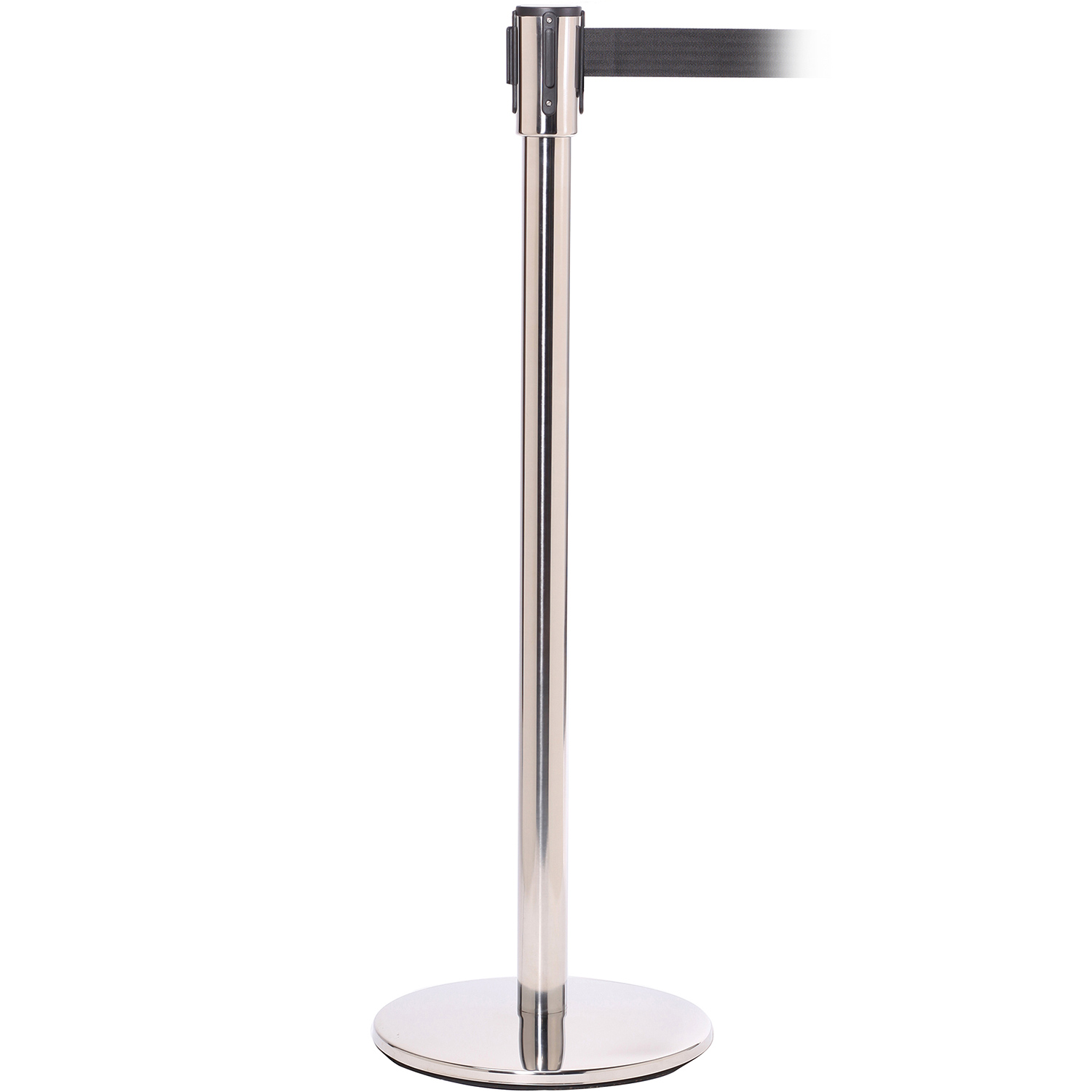 This model features a slim design post at only 2" in diameter; it can be seen here: QueuePro 200.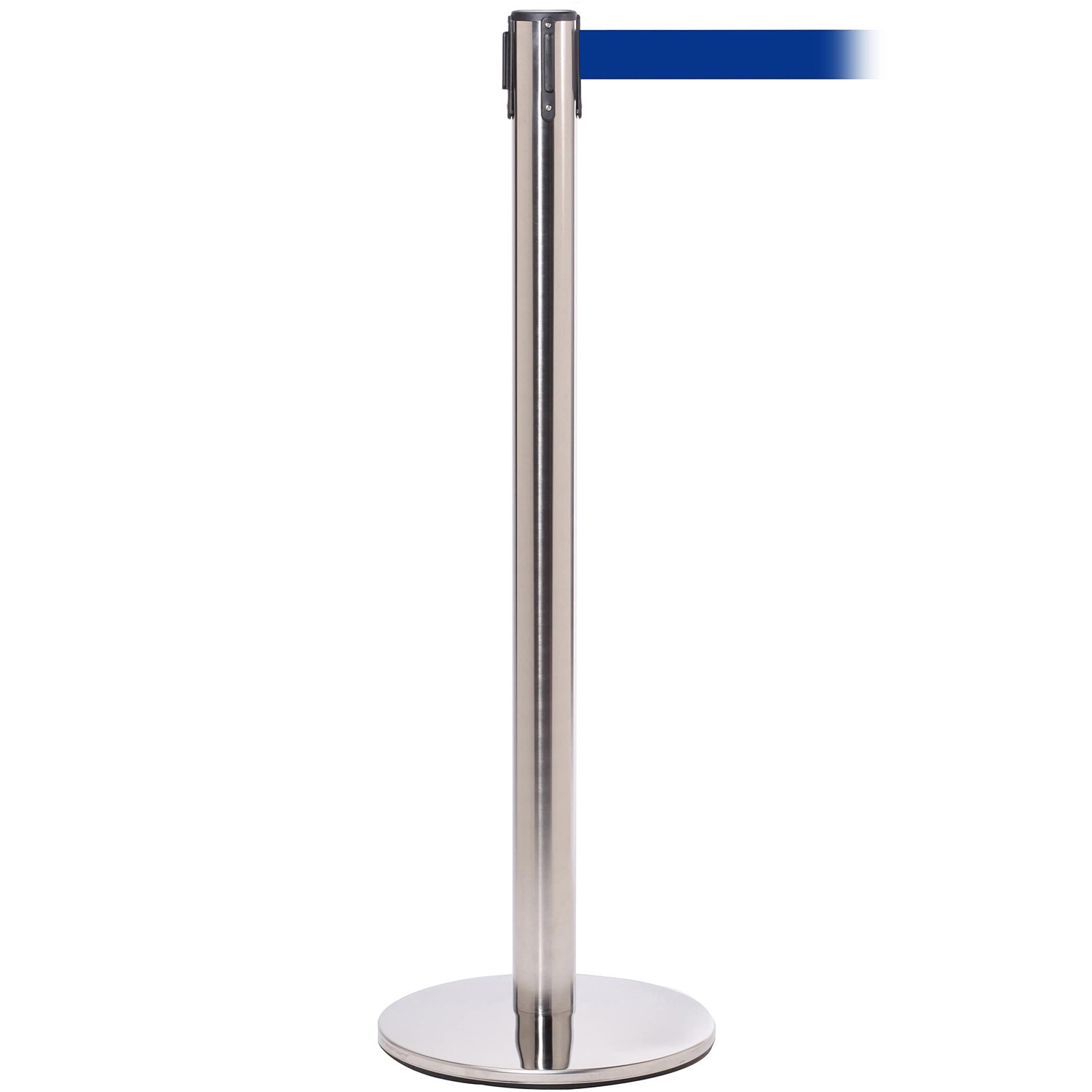 The 250 features a slightly sleeker looking 2.5" post that gives a streamlined appearance.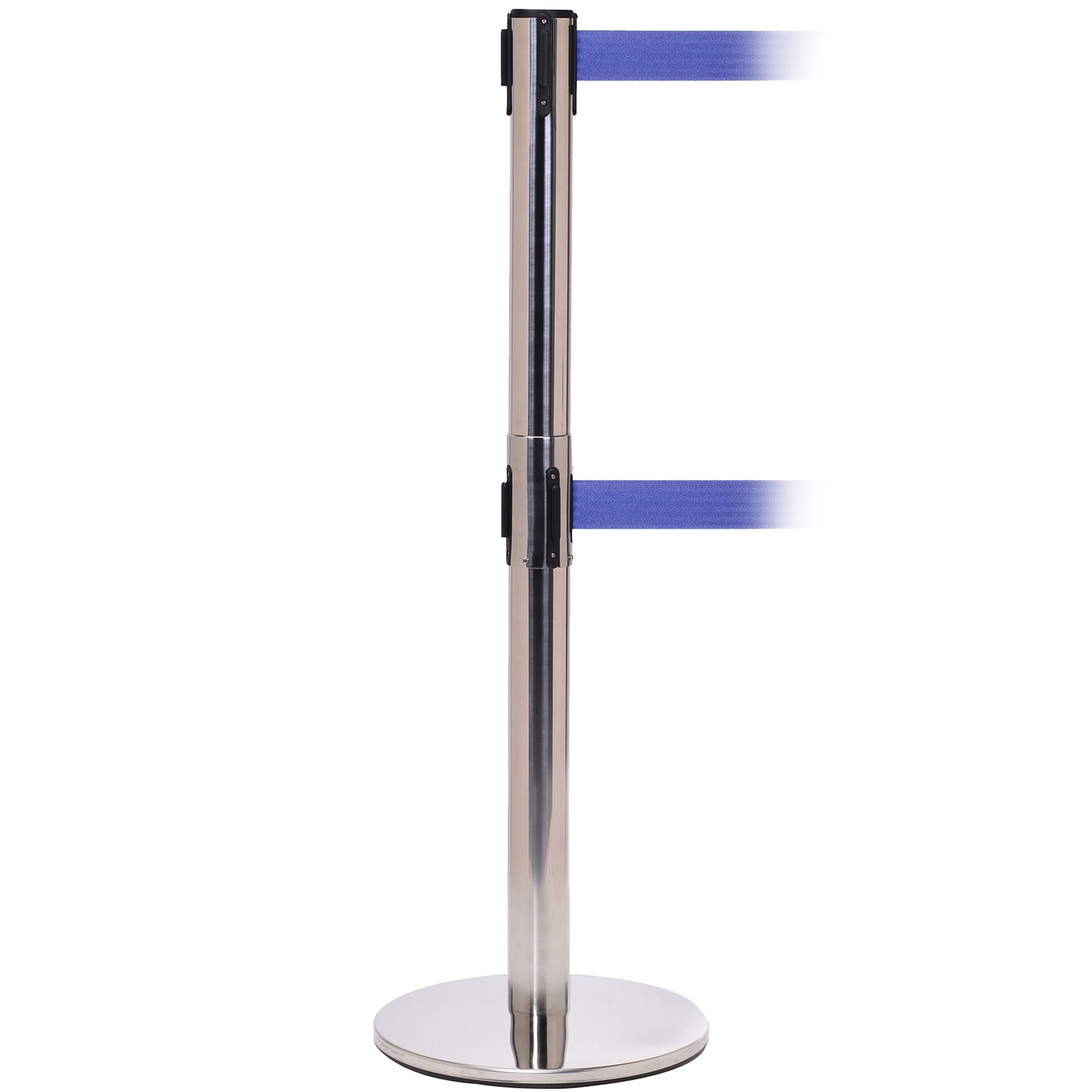 QueuePro 250 Twin
This model offers all the features of the 250 but incorporates a second knee level belt you can view the QueuePro 250Twin here.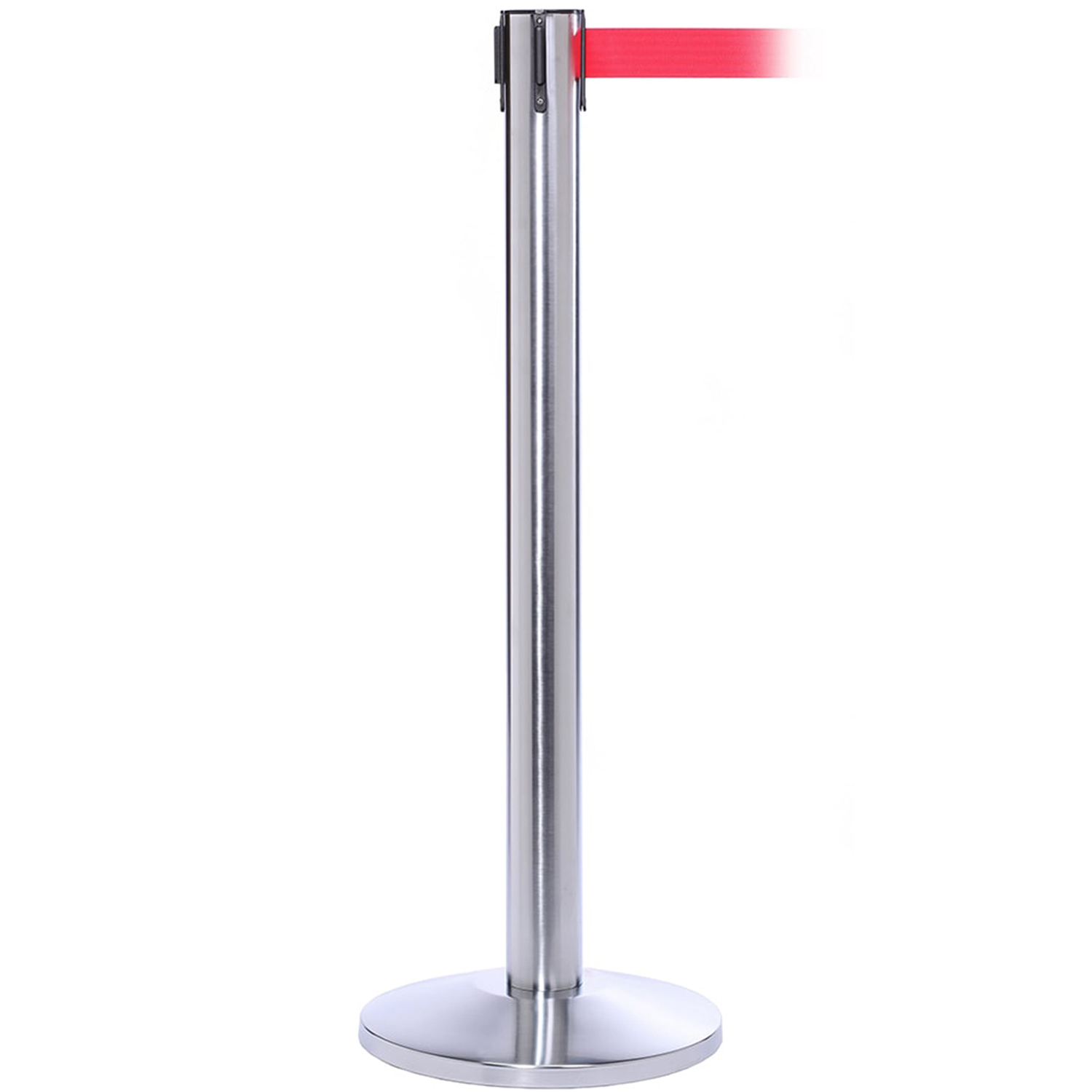 Need a longer belt? The QueuePro 300 is the model for you. It houses a long 16' belt with a thicker 3" diameter post.
---
Customized to your requirements
We can tailor the QueuePro Twin to your specific requirements. It is available with different color belts and posts to fit your needs.
If you need anything outside of the options above, give us a call we will be happy to help.
Three Year Guarantee!
An extended three-year manufacturer guarantee ensures peace of mind on the QueuePro line of products, safeguarding you against mechanical failure.
Call Us for More Information
Looking for more information or have questions regarding the QueuePro Twin system?
Give our sales team a call; they will be happy to discuss discounts, customization, and anything else you may need to know. They are available during office hours on (800) 671-9662.
---
Specifications
Dimensions
Base Width
14"
Belt Length
11' or 13'
Height
40"
Belt Height
2" or 3" (3" belt not available with 13' length)
Post Diameter
2.5"
Weight
Per Unit
22 lbs
Miscellaneous
Customization
Custom Printed Belt ArtWork
---
Downloads
---
Q & A
Be the first to ask a question.