Was

$109.00

Now:

$99.00
Call for volume discounts!
(800) 671-9662
---
Distributor Pricing Available

Call Us!

Volume Discounts

Buy More, Pay Less

Zero Sales Tax

Order Online

Secure Shopping

High Security Checkout
---
---
Availability:

In Stock

Brand: ZND
Special! - Now $99 each! - We stock our barriers and ship out within 24 hours!
Fixed Leg Metal Bike Rack Barricade
The latest in metal barricade design, our crowd control barricades simply slot together making erection and dismantling quick and easy. The main barricade outer ring is made from two pieces of continually rolled tubes, ensuring a durable and crack-resistant end product is achieved. The patented V-foot design allows stronger and safer legs compared to conventional metal barriers.
Light, Long-Lasting Value
Using an all-steel construction, they are 100% recyclable. The main frame is made from a 1.5" diameter tube. These barricades are very light weighing in at 25 lbs each and allowing up to 4 barricades to be carried at a time. The center bars are made from 0.5" metal tube with the bar spacing being 4.4" between to provide suitable protection.
Easy to deploy
Our temporary steel barricades can be lifted with no more than 2 people and no special equipment or tools. However, we recommend that each banded stack be offloaded with a forklift truck to make the deployment as quick and easy as possible.
Corrosion Resistant
The galvanized construction of these bike rack barricades ensures that they will not rust and will stay in a presentable condition for many years to come.
Need to talk to somebody about bulk quantities?
Why not speak to our sales team on (800) 671-9662 and let us provide a quote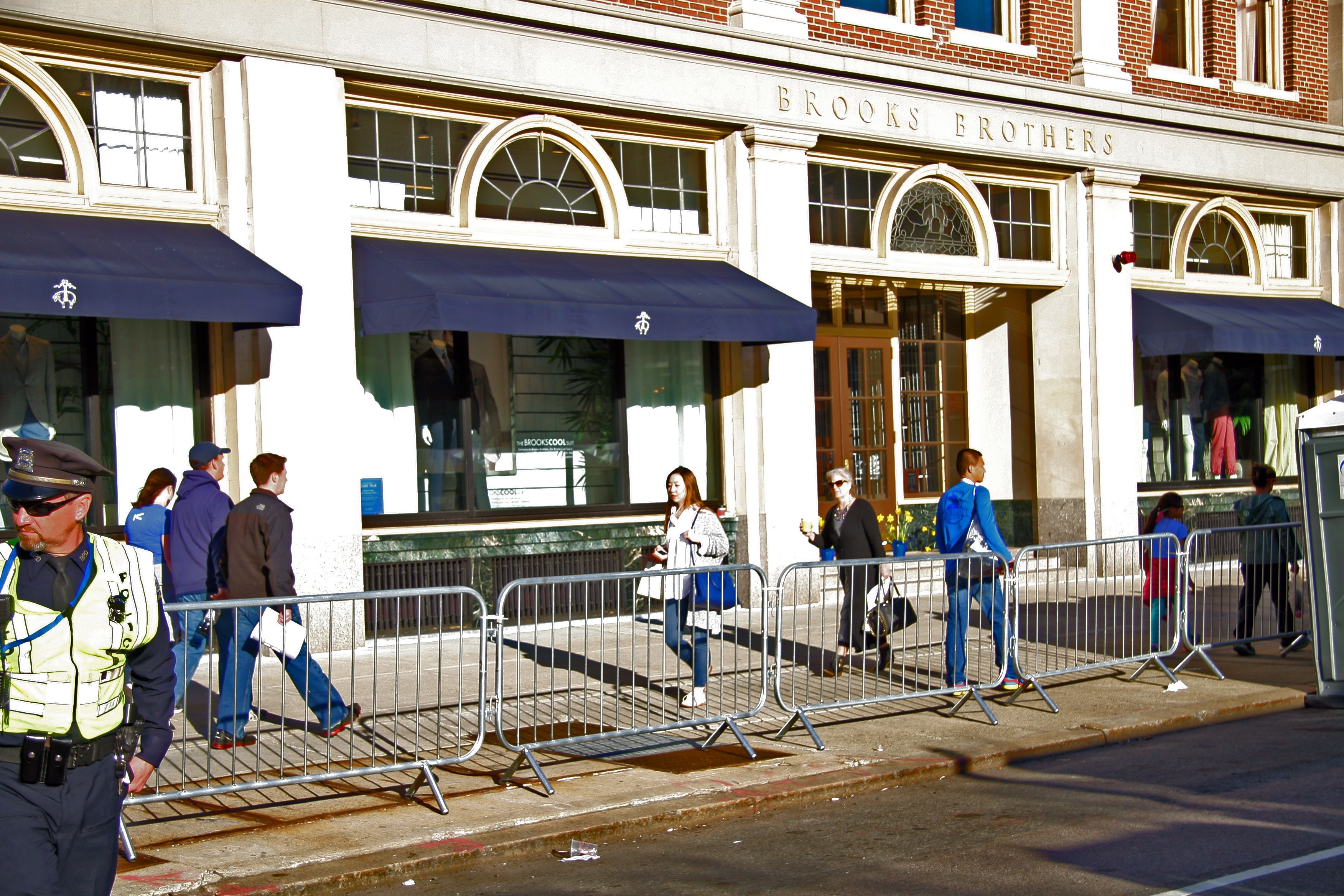 Interlocking Design Advantage
When Deployed - The interlocking design means when deployed that each barricade is locked together, they can therefore only be dismantled from the end of a run, ensuring that the barricade is not breached in the center, improving security and safety for the public.

When in Transport and Storage - Unlike older designs of crowd control barricade our barricades have heavy gauge tubular feet that are welded to the frame in an offset position allowing them to stack together with no wasted space. Up to 25 barricades can be stacked together vertically in a pallet-size bundle and banded for easy transport and storage. Subsequent bundles can then be stacked to further increase storage and transport efficiency.
Advantages;
Light but sturdy thanks to feet design
Long-Lasting - Galvanized for durability and all-weather use
Easy to handle - Carry 4 at a time
Barricades stack within each other for better storage
100% recyclable
Applications;
Temporary Walkways
Public Events
Landscaping
Road Work construction
Utility Works
Events

---
Customers Who Viewed This Page Also Viewed
---
Specifications
Certifications
ExactPhoto
✔ (The photos are of the actual product type that you are ordering)
Dimensions
Height
43"
Length
90"
Width
17.5" including feet
Weight
Per Unit
25 lbs.
Material
Thickness
18 Gauge Steel
Type
Zinc Electroplated Carbon Steel with Brazed Joints
Miscellaneous
Eco-Friendly
100% Recyclable
Shipping
Per Pallet
25 Barriers
---
Downloads
---
Q & A
Be the first to ask a question.