Call for volume discounts!
(800) 671-9662
---
Distributor Pricing Available

Call Us!

Volume Discounts

Buy More, Pay Less

Zero Sales Tax

Order Online

Secure Shopping

High Security Checkout
---
---
Availability:

In Stock

Brand: Vialux
Vialux Multi-Purpose 2 Direction Mirror White
The VIALUX Multi purpose convex mirror in white is a great mirror that is suited to almost any application, indoor or outdoor. This mirror is also very cost-effective as it is cheaper than the colored versions of the same mirror that are available.
The mirror is perfect for use around schools, hospitals factories and car parks due to its high build quality and great price point. VIALUX is a leading brand within the safety mirror industry and markets their mirrors as "Unbreakable". They are super strong and very resilient, capable of withstanding harsh impacts without damage.
There are many sizes to choose from each of which has a maximum recommended viewing distance, this is detailed in the table below.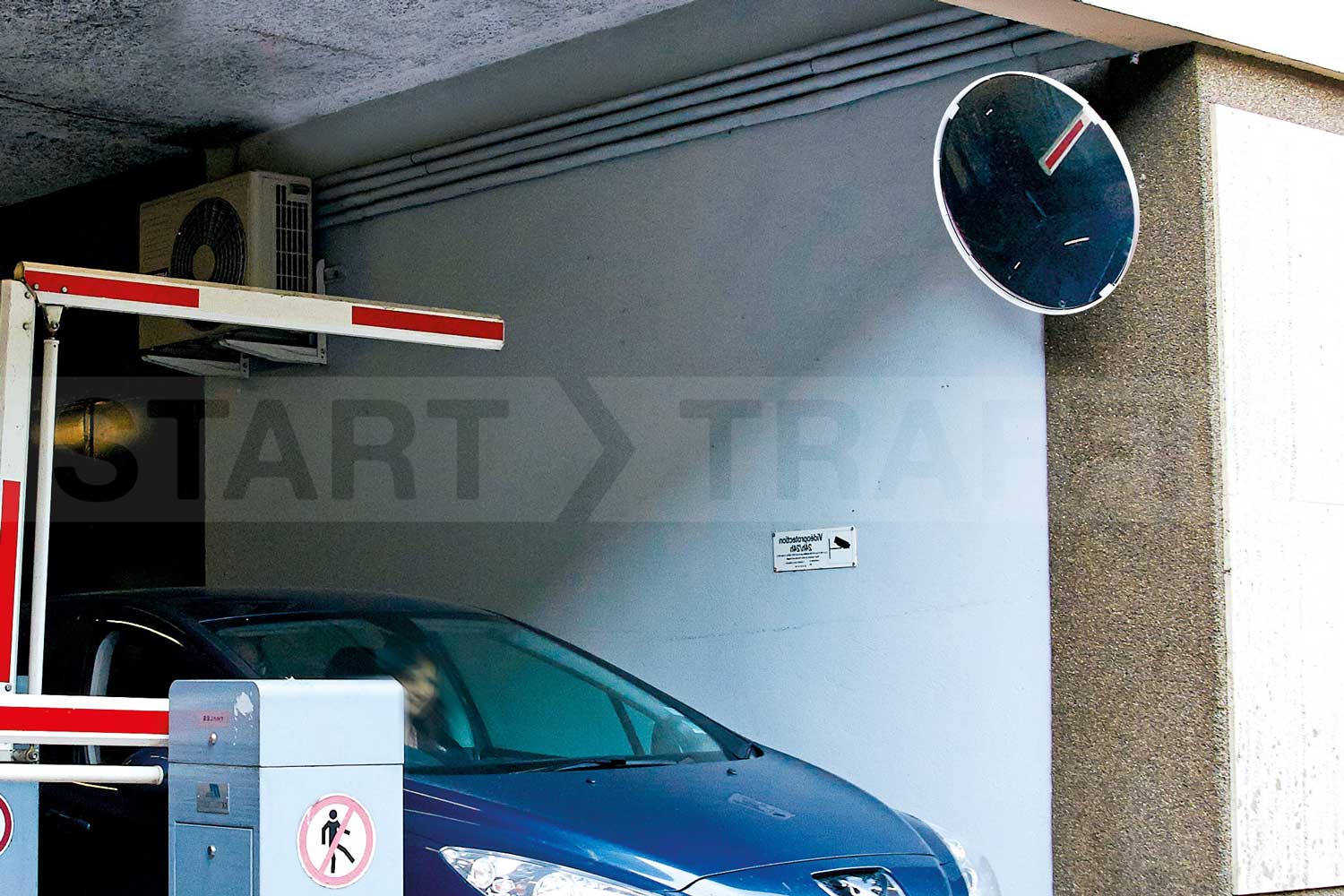 ---
2 Direction Mirror
This mirror is designed to give a clear wide-angle view around a 90-degree corner. This makes it ideal for blind spots and corners within car parks, warehouses, and even corridors.
White Frame For Reduced Costs
This mirror is supplied with a white frame that is UV stabilized and very durable. If you would prefer a black, red or green frame then these are available in a separate listing that can be viewed here. The UV stabilization ensures that the frame will not yellow or go brittle in sunlight.
Mirror Diameter
Max Viewing Distance
15.7" (400mm)

16.4' (5m)
19.7" (500mm)


23' (

7m)
15.7 x 23.6" (400 x 600mm)
29.5' (9m)

23.6" (

600mm)

36' (

11m)
27.6" (700mm)
49.2' (15m)

23.6 x 31.5" (6

00 x 800mm)

65.6' (

20m)
31.5" (800mm)
65.6' (20m)

31.5 x 39.4" (8

00 x 1000mm)

98.4' (

30m)
---
Lens Options POLYMIR Optics vs P.A.S Optics
These safety mirrors are available with two types of optics, Polymir and P.A.S
Polymir Optics- This is the base option and offers a sharp clear image, with no distortion The frame and lens are UV proof so, will not discolor or go "milky". POLYMIR Optics feature a 3-year guarantee.
PAS Optics- This is an upgrade to the standard POLYMIR optics and has all the same benefits, with the addition of an anti-scratch and anti-static coating. With PAS optics you also get an additional 2 years of warranty!
Installation Is Easy
This mirror comes supplied complete with universal hardware and bracket that makes fixing your mirror to flat walls or onto posts very easy. It is fully adjustable and can be used with either any post from 2.36" to 3.54" in diameter.
When installing this mirror it is important that it is mounted in the right place, it should be mounted out of the way of passing traffic, yet situated within a range of its maximum viewing distance
---
Book a free site survey today!
We can help you identify any areas that safety can be improved through the use of a convex mirror. These surveys are invaluable as you get an experienced set of eyes on any potential problem areas. You can speak to our customer service team to arrange a site survey or speak to us about any questions you may have on (800) 671-9662.
---
Specifications
Features
Guarantee Length
3 Years Guarantee Against Manufacturing Faults
Material
Type
Polymir Optics
Miscellaneous
Application
Indoor & Outdoor Use
---
Downloads
---
Q & A
Be the first to ask a question.