Call for volume discounts!
(800) 671-9662
---
Distributor Pricing Available

Call Us!

Volume Discounts

Buy More, Pay Less

Zero Sales Tax

Order Online

Secure Shopping

High Security Checkout
---
---
Availability:

In Stock

Brand: Vialux
VIALUX Multi-Purpose 3 Direction Mirror
Targeted toward the commercial market this three direction safety mirror is perfect for security checkpoints and entrance gates. The mirror can be placed to give a clear wide-angle view of the opposing side of a vehicle.
This 3 Direction mirror is only available with the superior P.A.S Optics. This means the lens is not only ultra-durable like all other VIALUX mirrors it also incorporates a special anti-scratch and anti-static treatment. This prolongs the life of the mirror and as a show of good faith, the mirrors warranty is boosted to 5 years!
The VIALUX 3 direction multipurpose mirror can be installed with ease to either a wall or post with the included hardware kit. The hardware kit includes a post clamp (suitable for posts between 2.36" and 3.54" in diameter), it also can be used to securely attach the mirror to a wall.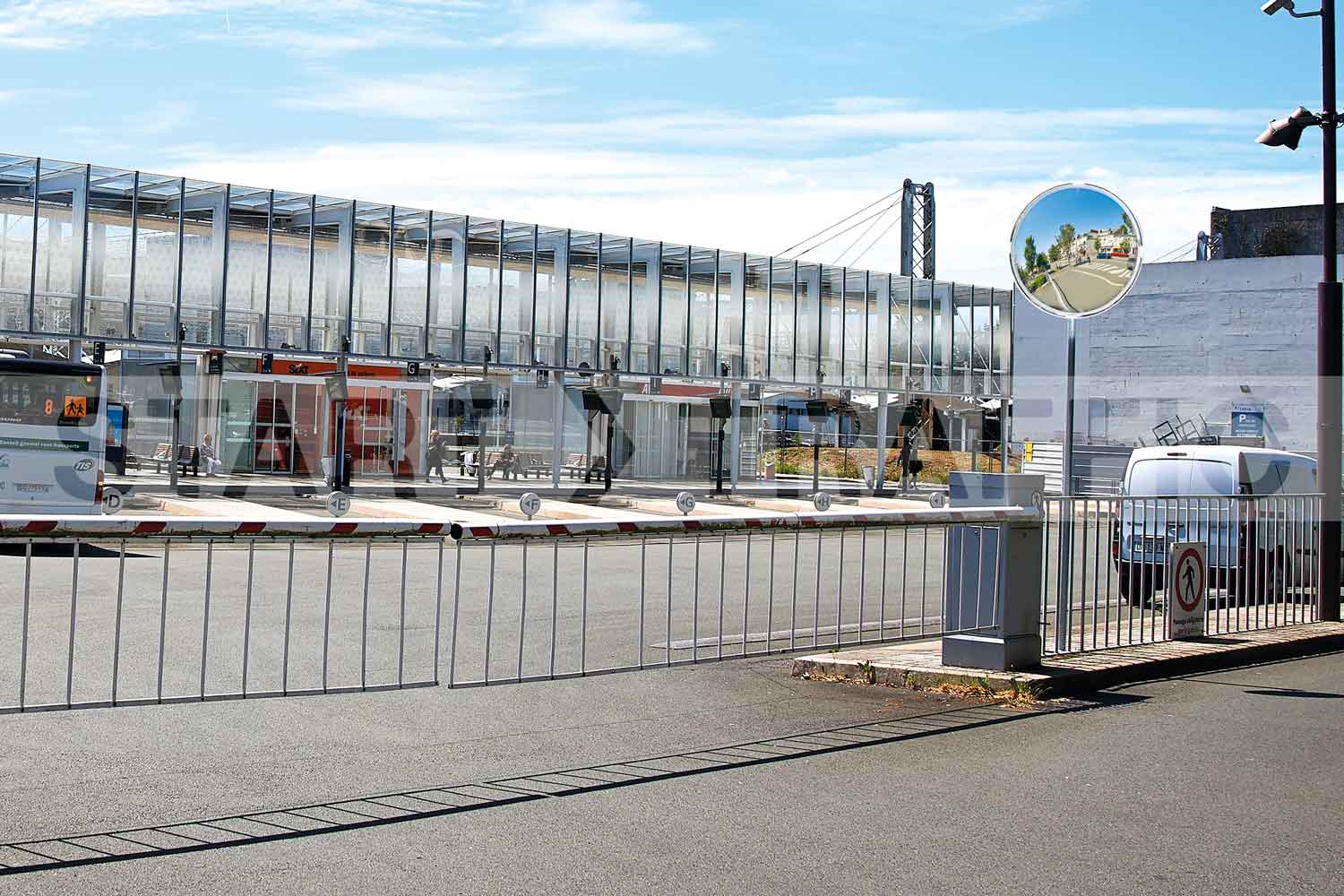 ---
Three Directions of Viewing
When looking at this mirror it offers a 180-degree field of vision. This makes this mirror particularly suited to being placed opposite corridor entrances in factories, warehousing isles and low-speed blind spots around loading bays.
UV-Stabilized Materials
These mirrors have been made with UV-stabilized materials, that includes the frame and the mirrors lens. This protects the frame from going yellow in sunlight and the lens from going "milky"
---
Minimum Viewing Distance
This mirror is available in several sizes, each of which has a maximum viewing distance. Once this distance is exceeded objects may be too small for some people to see clearly in the reflection of the mirror.
| Mirror Diameter | Max Viewing Distance |
| --- | --- |
| 15.7" (400mm) | 6.5' (2m) |
| 19.7" (500mm) | 13' (4m) |
| 23.6" (600mm) | 19.5' (6m) |
| 31.5" (800mm) | 26' (8m) |
| 35.4" (900mm) | 32.5' (10m) |
---
Need Help Finding The Right Security Mirror For Your Needs?
Give our sales team a call, we are here to help and advise you where we can over the phone on (800) 671-9662
---
Specifications
Features
Guarantee Length
5 Years Guarantee Against Manufacturing Faults
Material
Type
P.A.S Optics
Miscellaneous
Application
Indoor & Outdoor Use
---
Downloads
---
Q & A
Be the first to ask a question.