Product Code
KBP072-300-830
Call for volume discounts!
(800) 671-9662
---
Distributor Pricing Available

Call Us!

Volume Discounts

Buy More, Pay Less

Zero Sales Tax

Order Online

Secure Shopping

High Security Checkout
---
---
Titan Barrier - The Premium Safety Barrier
The Titan Barrier is unique in that it is one of the only barriers that we provide to be injection molded. This also makes this barrier one of the strongest barriers that we sell. At 32lbs per barrier, it is still easily lifted by a single worker.
Each barrier is coupled to the next by a black coupler clip (included with the barrier when purchased). Multiple barriers can be coupled to the same point to create "T" sections and brace against the wind.
The feet on the JSP Titan have a reputation for being ultra heavy-duty, they are some of the strongest on the market. The Titan barriers can be laid flat with the feet rotated so they can be easily transported with a total of 40 units fitting on a pallet. This makes them cheap to transport and store.
The JSP Titan is not all brute though; it incorporates some clever design elements that make the barrier pleasant to work with. Drainage holes on all flat sections mean that rainwater will not pool and soak whoever next moves them.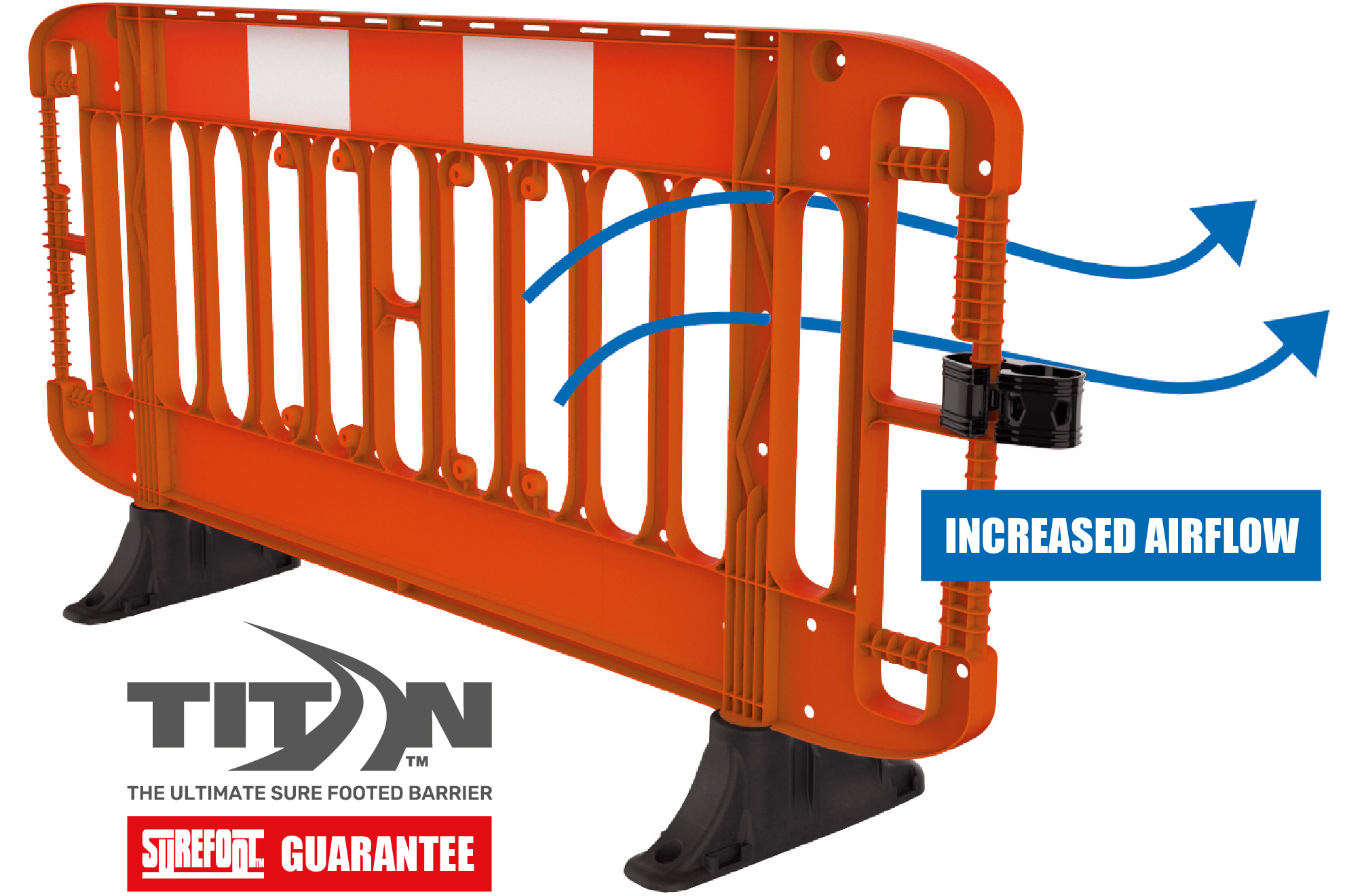 ---
Reflective Panel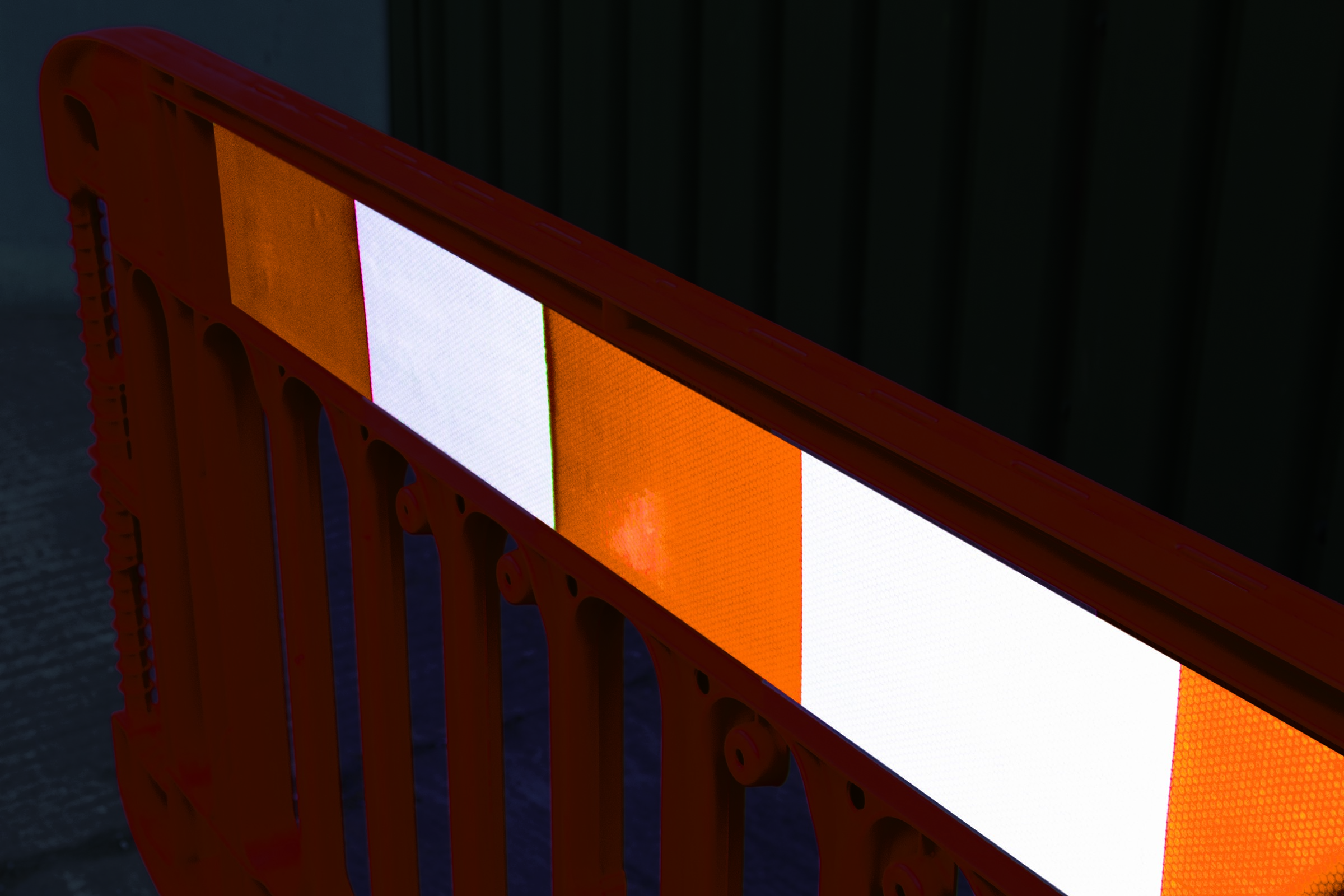 Engineering grade reflective material made by 3M for extra visibility at night.
Anti-Trip Feet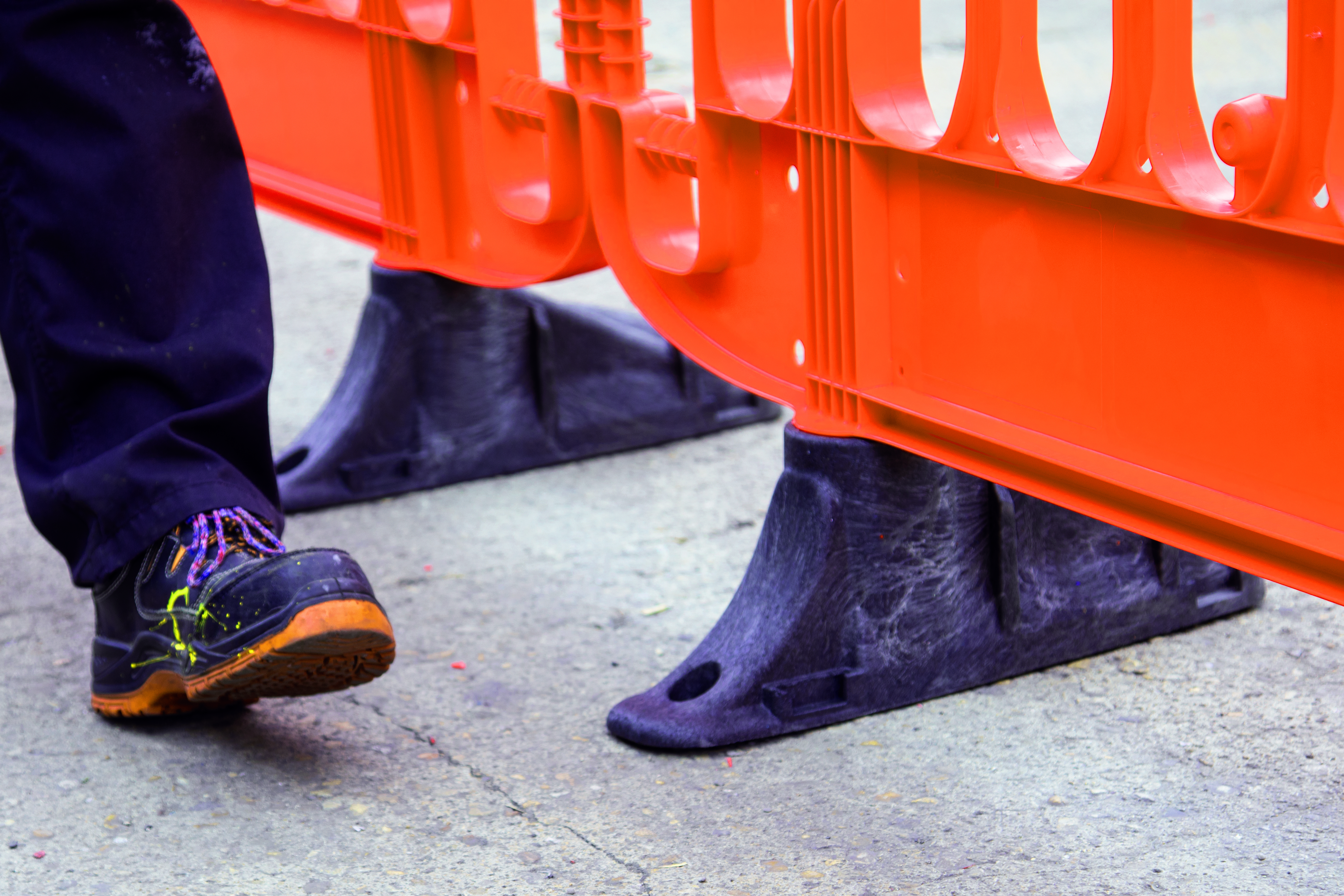 Scalloped design to prevent accidents and made from recycled PVC as standard.
Surelock QR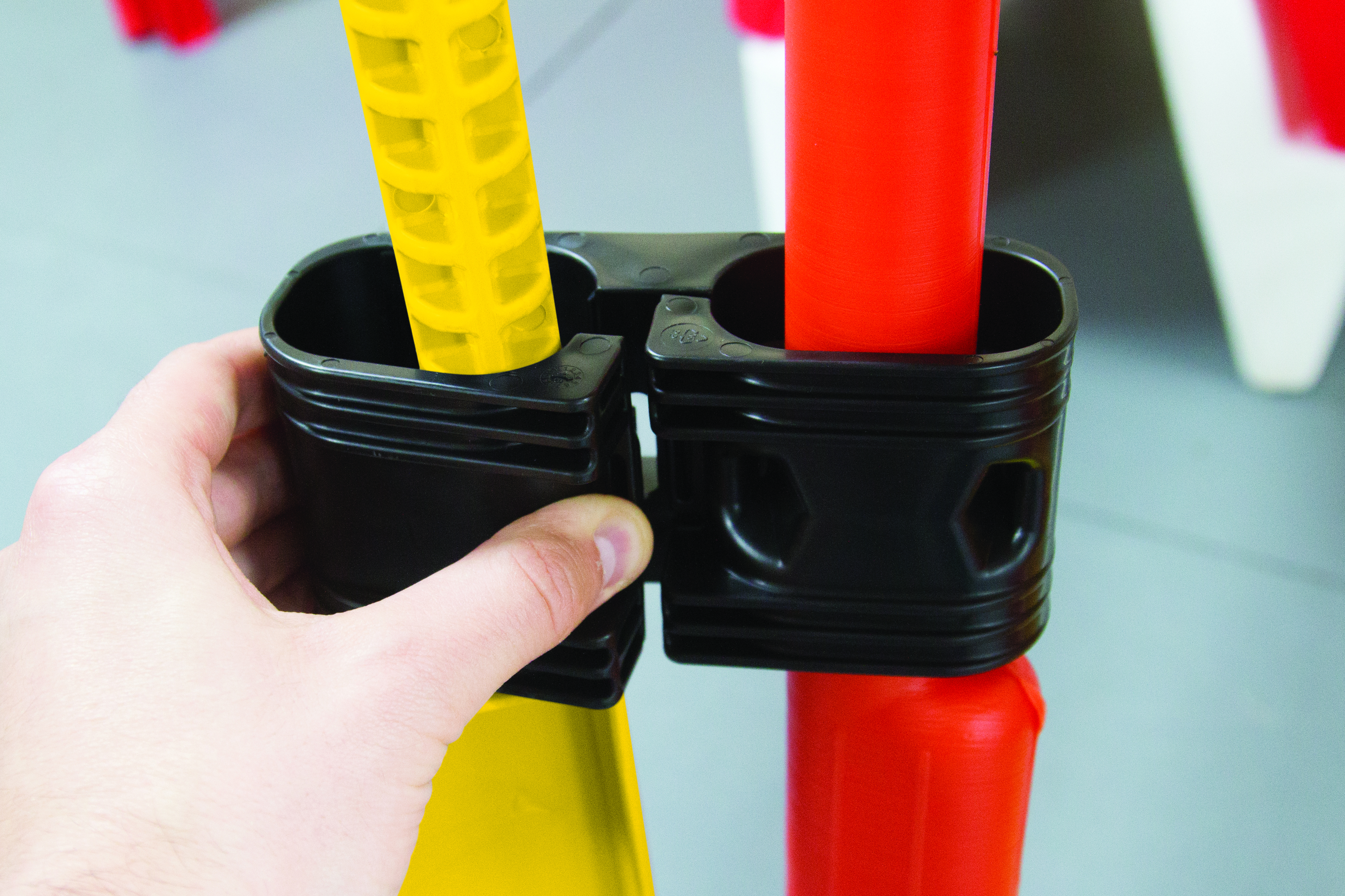 The barrier connector clip is compatible with other styles of JSP barriers. It can be connected on uneven ground e.g. curbs and rough terrain.
Easy To Transport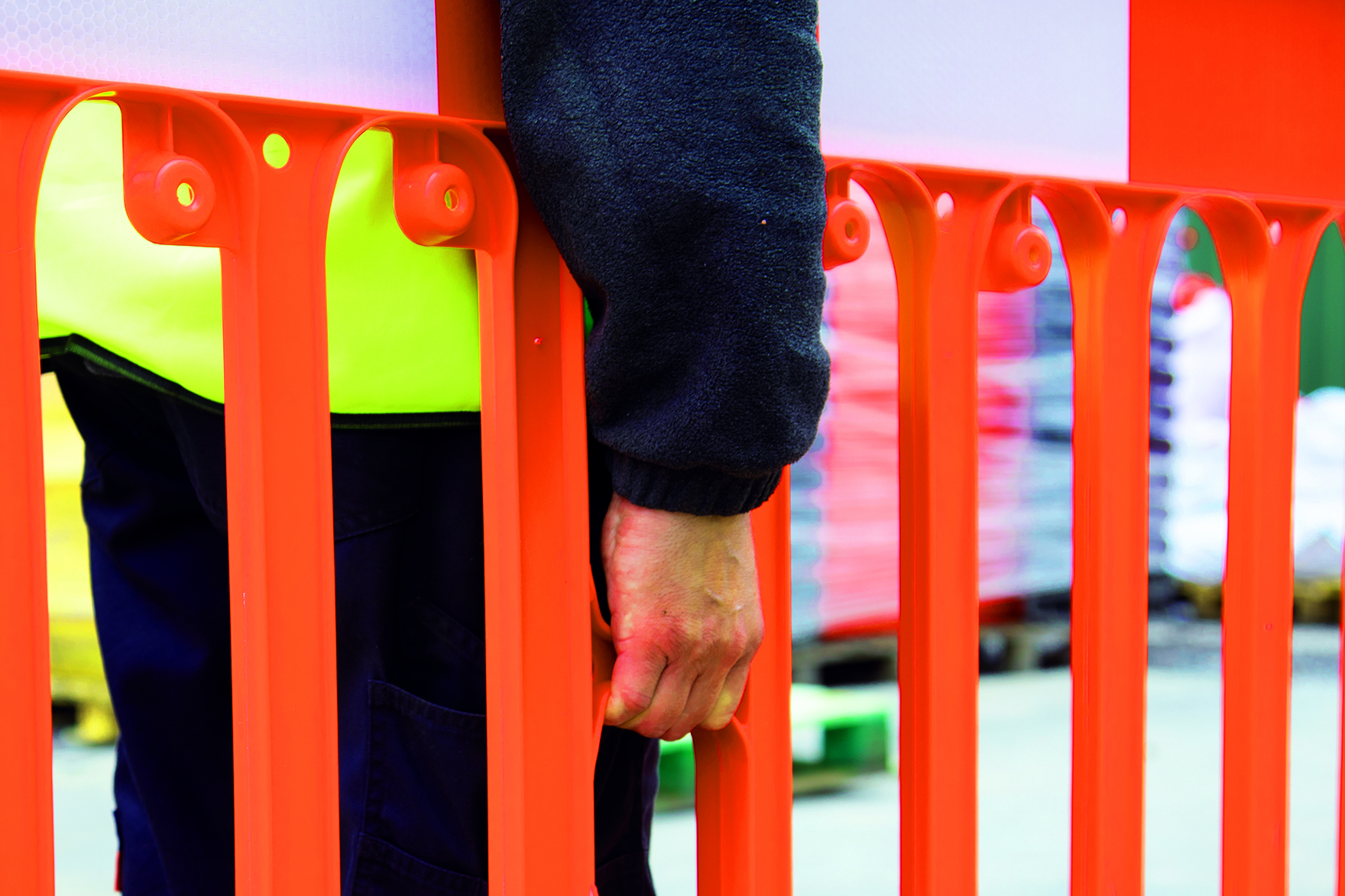 Built-in carrying handle makes it easy to transport and reposition. Each barrier interlocks when stacking for stability in storage and transportation.
---
Titan Barrier Accessories
Surefoot Block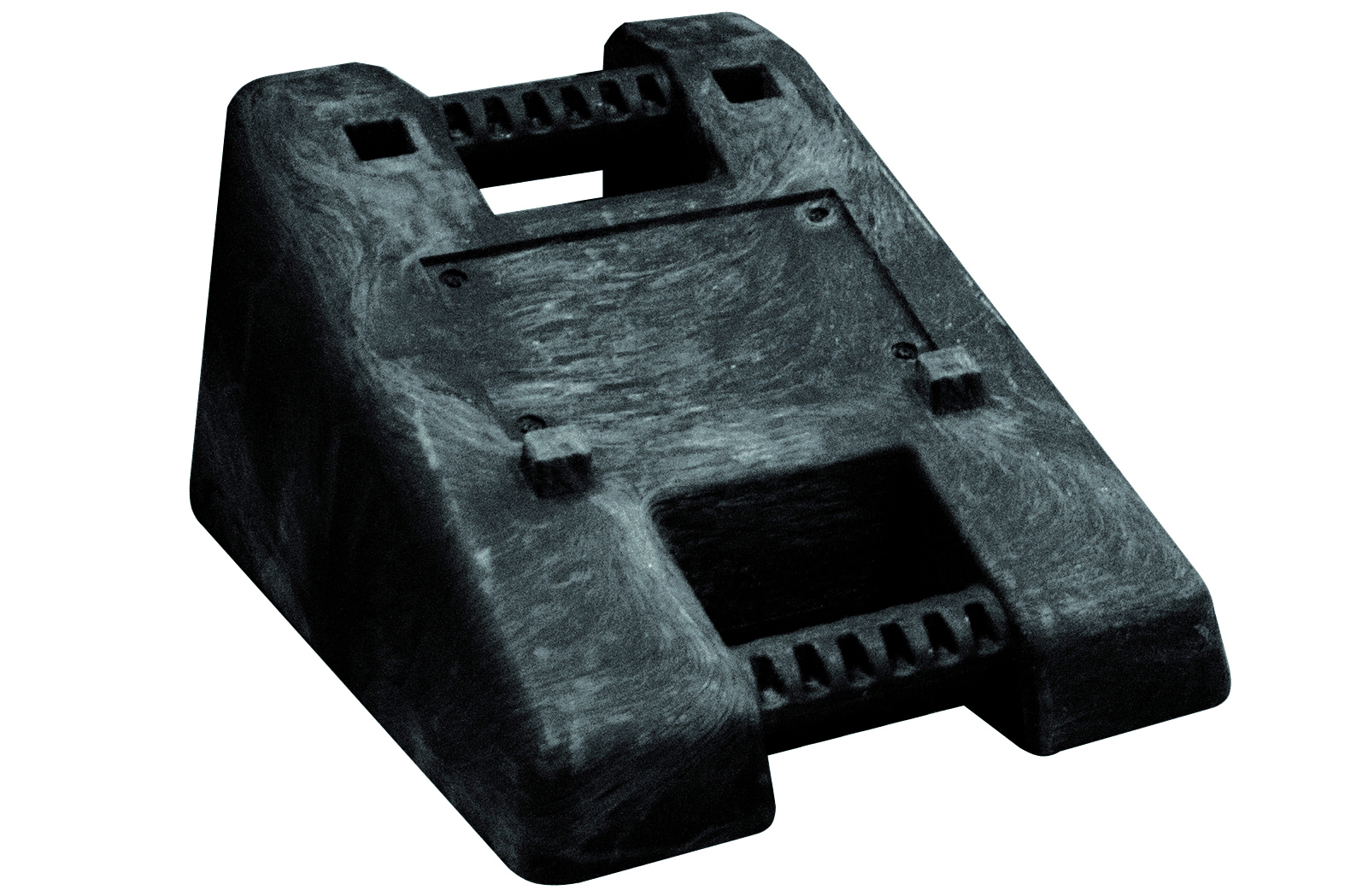 A 14lb recycled PVC foot weight for added stability.
SurePole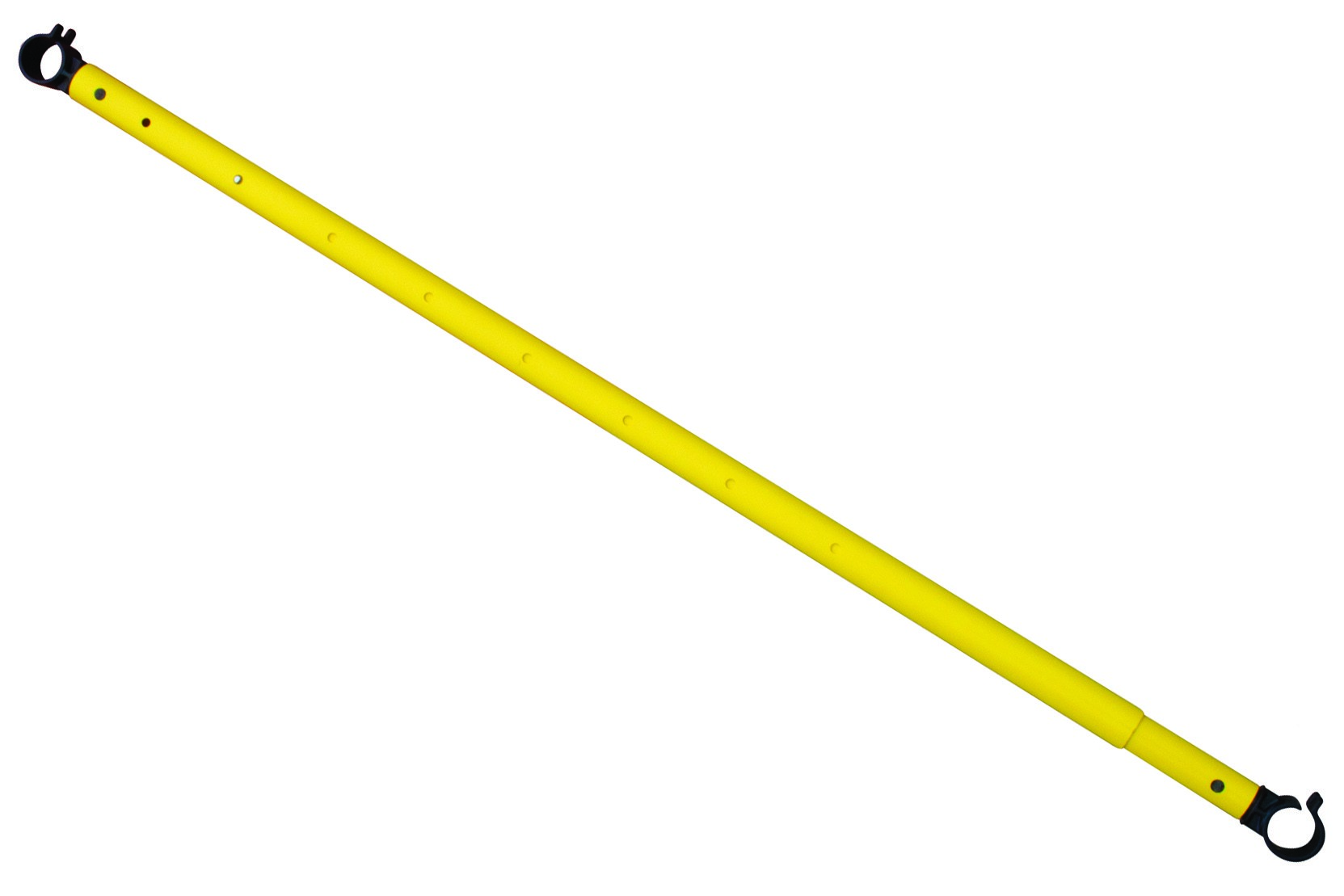 Telescopic stability pole to increase wind stability by bracing two barriers together or attaching it to a SureFoot Block
SureLock QR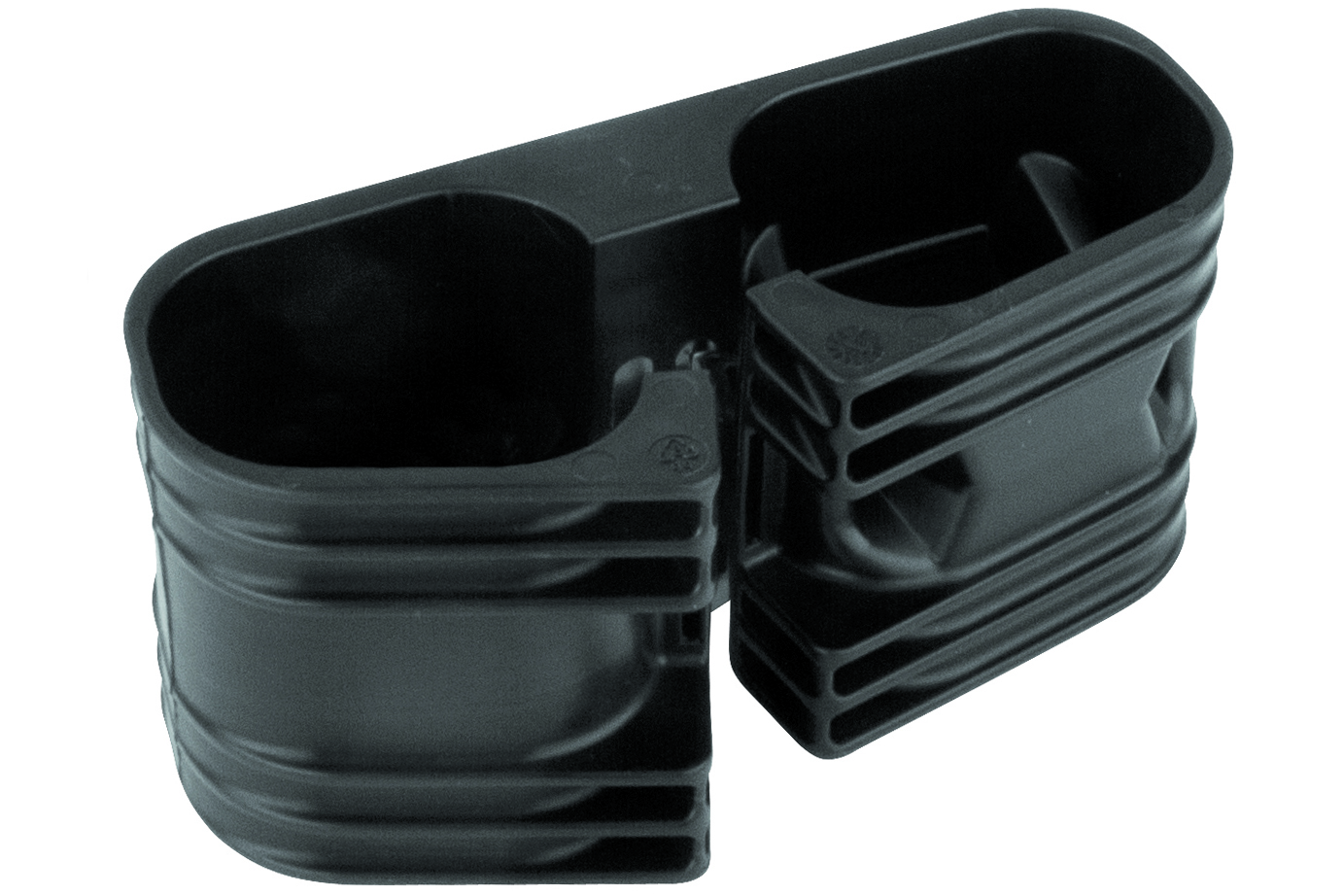 Anti-tamper barrier clips for use on most JSP barrier products.
---
Additional Stability with SureBlocks & SurePoles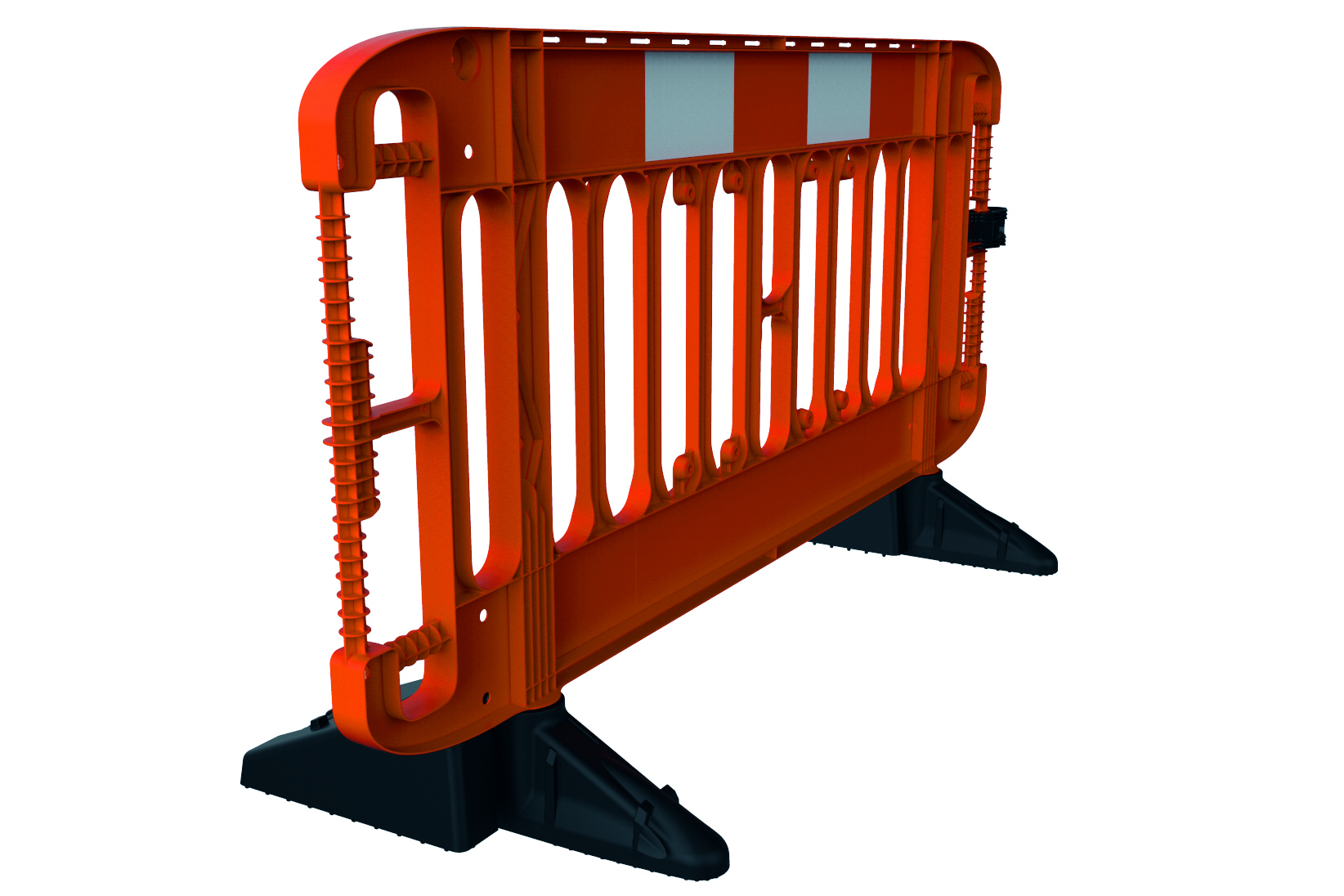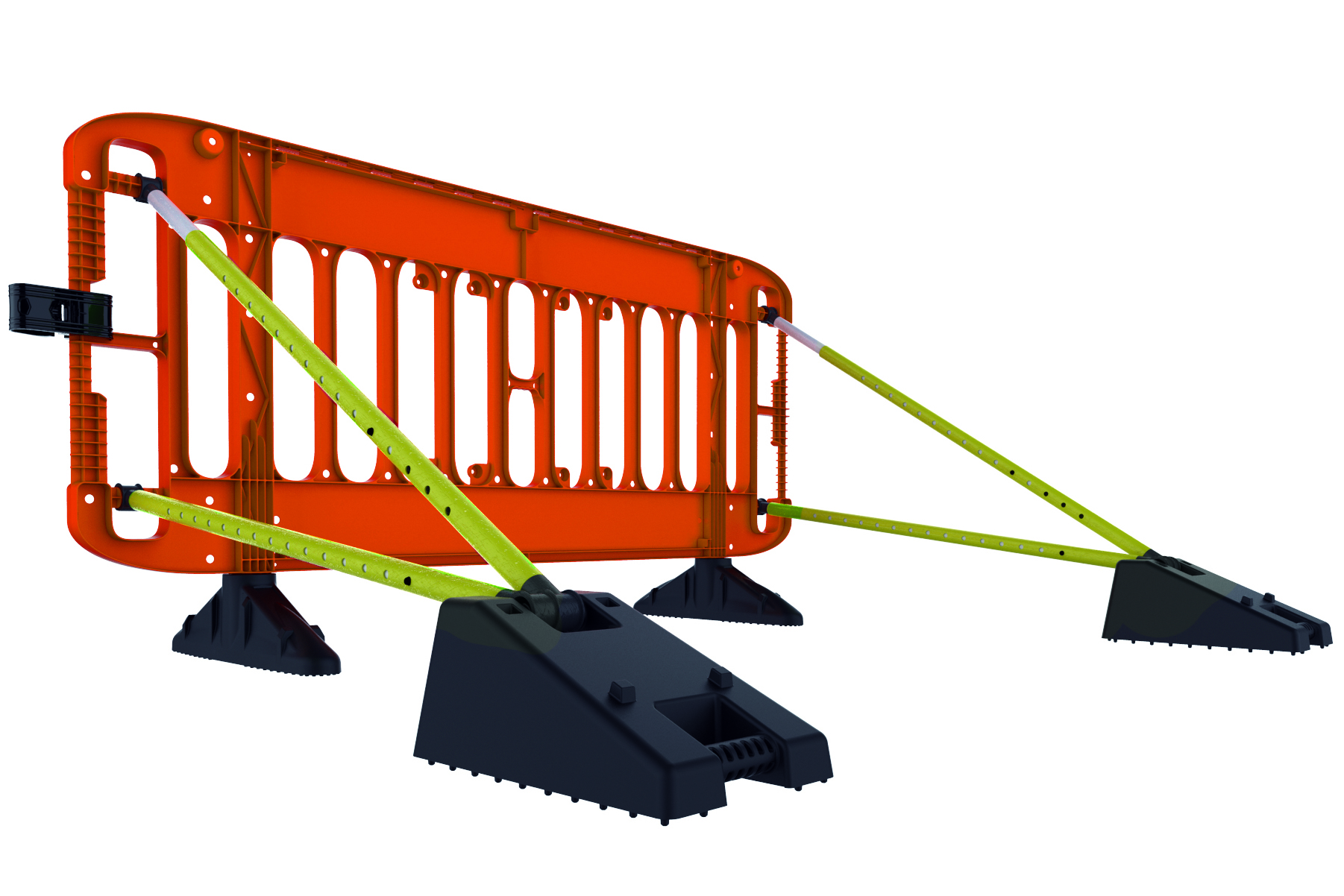 ---
Key Features Summary:
Injection Moulded - Can withstand being run over by an 8,800lb Forklift and still be used afterward.
Stable - When pushed to anything less than 45° from the vertical it will stand back up.
Compact - Feet can be rotated to facilitate stacking of 40 barriers per pallet.
Brandable - Custom colors and embossing are available.
Feet Options - Different types of feet to choose from.
Have Questions About the JSP Titan Barrier?
Call our sales team on (800) 671-9662 to discuss your requirements. They will help you find the right barrier system for your needs. They will also be happy to discuss any customizations that you may require.
---
Specifications
Dimensions
Depth (Legs Not Included)
2"
Height
39"
Width
78"
Weight
Per Unit
32lbs (with SureFoot™ anti-trip feet)
Material
Color
Safety Orange
Type
Body: Polypropylene Feet: Recycled PVC
Miscellaneous
Feet Included
✔ Yes
Shipping
Per Pallet
40 Barriers per pallet
---
Downloads
---
Q & A
Be the first to ask a question.