Call for volume discounts!
(800) 671-9662
---
Distributor Pricing Available

Call Us!

Volume Discounts

Buy More, Pay Less

Zero Sales Tax

Order Online

Secure Shopping

High Security Checkout
---
---
Social Distancing Retractable Line Barrier
People standing in line too close together? Start Safety now dispense the remedy! Put distance between people and help avoid close contact with our new Social Distancing Line Belt Barrier.

Built on the QueueMaster range, we provide a practical, smart and sustainable solution for the delineation and line marking of public areas in order to create social distance between people who have an increased risk of close contact.
As part of the CDC's (Center for Disease Control) guidance for social distancing, one of the simplest practices is creating partitions in workplaces and public areas by delineation, keeping 6 feet or 2 meters away from others when possible. Using our social distancing line belt barriers is an easy and affordable long term solution.
Our line marking belt barriers not only delineate but also alert guests and customers to keep the minimum distance of 6 feet apart from each other by displaying the words 'SOCIAL DISTANCING 6FT - KEEP YOUR DISTANCE'. Protect others and your employees by using these line barriers as additional administrative control.
Each retractable belt unit comes with:
13 Feet of high endurance woven nylon belt (enough length for 2 people to stand in line 6 feet apart).
Hard-wearing black powder-coated stanchion.
Heavy weighted base with a rubber sole for floor protection.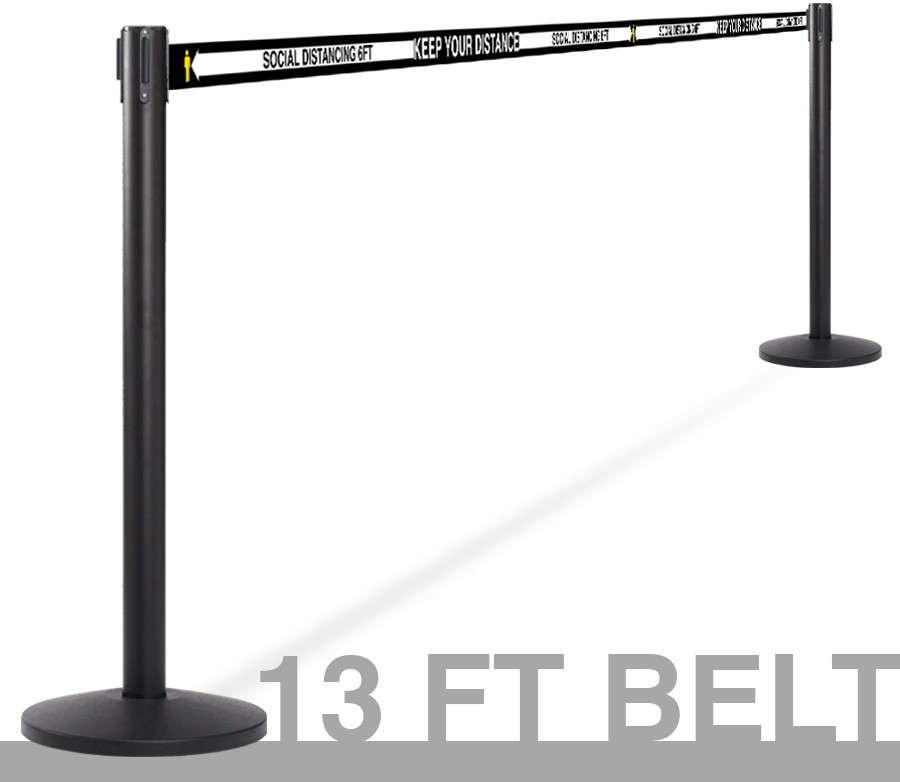 ---

So

start

social distancing by using a retractable line belt barrier to help with your business, be it a grocery store, pharmacy, hardware store, gas station or any other essential business. Maintain a 6-foot distance between people with a line marking barrier in conjunction with using floor markings such as tape or spray marking.
---
Key QueueMaster Features
The QueueMaster range has some quality features that make them great for many applications; we have covered some of the critical details in more depth below.
Built-In Belt Brake - The retraction system has a built-in braking system that prevents the belt from "whipping" back toward the source if unclipped.
Four Direction Post - Each post can receive three other belts. This allows it to connect in up to four directions. Great for quick changes in queue setups.
Locking Tab - The ends of the belts have locking tabs that prevent children or customers from accidentally unhitching the belt from the adjoining post.
Floor Protecting Ring - The underside of the post has a floor protector ring that prevents scuffing if slid across the floor.
Universal Connectors - These allow our belts to be connected to belt barriers from many other major manufacturers & brands.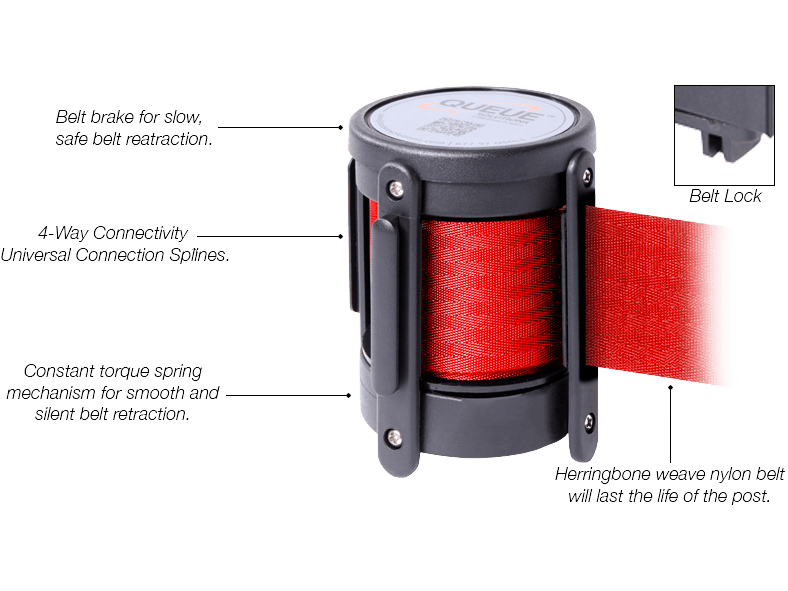 ---
Three Year Warranty
We offer an excellent manufacturer warranty that covers the hardware for three years. This covers the mechanical failure of internal components.
Customized To Your Needs
The QueueMaster range can be tailored to your requirements with many colors and belt options available for larger orders. If you have any custom requirements, please do not hesitate to contact us.
Many Accessories Available
There are many other models and variants available in our extensive range of belt barriers. These alternative models include those for warehouse and outdoor use. We also have a wide selection of accessories including display units and sign holders!
Have Questions About The QueueMaster System?
Give our sales team a call on (800) 671-9662 to speak to our trained sales team. They will be happy to help you find the right system for your needs and budget.
---
Specifications
Dimensions
Base Width
14"
Belt Length
13'
Height
40"
Belt Height
2"
Post Diameter
2.5"
Weight
Per Unit
20 lbs
---
Downloads
---
Q & A
Be the first to ask a question.