Need more than 25?
Call for volume discounts!
(800) 671-9662
---
Distributor Pricing Available

Call Us!

Volume Discounts

Buy More, Pay Less

Zero Sales Tax

Order Online

Secure Shopping

High Security Checkout
---
Available Options
---
Get The Best Deal Possible
To get a quote on this item, please contact our sales team at (800) 671-9662. They will ensure you get the best product for the job at the best price possible.
---
DuraDeck 4 X 8 - Ground Protection Mats
DuraDeck composite mats are reusable, durable, lightweight, and easy to install for a wide range of ground protection applications, including excavation, landscaping, accessways, and more. DuraDeck mats are highly portable and offer safe access and ground protection for temporary roadways and pedestrian paths. They can handle traffic anywhere from a bicycle to larger construction vehicles and have a variety of uses and benefits to fit any custom needs. DuraDeck ground protection mats are also easy to transport. Each 4' x 8' mat is stronger than plywood and lasts up to 10 years. DuraLink metal connectors lock the corners together if needed.
Key Features At a Glance
Very lightweight
Modular design enables multiple configurations
Fast assembly
Easy installation and breakdown
Compact for ease of transportation and storage
Reusable and recyclable
---
DuraDeck Color Options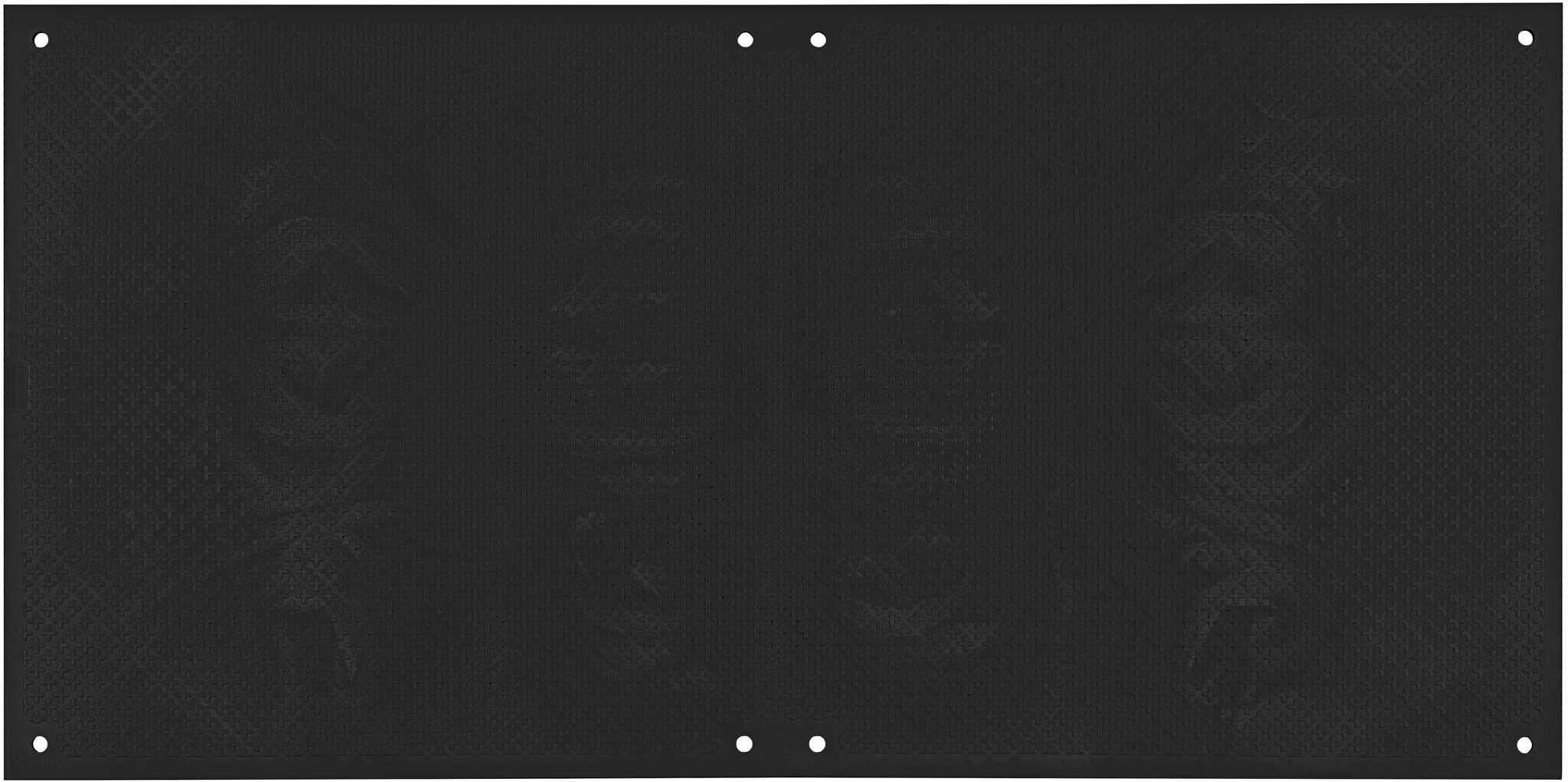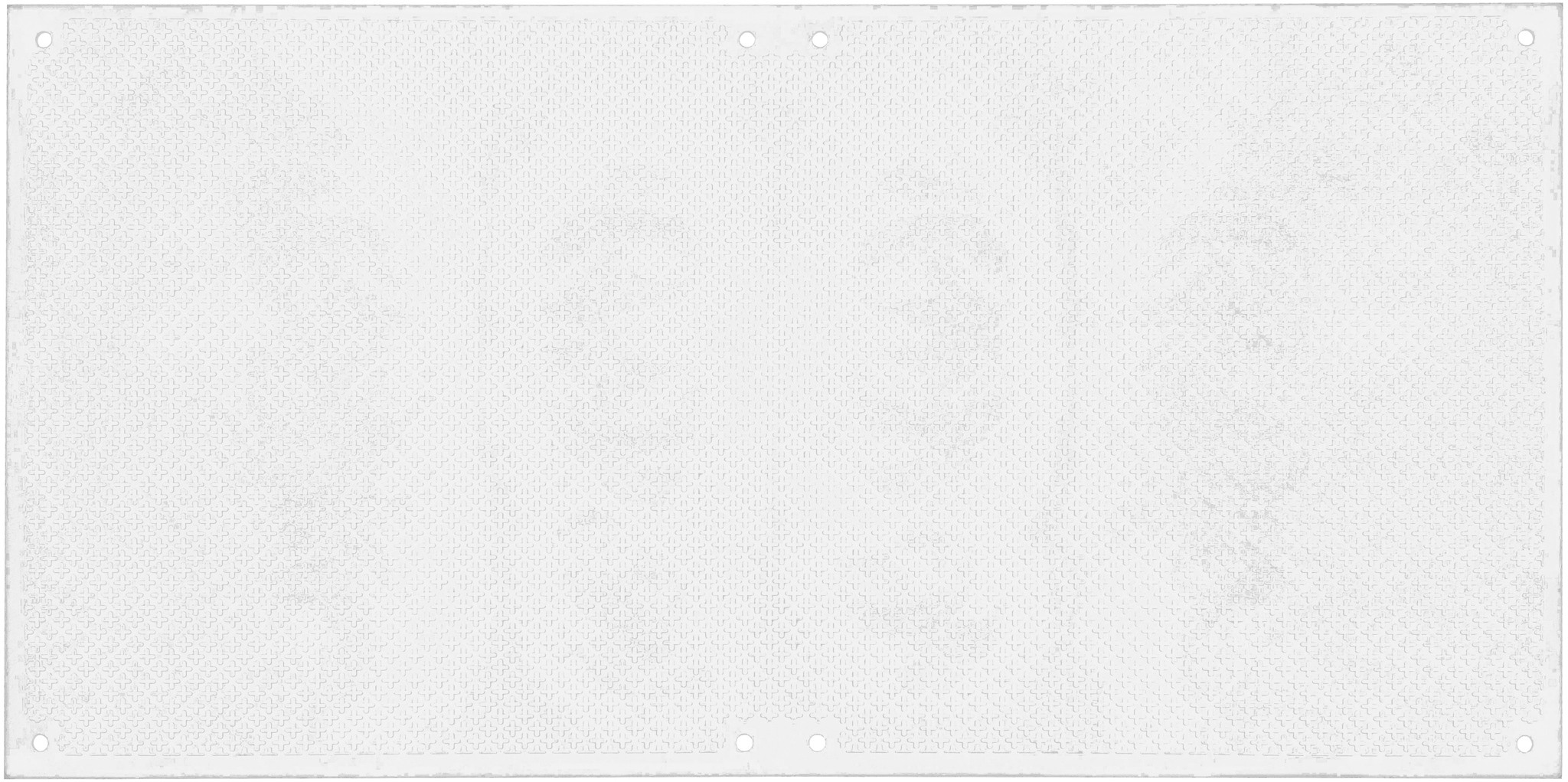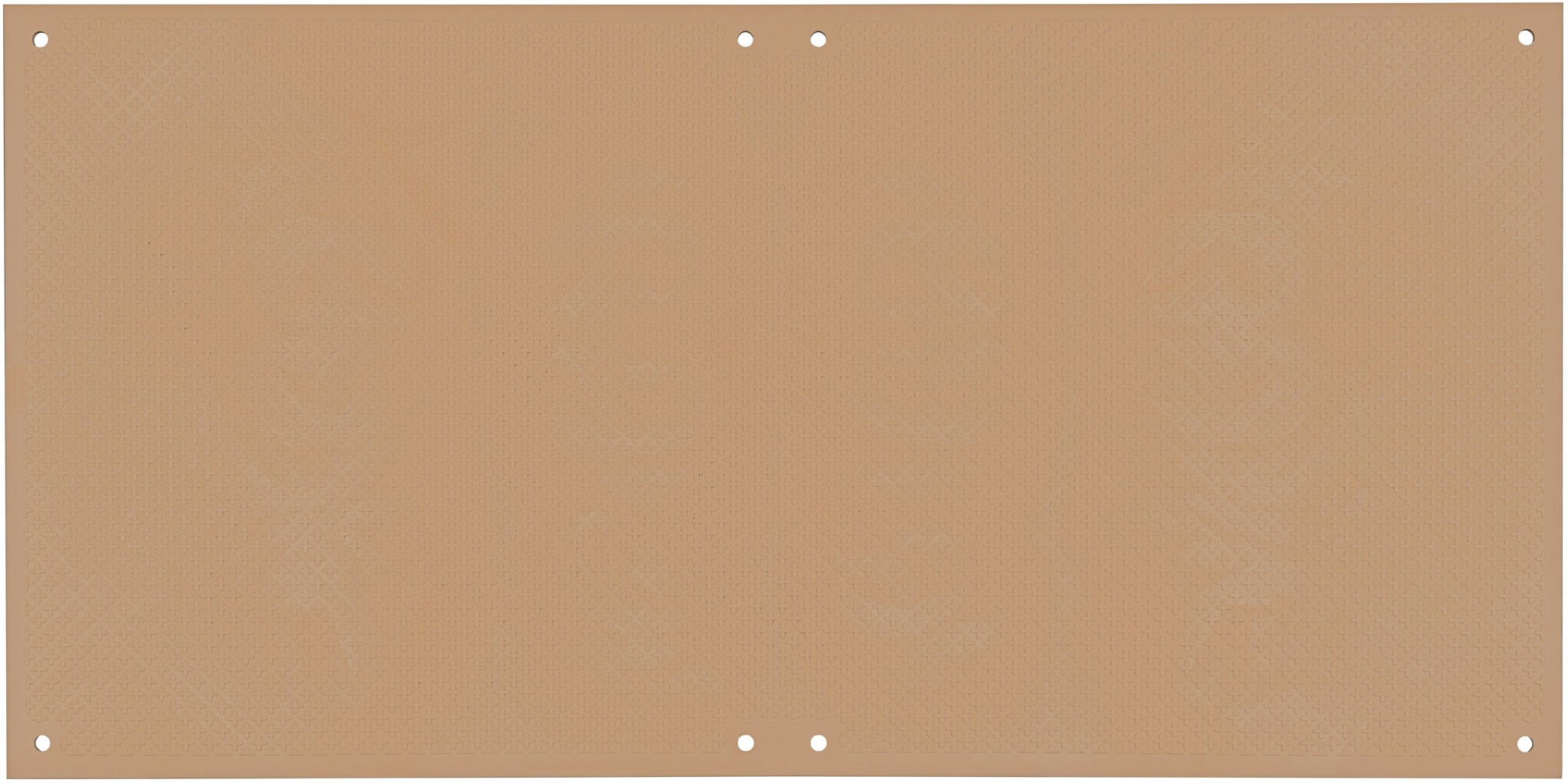 ---
DuraDeck Texture Options
Pedestrian Tread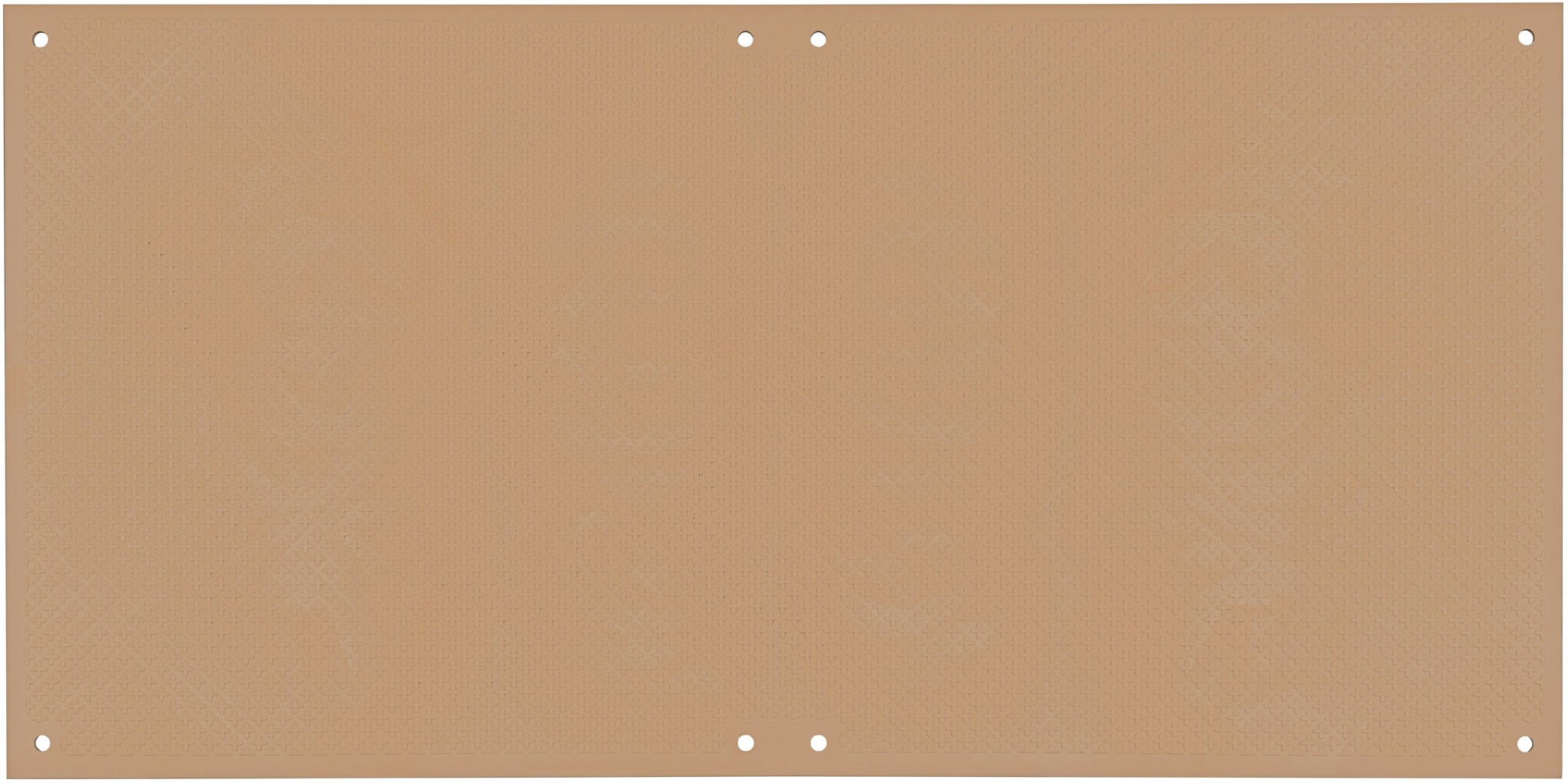 Rugged Tread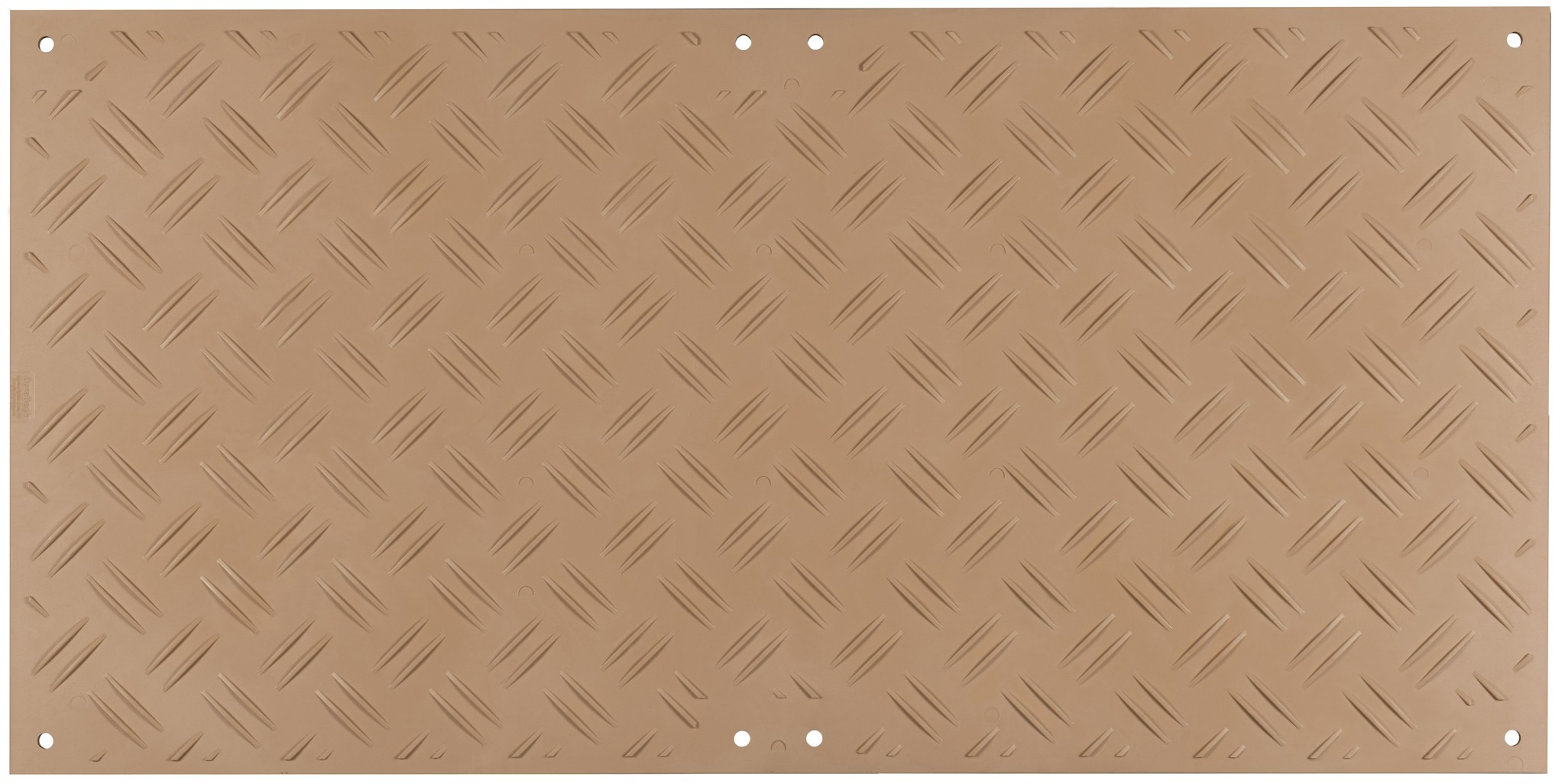 ---
Innovative Engineering
Engineered to provide a firm support base and stable traction, DuraDeck mats require no special tools to install. Molded from a proprietary blend of High-Density Polyethylene (HDPE) for durability, they can be easily linked with connectors to form a continuous solid roadway.
Key Features At a Glance
Very lightweight
Modular design enables multiple configurations
Interlocking clamp for stability and straight-line deployment
Fast assembly hinge clip
Easy installation and breakdown
Made from HDPE for extreme durability
Compact for ease in transportation and storage
100% recyclable
---
Strong, Versatile, & Efficient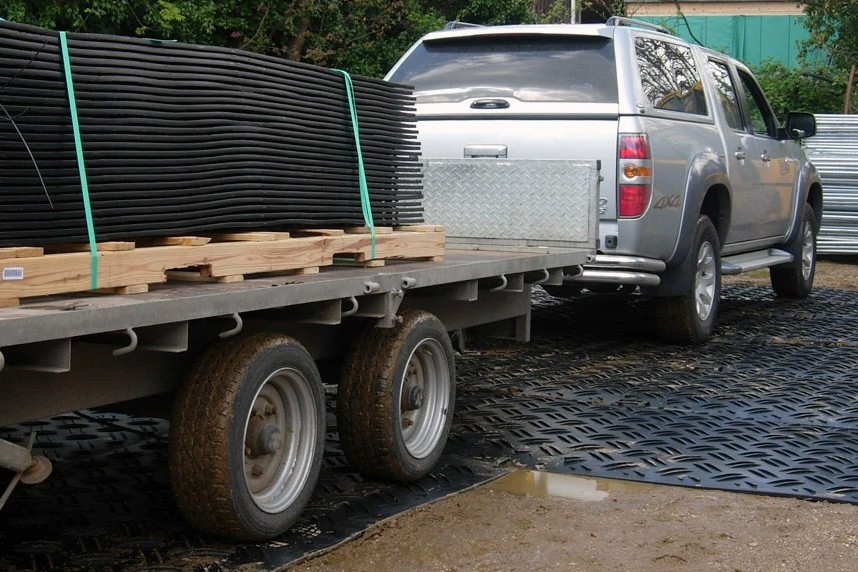 Strong, Safe Protection
Protect the ground from equipment rutting during projects while safeguarding pedestrians from mud and uneven surfaces with ultra-strong DuraDeck. Create portable roadways and work platforms to provide a firm base for equipment, event structures, and people.
---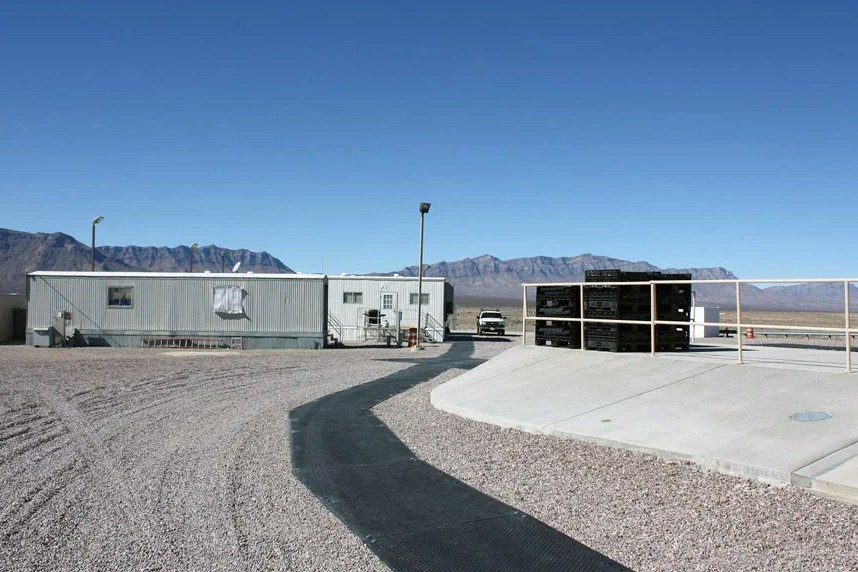 Versatile and Reliable
Versatile tread pattern options offer personnel and equipment the traction they need for stable surface protection. DuraDeck Mats come in a variety of tread pattern options and colors to suit many unique surfaces and are customizable to your specific needs.
---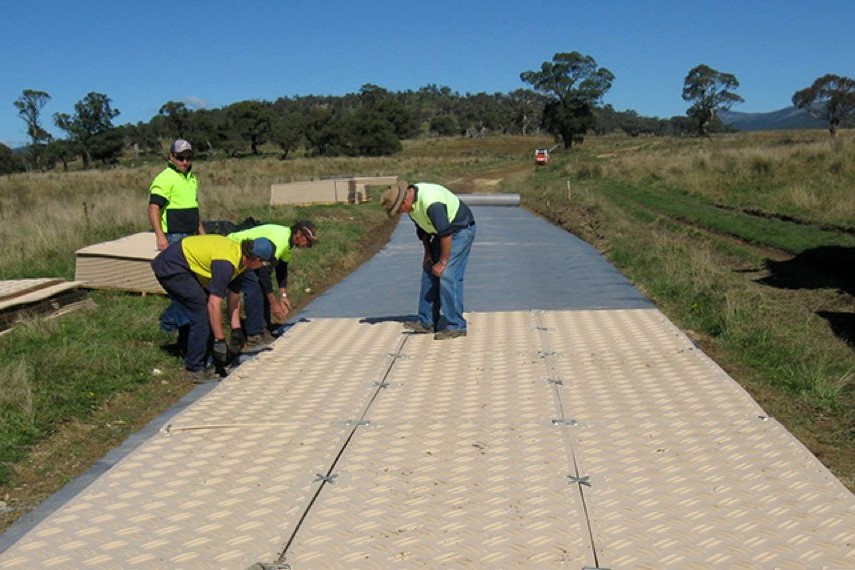 Efficient, Easy, and Durable
DuraDeck mats are portable, lightweight, and easily moved in a truck, and handled by one or two people. These versatile mats clean easily for use over and over for superior return on investment. They allow quick and easy installation and removal.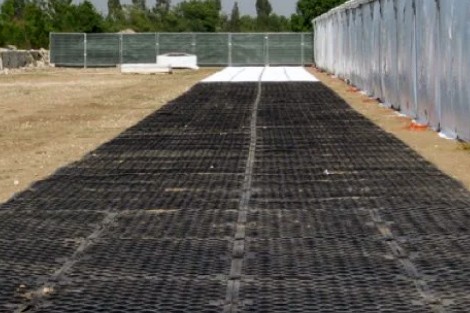 Save Time and Money
DuraDeck mats transport easily and are fast and easy to install, making them a must-have for all worksites and events. Their durability, cost efficiency, and time efficiency make them a superior alternative for temporary paving needs and projects.
---
Wood

Aluminum

Alu

Steel
DuraDeck Mats
Light-weight
Easy To Transport
Low Maintenance
Can Be Used On Uneven Ground
Inert
Long-Lasting
Non-Conductive
Recyclable
Will not Rust or Rot
Best Buy
---
DuraDeck Mat Assembly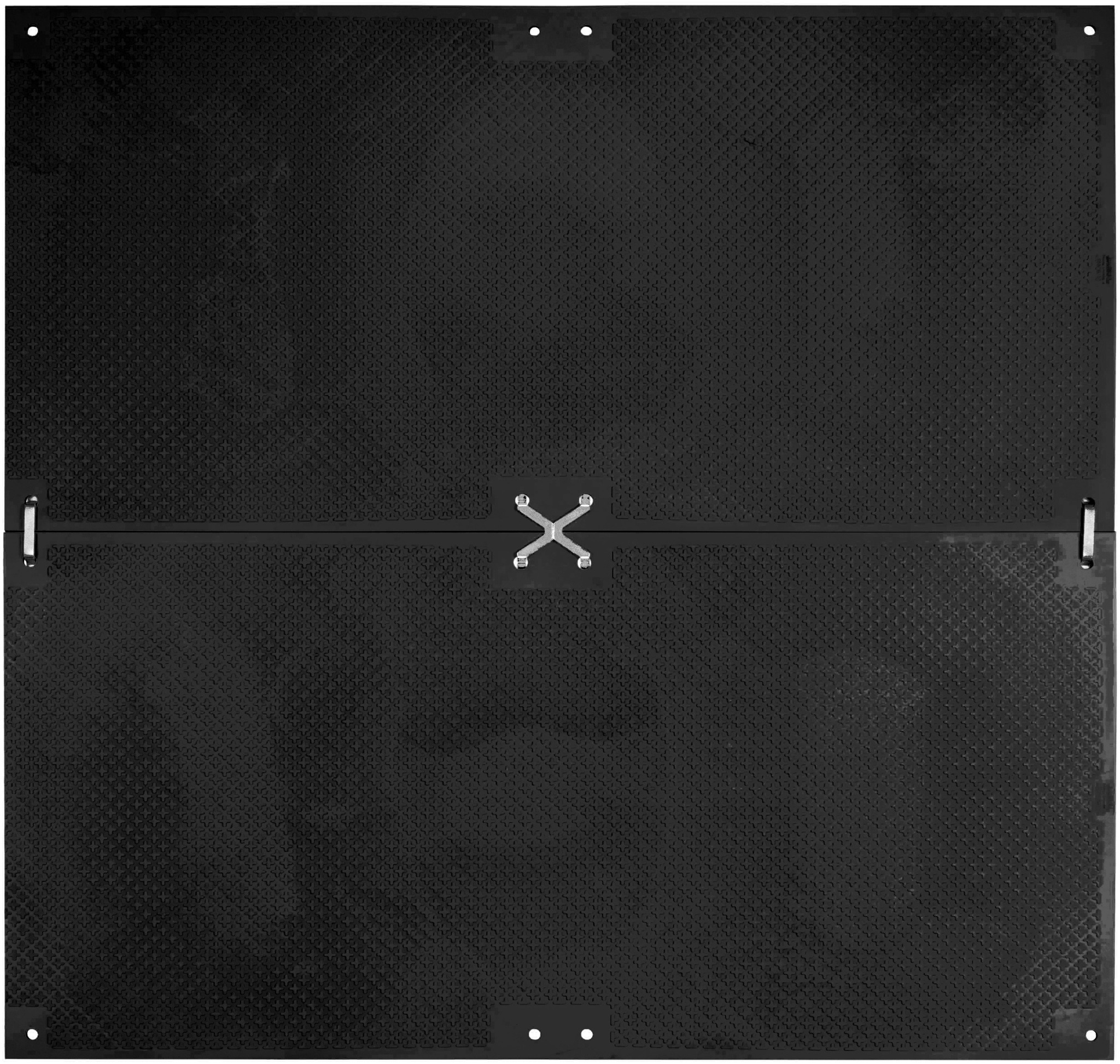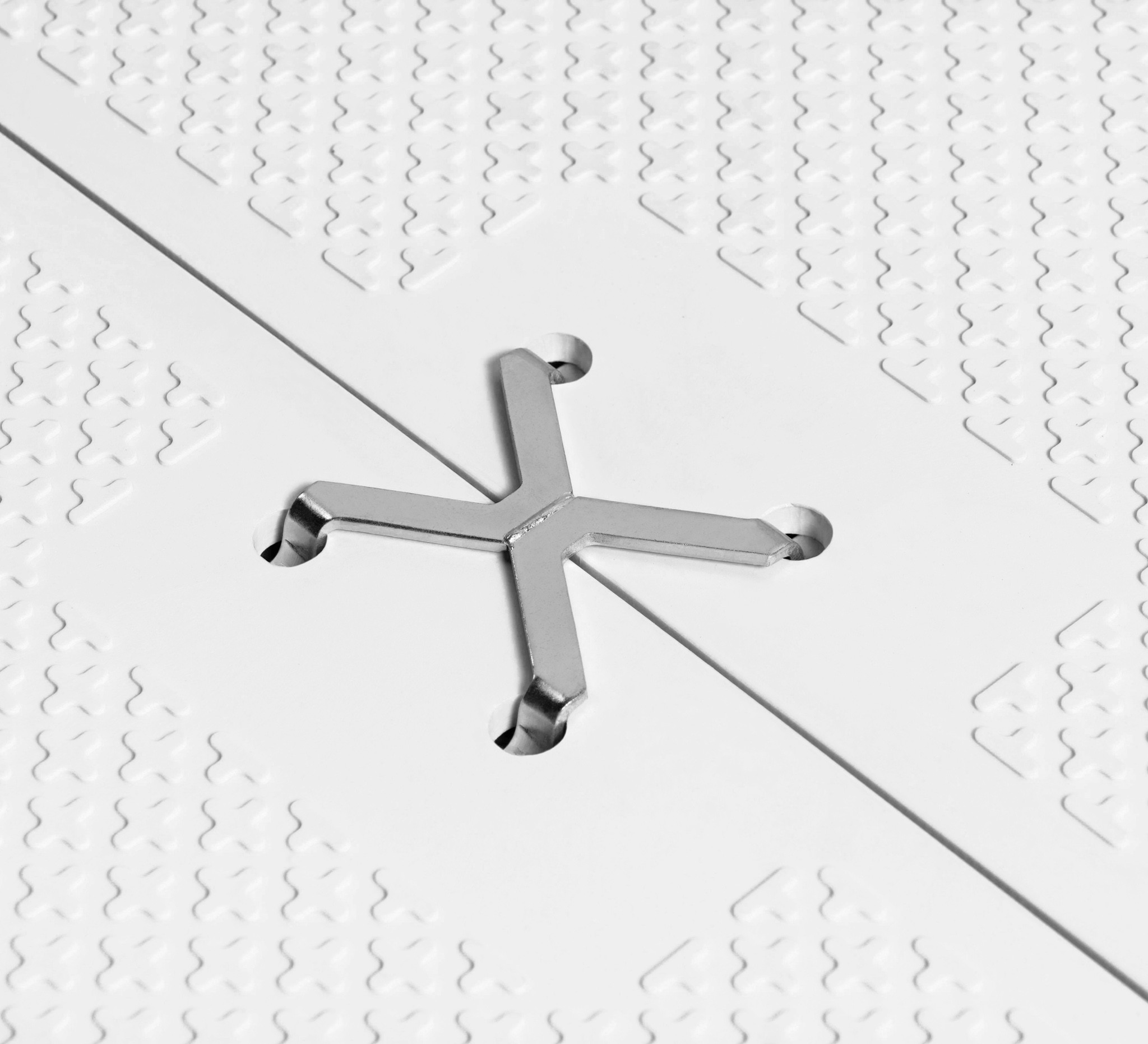 ---
Benefits of DuraDeck Mats
Inert Material – Will does not leach any chemicals from or into the surrounding ground. Even if fuel or other contaminants get spilled onto the mats, they can be cleaned ready to go to another site.
Strong – Our systems are capable of taking traffic from everything from a wheelbarrow to a large tracked vehicle.
Improved traction – The surface of the mat is covered in a friction-enhancing pattern to give vehicles small and large the traction they need even on inclines.
Non-conductive – These ground protection mats do not conduct electricity, which is ideal for working on electrical utilities.
Quickly lock together – With various locking types and overlaps your mats will stay in place and will not separate. Keeping mud underneath and the topside clean.
Suitable for all elements – We have tested our mats thoroughly in all climates, you can be sure that they will not crack in the cold, or deteriorate in the heat.
Recyclable – The durable material that these mats are made from is not only exceptionally hard wearing it is also easily and readily recycled.
Problems With Timber Mats
Water absorbent – Wooden mats can absorb water to the point that their weight can double, making them more dangerous to install and remove and even harder to transport. It is not uncommon for them to stick in mud so badly that they have to remain on-site permanently.
Expensive – Whether renting or buying you will find that wooden mats have many hidden costs. Be it excessive transportation costs or getting charged for stuck or damaged units.
Heavy – Wooden mats are so weighty that only a small number can be transported on one semi-truck, and they only get heavier once on-site and exposed to the elements.
Cross-contamination – As these mats are not inert they can absorb oils, fungus, seeds, bacteria, or any number of other contaminants from a work site. These contaminants can then contaminate the next site at which they are installed.
Extreme Transport Costs – With only a small number on a vehicle it is not uncommon for solid wood mats to have so many delivery vehicles required during their installation that the vehicles themselves damage the temporary roadway and surroundings.
---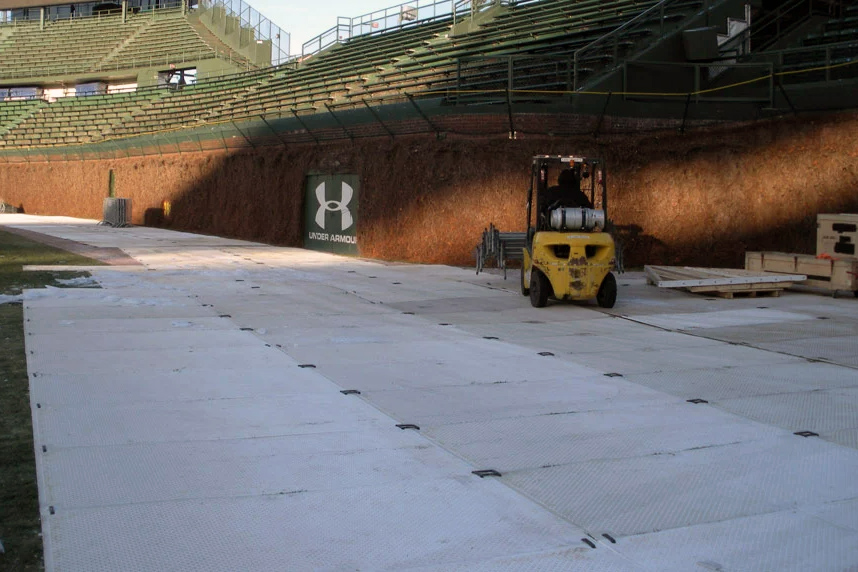 Prevent Rutting and Rugged Roadways
DuraDeck Mats Support Heavy equipment with superior traction and prevent damage to the landscape.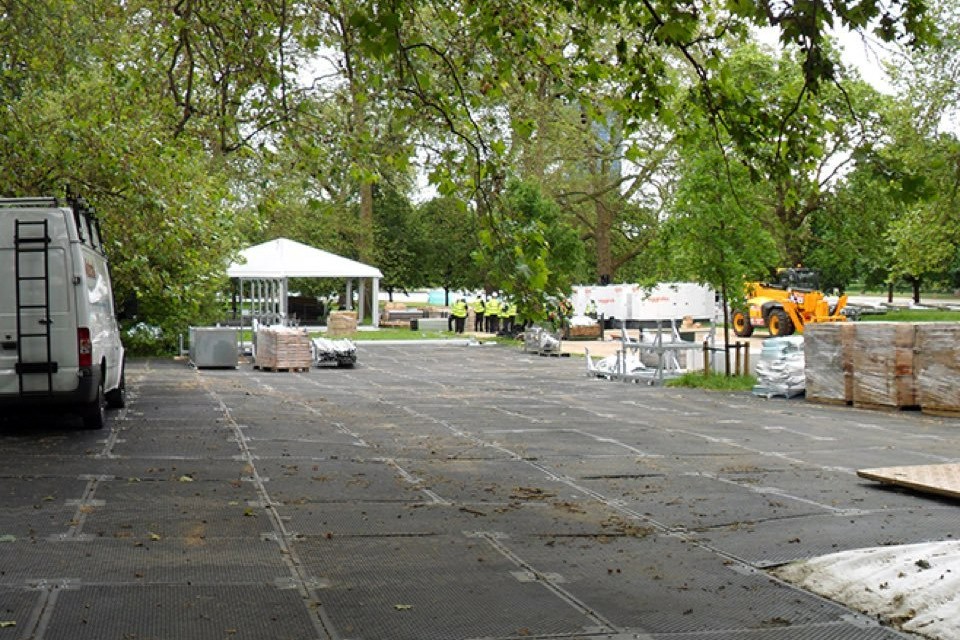 Safe Pathways Over Soft Surfaces
DuraDeck mats allow access over unstable surfaces and install temporary roadways anywhere.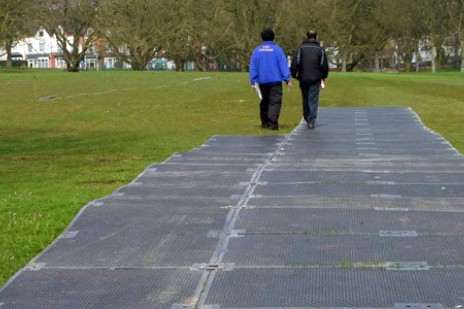 Safe For Pedestrians and Bikers

Stable, textured surfaces allow the Duradeck mats to provide excellent surfaces for walkways.
---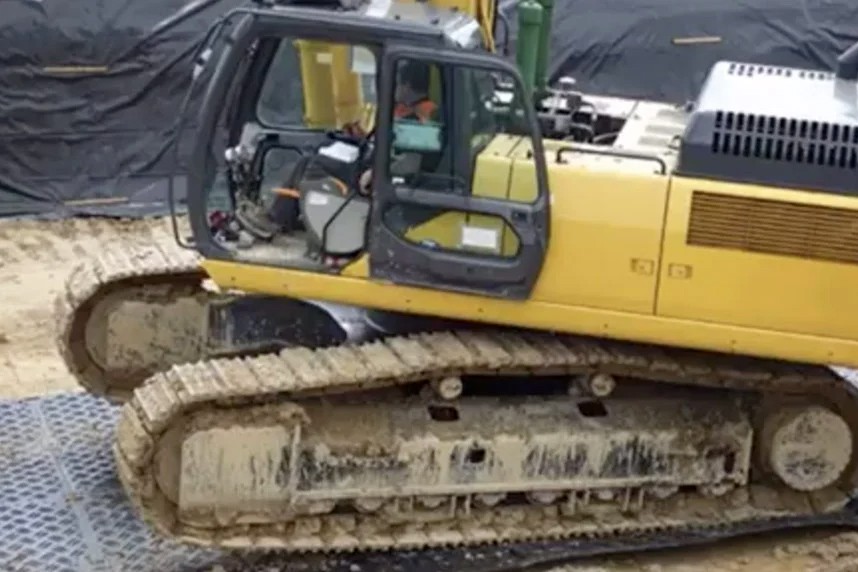 Reliable Platforms for Construction

DuraDeck mats are safe platforms for heavy equipment and pedestrian traffic.
---
FAQ
Q: How do the DuraDeck mats protect grass and turf?
DuraDeck mats distribute weight to prevent rutting and point loading from wheels and equipment. Soil compaction is one of the leading causes of turf damage, and the DuraDeck mat's wide footprint helps prevent this.

Q: What is the weight capacity of DuraDeck mats?
DuraDeck mats are rated at 200 psi, but can safely support loads up to 80 tons over grassy fields, sand, and aggregate surfaces in a variety of applications.

Q: Can I drive and turn on DuraDeck mats?
Drive and turn most common vehicles and loads on DuraDeck mats, including tractor-trailers, forklifts, backhoes, pickups, and other heavy equipment.
---
Do you have questions about the DuraDeck mats?
If you have any questions about these ground protection mats then please call our sales team toll-free at (800) 671-9662.
---
Specifications
Dimensions
Size
4 ft W x 8 ft L x 0.5 in H (1.22 m W x 2.4 m L x 1.3 cm H)
Weight
Weight
87 lbs (40 kg)
Weight Load
200 psi, depending on subsurface conditions
Miscellaneous
SKUs
13440, 13441, 13442, 13443, 13444, 13445
Shipping
Shipping Info
U.S. 48 ft flatbed truck: 510 mats; 40 ft ISO shipping container: 500 mats; 20 ft ISO shipping container: 230 mats; U.K. lorry/EU trucks: Up to 600 mats
---
Downloads
---
Q & A
Be the first to ask a question.