Product Code
SD-BLF-150-G1
Call for volume discounts!
(800) 671-9662
---
Distributor Pricing Available

Call Us!

Volume Discounts

Buy More, Pay Less

Zero Sales Tax

Order Online

Secure Shopping

High Security Checkout
---
---
SeeDevil 150 Watt Balloon Light Fixture
The SeeDevil 150 W LED Balloon Light is the brightest, most versatile and portable LED Balloon light offered. Ideal for campsite, indoor and outdoor construction, DIY projects, sports practice, emergency, and more!

Features
Quick and easy setup
Glare-free lighting
Lightweight and portable
Versatile and compact design
Wide area coverage with 360° illumination
Engineered with 130 lumens per watt Samsung chips
19,500 lumens, <1.5 operating amps, 120-volt input
Over 11,000 square feet of brilliant illumination
Internal blower inflates the balloon and cools LED panels
Included mounts: 2" C-clamp, eye bolt, tripod adapter
LED Balloon Light diffuser is constructed of heat-and-water-resistant, UV protected nylon
Run multiple units on one 2,000-watt generator
UL approved, RoHS, FCC, CE; IP42 rated
15' spec. grade power cord
Dimmable wireless remote
3-year warranty
Parts Included
150 watt LED Balloon Light Fixture SD-BLF-150-G1
All white LED Balloon Light Diffuser SD-BLD-150-W-G1
Tripod Adapter SD-TA-G1
Eye Bolt SD-IBOLT-G1
Remote Control SD-SREMOTE-G2
2" C-Clamp SD-2CS-ECON-G1
Fixture Carry Bag SD-CB-STS-BK-G1
Owner's Manual
Packaged in retail box with balloon diffuser installed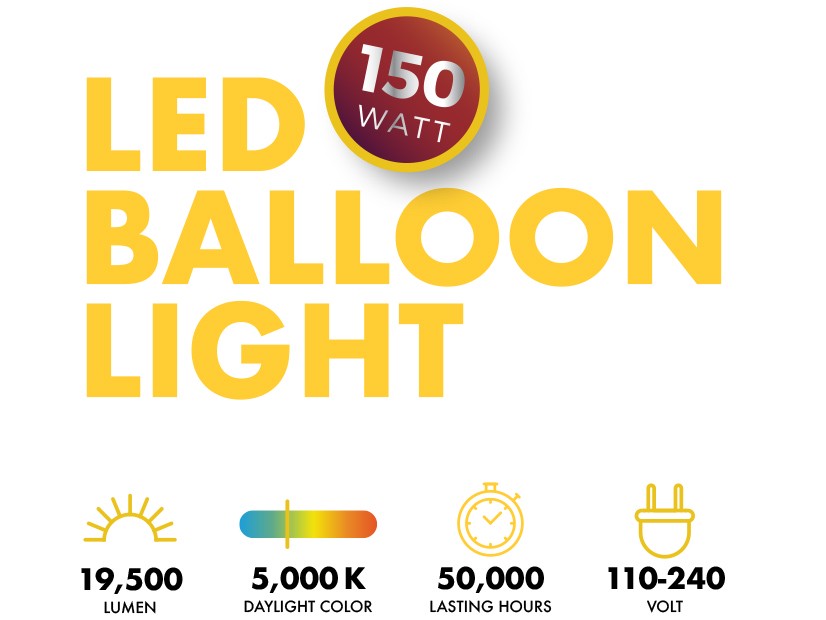 ---
Three Year Warranty
We offer an excellent manufacturer warranty that covers the hardware for three years. This covers the mechanical failure of internal components.
Customized To Your Needs
The SeeDevil range can be tailored to your requirements with many sizes and light intensity options available for larger orders. If you have any custom requirements, please do not hesitate to contact us.
Many Accessories Available
There are many other models and variants available in our range of portable tower lighting. These alternative models include those for warehouse and outdoor use. We also have a wide selection of accessories including generators, tripods, and storage devices to fit your needs!
Have Questions About The SeeDevil Light Fixtures and Kits?
Give our sales team a call at (800) 671-9662 to speak to our trained sales team. They will be happy to help you find the right system for your needs and budget.
---
Specifications
Certifications
Certifications
UL (Canada, USA), Fcc, RoHs, CE
Conforming Standards
IP Rating
IP42
Features
Color Temperature (K)
5,000 kelvin (5,000 K)
Frequency (Hz)
50/60 hertz (50/60 Hz)
Lamp Life (hrs)
50,000 hours (50,000 hrs)
LED
LED Provided by SAMSUNG
LED Wattage (W)
150 watt (150 W)
Luminous Flux (lm)
19,500 lumen (19,500 lm)
Operating Amperage (A)
1.25 amp (1.25 A)
Power Consumption (W)
155 watt (155 W)
Voltage (V)
AC 110-240 volt (AC 110-240 V)
Dimensions
Fixture Dimensions
7 W × 7 L × 13 H in (18 W × 18 L × 33 H cm)
Inflated Diffuser
15.7 × 15.7 × 14.3 in (25 W × 25 L × 40 H cm)
Weight
Fixture Weight
7.15 lb (3.24 kg)
---
Downloads
---
Q & A
Be the first to ask a question.