Need more than 25?
Call for volume discounts!
(800) 671-9662
---
Distributor Pricing Available

Call Us!

Volume Discounts

Buy More, Pay Less

Zero Sales Tax

Order Online

Secure Shopping

High Security Checkout
---
---
The Most Versatile Manhole Guard Rail Barrier For Maintenance - Includes 4 Panels & Clips
This manhole guard is an affordable, lightweight, portable barrier that is ideal for surrounding manholes or forming a safety perimeter whilst working in public areas. Also known as a 'SafeGate', the new Utility Barrier is the next generation in foldable plastic barriers.
The key feature of this folding barricade is that it can fold into a small flat package that is easily stored in the back of a van or pickup. The ability to lock sections together which takes little effort for a single worker to handle and set out makes the Utility Barrier very useful and adaptable to many worksite applications.
1 Utility Barrier added to your cart includes
4 connected panels and includes all clips!
Key Features At a Glance
Very light weight
Modular design enables multiple configurations
Interlocking clamp for stability and straight line deployment
Fast assembly hinge clip
Easy installation and breakdown
Made from HDPE for extreme durability
Compact for ease in transportation and storage
100% recyclable
---
Not Just a Manhole Barricade
Water
If you work in the water industry, the all-plastic construction makes this a rust-free solution for use in wet and high moisture climates as well ability to wash down without the worry of corrosion.
---
Power
Keeping people clear of your working area as an electrician is of critical importance. The Utility Barrier provides a non-conductive barrier allowing a safer environment around electrical work.
---
Telecoms & Data Centers
When working in a data center it is often important to cordon off an area to prevent damage to racking equipment and temporary wiring.
Repairs & Maintenance
If your escalator, entrance or checkout aisle is out of service the Utility Barrier is the perfect all-around multi-purpose barrier for the job.
---
30" Utility Barrier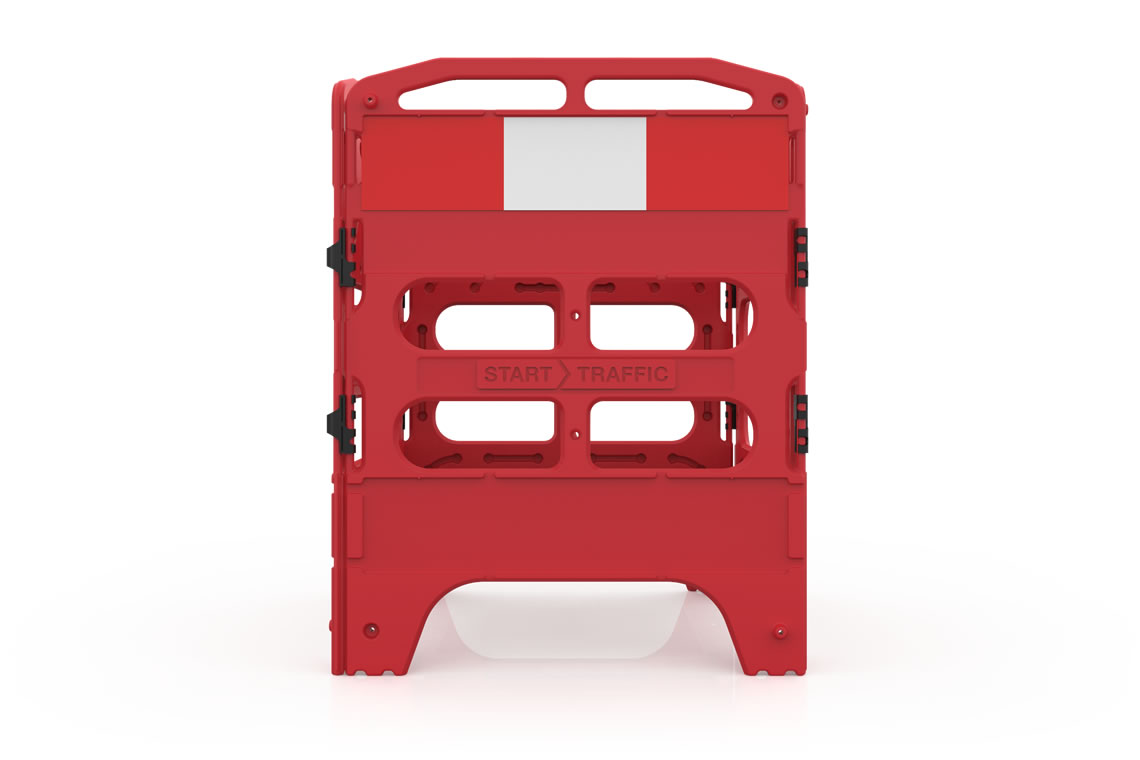 40" Utility Barrier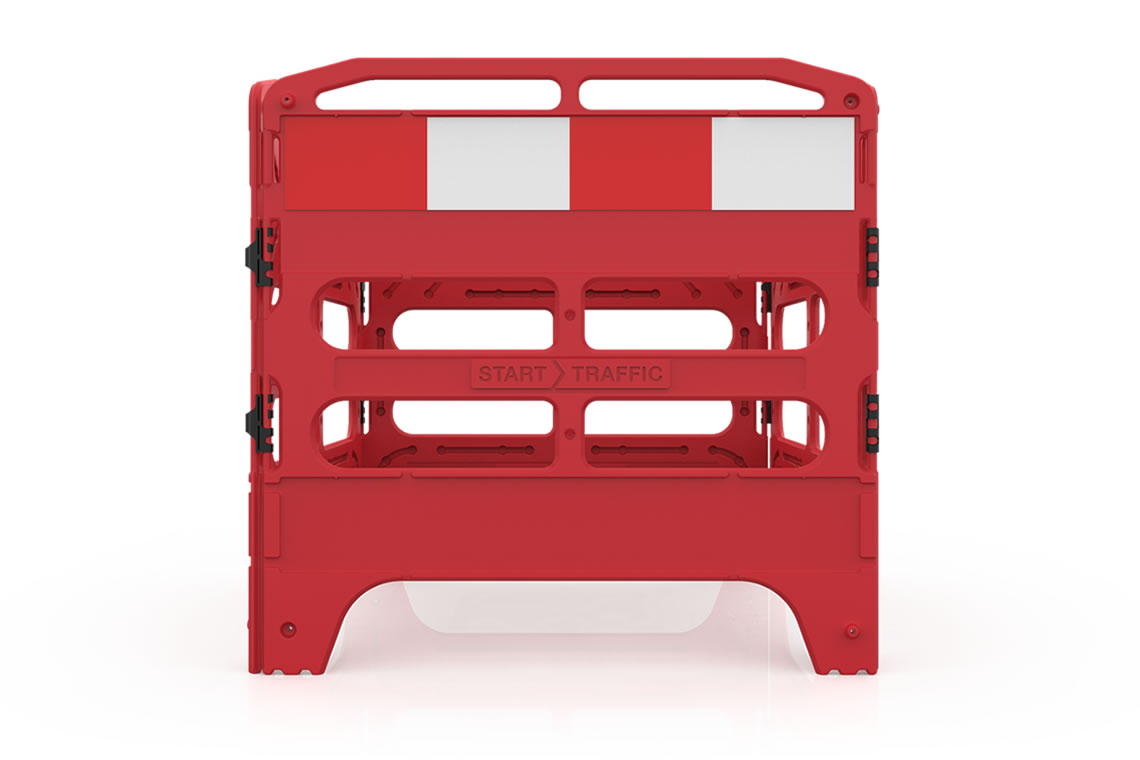 ---
Use It Square or Straight!

Both formats are great when working on open drains, floor access panels, and other groundworks. The barricade's bright color and reflective strips make the barrier highly visible and will keep pedestrians a safe distance from danger. This manhole guard can be used with tents and other accessories to form a comfortable working area in all climates.
Connect as many barriers together as you want!

---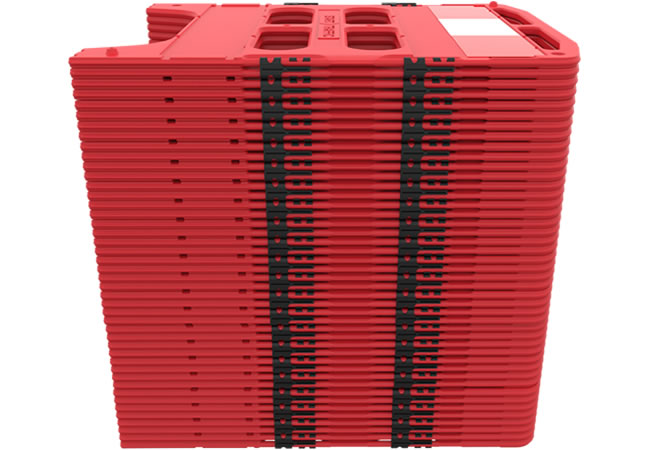 Easy to Transport
Transportation costs can be expensive, the utility barricade does everything it can to lower this cost by folding into a small area, and being light in weight you can put more in a truck.
---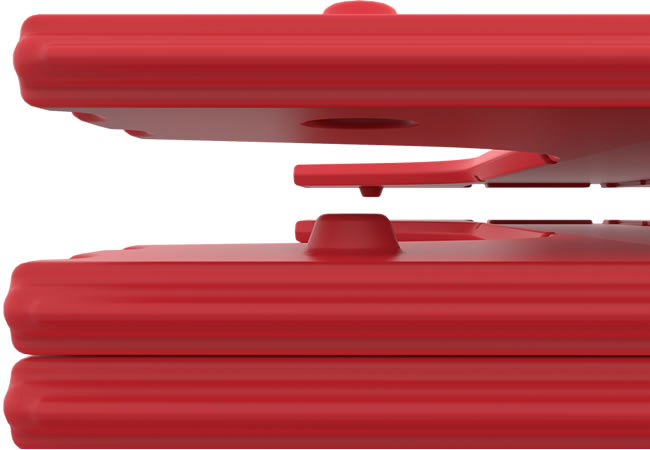 Interlocking
Each gate is designed to interlock front to back or upside down. This allows the user to quickly stack the Utility Barrier in any way!



---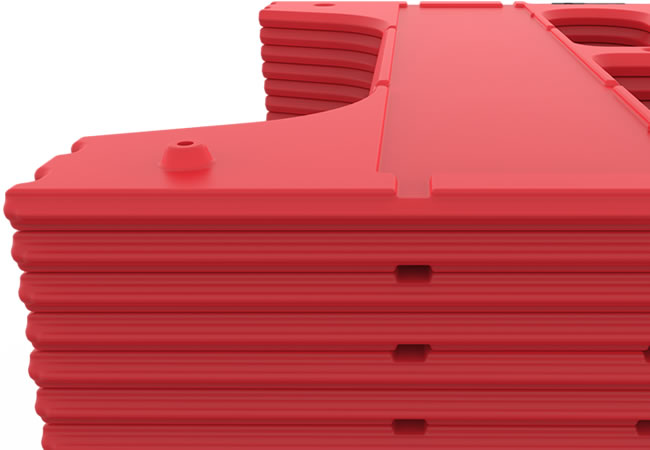 Drainage Channels
Storage space is always at a premium which is why you might have to keep this barrier stored outside. Drainage channels have been added to prevent any collection of rainwater.
---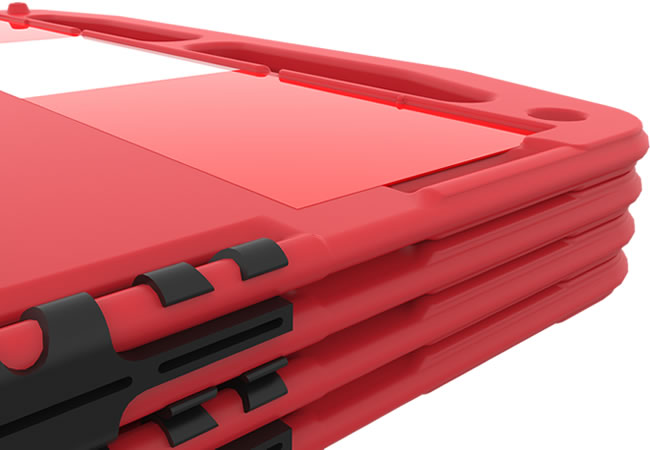 Large Recessed Reflector
The large recessed reflector has improved visibility and is less likely to become scratched when stacked with other barricades.
---
---

The D-Hook™ clips into place using the round cavities on the back face of the barrier, allowing the user to hang various products such as sandbags, portable lights, first aid kits, and many others.
---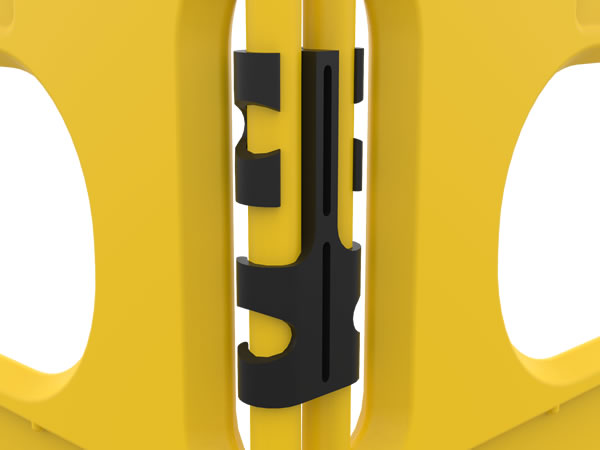 D-Hinge™ - Double Size
These larger hinges give superior stability and prevent twisting of the frame when in use as a square or inline.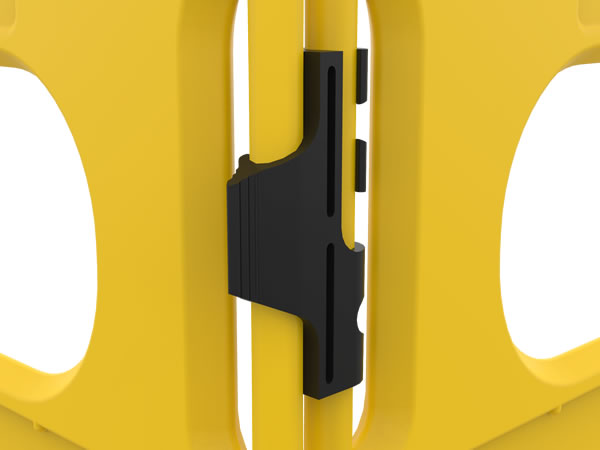 D-Clip™ - Easy Connection
The D-Clip was designed for an easy quick release solution between joining and extending gates.
Download animation:
MP4 format | Ogg format | WebM format
---
Makeshift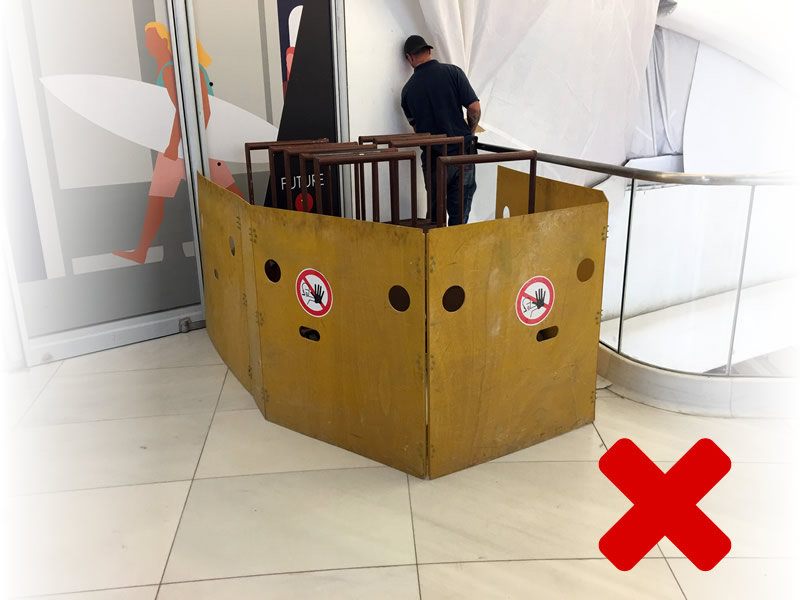 Professional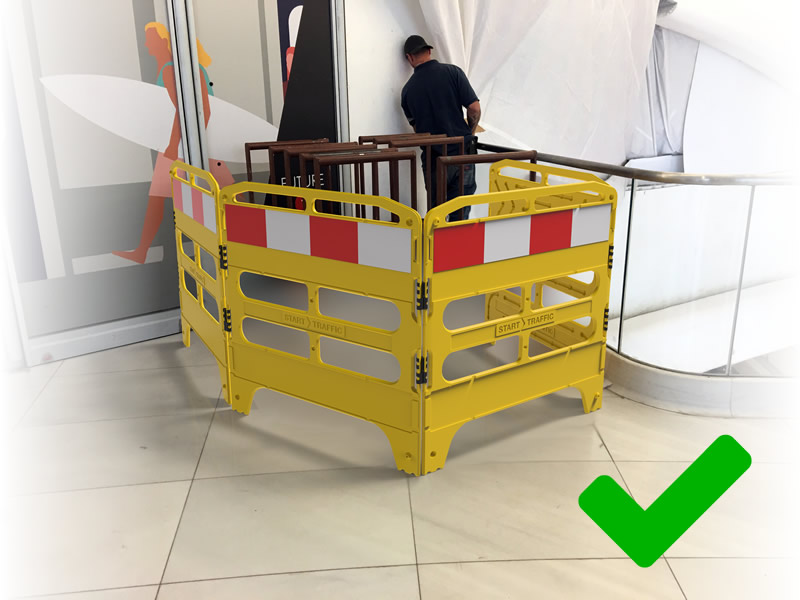 Protect yourself and others when carrying out essential maintenance. The Utility Gate is a safe and effective maintenance barrier for use when working on elevators and escalators. The barrier can be opened out and form an effective barrier to entry for pedestrians who are not paying attention.
Multiple units can be clipped together to form a larger escalator barricade giving more working room when needed. When you are finished working the assembly can be folded and easily carried away. Give a better more professional appearance whilst carrying out maintenance work. Instead of using "make do" barricades that look ugly, use a proper high visibility system.
---
Do you have questions about the Utility Barrier?
If you have any questions about this manhole barricade then please call our sales team toll-free at (800) 671-9662.
---
Customers Who Viewed This Page Also Viewed
---
Specifications
Certifications
ExactPhoto
✔ (The photos are of the actual product type that you are ordering)
ExactSpec
✔ (The specification has been independently checked for accuracy)
Dimensions
Height
40"
Width
30" or 40" per panel (120" or 160" total)
Weight
Per Unit
24 lbs per four 30" Panels 33 lbs per four 40" Panels
Material
Type
HDPE (UV Stabilized High Density Polyethylene)
Miscellaneous
Customization
Color (Minimum order quantity 125)
Shipping
Per Pallet
25
---
Downloads
---
Q & A
What is the temperature rating?
Hey Juan,

The barriers are made from HDPE, this will allow the barrier to withstand continual operating temperatures between -58F and 176F. Melting points are actually much higher.

Hope this helps




-Danny
Can I connect the Utility Gate to a Safe Gate?
I already have a few Safegate barriers, will these join together?
Yes! Using the standard clips provided, they're inter-connectable.
Connecting Gates
Can I order more than one Utility Barrier and connect them together to create a longer run?
Hi Craig, Yes absolutely! You can simply connect the D-Clip onto the next barrier. We also supply extra D-Hinges if you want an extra secure connection or long term use.
Showing 1 to 3 of 3 (1 pages)