Call for volume discounts!
(800) 671-9662
---
Distributor Pricing Available

Call Us!

Volume Discounts

Buy More, Pay Less

Zero Sales Tax

Order Online

Secure Shopping

High Security Checkout
---
---
Heavy-Duty Car Flow Plates For Directional Traffic Control
These flow plates are suited for any site where anything heavier than a standard vehicle will be passing over them. They are strong enough to deal with delivery trucks and other motor vehicles. Our heavy-duty car flow plates are made from high-quality heavy-duty chequer plate steel finished in bright yellow.
Although we list these as heavy-duty flow plates they are suitable for almost any vehicle that is not exceptionally low. The height of these plates is 4.53 inches to the top of the hinged flap, so all standard road vehicles will have no problem traversing them.
The heavy-duty plate uses a high tensile spring to lift the plate, this spring is a serviceable item that can be easily maintained and switched out if required.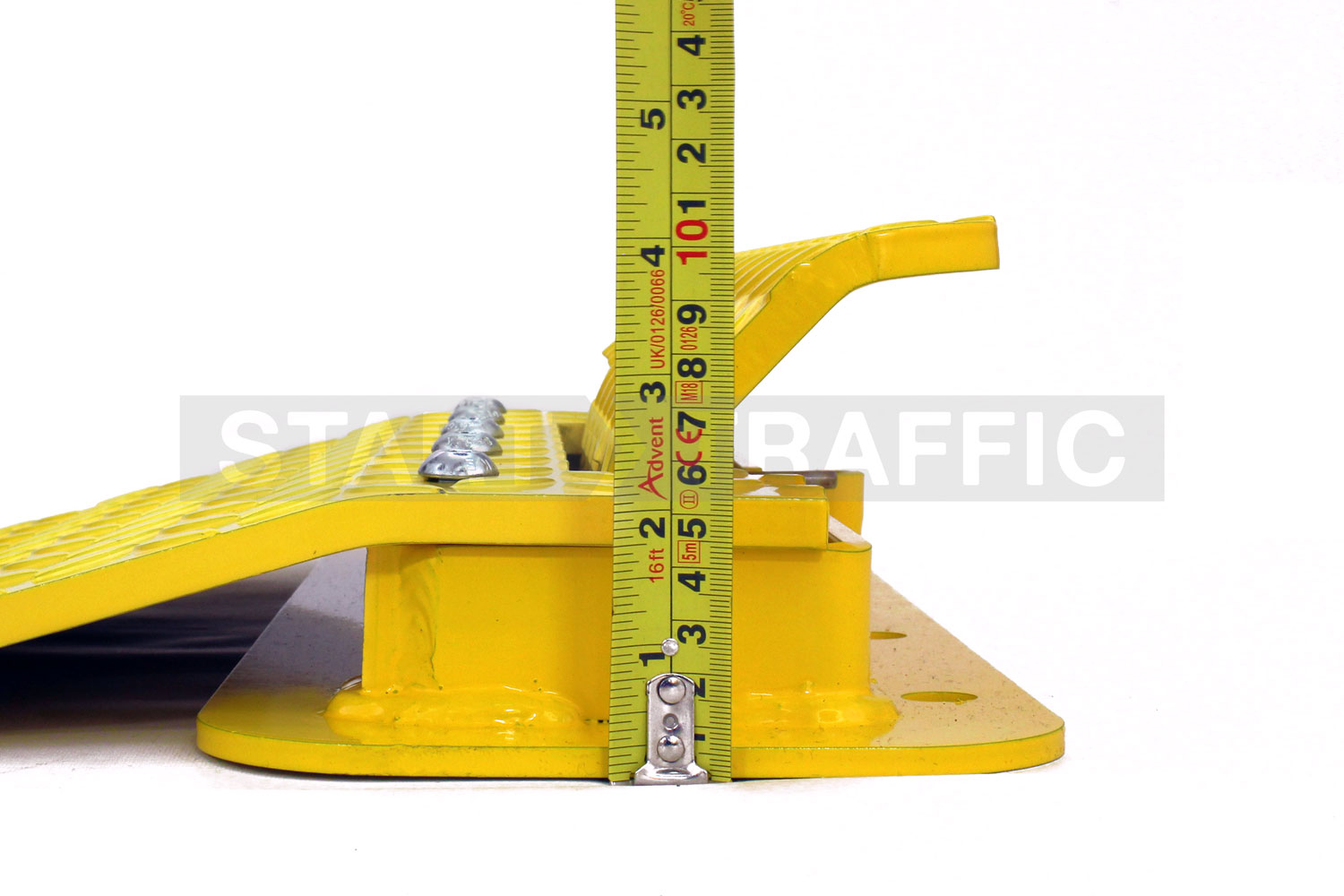 ---
Easy Installation
As these plates are surface mounted they do not require drainage channels or any groundworks other than a few simple holes drilling. If installing on thin asphalt surface or new tarmac it may be necessary to install a concrete pad first, details of this are available in our downloads section.
Great For Depots & Service Yards
Prevent vehicles from travelling the wrong way through exits, or entry points in an attempt to bypass security, pay gates or other restrictions.
Can Be Locked Down For Temporary Two Way Traffic
If required the plates can be locked down to facilitate two-way traffic this may be required for emergency access.
---
Maximum Speed of 5mph
We strongly recommend that these be used in conjunction with one-way signage and speed bumps. This prevents drivers from attempting to drive over the ramps in the wrong direction but also slows them to a safe speed of 5mph. If traffic is allowed to pass over these plates faster than 5mph it can result in damage to either the plate or vehicle.
Need Help Choosing?
Don't know a flow plate from a wheel stopper? Don't worry we have you covered, our sales team will help you get the right product for your needs every time. You can contact them on (800) 671-9662, they are available during office hours and will ensure you get the right flow plate system for your needs.
---
Specifications
Certifications
ExactPhoto
✔ (The photos are of the actual product type that you are ordering)
ExactSpec
✔ (The specification has been independently checked for accuracy)
Dimensions
Drill Hole Size
13/32 (0.9449 Inches) / 24mm Tarmac Fixing
Height
4.53 Inches (115mm) with Raised Teeth | 2.01 Inches (51mm) top of body
Length
14.67 Inches (372.5mm)
Width
18.90 Inches (480mm)
Weight
Per Unit
39.68 lbs. (18kg)
Material
Color
Yellow
---
Downloads
---
Q & A
Be the first to ask a question.