Need more than 25?
Call for volume discounts!
(800) 671-9662
---
Distributor Pricing Available

Call Us!

Volume Discounts

Buy More, Pay Less

Zero Sales Tax

Order Online

Secure Shopping

High Security Checkout
---
---
SignaRoad Mats
SignaRoad mats protect people and equipment by providing a medium- to heavy-duty accessway or platform for industrial work sites and events.
Key Features At a Glance
Modular design enables multiple configurations
Fast assembly
Easy installation and breakdown
Compact for ease of transportation and storage
Reusable and recyclable
10-year lifespan
Key Features At a Glance
Modular design enables multiple configurations
Interlocking clamp for stability and straight line deployment
Fast assembly hinge clip
Easy installation and breakdown
Made from HDPE for extreme durability
Compact for ease in transportation and storage
100% recyclable
---
Safe, Durable, & Reusable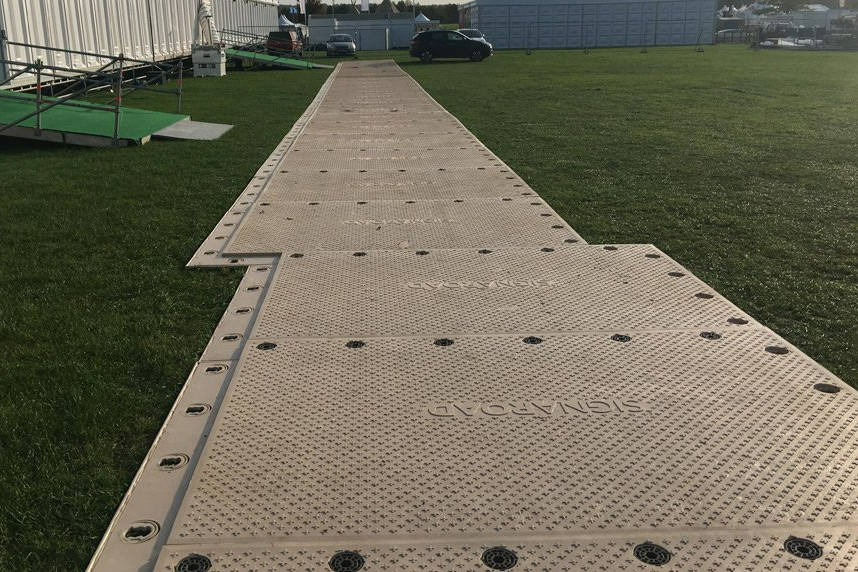 Safe and Strong
SignaRoad® mats are used for industrial access, pedestrian-safe walkways, and event applications. They provide a stable, non-shifting surface and offer secure traction.
---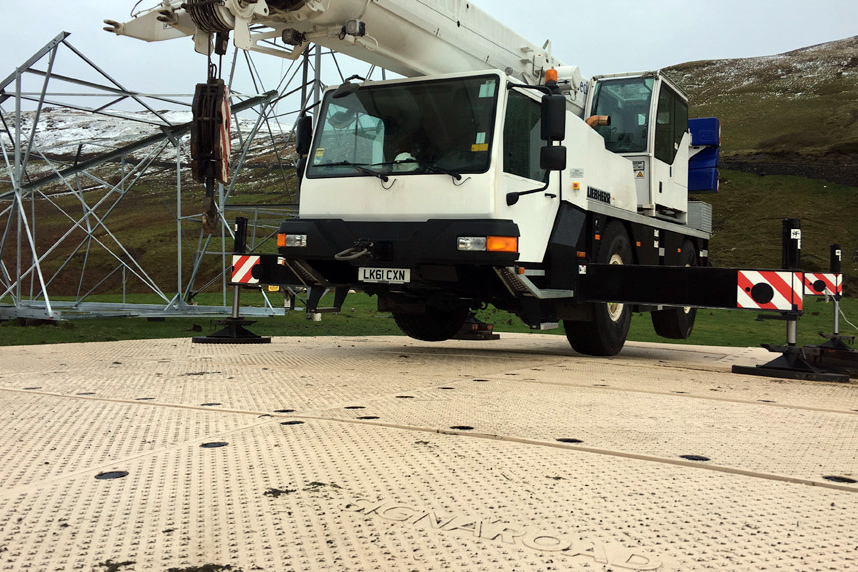 Durable and Efficient
SignaRoad® mats are durable and provide a superior ROI to save you time and money. Easy installation means projects stay on time and on budget. The compact size means more mats per truckload, saving shipping costs.
---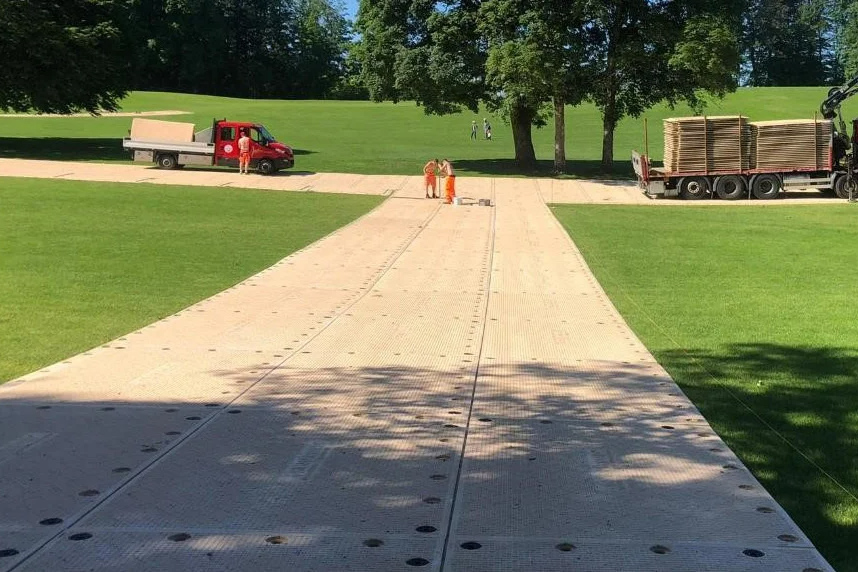 Reusable and Easy
SignaRoad® mats are reusable for 10+ years and the one-piece design makes installation easy. Overlapping flanges provide additional strength, flexibility, and stability. Simple to install. Simple to clean. Easy to use again and again.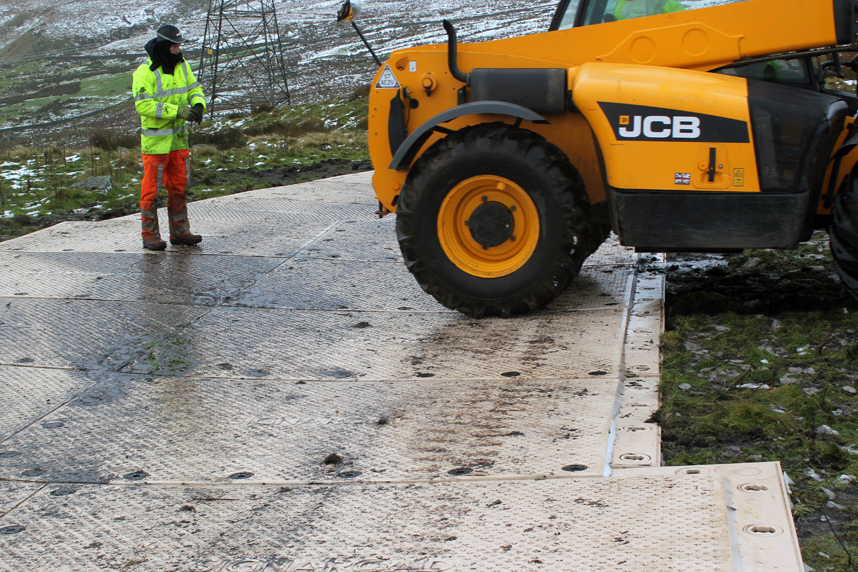 Innovative Engineering
SignaRoad® mats are molded from a proprietary blend of High-Density Polyethylene (HDPE) and special impact modifiers. Their weight-saving ribbed interior structure adds strength and allows for easy handling by a standard forklift.
---
Wood

Aluminum

Alu

Steel
SignaRoad Mats
Light-weight
Easy To Transport
Low Maintenance
Can Be Used On Uneven Ground
Inert
Long-Lasting
Non-Conductive
Recyclable
Will not Rust or Rot
Best Buy
---
Benefits of SignaRoad Mats
Inert Material – Will not leach any chemicals from or into the surrounding ground. Even if fuel or other contaminants get spilled onto the mats, they can be cleaned ready to go to another site.
Strong – Our systems are capable of taking traffic from everything from a wheelbarrow to a large tracked vehicle.
Improved traction – The surface of the mat is covered in a friction-enhancing pattern to give vehicles small and large the traction they need even on inclines.
Non-conductive – These ground protection mats do not conduct electricity, which is ideal for working on electrical utilities.
Quickly lock together – With various locking types and overlaps your mats will stay in place and will not separate. Keeping mud underneath and the topside clean.
Suitable for all elements – We have tested our mats thoroughly in all climates, you can be sure that they will not crack in the cold, or deteriorate in the heat.
Recyclable – The durable material that these mats are made from is not only exceptionally hard wearing it is also easily and readily recycled.
Problems With Timber Mats
Water absorbent – Wooden mats can absorb water to the point that their weight can double, making them more dangerous to install and remove and even harder to transport. It is not uncommon for them to stick in mud so bad that they have to remain on-site permanently.
Expensive – Whether renting or buying you will find that wooden mats have many hidden costs. Be it excessive transportation costs or getting charged for stuck or damaged units.
Heavy – Wooden mats are so weighty that only a small number can be transported on one semi-truck, and they only get heavier once on-site and exposed to the elements.
Cross-contamination – As these mats are not inert they can absorb oils, fungus, seeds, bacteria, or any number of other contaminants from a work site. These contaminants can then contaminate the next site at which they are installed.
Extreme Transport Costs – With only a small number on a vehicle it is not uncommon for solid wood mats to have so many delivery vehicles required during their installation that the vehicles themselves damage the temporary roadway and surroundings.
---
SignaRoad In Use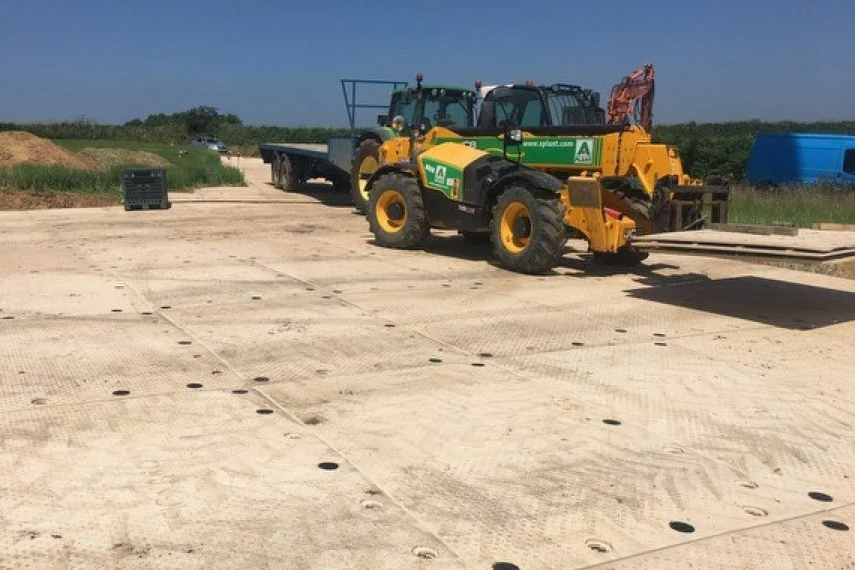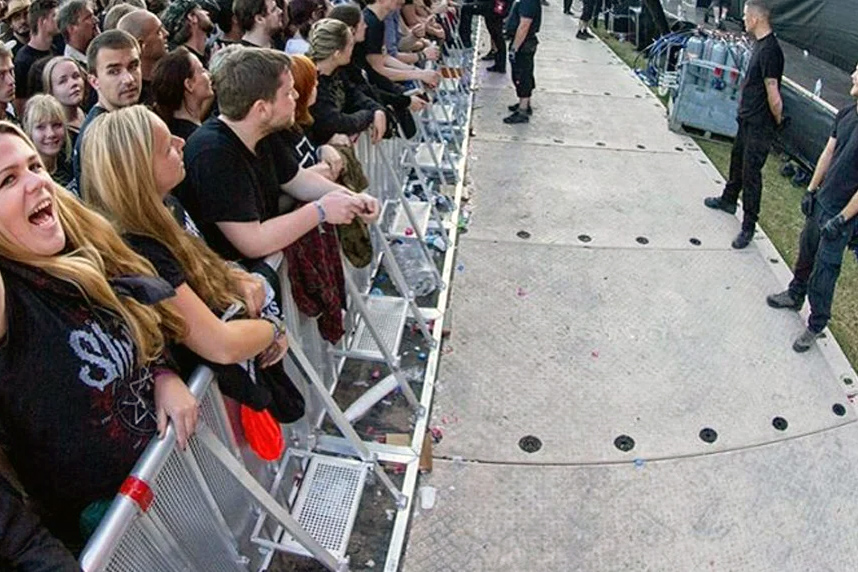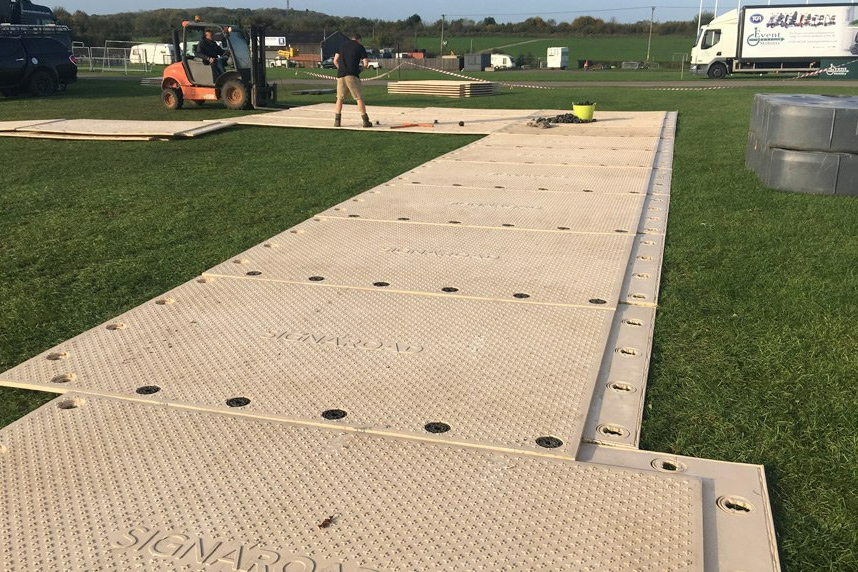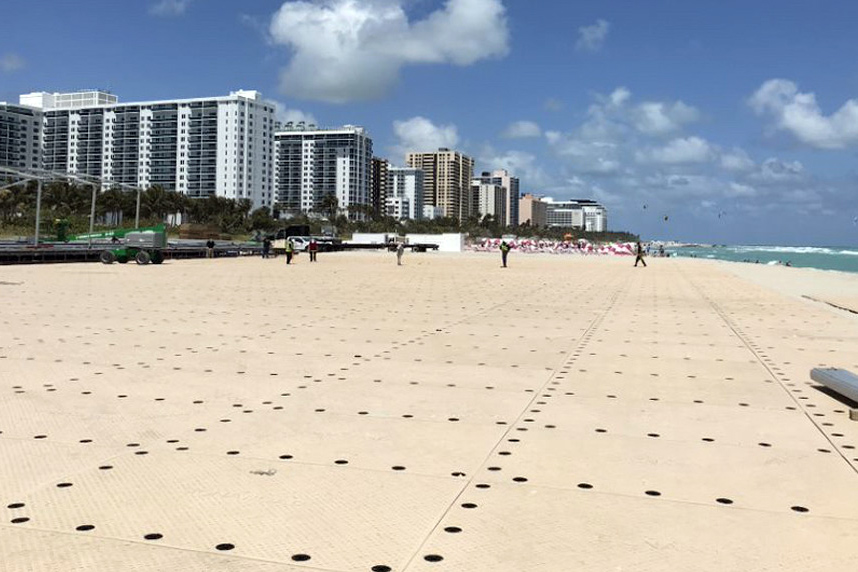 ---
SignaRoad Color Options
Black and White mats are special orders only, please call us for more information.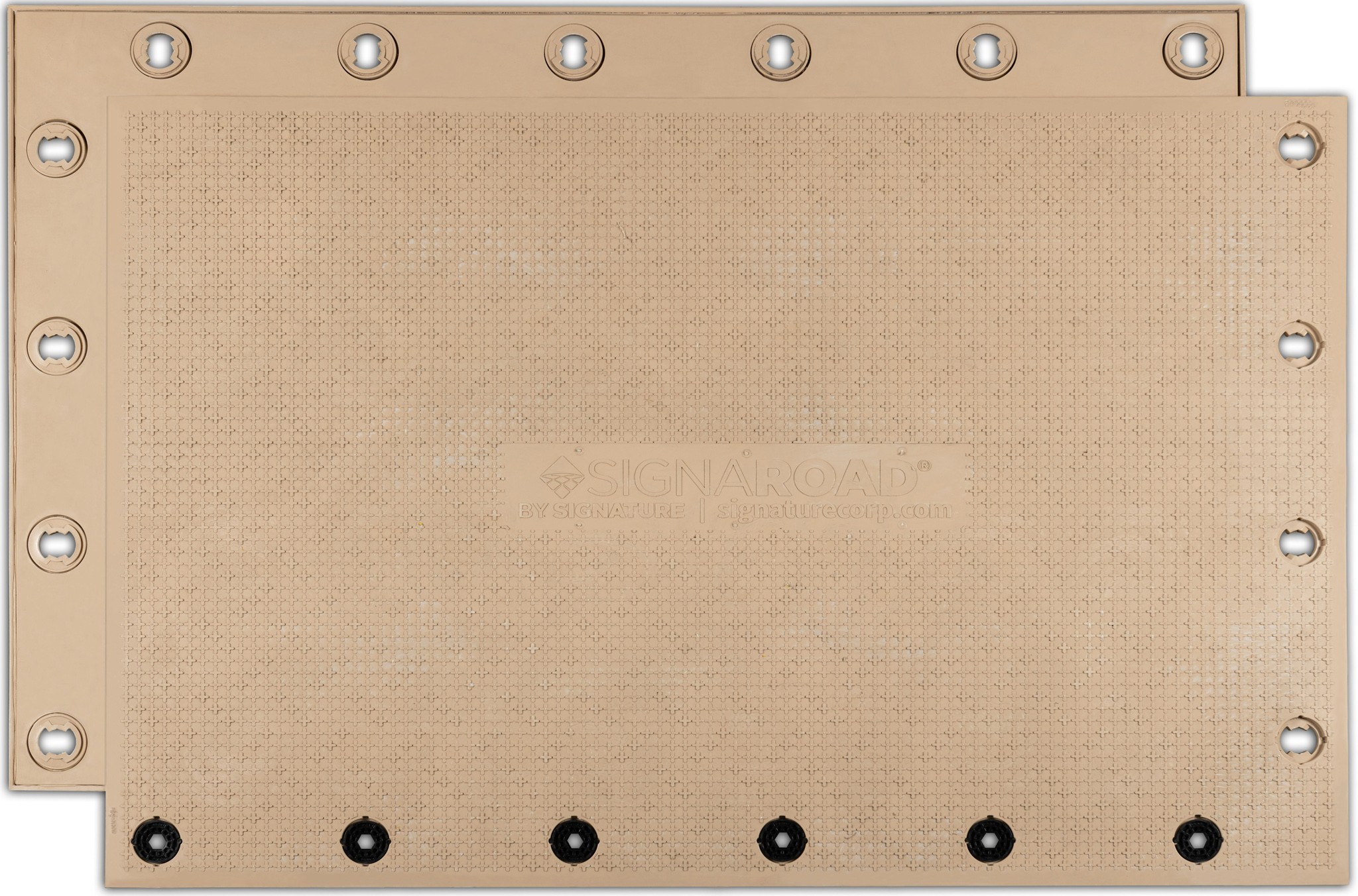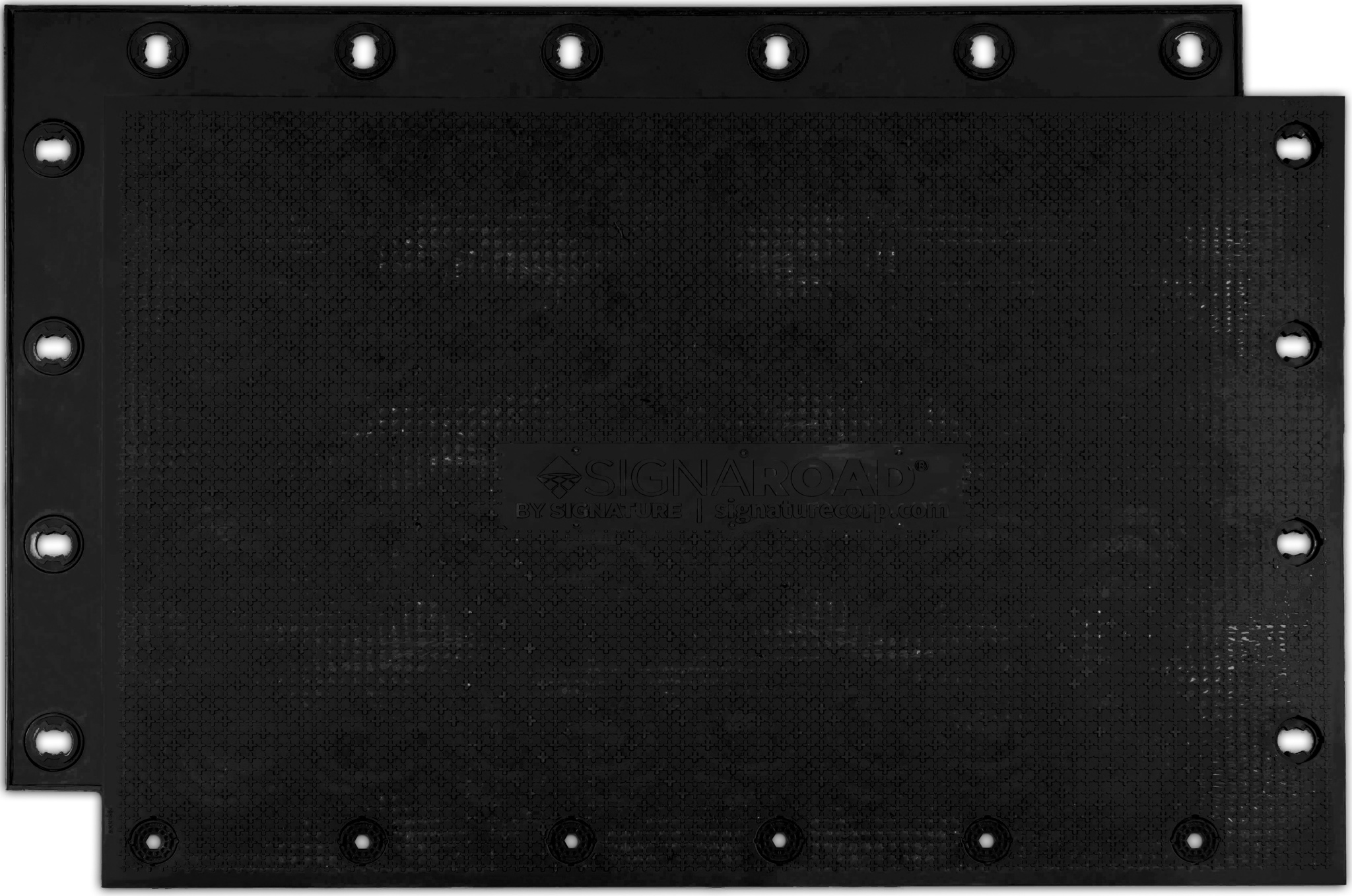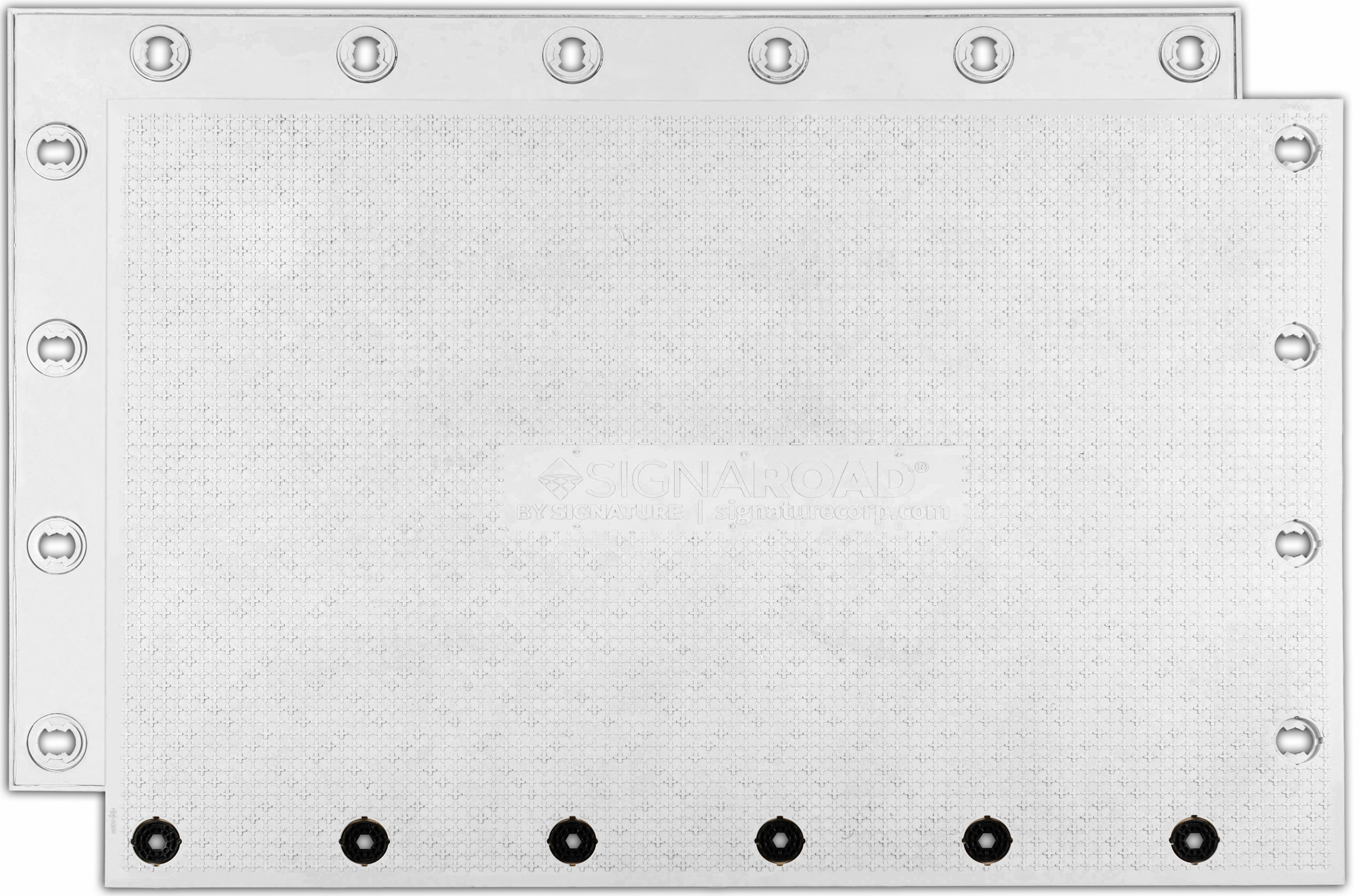 ---
FAQ
Q: Can I drive and turn on SignaRoad mats?
Yes, you can drive and turn most common vehicles and loads on SignaRoad mats, including tractor-trailers, forklifts, backhoes, pickups, and other heavy equipment.

Q: Do I need equipment to install SignaRoad mats?
Yes, each SignaRoad mat weighs 496 pounds and is typically installed using a forklift.
Q: How long will SignaRoad mats last?
SignaRoad mats are extremely durable, easy to clean, and easily transported, with a life span of more than 10 years in most applications.
---
Do you have questions about the MegaDeck HD mats?
If you have any questions about these ground protection mats then please call our sales team toll-free at (800) 671-9662.
---
Specifications
Dimensions
Size
6.8 ft L x 10 ft W x 2.5 in H (2 m L x 3 m W x 6.4 cm H)
Weight
Weight
496 lbs (225 kg)
Weight Load
400 psi
Shipping
Shipping Info
U.S. standard flatbed truck: 90 mats; 40ft ISO shipping container: 90 mats; 20ft ISO shipping container: 45 mats; U.K. lorry/EU trucks: Up to 120 mats
---
Downloads
---
Q & A
Be the first to ask a question.