Call for volume discounts!
(800) 671-9662
---
Distributor Pricing Available

Call Us!

Volume Discounts

Buy More, Pay Less

Zero Sales Tax

Order Online

Secure Shopping

High Security Checkout
---
---
Heavy Duty Crane Outrigger Pads - Crane Pads
Our range of crane outrigger pads are made from ultra-high density plastic. They are Inert and very strong, so strong in fact that they come with a free lifetime guarantee. Checkers who produce this quality pad are so confident that if you break it they will replace it (so long as it was being used correctly).
The Pads themselves are available in four sizes, making them ideal for use with many sizes of lifting equipment. They are as strong as traditional materials and will not absorb water or contaminants from the soil making them safe to take from site to site without fearing cross-contamination.
Key Benefits
Safety textured
No delamination
Safety orange rope handles
Lightweight
No splinters
Recovery memory
No warping after bending
Solid Construction HEAVY DUTY Outrigger Pads
The only engineered, quantifiable and rated outrigger pad available today.
"If you break it, we'll replace it."
Checkers offer a Lifetime Guarantee with all of their Checkers Outrigger Pads
---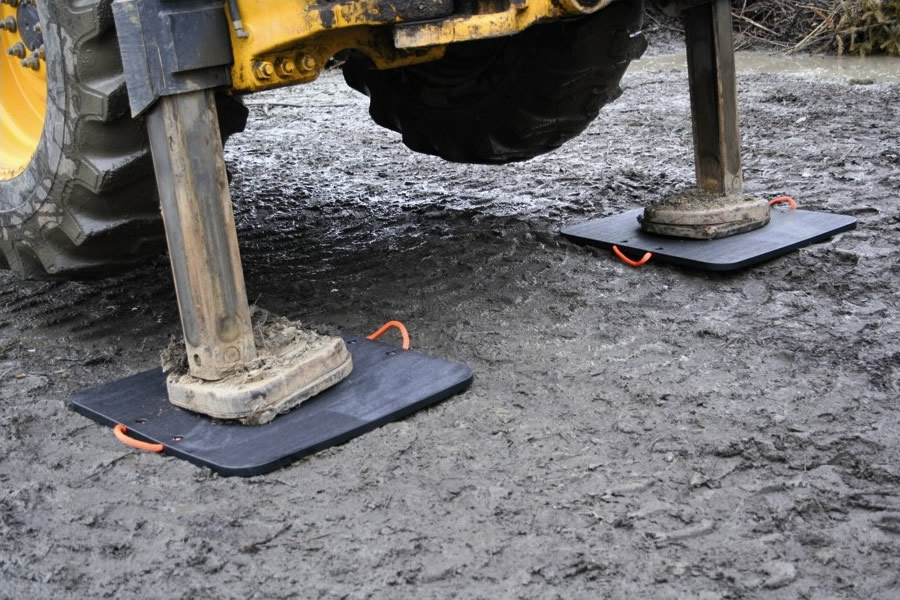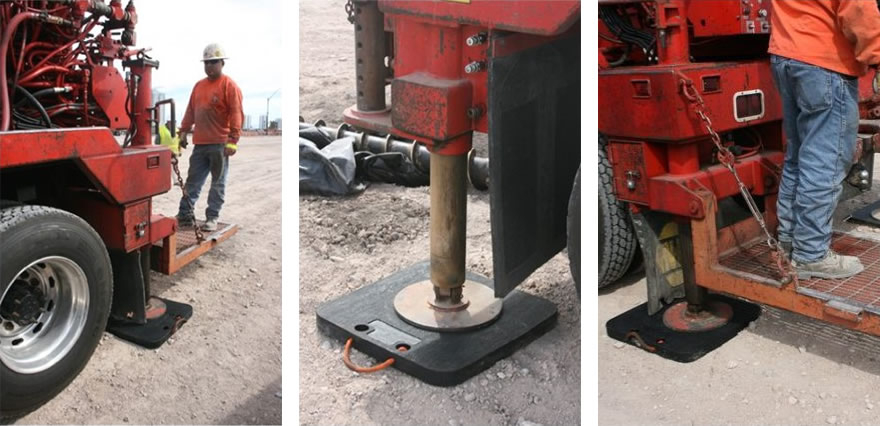 Model
Load Capacity
Width
Length
Height
Weight
Sq. In.
Vertical
45° Angle
PAD1515.75
45,000 lbs.
20,000 lbs.
15"
15"
.75"
5.5 lbs.
225
(20,412 kg)
(9,072 kg)
(C38.1)
(C38.1)
(C2.54)
(3.40 kg)
(CT1,451.70)
PAD18181
55,000 lbs.
30,000 lbs.
18"
18"
1"
11.0 lbs.
324
(24,948 kg)
(13,608 kg)
(C45.72)
(C345.72)
(C2.54)
(4.99 kg)
(CT2,090.45)
PAD24241
60,000 lbs.
35,000 lbs.
24"
24"
1"
20.0 lbs.
576
(27,216 kg)
(15,876 kg)
(C60.96)
(C60.96)
(C2.54)
(9.07 kg)
(CT3,761.35)
PAD24242
62,000 lbs.
40,000 lbs.
24"
24"
2"
38.0 lbs.
576
(28,123 kg)
(18,144 kg)
(C60.96)
(C60.96)
(C5.08)
(17.24 kg)
(CT3,761.35)
KEY: C = Centimeters; KG = Kilograms; CT = Square Centimeters
*8"x10" Outrigger Leg applied under two separate conditions; 10,000# vertically and 10,000# with a 45 degree angle.
**Rope Handle located on width side of all pads. Pads 900 sq.in. or larger have two or more handles opposite each other.
***Custom size pads available. Requires a minimum order. Lead time for non-stock items is 30-45 days.***
---
Guidelines for correct use
• Footpads must be smooth and have 80 sq. in. of surface.
• Muddy or loose soil conditions may require additional shoring or stacking of pads.
• Excessive flexing and/or bending may shorten the usable life of the pad.
• The acceptable operating temperature range is -40˚ to 180˚F.
---
Need Assistance?
Give our sales team a call to discuss bulk discounts and any questions you may have, you can contact them at (800) 671 9662.
---
Downloads
---
Q & A
Be the first to ask a question.