Call for volume discounts!
(800) 671-9662
---
Expedited Shipping

Available Upon Request

Zero Sales Tax

Order Online

Secure Shopping

High Security Checkout
---
---
3 Channel Heavy Duty Cable Protector Yellow Jacket
This 3 Channel heavy duty cable protector is part of the Yellow Jacket cable protector range. The straight sections are available in either a "standard" or "wide" format. The wide format is ideal for areas where vehicle traffic is particularly high.
It is designed to house hoses and cables up to 2.125" in diameter. Each unit is fitted with a hinged lid that allows for fast and easy changing and laying of cables.
A well tested dog-bone style connector provides a secure connection to the next attached cable protector. The larger channel size on this cable protector makes it well suited to housing larger diameter cables and hoses.
The "standard" 3 channel unit is available in multiple configurations, allowing for 45-degree turns, 90-degree crossovers, and end terminations. These are all available to select in the options above.
---

---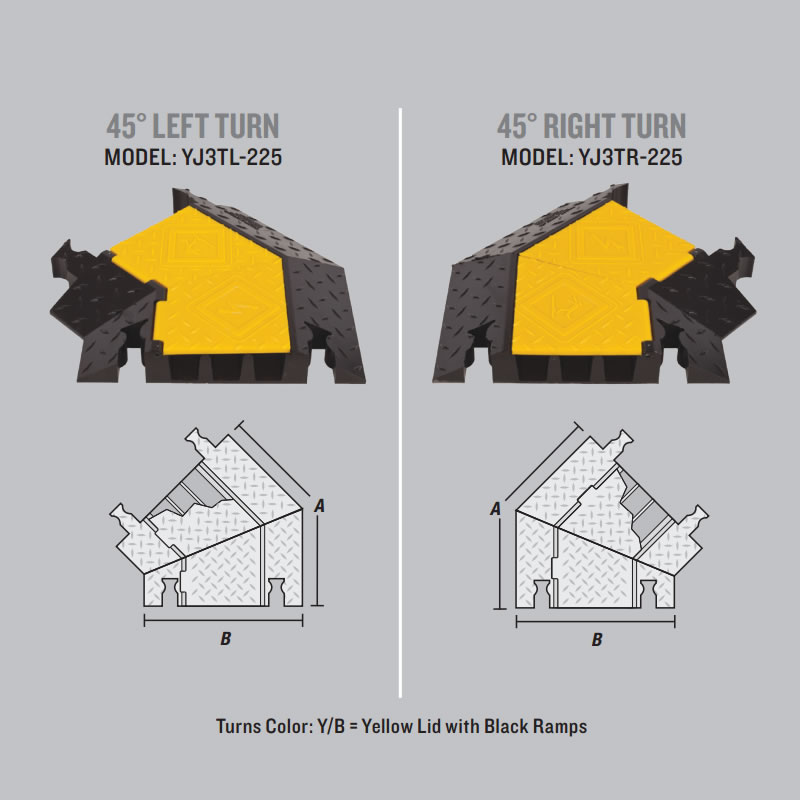 ---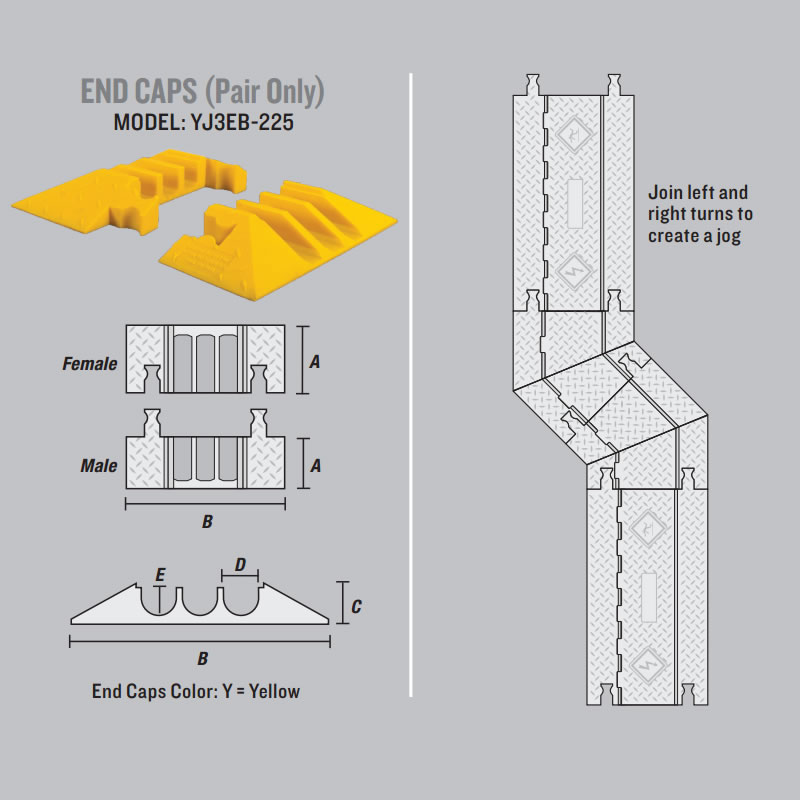 ---
Need Assistance?
If you have any questions regarding this range then please call our sales team toll free at (800) 671-9662. They will also be happy to deal with any inquiries that you may have regarding the range and pricing.
---
Specifications
Dimensions
A: End Caps
Male 8.375 in. (21.27 cm) | Female 8.25 in. (20.96 cm)
A: Straight
36 in. (91.4 cm) | Wide 34.75 in. (88.3 cm)
A: Turn
23.5 in. (59.69 cm)
B: Width
Standard 18.75 in. (67.63 cm) | Wide 26.75 in. (67.9 cm)
C: Height
Standard 2.875 in. (7.3 cm) | Wide 3.25 in. (8.3 cm)
D: Channel Width
2.125 in. (5.4 cm)
E: Channel Height
2.125 in. (5.4 cm)
Load Capacity
Per Tire
14,210 lb./Tire (6,446 kg) (Max load tested at 70°F (21°C)
Per Axle
28,420 lb./Axle (12,892 kg) (Max load tested at 70°F (21°C)
Miscellaneous
Cable & Hose Diameter (Max)
2.125"
Channels
3
Packaging
Weight
Straight 34.15 lb. (15.5 kg) | Wide 62.9 lb. (28.5 kg) | Turn 19 lb. (8.6 kg) | End Caps 8.2 lb. (3.7 kg)
---
Downloads
---
Q & A
Be the first to ask a question.