Need more than 25?
Call for volume discounts!
(800) 671-9662
---
Distributor Pricing Available

Call Us!

Volume Discounts

Buy More, Pay Less

Zero Sales Tax

Order Online

Secure Shopping

High Security Checkout
---
---
Kerb Buddy™ - ADA Sidewalk Ramp & Wheelchair Curb Ramp
During street works it is often necessary to divert pedestrians off of the sidewalk and back on again, the Kerb Buddy™ offers a solution that is highly durable, easy to deploy, and most importantly safe.
The design is suitable for wheelchair and scooter users as well as pedestrians on foot.
---
Improved Safety
Vivid Color

The bright yellow coloring of the Kerb Buddy makes it hard to miss.

Low Profile Edges

The front and back lip of the ramp is ultra-low profile decreasing the risk of tripping.

Raised Sides

These keep users within the confines of the ramp preventing anyone from accidentally stumbling off the sides.

Anti-Slip

The tread pattern on the surface of the Kerb Buddy offers a substantial amount of traction, ensuring that pedestrians, mobility scooters, and wheelchairs can pass safely.
---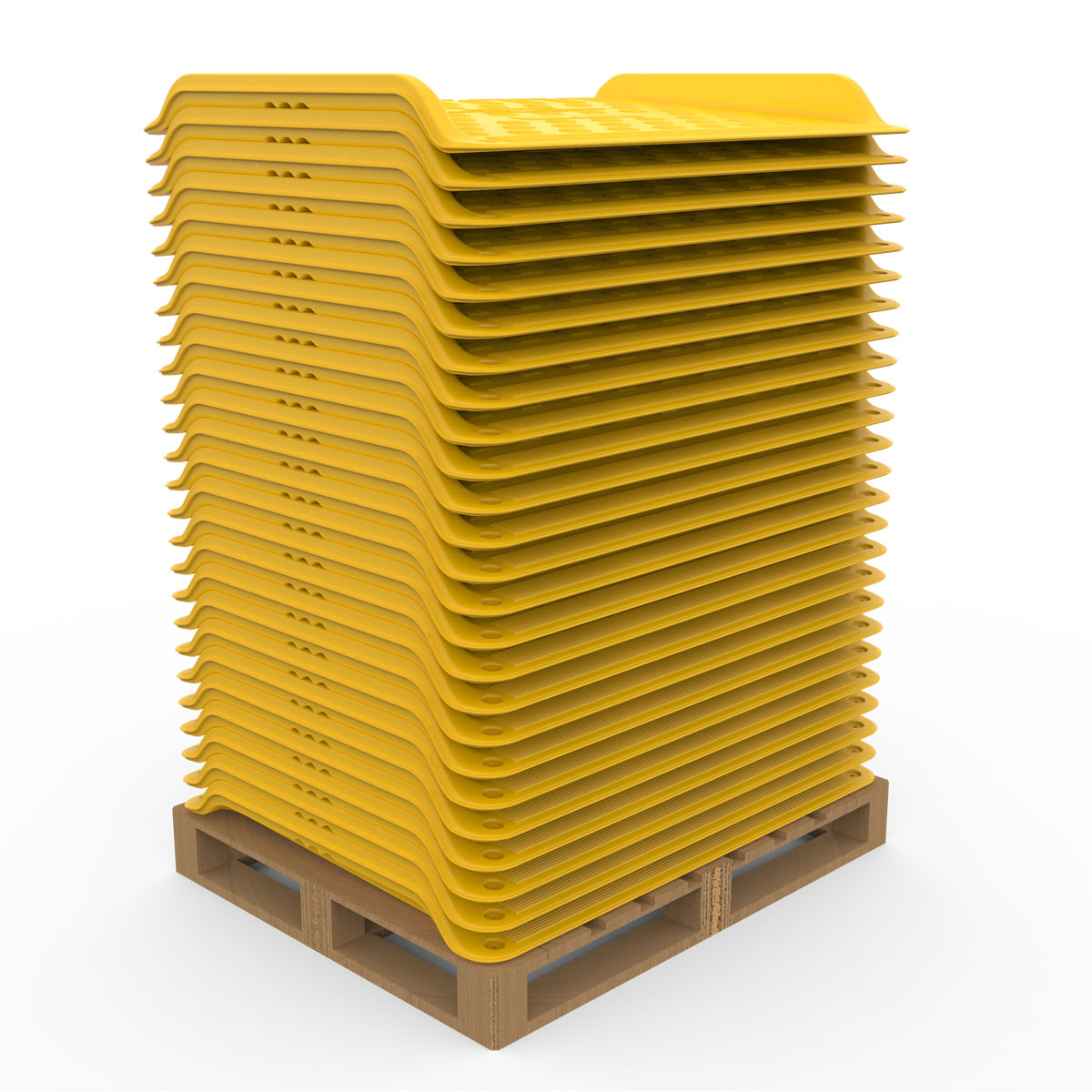 Stacking Design
Transportation and storage costs can add up quickly, for this reason, the Kerb Buddy has been designed to stack neatly onto pallets.
---
Easy & Secure Installation
Fitting curb ramps securely is important, for this reason, the Kerb Buddy should be bolted down on each corner securing it to the floor. They can be easily lifted into place by a single worker as they weigh only 17.6 lbs making for fast deployment.
---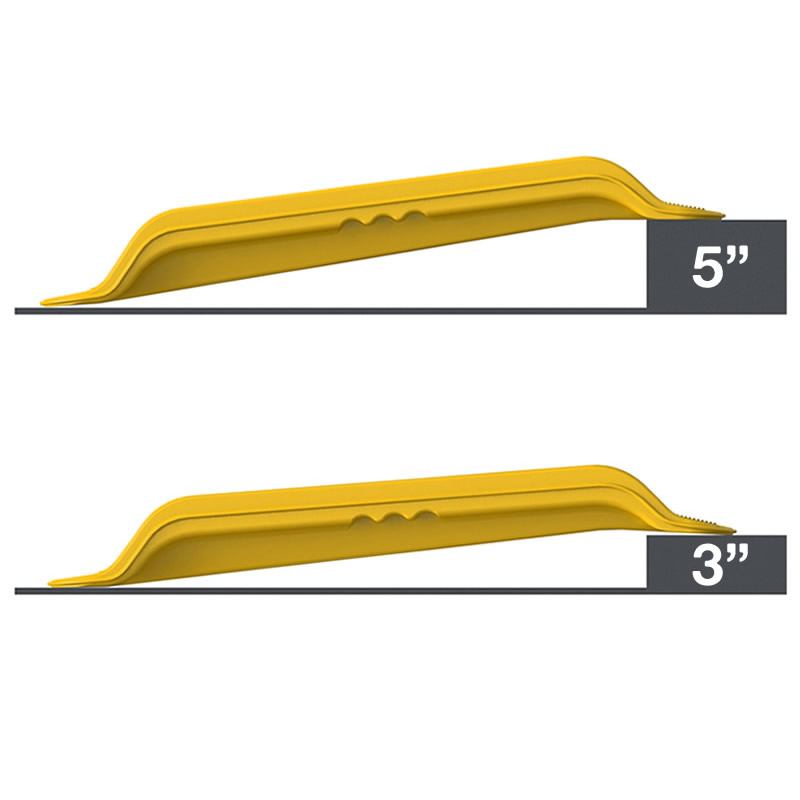 Flexible
Not all curbs are the same height and the Kerb Buddy is designed with this in mind. It can be used on curbs and steps between 3" and 5" in height. This makes the ramp very flexible and suited to many situations.
---
Durable & Hard Wearing
The high impact resistance of the ramp means that it is a lasting asset and not a disposable item, you should expect to take it from site to site and not just dispose of it after one use like other products on the market.
Can Take The Strain
The Kerb Buddy can take loads up to 551 lbs. It is shatter resistant due to the HDPE (High-Density Polyethylene) composition.
Custom Colors & Branding
We are able to produce this safety ramp in a variety of colors and even have custom branding embossed into the product. This is great for events where temporary ramps may be needed and can be deployed in company colors. Additional lead times & minimum order quantities may apply.
---
Which Curb Ramp Should I Choose?
We have prepared a table so you can compare the differences between our four curb ramps.

| | | | |
| --- | --- | --- | --- |
| | Oxford Safe Curb Supagrip | Oxford Safe Curb | Melba Kerb Buddy |
| Our Product Code | 12509 | 12510 | 12506 |
| Maximum Load | 770lbs | 550lbs | 550lbs |
| Grip Treads | ✔ | ✔ | ✔ |
| Extra Wide Design | | | ✔ |
| Smaller footprint | ✔ | ✔ | |
| Efficient stacking | | | ✔ |
| One man lift | ✔ | ✔ | ✔ |
| High Side Guards | | | ✔ |
| Can be bolted down | ✔ | ✔ | ✔ |
| Rubber Edge for extra grip | ✔ | | |
---
Need Assistance?
Speak to our trained sales team toll free at (800) 671-9662, they will be able to assist you with any questions that you may have regarding the Kerb Buddy.
---
Customers Who Viewed This Page Also Viewed
---
Specifications
Certifications
ExactPhoto
✔ (The photos are of the actual product type that you are ordering)
ExactSpec
✔ (The specification has been independently checked for accuracy)
Dimensions
Height
3.54"
Length
47.24"
Width
38.78"
Material
Color
Safety Yellow (Other Colors Available, Minimum order of 100)
Type
100% Virgin HDPE (UV Stabilized High Density Polyethylene)
Miscellaneous
Customization
Color, Custom stickers, Embossed nameplate (Minimum order applies)
Eco-Friendly
100% Recyclable
Packaging
Weight
~17.6 lbs
Shipping
Per Pallet
25 Ramps
---
Downloads
---
Q & A
Be the first to ask a question.