Call for volume discounts!
(800) 671-9662
---
Distributor Pricing Available

Call Us!

Volume Discounts

Buy More, Pay Less

Zero Sales Tax

Order Online

Secure Shopping

High Security Checkout
---
This product has a minimum quantity of 40
---
Temporary Fence Panel, The V-Fence Barricade
The V-Fence is the next generation of metal temporary fence-type barricades to hit the US market. This Temporary Fence Panel provides many benefits over traditional metal fence panels. Using a temporary plastic fence panel is long-lasting, aesthetically pleasing that can be easily installed by just one person, and is safe to handle with no sharp edges. Reduce potential injuries to your workforce and pedestrians, the V-Fence has no metal mesh to come apart from the frame.
At over 6.5ft in height, the V-Fence can be installed with other access gates and multiple different types of feet or ballast. Brand your temporary fencing by choosing your own custom-manufactured color.* Branding signage or access information can be attached using the pre-made fixing holes. Every barrier comes complete with road-conforming reflective, making sure it is always visible.
No more metal mesh fencing sliding or uneven stacking when transporting either thanks to locating lugs/notches in each panel. Its compact footprint and ability to create almost any layout quickly make the V-Fence the best choice for construction environments or branded and themed events.
Feature Overview
Only one person is required to set up
130 linear feet takes only 3 pallets spaces
Ergonomic soft edge design reduces injuries to workforce or pedestrians
Non-metallic and no sharp edges
Can have pedestrian gates installed or plant access gates
No rusting and lasts longer than metal fencing
Stores and transports easier thanks to locating lugs and stacking 40 panels per pallet
Can be embossed with a logo and color-coded to your branding
Optional visible yellow-tipped feet
Mounting holes for optional signage
Wind tunnel tested (see Downloads section)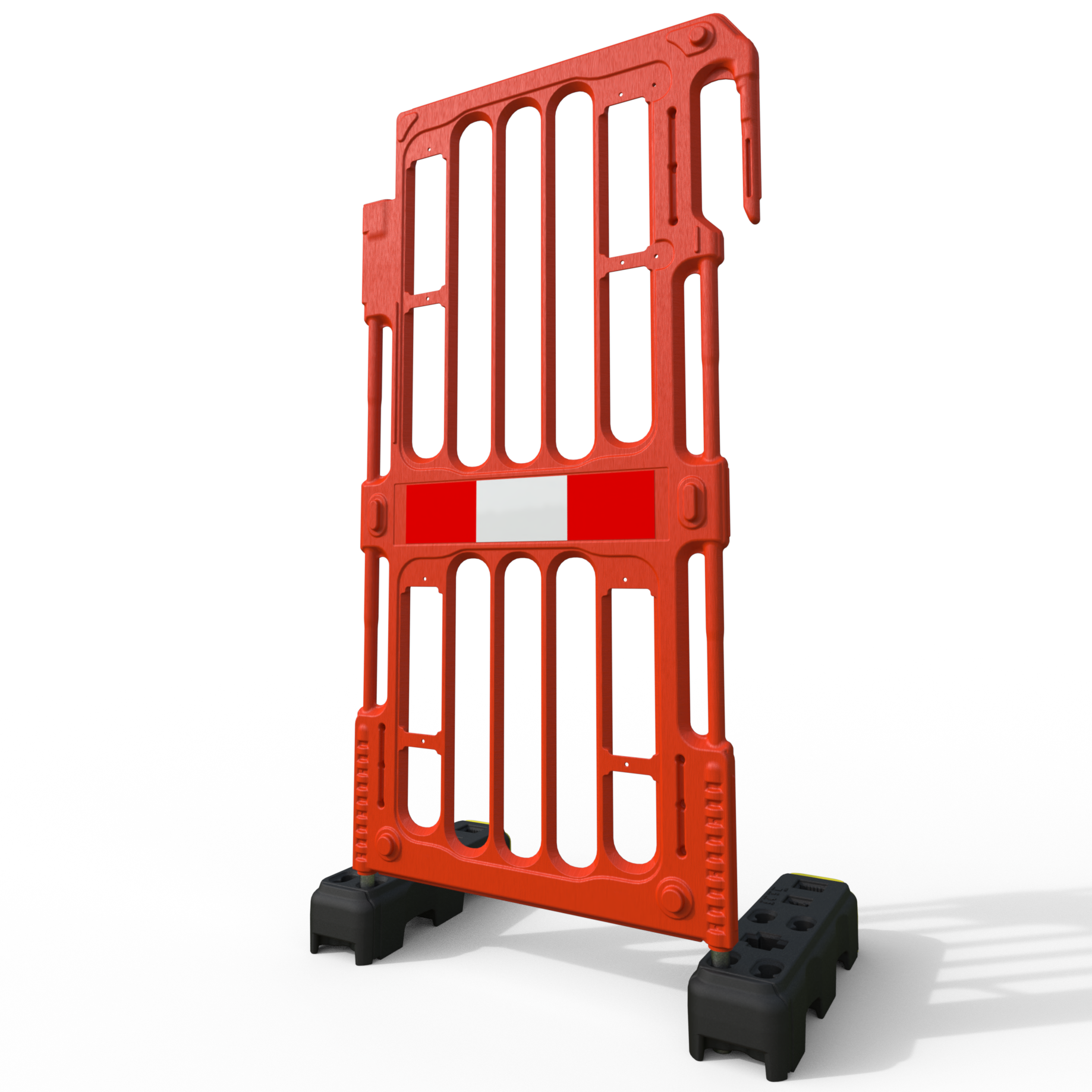 ---
Feature Overview
Efficient to Transport
The V-Fence stack efficiently onto a pallet containing up to 40 panels per pallet. When compared to traditional temporary metal fencing, our system is very dense when packed. This makes the V-Fence one of the cheapest systems to transport and store. You also get more length of fencing per vehicle reducing transport costs.
Stable In High Winds
The V-Fence temporary fence has been tested up to 58mph with a heavyweight fence base anchor and Stepped Bases. Using the smart and modular heavy stepped weights reduces the center of gravity of the panels. It has a large but low-profile footprint making it highly wind resistant.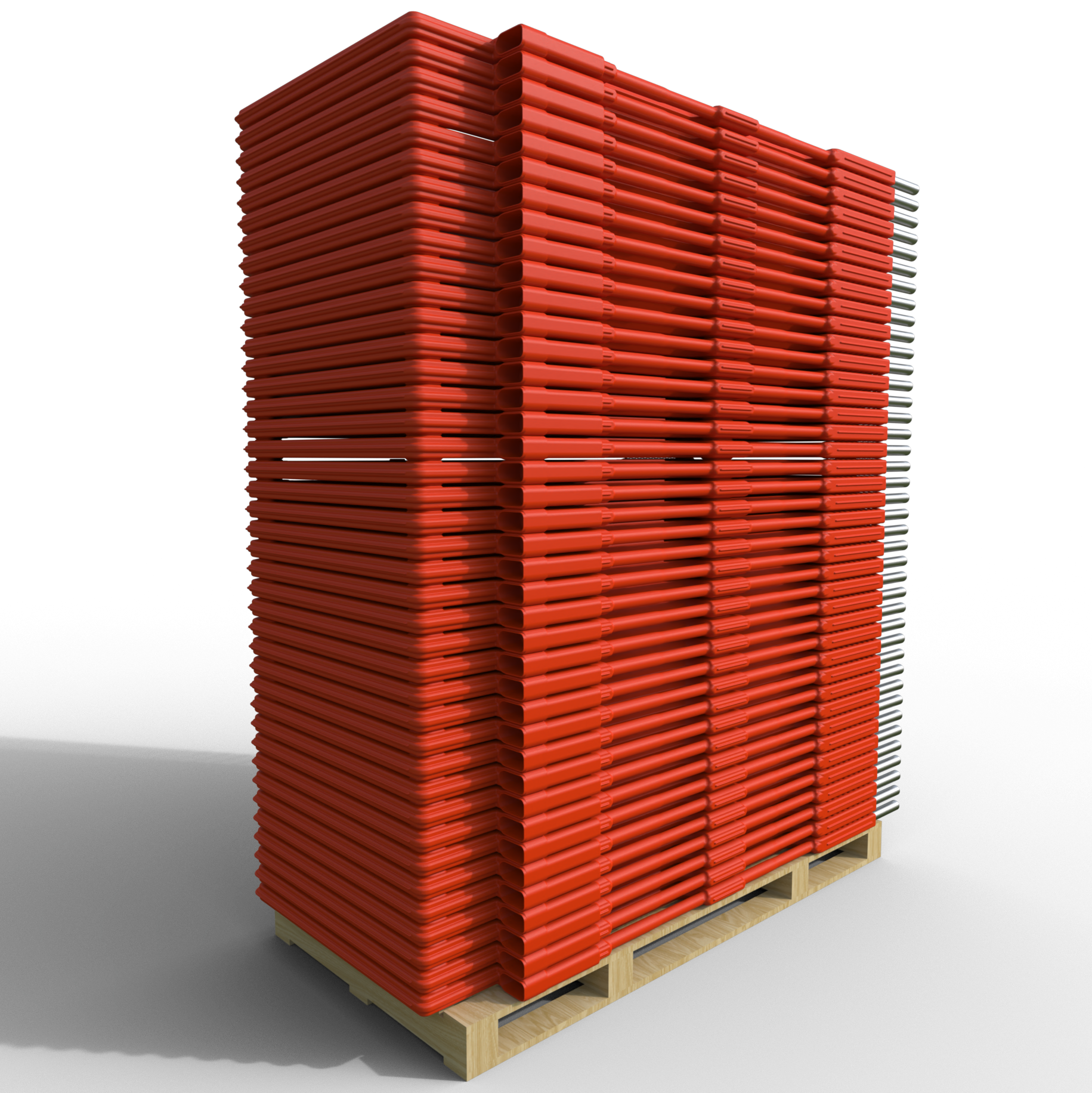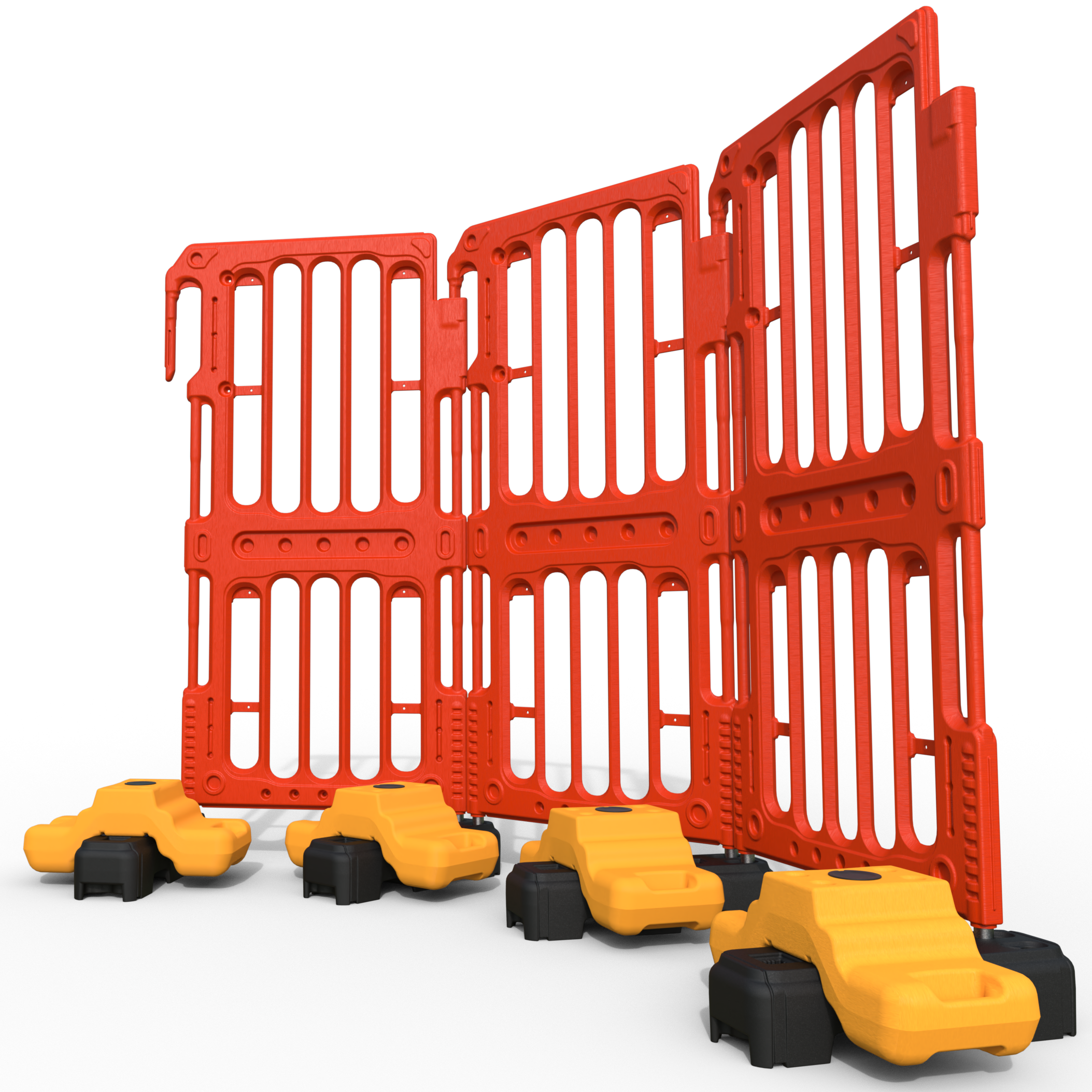 No More Sandbags
The V-Fence can be used with many times of ballast, the Fence Anchor, the Multifit with Stepped Weights, or the Wonderwall base.
One Person Install
A perimeter fence for almost any site can quickly be deployed by just one person, whether permanent or temporary.
---
Reflective Markings
Every section includes a road-conforming retro-reflective high-contrast panel. This makes it easy to spot even in dark or poor atmospheric conditions.
Custom Colors
*This barricade can be made in any color to suit your company or organization's branding.
A minimum order quantity of 200 applies.
Custom Branding
The barricade incorporates four mounting points that custom branding or safety messages can be attached.
---
Applications
A perimeter fence for almost any project can quickly be deployed, whether for short or long temporary use. At events, it can prevent those unauthorized persons from bypassing security or entering.
Construction Site Perimeter Fence
Busy cities mean lots of people, some of which may want to access your construction site even if it means climbing over a waist-height barricade. For this reason, the V-Fence barrier is an ideal direct replacement for a temporary metal fence or other traditional construction fences.
Construction sites rarely have a standard layout; the V-Fence can be adapted to almost any shape or work zone. It can interlock in a straight line or in wide angles ensuring your fence is the right shape and size for your needs.
Events
Have a venue that needs 'higher' security with taller paneling? Create checkpoints, control crowd movement with a friendly design. Not only are they aesthetically pleasing but they can be manufactured in multiple colors to suit your brand. The V-Fence is also the safer choice over metal fence panels as they eliminate sharp metal edges and prevent injury.
---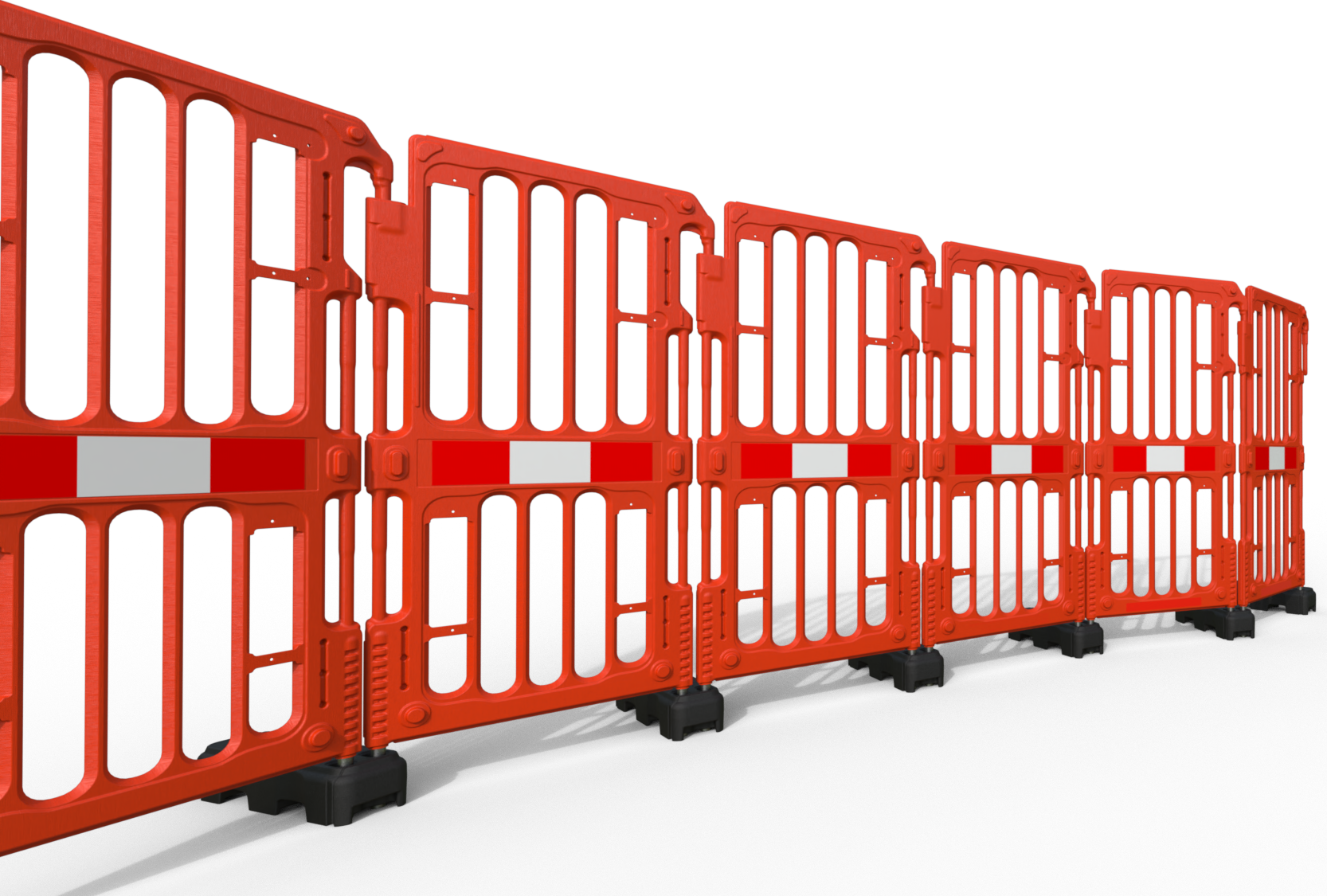 Need a quote or have questions?
This is not your average temporary fence panel so we know you may have questions. Whether you need large quantities or just need more information. We offer expedited shipping across the US. Our team is experienced and knowledgeable about every product we provide. To find the perfect safety system for your needs, call us today at (800) 671-9662
---
Customers Who Viewed This Page Also Viewed
---
Specifications
Certifications
ExactPhoto
✔ (The photos are of the actual product type that you are ordering)
ExactSpec
✔ (The specification has been independently checked for accuracy)
Dimensions
Depth
2.95 inches (75mm) - (Stacking Depth 1.97 inches (50mm))
Height
78.94 inches (2005mm)
Width
Overall: 43.3 inches (1100 mm) Fence Width: 39.37 inches (1000 mm)
Weight
Per Pallet
40 Panels
Per Unit
18 lbs (8.20 kg)
Material
Type
Fence - HDPE (UV Stabilized High-Density Polyethylene) Legs - HD Galvanized Steel Tube
Miscellaneous
Customization
Color, Custom signage, Embossed nameplate (Minimum order applies)
---
Downloads
---
Q & A
Be the first to ask a question.