Was

$109.00

Now:

$99.00
Call for volume discounts!
(800) 671-9662
---
Distributor Pricing Available

Call Us!

Volume Discounts

Buy More, Pay Less

Zero Sales Tax

Order Online

Secure Shopping

High Security Checkout
---
---
Availability:

In Stock

Brand: ZND
Now $99 each! - We stock our barriers and ship out within 24 hours!
Flat Foot / Anti-Trip Metal Bike Rack Barricade
These affordable metal crowd control barriers are easy on the foot and on the wallet!
Our crowd control barricades simply slot together making erection and dismantling quick and easy. The main barricade frame is made from one continually rolled tube, ensuring a durable and crack-resistant end product is achieved. The feet have been designed to reduce possible trips with their flat design.
The pre-galvanized construction of these bike rack barricades ensures that they will not rust and will stay in a presentable condition for many years to come.
Need to talk to somebody about bulk quantities?
Why not speak to our sales team at (800) 671-9662 and let us provide a quote!
Each Barrier Comes with Two Flat Metal Feet As Standard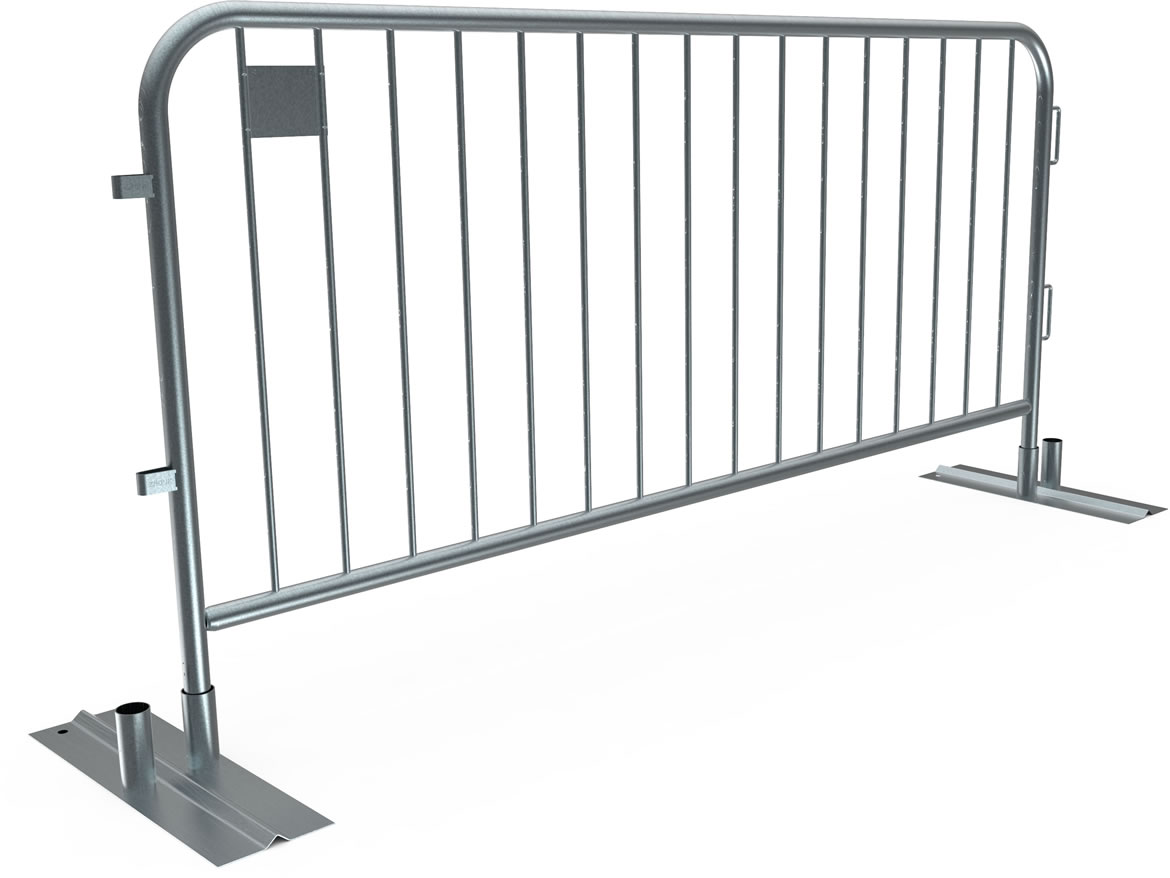 ---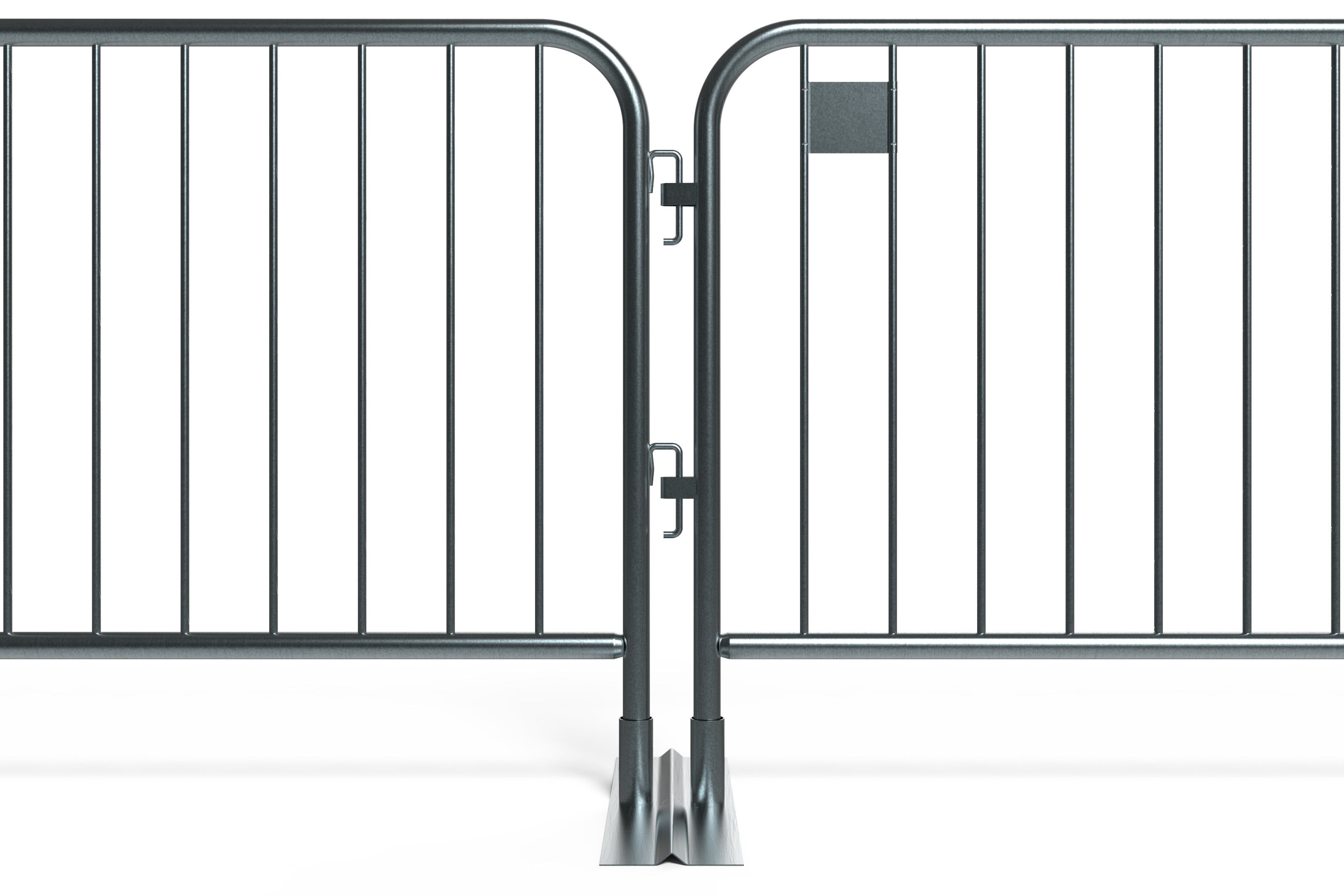 Lightweight and Easy to Deploy
No need for heavy lifting equipment. One person can move 2 barricades with ease.
Strong
Our metal barricades have been pre-galvanized and machine welded for accuracy and consistency in quality consistency.

Stack-ability
Storage can be an issue for some, that's why our feet can be detached to save even more space during times of storage.
Weighted Advantage
Depending on the application, ballast can be used over the feet for extra stabilization.
---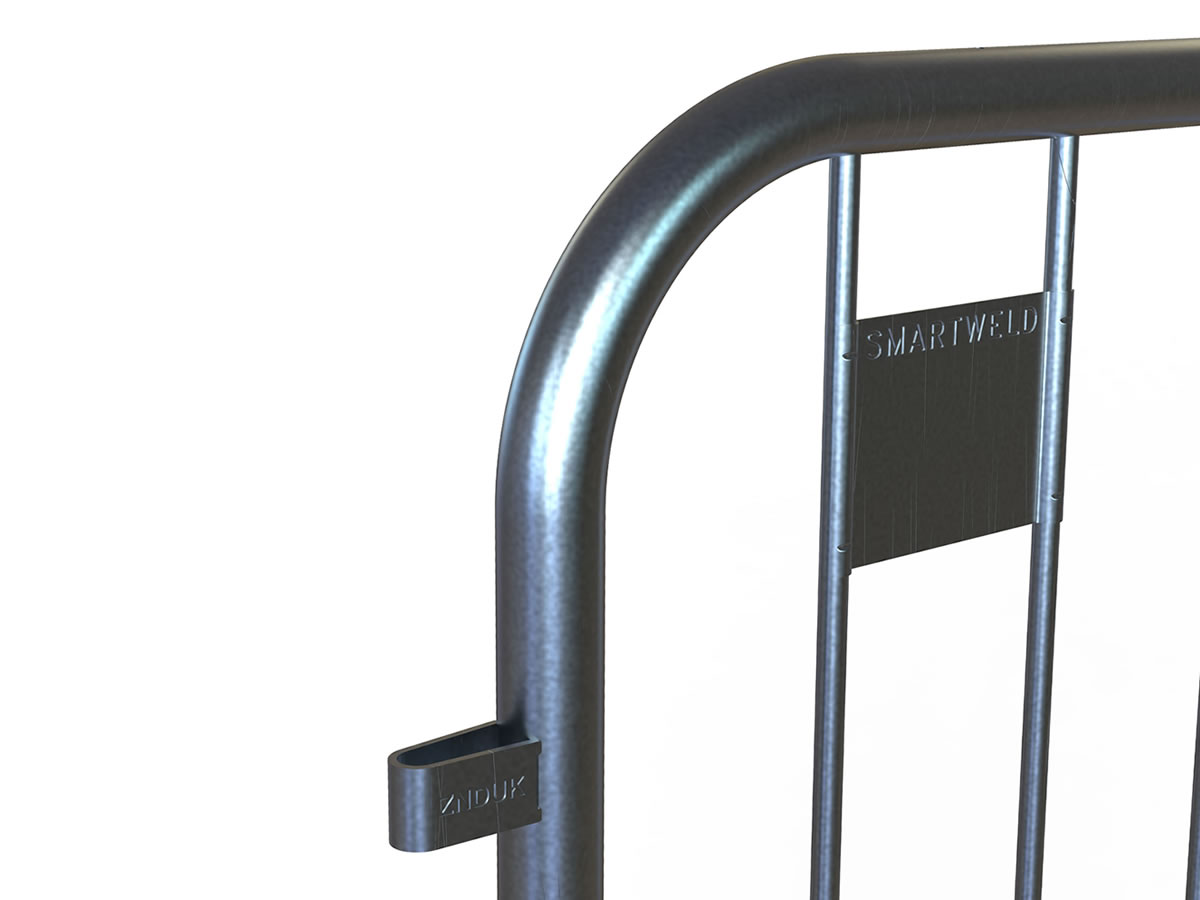 SmartWeld Construction
Using modern automated machine welding, the vertical bars are brazed to the tubular frame giving a strong seamless connection.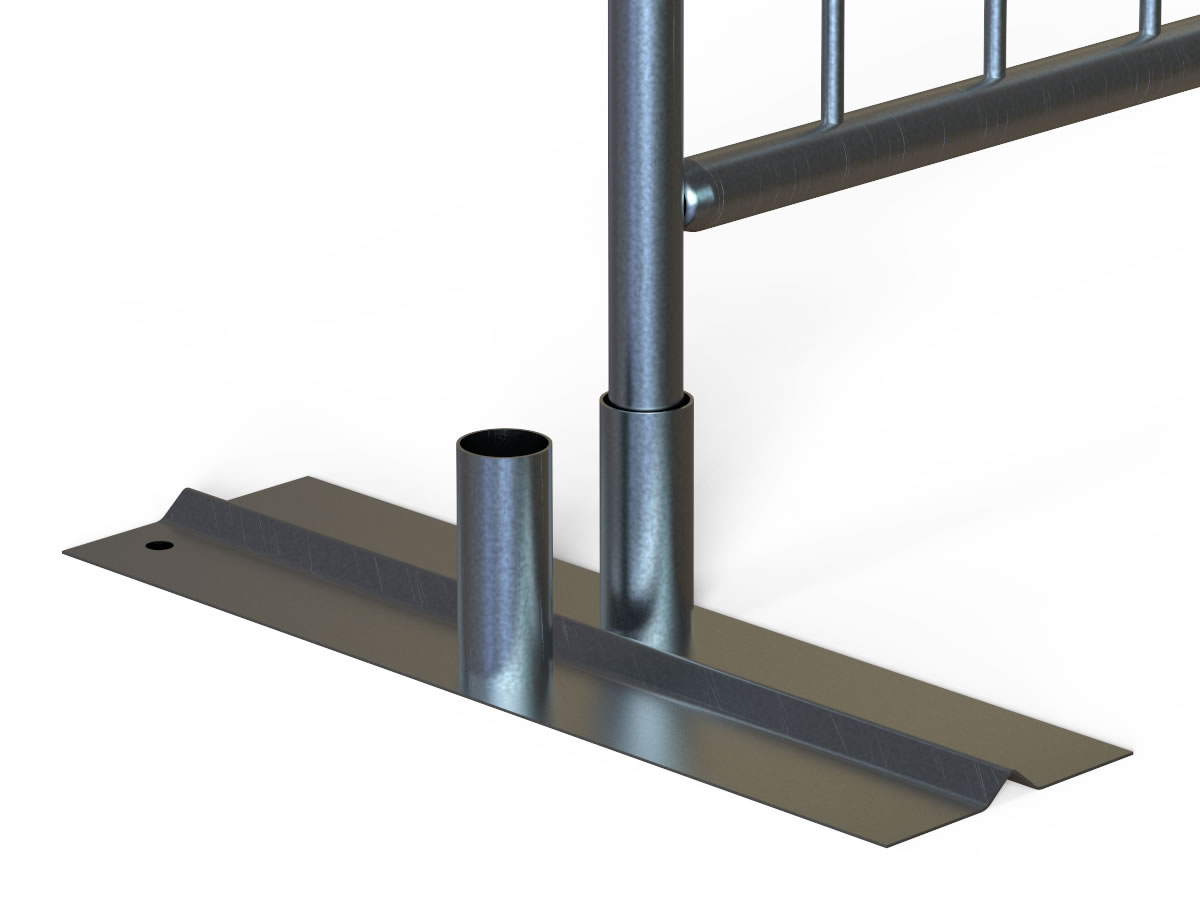 Low Profile Anti Trip Feet
The detachable foot accepts two barrier legs saving space and cost. For each additional barrier used only requires one additional foot.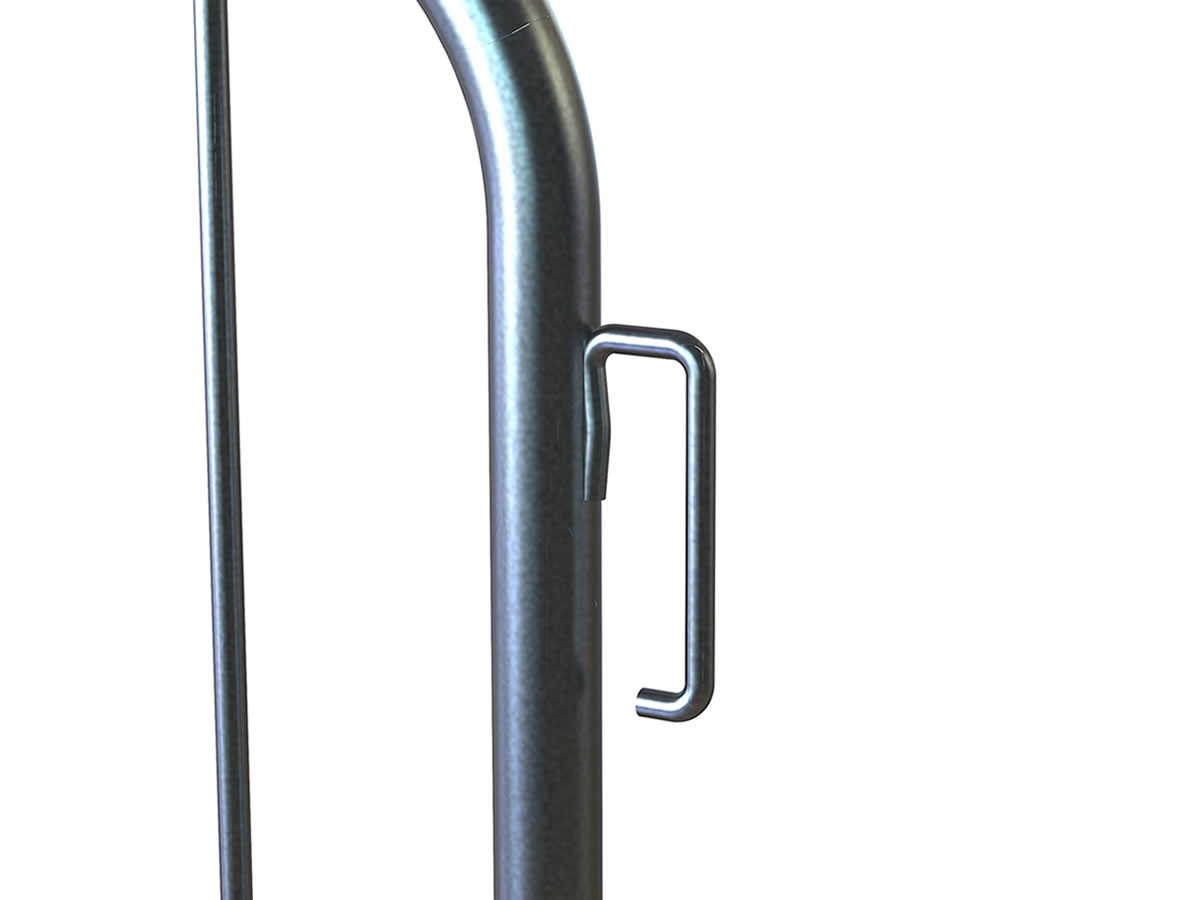 Strong Coupling
The metal barricade connectors use a solid half-inch steel bar machine welded into place. This ensures a strong and long-lasting hook for years to come.
---
| Model | Fixed Leg Barrier | Flat Foot Barrier | Premium HD Barrier |
| --- | --- | --- | --- |
| Length | 7.5' | 7.5' | 6.5' or 8' |
| Height | 43.3" | 43.3" | 38" to 44" Adjustable |
| Tube Diameter NPS | 1.5" | 1.5" | 1.25" |
| Tube Gauge BWG | 20 (0.035") | 20 (0.035") | 16 (0.065") |
| Weight | 23.5 lbs. | 20.5 lbs.* | 51 lbs. or 56 lbs. |
| Per Pallet | 18 Barriers | 20 Barriers | 25 Barriers |
| Material | Pre-Galvanized Carbon Steel | Pre-Galvanized Carbon Steel | Galvanized Carbon Steel |
| Coating Finish | Zinc Electroplated | Zinc Electroplated | Zinc Hot Dipped |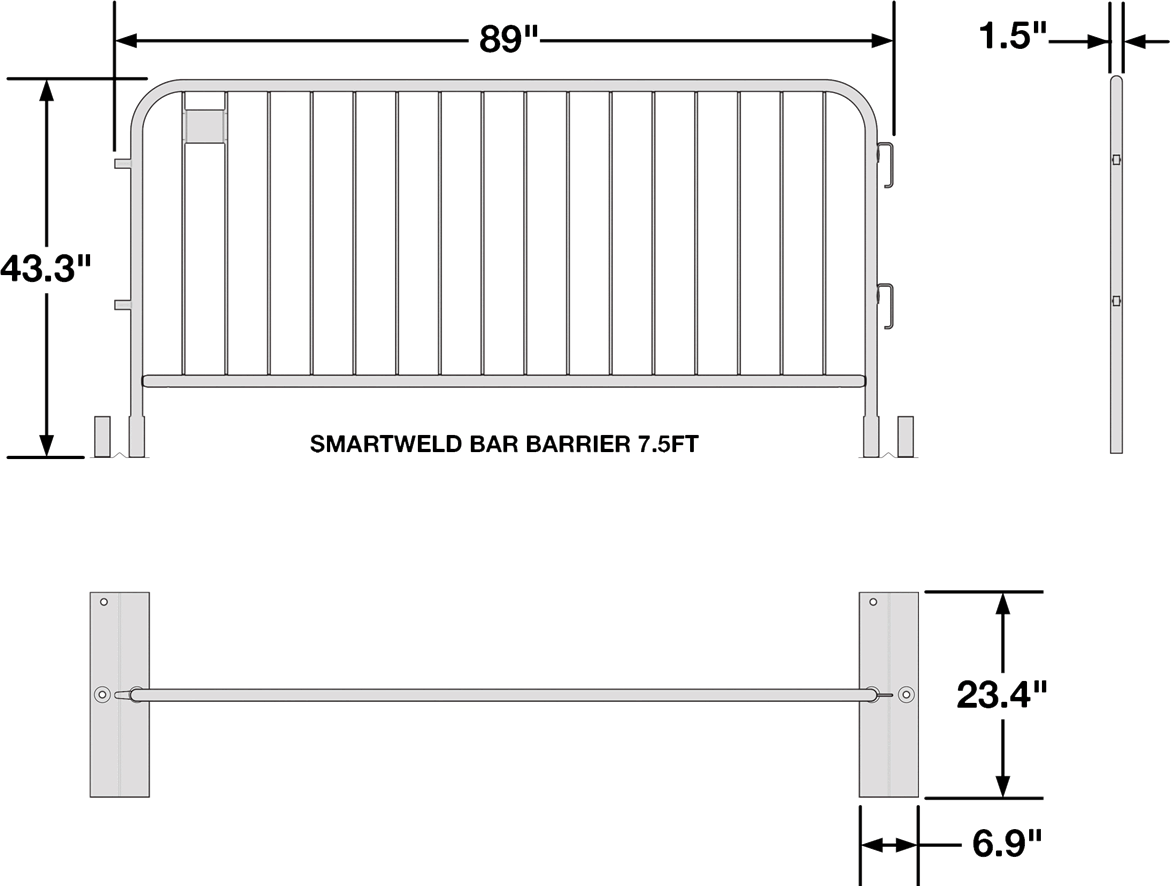 ---

---
Why Buy Metal Barricades From Start Safety?
We will ensure you get the right deal at the right price, saving you time and money. If you have any questions regarding the range, call our expert sales team on (800) 671-9662. They will ensure you get the right barrier for your needs, at the right price.
Need something a little different? We can always customize your barriers and accommodate your needs.

---
Customers Who Viewed This Page Also Viewed
---
Specifications
Certifications
ExactPhoto
✔ (The photos are of the actual product type that you are ordering)
Dimensions
Depth (Legs Included)
23.4"
Depth (Legs Not Included)
1.5"
Height
43.3"
Length
89"
Weight
Per Unit
20.5 lbs. without feet
Material
Thickness
16 Gauge Steel
Type
Zinc Electroplated Carbon Steel with Brazed Joints
Miscellaneous
Eco-Friendly
100% Recyclable
Shipping
Per Pallet
25 Barricades
---
Downloads
---
Q & A
Be the first to ask a question.