Was

$899.00

Now:

$799.00
Call for volume discounts!
(800) 671-9662
---
Distributor Pricing Available

Call Us!

Volume Discounts

Buy More, Pay Less

Zero Sales Tax

Order Online

Secure Shopping

High Security Checkout
---
---
Sentinel Goalposts Height Warning Barrier Kits
Our Non-Conductive Height Warning Goalpost Barrier system is a lightweight, cost-effective solution to aid on-site safety by warning users of overhead dangers. Use our kits in accordance with OSHA & INGAA guidelines as well as other construction safety standards. This system is designed to be set up by bridging an access pathway before and after an overhead obstacle which should be avoided.
Engineering and construction groups require multiple levels of safety control, one of which is a physical warning barrier to prevent contact with overhead structures or obstacles. In the past, many make-shift warning devices have been used to warn personnel and vehicles about overhead obstacles such as power lines and building structures, but our kits offer improved safety and fast adjustable deployment. Ensure your team has adequate protection with the Sentinel Goalpost kits.
Our kits are also known as GS6 goalpost kits, guardian goalposts, overhead goalposts, safety bunting/flagging warnings, non-conductive height warnings, overhead collision warning systems, and overhead cable protection posts.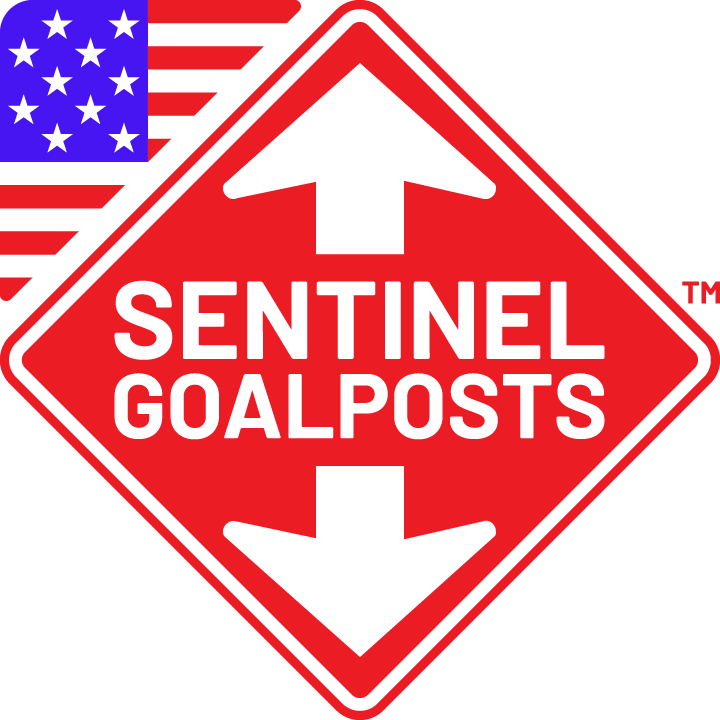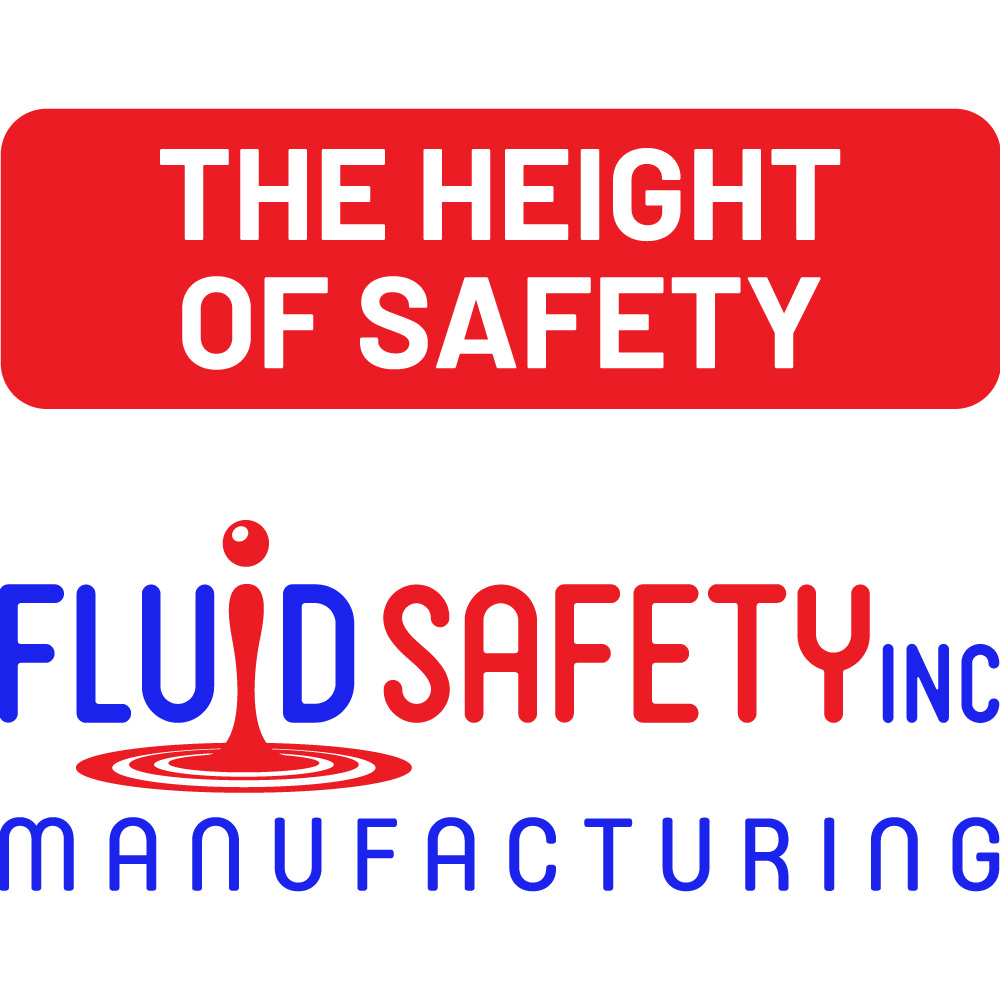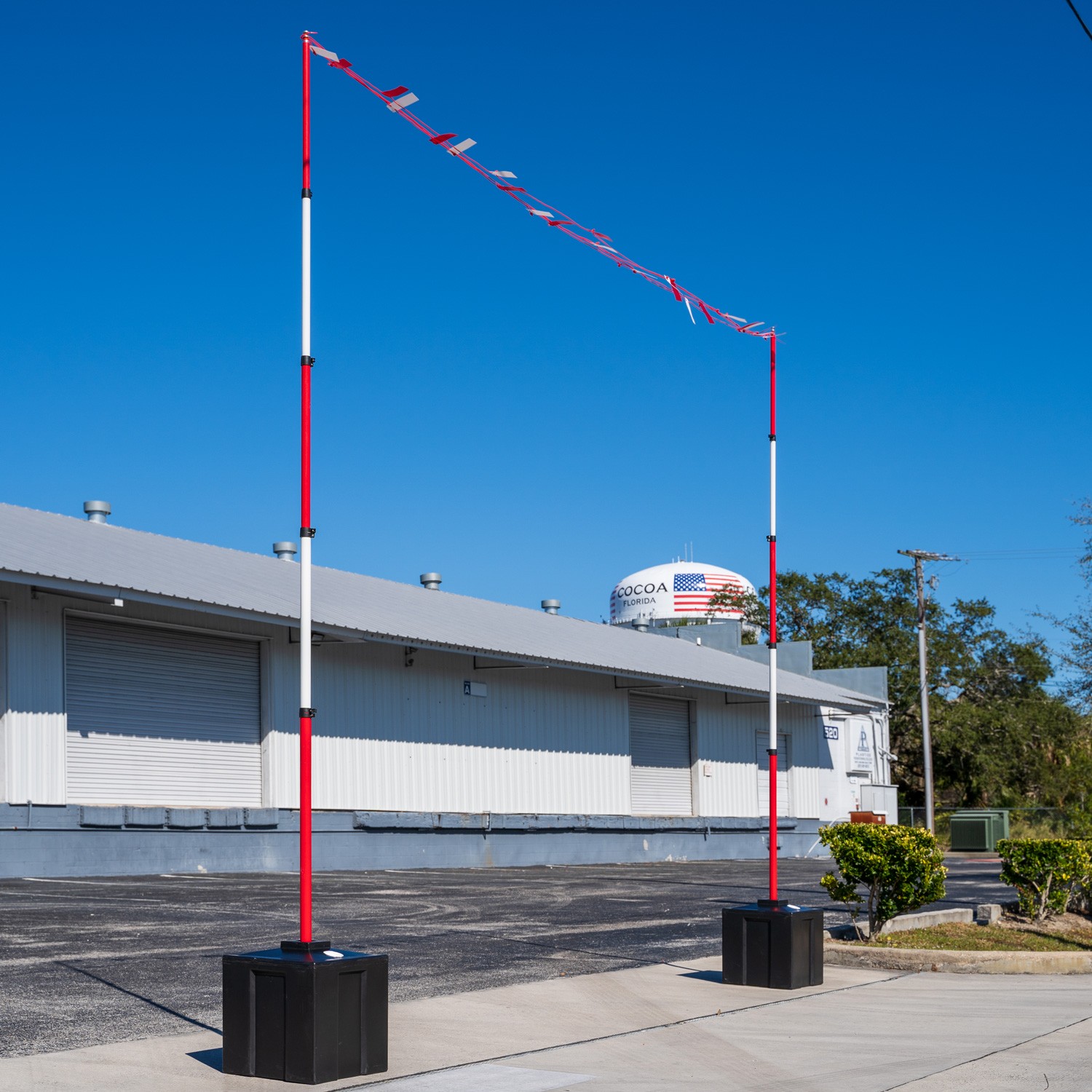 Each kit includes a choice of two bases, 2 telescopic non-conductive upright poles, and 82ft of flagging/bunting. Most users decide to use the water-fillable Metro Bases for independent stability.
Only use in accordance with your local state guidelines and OSHA standards
Always determine your MAD (Minimum Approach Distance) to setting up your flags or range limit/range control warning devices. See below for more resources and refer to our Download section for our product setup guide before installation.
Four options for Overhead Goalposts to choose from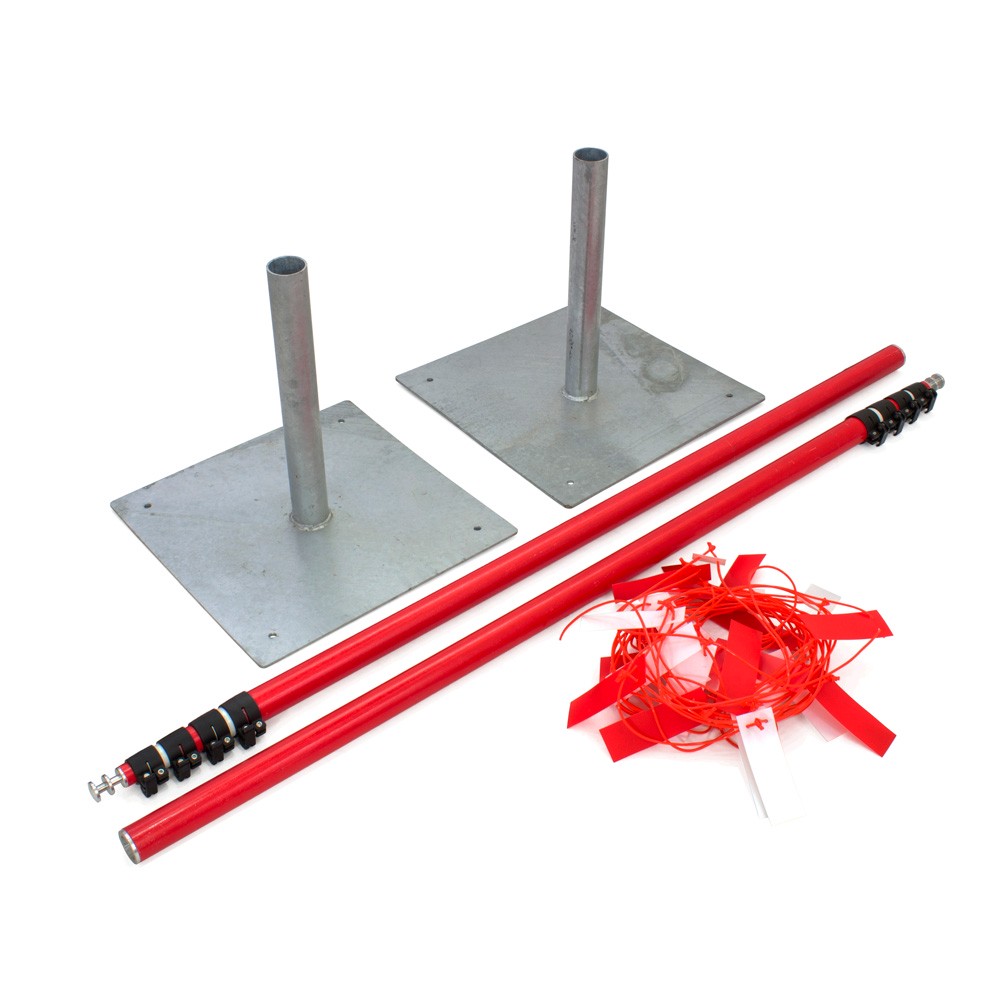 Kit 1
2 x 24ft Telescopic Poles
2 x Galvanized Steel bases
1 x 82ft of High-Visibility Flagging (Bunting)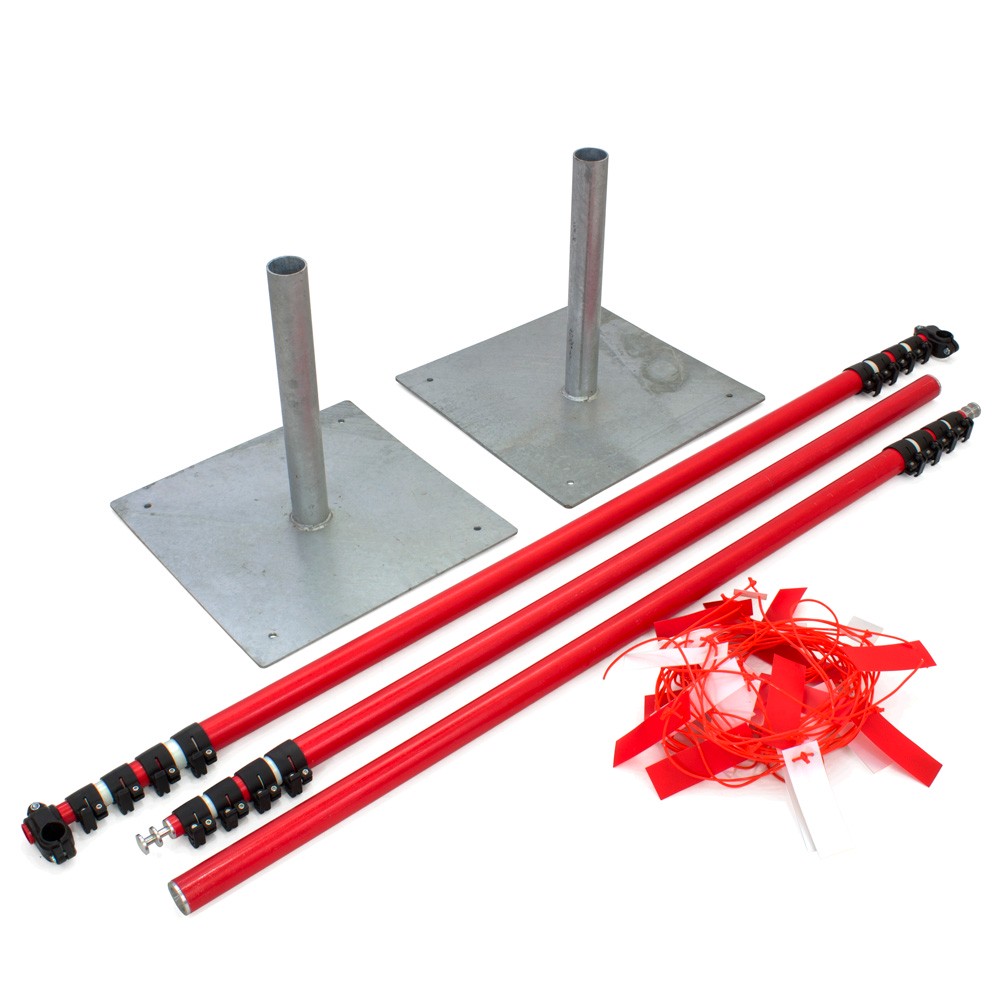 Kit 2
2 x 24ft Telescopic Poles
2 x Galvanized Steel Bases
1 x Solid Telescopic Crossbar
1 x 82ft of High-Visibility Flagging (Bunting)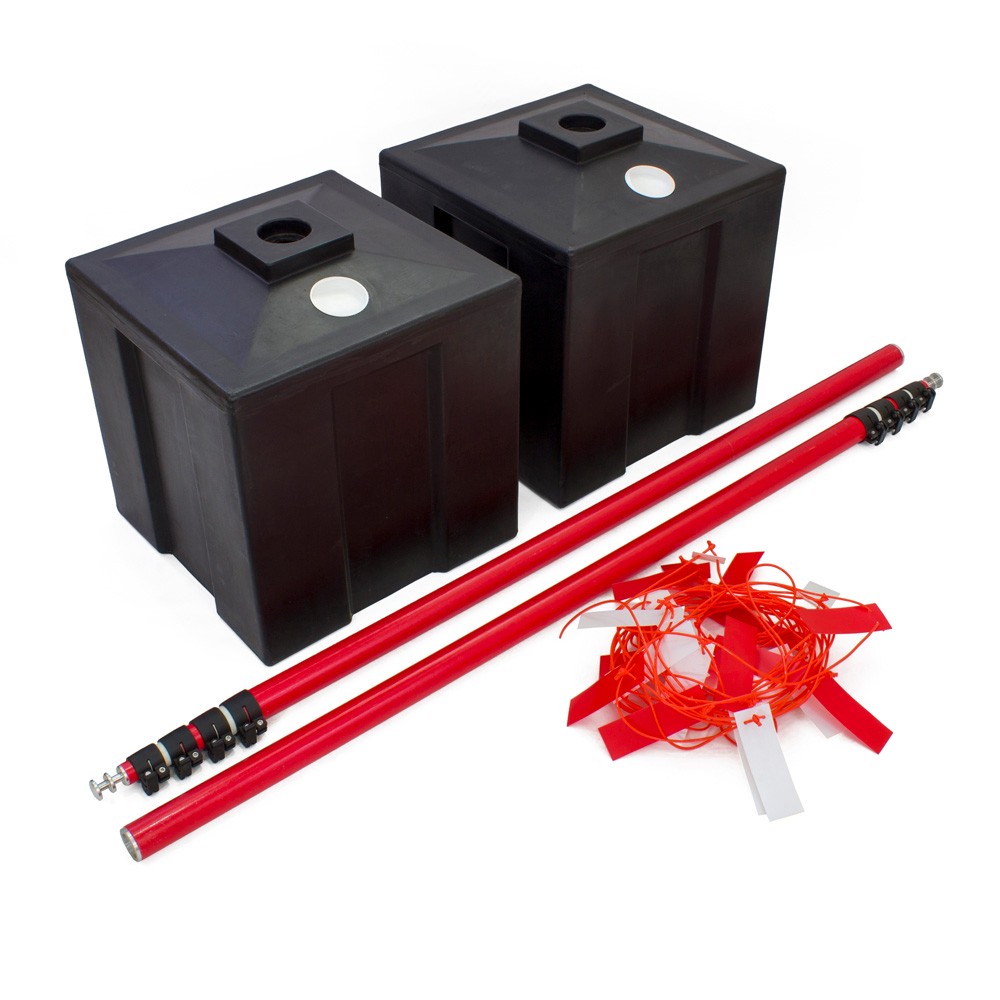 Kit 3
2 x 24ft Telescopic Poles
2 x Metro blocks
1 x 82ft of High-Visibility Flagging (Bunting)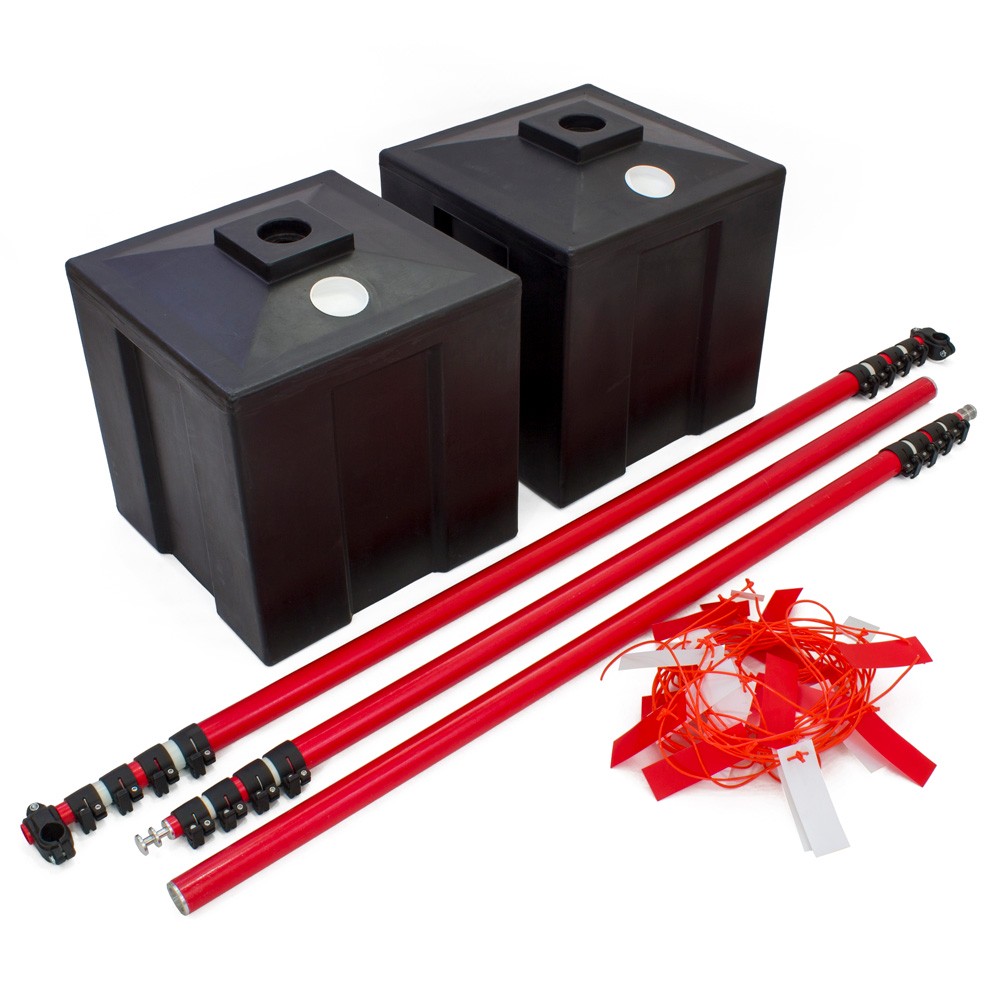 Kit 4
2 x 24ft Telescopic Poles
2 x Metro blocks
1 x Solid Telescopic Crossbar
1 x 82ft of High-Visibility Flagging (Bunting)
---
Features of the Sentinel Goalpost kit
No tools are required for assembly.
Easy to use locking hand clamps.
Choice of bolt-down steel bases or plastic water-filled Metro Block bases.
Insulated to 75kv with a multi-layered fiberglass tube construction.
The flagging can be looped back and forth multiple times to increase visibility.
Rigid Crossbar or Flagging (Bunting)?
Flagging has flexibility and movement outside.
Flagging is the most compact solution for transport.
The telescopic pole doesn't sag. maximum extension: 25ft
The crossbar is becoming the recommended standard.
Flagging is prone to sagging.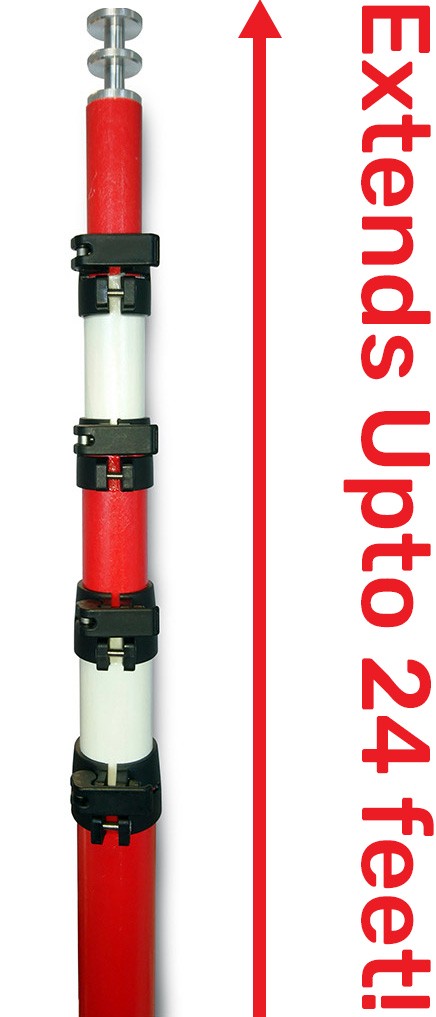 The Sentinel System
---
Our unique "Anti-Pinch" clamping system makes extending the Sentinel Goalposts completely hassle-free!
---
With more prominent red and white sections, the kit is highly visible from a distance, with a strong glass fiber tube insulated to over 75kv.
---
Easy-to-use Hand Clamps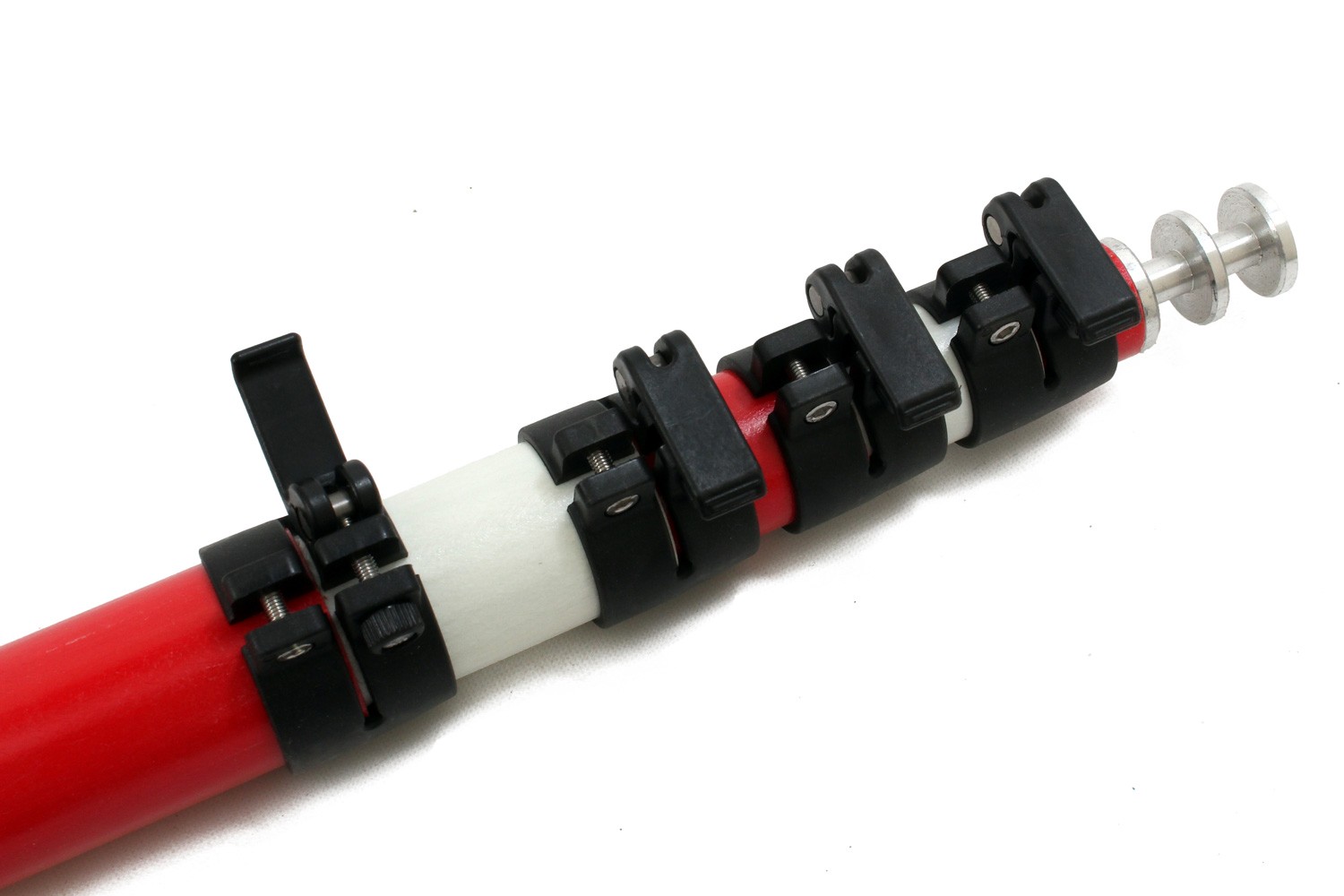 Quick-release clamps on each telescopic section make it a breeze to set up.
---
Key Applications
Roads & Bridges
Our kits can span almost any two-way road and withstand winds up to 50mph.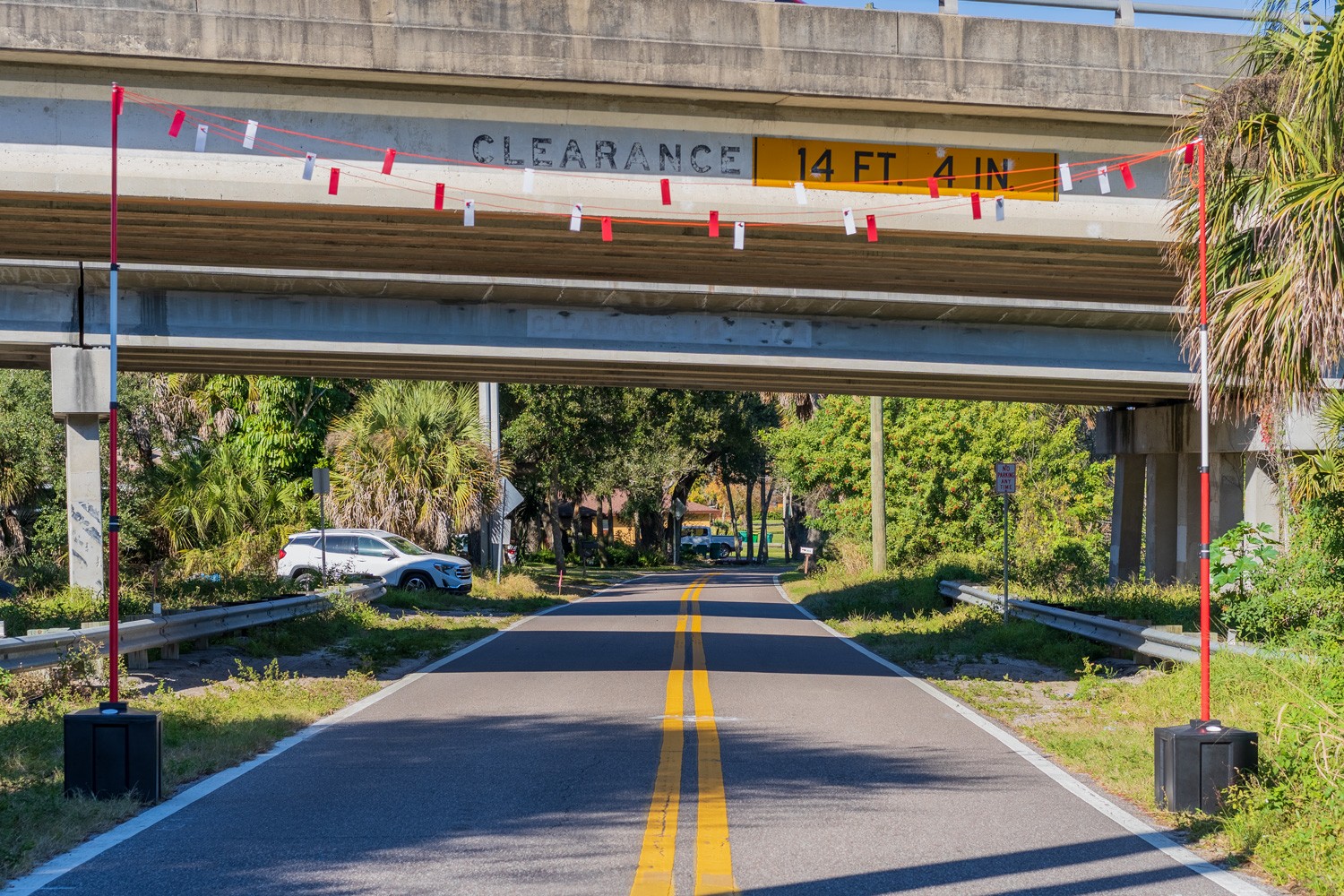 ---
Powerlines
Made from non-conductive fiberglass, ideal for warning against overhead electrical cables.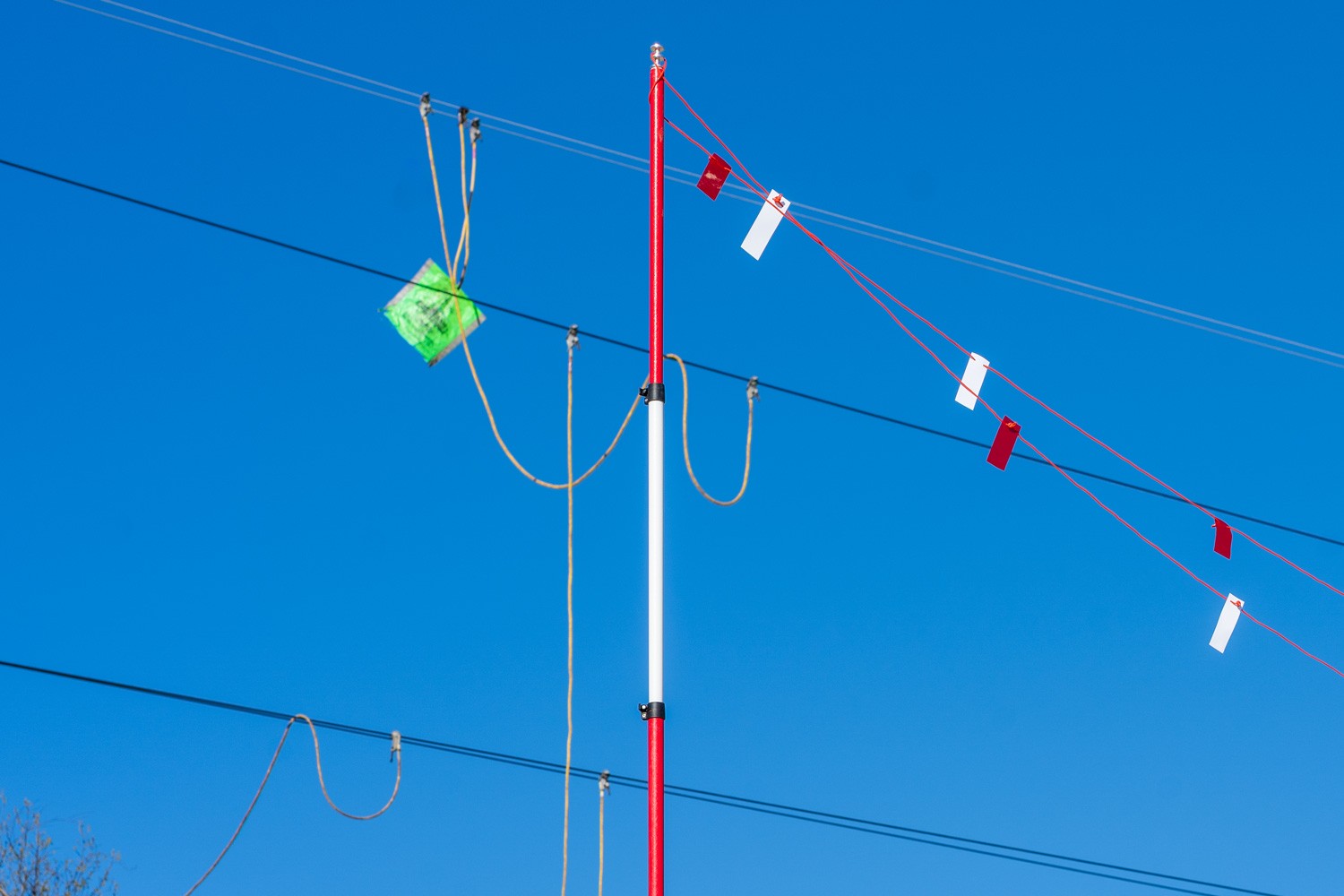 ---
Construction Sites
Use to deploy limited height access entrances and exits to your project.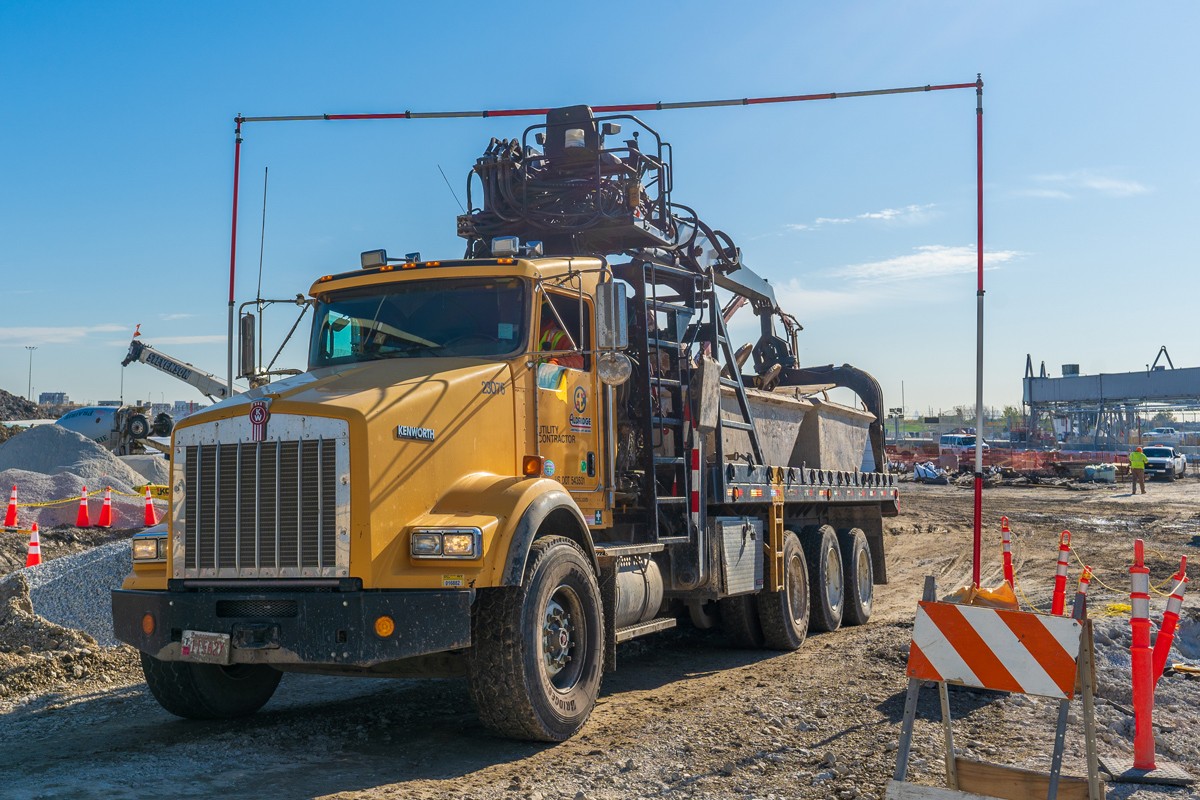 ---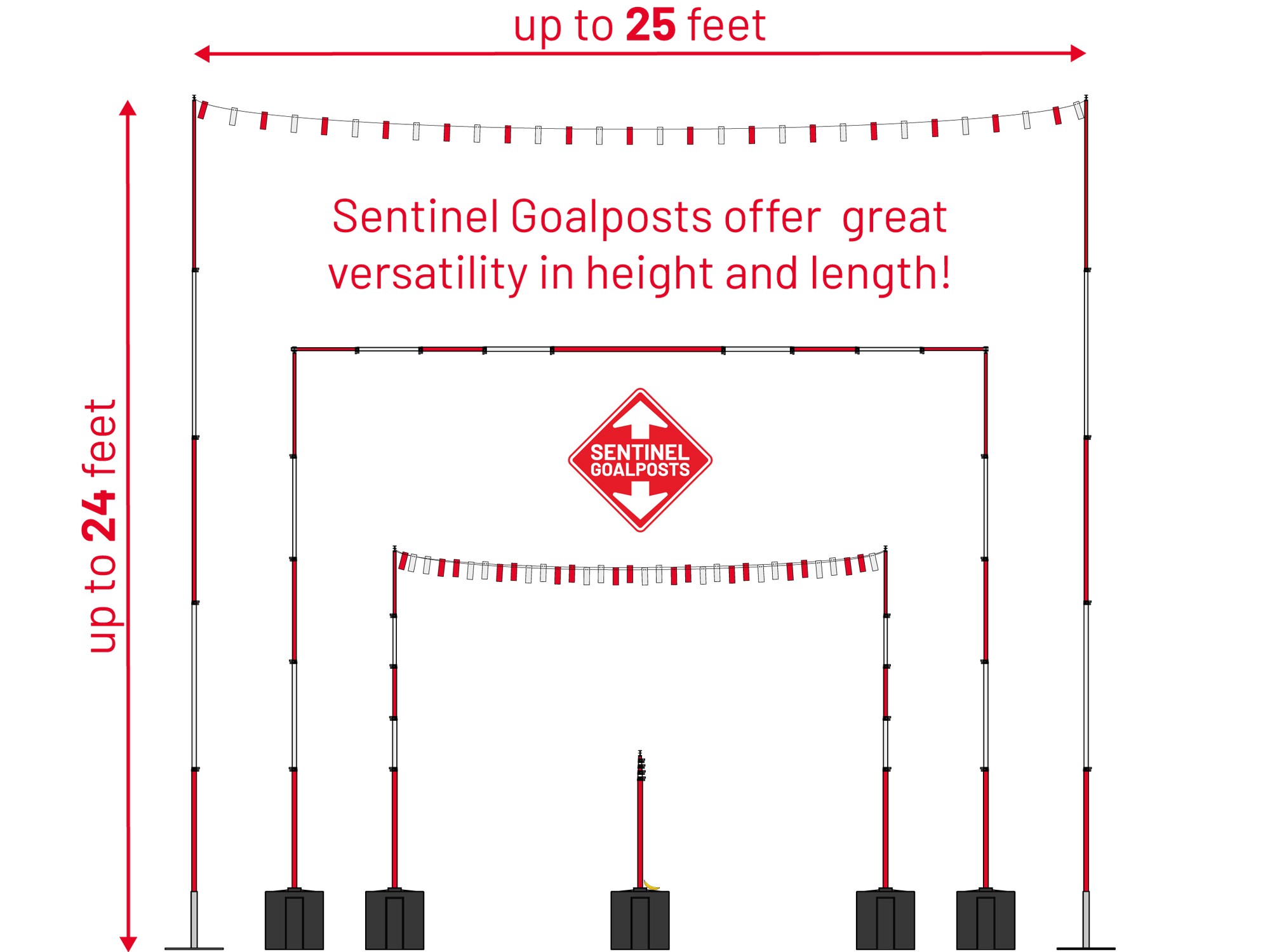 ---
Base Options
Water Fill Metro Ballast Base
The new plastic ballast base is the best option for short to medium timeframes as there are no fixtures or fittings needed by filling the Metro ballast base with 27 gallons of water to yield 242 lbs in weight for heavy stability.
Constructed from polyethylene, it is extremely resilient and allows for continual use in harsh environments. Each unit is water tested in production before despatch.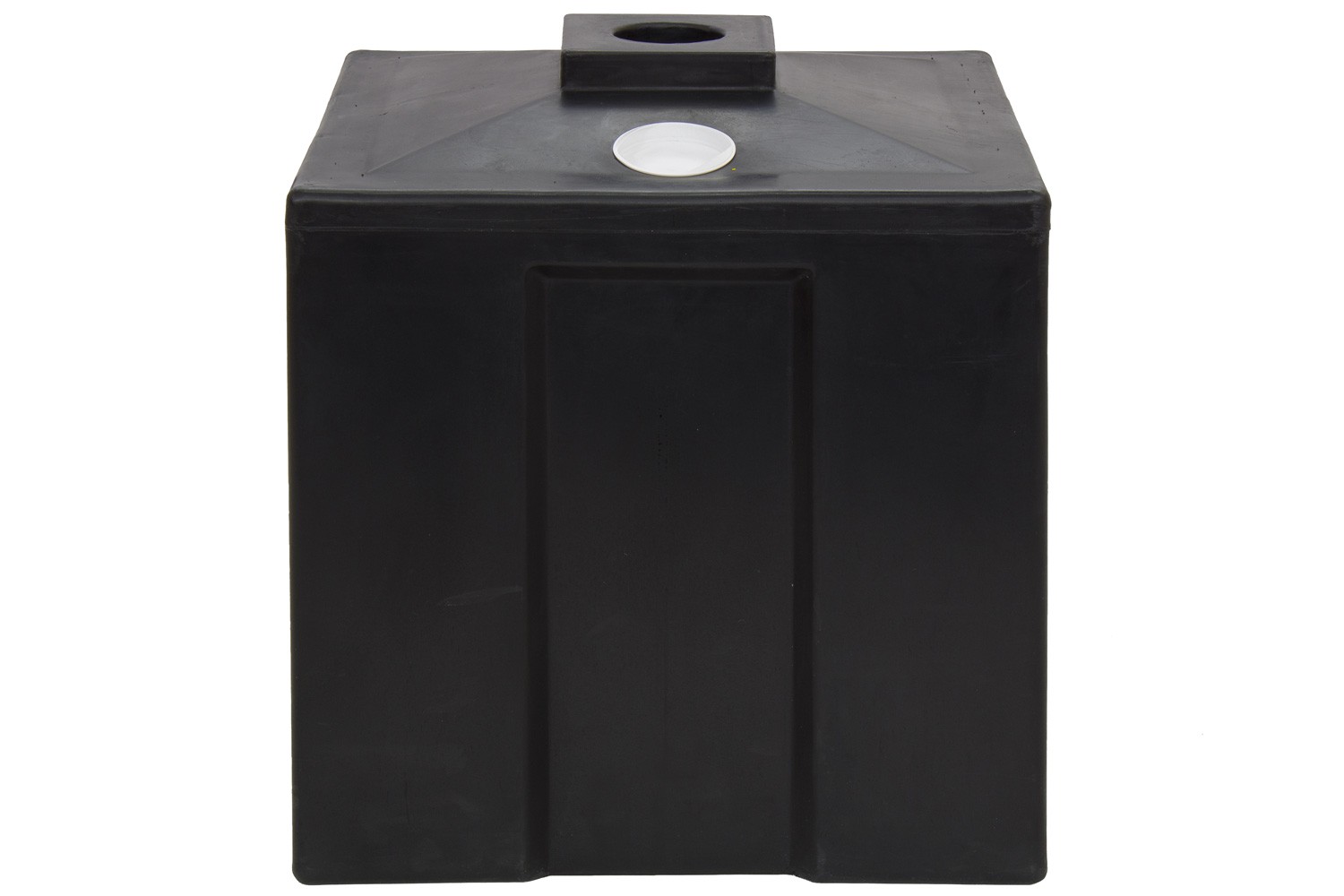 Fixed Galvanized Steel Base
If you require a fixed long-term solution in multiple places and only move the Telescopic Poles for the project location you're working on. The base has four 1/4" mounting holes to anchor the base in position.
Please note: you must always fix this base down through the 4 accessible holes before use.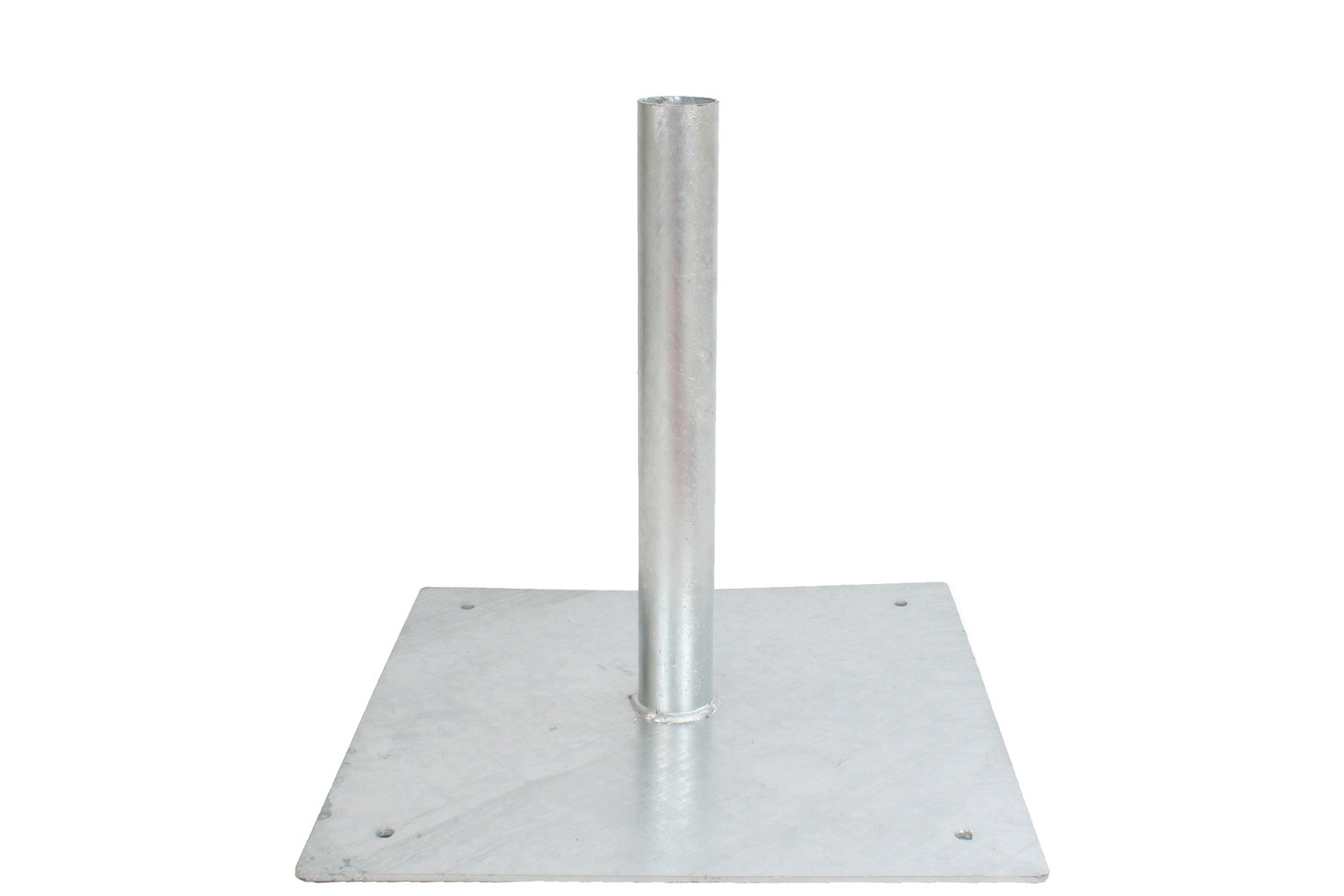 ---
Contact Options
Flagging (Bunting)
All kits come with our reliable 82ft length of flagging.
This restriction method comes in red and white color as standard, they are highly visible to anyone at a distance. The flagging copes impressively well in many conditions.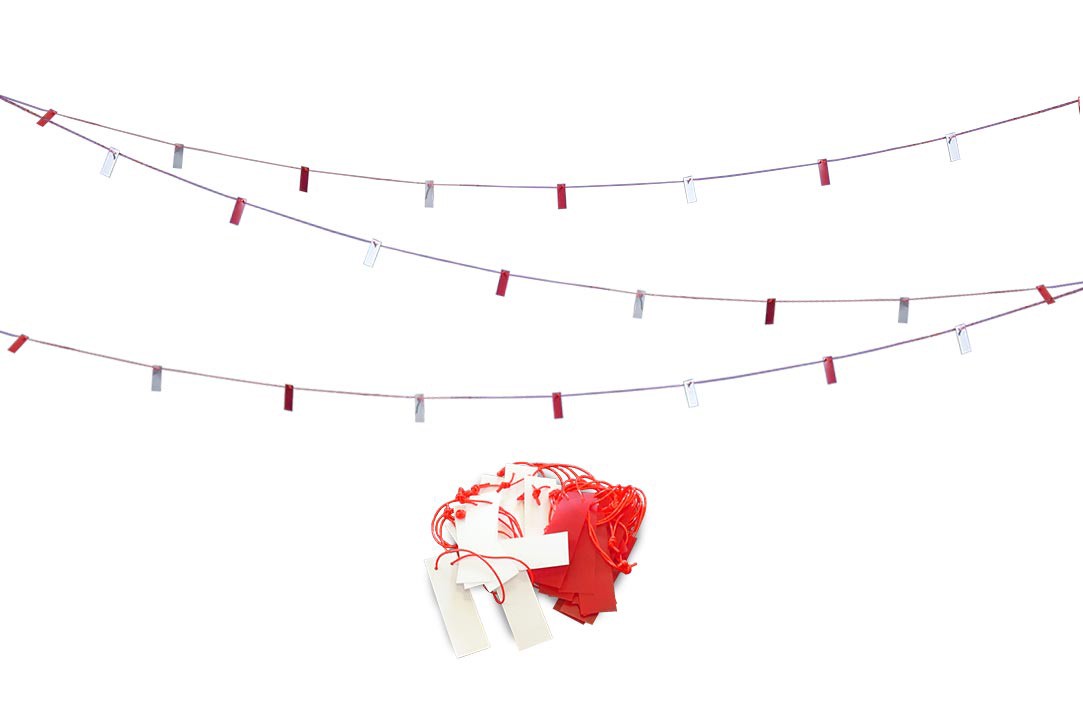 Crossbar
The crossbar is the most secure method of overhead height restriction.
In harsher weather conditions, the crossbar can be more effective than flagging with more positive confirmation on contact. The pole is made from fiberglass, and functions in the same way our standard telescopic poles do.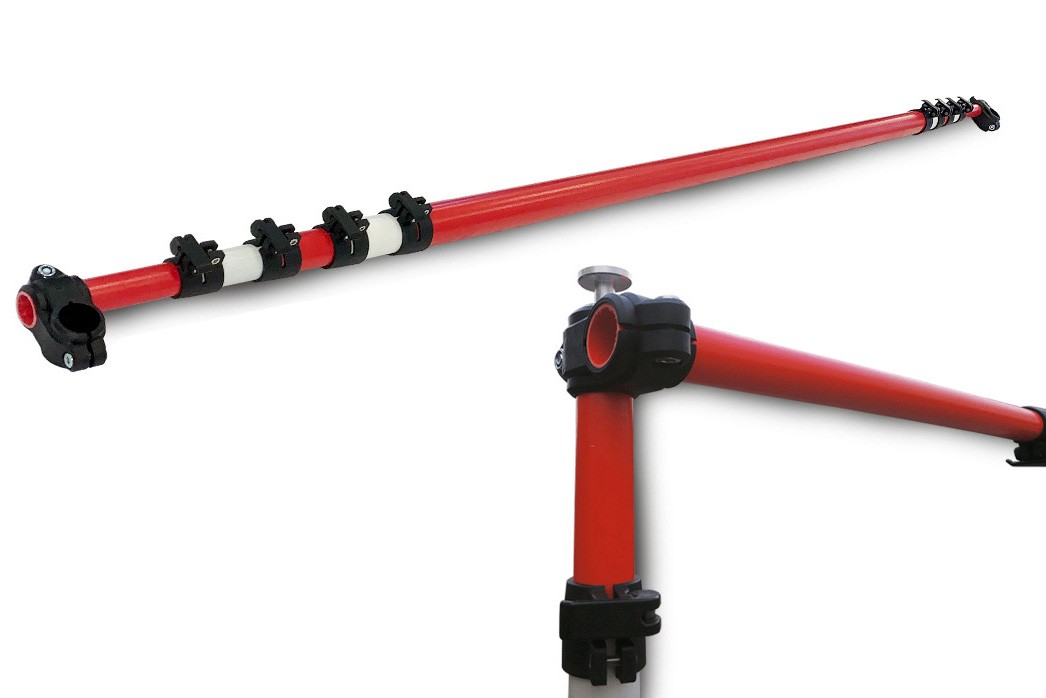 ---
What's in each kit & how to order more parts
Use the table below to view each individual part that makes up a kit. Each part can be ordered separately by clicking on the product photo or code.
Product
13419
13414
13415
13418
KIT 1
1

1

KIT 2
1

1

1
KIT 3
1
2
KIT 4
1
2
1
Part
SG-TPX-RD/WH--BNT82-RD/WH
SG-GSBX2-GY
SG-MBB-BK
SG-TC-25-RD
Contents
2 x Telescopic Poles (6ft-24ft)
1 x 82ft of Hi-Visibility Flagging (Bunting)
2 x Galvanized Steel Bases
1 x Metro Ballast Base
1 x Telescopic Crossbar (6ft-25ft)
Looking For Advice?
Contact our sales line at (800) 671-9662 to speak to our sales team about the Sentinel Goal Post height restriction warning system.
---
WARNING - TIP OVER HAZARD
Product may cause serious injury or death. Only use Telescopic Poles with a filled Metro ballast base or an anchored Galvanized Steel Base.
Always refer to product guide and advisory notes before setup or installation.
WARNING: This product can expose you to chemicals including styrene, which is known to the State of California to cause cancer.
For more information go to
www.P65Warnings.ca.gov
---
Customers Who Viewed This Page Also Viewed
---
Specifications
Certifications
ExactPhoto
✔ (The photos are of the actual product type that you are ordering)
ExactSpec
✔ (The specification has been independently checked for accuracy)
Conforms
HSE GS6 Compliant, OSHA 1926.1408, INGAA Construction Safety & Quality Consensus Guidelines
Dimensions
Diameter
Smallest Telescopic Pole Diameter: 1.2", Largest Telescopic Pole Diameter: 2"
Length
Telescopic Pole: 71-288", Rigid Crossbar: 72-300", Bunting: 984", Metro Block: 19.5 x 19.5 x 21", Metal Base: 19.5 x 19.5 x 19"
Weight
Per Unit
Bunting: 0.6lbs, Metro Ballast Base: 19lbs, Metal Base; 29lbs, Rigid Crossbar: 8.6lbs, Telescopic Poles: 7lbs
Material
Color
High Visibility Red and White alternate sections with Black bases
Type
Poles: Fiberglass with Nylon hand clamps, Metal Bases: Powder Coated Steel, Metro Block: Polyethylene
Miscellaneous
Customization
Custom signage available e.g. 'Caution Overhead Structures' and 'Live Wires Overhead'
---
Downloads
---
Q & A
Be the first to ask a question.